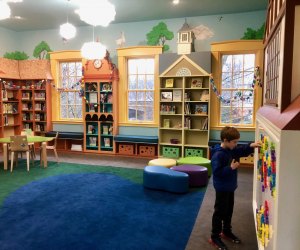 8 Public Libraries With Great Play Spaces Around Boston
There are all sorts of local spots to play indoors when the weather gets frightful. And some of the best spots are absolutely free—including some very special local libraries, which feature unique play spaces along with shelves of books. Whether you've got a preschooler or a pre-teen, a trip to at least one of these libraries will be a fun, brain-boosting escape on a cold or wet day.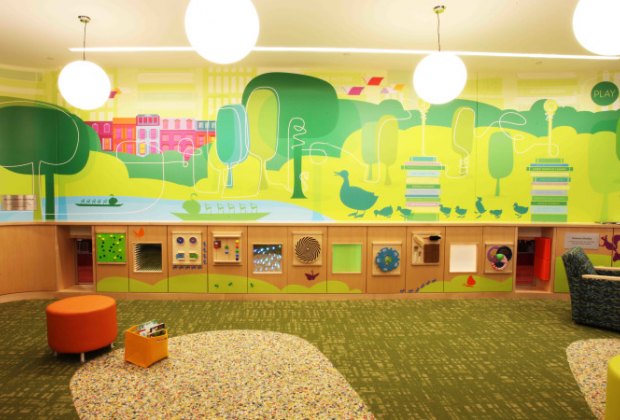 Manipulative toys line the wall to allow many kids to play at once, and there are even tunnels to explore. Photo courtesy of the Boston Public Library
1. Boston Public Library, Main Branch — Boston
The Main Branch of the Boston Public Library underwent an extensive renovation a few years ago that resulted in a bright, colorful space just for kids. There's a cool cityscape, a whole wall of sensory activities, and murals galore. Stop in to play with toys, read a book or attend one of the many events held at the library for children. The Children's Library is for kids in grades eight or under who are accompanied by an adult parent, teacher, or caregiver.
2. Cambridge Public Library, Main Branch — Cambridge
My son and I find ourselves at the Main Branch of the Cambridge Library at least once a week to attend an event (the singalongs are terrific!) or just play with puzzles and read in the inviting space. The entire third floor is dedicated to kids and has big windows, so it's cheerful even on the dreariest days. The Children's Room has a Curious George theme, complete with engaging murals. Children 13 and under who are accompanied by a caregiver are welcome in the Children's Room.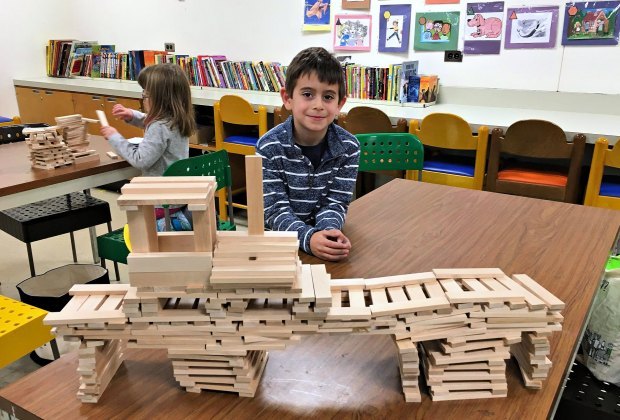 In Framingham's newly renovated play space, there are plenty of building toys for budding engineers. Photo courtesy of Framingham Public Library
3. Framingham Public Library, Main Branch — Framingham
The Framingham Public Library recently introduced a renovated space that is dedicated to play. A pretend kitchen, sensory activities, light tables, a farmers market stand, trains and trucks, games, and more will inspire the imagination. The library hosts special rotating events in the play space on Thursdays and Fridays where new toys and activities are unveiled The Children's Room is open to kids of all ages.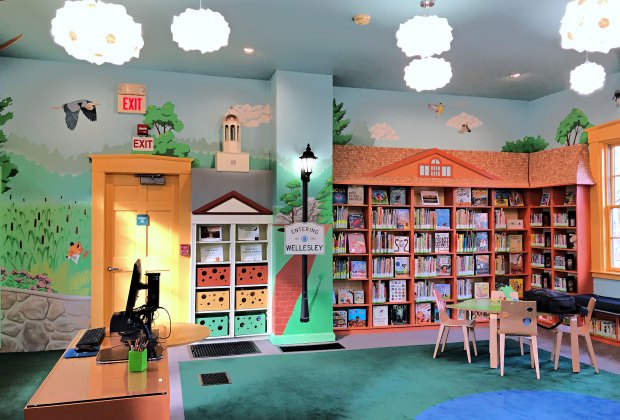 The murals invite imaginative play in this cozy one-room library. Photo courtesy of Wellesley Free Library
4. Wellesley Free Library, Fells Branch — Wellesley
Originally a one-room schoolhouse, the Fells Branch of the Wellesley Free Library returned to its roots with a big renovation that resulted in a beautiful space just for children. The new room is designed just for preschoolers and their budding imaginations. It features an enchanting mural, an interactive wall with manipulative gears, plenty of toys, and games (including "mystery" boxes that invite children to reach in and try to guess the identity of objects inside). Anyone is welcome at the Fells Branch.

Kids love to crawl through and around the giant tree and past the ducks. Photo courtesy of the library
5. Needham Free Library — Needham
The spacious children's room of this historic library is chock-a-block with books, but little ones make a beeline for the back, where a giant, standing mural of a tree and duck-filled stream doubles as a puppet show area, hide-n-seek spot, or reading nook. Though there's plenty of comfy seating surrounding this area, we all know how much kids love to just curl up on the carpet when given the opportunity, and that's what young visitors tend to do around "the tree." There's often Lego and Magna Tiles situated on tables to provide manipulative play opportunities, too. The Needham Free Library is open to all.
6. Goodnow Library, Sara Sherman NOW Lab — Sudbury
The NOW Lab, a maker space for all ages, opened at the Goodnow Library in Sudbury in the spring of 2018. There are a variety of tools available at the NOW Lab, like laser cutters, 3D printers, a Smart Board, a music station and much more. Kids (and adults) can learn everything from coding to sewing by dropping in or taking a class. Anyone is welcome in the NOW Lab.
RELATED: Cool Perks That Come with Your Boston Library Card

Kids and grown-ups often collaborate in the makerspace. Photo courtesy of Hatch Makerspace/Watertown Free Public Library (Facebook)
7. Watertown Free Public Library, Hatch Makerspace — Watertown
Hatch Makerspace is operated by the Watertown Free Public Library, but you'll find it around the corner at the Residence at Watertown Square. There are a few ways to use Hatch, by just dropping in, going to an event, or taking a class. Kids (and adults) can learn 3D modeling and printing, coding, later cutting and much more at Hatch. The space is recommended for children are 8 years old or older, and all children 12 or under must be accompanied by an adult. A valid Minuteman Library Network card is required to use the space.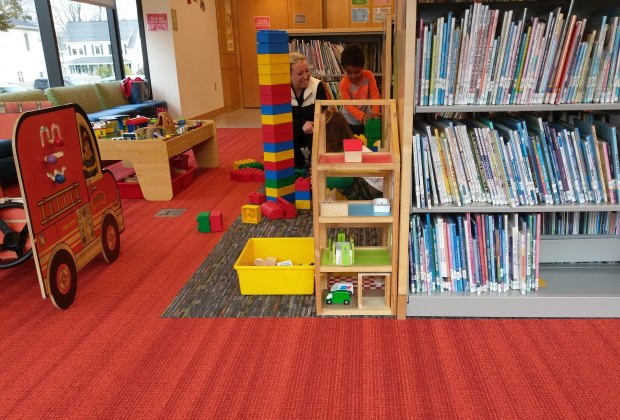 Train tables, giant blocks, a play kitchen, and more invite playtime at the Franklin Library. Photo courtesy of Lauren Saunders
8. Franklin Public Library — Franklin
Beloved by local parents, this library has a newly expanded space and there are a wide variety of classes for children. The stately building is nestled in with the Dean College campus in a walkable area. Franklin Public Library has the distinction of housing the first public library in the United States, founded through a gift by Benjamin Franklin. Little patriots can visit a variety of children's spaces with coloring tables set up, a puzzle section, and pretend kitchens, or attend a class in one of the cheerful meeting rooms with ample seating for parents. Patrons with a Minuteman Library card can check out and take home explorer bags with books, toys, and educational activities.