Best Things To Do in Boston in May with Kids: Mother's Day to Memorial Day, plus Duckling Day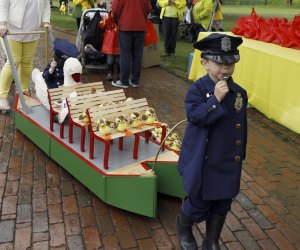 Just like your garden, May is blooming with events in Boston—and we did all the digging to round up the best ones for you! You may want to prepare to bring the whole family down to Boston Common to salute Beantown's favorite feathered family, the Mallards, on Duckling Day. Or perhaps you're making plans to celebrate mom with one of these excellent brunch options we've investigated—they book quickly, so stay on top of this to-do list item—or with a kiddo-friendly rock show at the Sinclair. Maybe you and yours are just ready for summer to start and you're going to head north for opening day of one of New England's favorite places to play: Canobie Lake Park. On the other hand, if something quieter and indoors is more your family's style, there are a number of charming puppet shows for the littles this month at Brookline's Puppet Showplace, including A Woodland Cinderella. If you want to keep it outdoors, though, don't forget about that hidden treasure, the deCordova Museum and Sculpture Park where they happen to be holding an outdoor yoga class for families this month.
Here at Mommy Poppins, we really want to make sure you remember to celebrate mom, so although we've already mentioned some of the brunches and special events to honor her, we also thought it might be helpful to direct you to this list of gift ideas that moms actually, really, truly want.
Finally, while spring is in the air, don't forget summer is just around the corner. So, have you booked your summer camps yet? There are lots of categories and options broken down in our guide, but slots are going fast for the 2022 season!