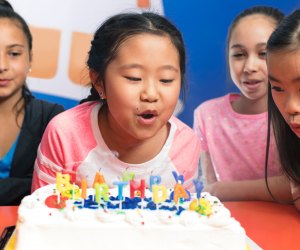 20 Indoor Birthday Party Places for Philly Kids
Looking for indoor birthday party venues in and around Philly for your child's next celebration? Even in these times, Philadelphia has plenty of unique options for celebrating a kid's birthday indoors, whether your kiddo is interested in burning energy at a sports center, doing arts and crafts with friends, or even rock climbing. Read on for our top picks for great indoor birthday party spots in Philly.
If you're looking for a local museum to host a party, there are many that offer party packages, so be sure and check out our Museum Guide, as well as our Philly Birthday Party Guide.
In the COVID-19 era, venues require guests to wear masks and maintain social distancing. Limited capacity and shortened durations might also be observed. It might be worthwhile to visit a venue prior to booking so policies are confirmed.
If you prefer to stay home and celebrate with the kids, be sure to browse through Poppins@Home, which is adding new and exciting classes and workshops for children of all ages, some suitable for birthday parties. Consider building a party around Brick City building camp and DC and Marvel Superhero camp. Young kids are sure to enjoy learning Spanish through Music and Movement while the entire family can cuddle up for storytime and crafts.
Sports Centers Near Philly for Kids' Birthday Parties
Marple
2021 Update: Both grown-ups and children are encouraged to wear masks.
If making a decision about what type of activity is the problem, Marple Sports Arena has the answer. Choose from inline skating, rock climbing, moon bounces, or jungle gym, or all of the above. Parties start at $169.99 and are held on Saturdays from 1 to 3pm.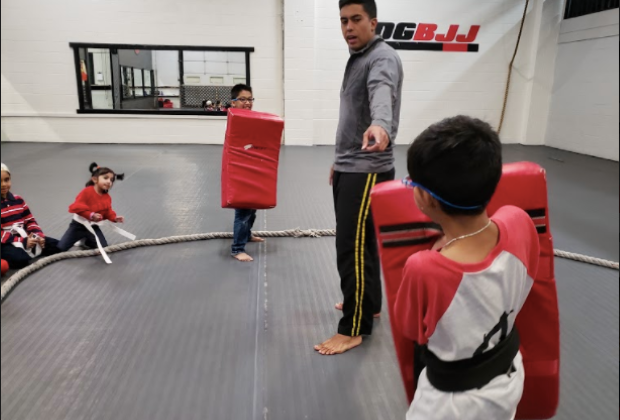 Kids can get active with a martial arts-themed party at the Dragon Gym. Photo from Dragon Gym
Exton, Malvern, Berwyn​
2021 Update: All three locations are currently booking parties.
For a high-energy birthday party, give Dragon Gym a go. Kids will play games and participate in a black belt instructor-led mini martial arts lesson. With cleanup and setup taken care of, plus pizza and drinks, a karate-themed party at one of these three Main Line facilities is a no-brainer. The facility rents out the space for 90 minutes, and the birthday child gets a free, two-week martial arts trial and a uniform to keep.
Philadelphia, Glen Mills, Oaks, Levittown, Chalfont
2021 Update: Smaller party options and staggered check-in times are now available. Food is delivered in covered containers to the party room and served by gloved team members. More time is allocated between parties to allow for cleaning time.
Birthday parties at Sky Zone include party setup and cleanup, sky socks for each guest, T-shirt for the birthday boy or girl, Evite invitations, paper products, and dedicated party host. Toddler parties start at $15 per person and the base jumper package starts at $25 per person.
Philadelphia
2021 Update: Kids at Play is currently booking parties.
Both members and nonmembers of Kids at Play can take advantage of its birthday package options. Time slots are typically two hours, although additional time can be added. Party packages start at $300 and accommodate 15 children. Outside food can be brought into the party.
West Chester
2021 Update: Extra cleaning measures are in place at iCore Fitness. Masks are required of all guests. As a new option, iCore Fitness offers private parties before or after the facility opens to the public.
Get ready for a Ninja Warrior Birthday party at iCore. Children 6 and up can invite friends to race through an obstacle course tailored for the appropriate age group. Packages start at $349 for 12 guests and include pizza, drinks, party room, and paper products. Outside cake and decorations are allowed.
Queens Village, Bella Vista, the BOK Building
2021 Update: All three locations are hosting parties. Virtual ninja and gymnastics parties are also available. All guests must wear a mask.
Parents can chose either a private class or an open-play themed birthday party for their kids. Guests can expect a 45-minutes party with about five to eight children depending on age and location. Water bottle party favors and a T-shirt for the birthday child are provided.
Glen Mills
2021 Update: This spot is hosting parties. Guests 3 and older must wear masks.
While not exactly a sports center, this location has a soft playground, laser maze, rock wall, and arcade games. Base packages start at $16.50 per guest. Add -ons include two Hologate virtual-reality games, food items such as soft pretzel trays or mozzarella sticks, goody bags, and a visit from Otis the Oasis mascot.
Rock Climbing Gyms Near Philly for Kids' Birthday Parties
Oaks, Coatesville, East Falls, Wyncote, Fishtown
2021 Update: This spot is hosting parties. Capacity limits are in effect at all locations and masks must be worn at all times.
With a few locations in and around Philly, there's probably a Philadelphia Rock Gym close to you whether you live, in the suburbs or the city. Parties here are one hour and 45 minutes and include climbing instruction, a private party room, pizza, and soda. Parties start at $220.
RELATED: Great Birthday Party Venues for Philly Tweens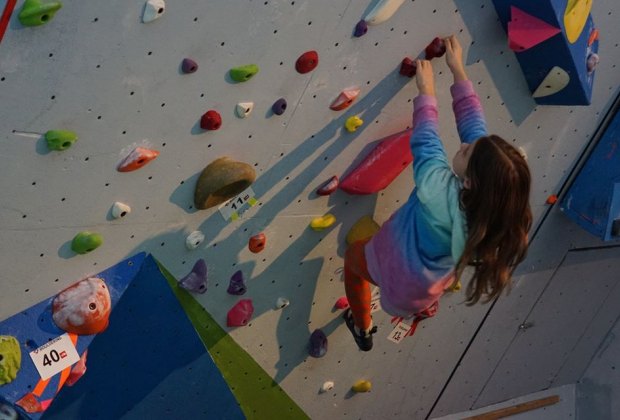 Your child can get his or her climb on at Downingtown Rock Gym. Photo courtesy of the gym
Downingtown
2021 Update: Parties are limited to smaller groups and can be held outside of regular gym hours.
A party at Downingtown Rock Gym includes two hours of fun, harness rentals, unlimited rope climbing, and unlimited bouldering. Prices begin at $170 for up to 10 climbers.
Radnor
2021 Update: This spot is hosting parties. However, limiting groups to 10 or fewer is encouraged.
While not advertised on its website, The Gravity Vault does offer indoor rock climbing birthday parties. For information, parents should contact the gym directly for scheduling and pricing.
Ice Skating Rinks in Philly for Kids' Birthday Parties
Voorhees
2021 Update: This spot is not hosting parties at this time.
For hockey fans, Flyers Skate Zone is the ultimate birthday venue. Parties include admission to a public skating session, skate rentals, a private party room, pizza and drinks. Best of all, the birthday guest gets his or her photo taken on a Zamboni. Parties cost $14.95 per person.
Aston
2021 Update: This spot is currently booking parties.
IceWorks parties include a public skating session, skate rentals, party room, a choice of pizza, hot dogs, or chicken nuggets, and a goodie bag that includes a free skate pass so each guest can come back and skate some more. Parties start at $175.
West Chester
2021 Update: This spot is not currently booking parties.
Available during public skating hours, birthday parties at Ice Line include skate rentals, pizza, drinks, and private room with hostess. The birthday child even gets a free T-shirt. Birthday party packages start at $159.95.
Philadelphia
2021 Update: This spot is not hosting parties at this time.
Parties include admission to a public skating session, skate rental, and private party room. The birthday kid gets a special T-shirt to pose for a picture while sitting on the Zamboni. Guests receive one slice of pizza and one drink. Skating instruction is available for an additional fee.
RELATED: Toddler Birthday Party Venues in Philly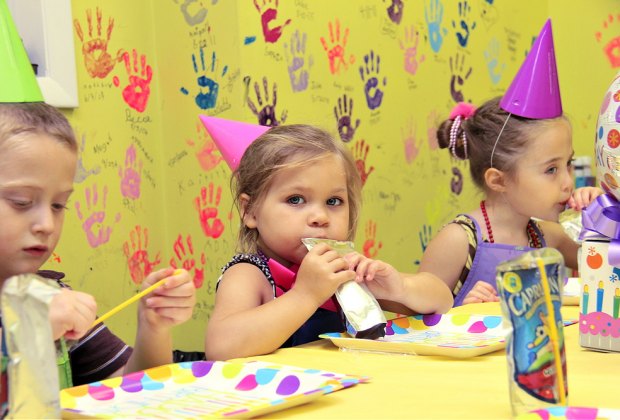 Kids can paint on pottery or canvas at Busy Bees Pottery & Arts Studio. Photo courtesy of the studio
Arts and Crafts Birthday Party Venues for Philly Kids
Springfield, Wyomissing
2021 Update: Both locations are open for birthday parties.
For the creative-minded, a painting party at Busy Bees Arts invites guests to paint on pottery or canvas. Ice cream and drinks are provided; bring your own food and snacks. Parties start at $165.
Ardmore
2021 Update: Reduced capacity and mask requirements are in effect for birthday parties at The Mud Room.
At a party at The Mud Room, guests can paint their own pottery, make their own glass plate, or create a mosaic. Parties start at $20 per person, but don't include food, just artistic activities.
RELATED: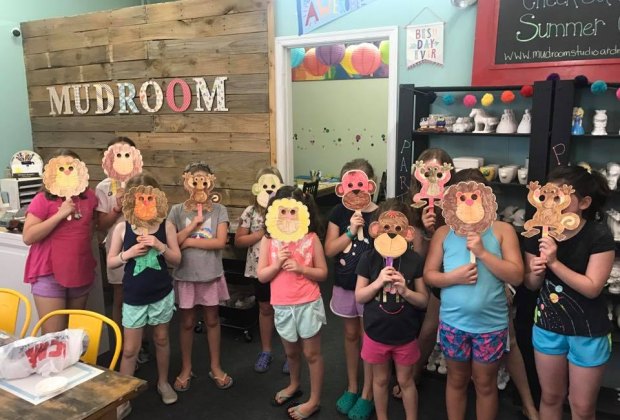 Artistic fun awaits at The Mud Room in Ardmore. Photo from The Mud Room
Wayne, Langhorne, Glen Mills, Montgomeryville
2021 Update: All locations are hosting parties. Guests must wear masks. The Wayne location allows the entire studio to be rented for larger gatherings. The Montgomeryville locations hosts parties before regular hours. The Langhorne location recommends keeping groups to six to 12 guests.
Kids will love painting and taking home their own ceramics. Kids can choose their own ceramics or try the Paint Me a Story package, where they will hear a story and get a salad plate to paint on. Food is not included, but Color Me Mine does sometimes offer discounts with nearby restaurants and pizza places. Some locations have food restrictions during COVID. Parties start at $100.
Paoli
2021 Update: The Center on Central has suspended hosting birthday parties for the time being.
Children can select from music, pottery, cartooning, painting, beading, fashion design, theater arts, and drawing themes at The Center on Central. The cost is $250 for up to 12 guests. Certain themed parties can cost more. Traditionally, parties are held on Saturdays and Sundays.
Philadelphia
2021 Update: Birthday parties are not available at this time.
Kids can celebrate their birthday in many ways at PlayArts. When planning the party, children can pick from Cake Sculpture, Open Sensory Studio, or Music Activity as entertainment. Extras include additional time, additional staff help, favor bags, and ice bin with two bags of ice. This is a shoe-free facility.
Philadelphia
2021 Update: This studio is currently offering birthday parties.
Starting at $250, this paint-your-own pottery spot offers a creative space for budding young artists. The 90-minute session includes selecting a piece of pottery to paint or choosing to make a clay name garland. Up to 10 children can be accommodated.
Writer Kristen Sullivan contributed additional reporting.