Mystic, Connecticut with Kids: Top Things to Do on a Weekend Getaway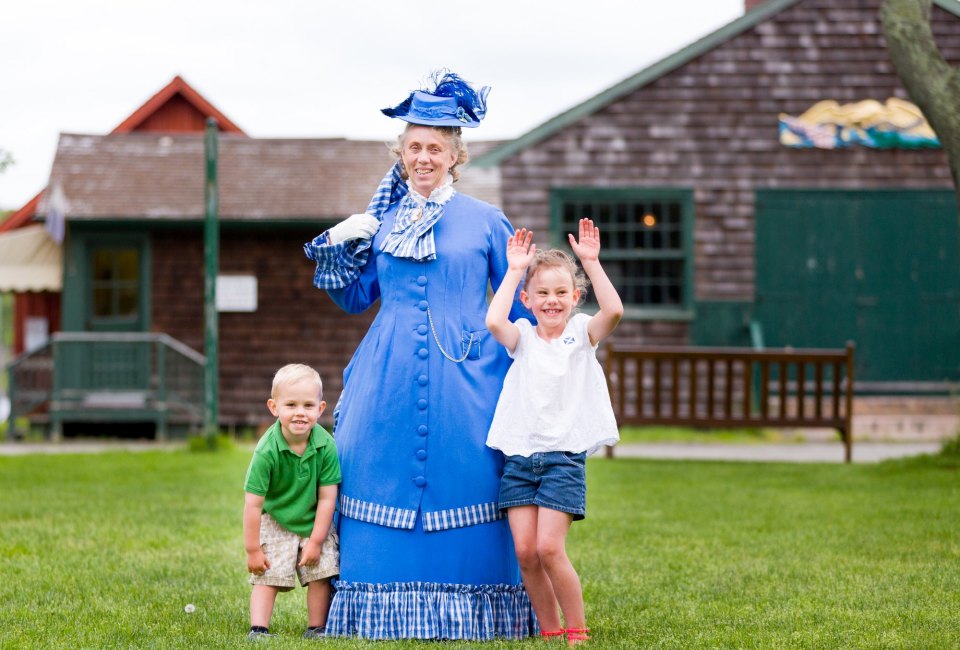 10/20/22
- By
Ally Noel
With its historic seaport district, renowned aquarium, and easy beach access, Mystic, Connecticut is bursting with New England charm and a ton of family fun. Tourists tend to flock to this coastal village in the summer, but Mystic truly shines all year round with rich traditions like the Holiday Lighted Boat Parade along the Mystic River, Northern Lights animal display at the Mystic Aquarium, and the annual "Pirate invasion" come fall.
Whether you are heading into town for a day trip or a long weekend, we have loads of recommendations for interactive museums, unique attractions, and delicious food (including, of course, pizza!) for grown-ups and kids to enjoy together. For more family getaway ideas, explore our Mommy Poppins U.S. Travel Guide.
What To Do in Mystic with Kids
Beluga whales are some of the unique sea creatures on display at Mystic.
Mystic Aquarium
There are thousands of animals at the Mystic Aquarium, but it's the beluga whales that steal the show. Located in the outdoor Arctic Coast exhibit, these whales are very engaging and can entertain your family for awhile. The aquarium is also home to Northern fur seals, Steller sea lions, California sea lions, black-footed penguins, stingrays, and more. With tons of hands-on experiences, it is easy to spend a few hours here, but keep in mind that the exhibits are both indoor and outdoors so plan accordingly.
Olde Mistick Village
Located across the street from the Mystic Aquarium, Olde Mistick Village is an outdoor shopping area designed to look like a Colonial Village. Complete with a town green, duck pond, and a gazebo, the walking paths connect to shops with handcrafted gifts and locally made souvenirs.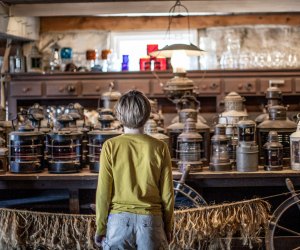 Kids can immerse themselves in another time at Mystic Seaport. Photo by Joe Michael/ Mystic Seaport Museum
Mystic Seaport
Take a step back in time with a visit to Mystic Seaport. The Seaport encompasses a huge complex spread across 17 waterfront acres and is set up as a 19th-century seaport village with 30 period buildings from around New England. Historic vessels, a planetarium, working shipyard, gardens, and direct access to the water make this spot the nation's leading maritime museum. Make sure to check out their daily calendar for wooden ship workshops, cooper demonstrations, and even a sea shanty or two.
Historic Downtown
Downtown Mystic is situated along the banks of the Mystic River. With more than 80 independently owned shops and restaurants, tourists and locals alike love to spend a lazy afternoon perusing this quaint New England Village. Make sure to check out family favorites like the Candy Shop, Mystical Toys, Mystic River Chocolate Cafe, and Bank Square Books.
B.F. Clyde's Cider Mill
Every September, B.F. Clyde's cranks on the country's last steam-powered cider mill and opens its doors for the season. Weekends usually mean live music in a beautiful outdoor setting of this picturesque historic landmark. Kids will love the cider and donuts, while adults can grab a sampling hard cider to enjoy.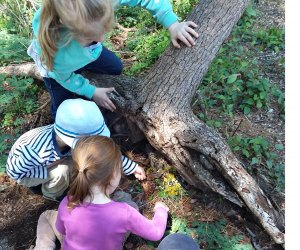 Get in touch with nature along 10 miles of hiking trails. Photo courtesy of Denison Pequotsepos Nature Center
Denison Pequotsepos Nature Center
DPNC is a wildlife sanctuary with 10 miles of hiking trails to explore. Visitors can meet barred, great horned, and eastern screech owls, red-tailed hawks, and an American kestrel. There is also a small Natural History Museum displaying the creatures of the woodland, wetlands, and meadows of Connecticut.
Beaches
The town of Mystic only has one public beach, but a quick trip to the neighboring towns will provide your family with a little fun in the sun. Williams Beach is located at the Mystic YMCA. This small shoreline beach, but there is also a playground, pavilion, and sports fields. Located in nearby Groton, Esker Point Beach, Eastern Point Beach, and Bluff Point State Park (parking fees may apply) offer family-friendly beaches.
Tours
Whether you choose to explore Mystic by land or sea, there are many different ways to learn about the history of this town. Mystic Revealed offers guided walking and driving/walking tours of the history, tastes, and sights from a local perspective. Mystic Harbor Tours will take you on a narrated boat tour aboard the Mystic Express and departs from the drawbridge downtown. If you're to things darker side, Seaside Shadows provides spooky lantern-lit tours through downtown Mystic and its Historic Graveyards. From May to mid-October, visitors can take a public sail and explore the surrounding islands and rich maritime history from the wooden deck of the Argia, the last commercial sailing ship in Mystic. Enjoy the views as you sail by scenic coastlines and historic lighthouses.
Bike And Paddle
If you want to take your family on a more personalized adventure, then a bike or kayak rental is just the thing. Adventure Mystic is your one-stop-shop for all things paddle and bike. With a full range of paddleboards, single and double kayaks, and bikes, you and the kids will be up and running in no time. Make sure to check out their schedule for bike and kayak tours of the area. Kids ages 8 and up can go along for a ride while grown-ups can rent their own personal powerboat with Mystic Boat Adventures.
Family Fun Zones
If you want to give your kids the adventure of a lifetime, then nature and New England charm will only get you so far. Thankfully, Mystic has a few family fun zones to pick from. TreeTrails Adventures provides five elevated trails with 76 obstacles on their 50 acres of Connecticut Woodlands. You can also try your luck at the family-friendly escape rooms at Mystified. The Keeper of the Light Room challenges you to light the historic Ledge Lighthouse before a "hurricane" comes ashore.

The Howard Johnson Inn, Hilton Mystic, and Taber Inne all boast indoor pools—a bonus for families.
Where to Stay in Mystic
Howard Johnson Inn
Mystic Seaport and Aquarium are a short walk from the front doors of the Howard Johnson Mystic. This hotel offers an indoor pool and oversized rooms that are perfect for families.
Hilton Mystic
Located within walking distance from the aquarium, the Hilton Mystic is a convenient choice for many families. The Hilton has an indoor pool as well as a restaurant onsite. In season, the activity director also plans kid-friendly events like crafts and movies by the pool.
Inn at Mystic
Overlooking on Fishers Island Sound, the Inn at Mystic is Connecticut's has been welcoming guests for over 50 years. With amenities like an outdoor swimming pool (seasonal), fire pits, and walking trails, this historic Inn will be the perfect home away from home for your family.
Taber Inne and Suites
The Taber Inne has a convenient downtown location, friendly innkeepers, and beautifully appointed rooms and suites. But, your kids will probably only care that it has the largest indoor pool in Mystic and the only indoor pool in downtown Mystic.

Enjoy a slice of heaven at the famous Mystic Pizza.
Where to Eat in Mystic
Mystic Pizza
Did you even go to Mystic if you didn't get the pizza? Your kids may have no idea what the "big deal about Mystic Pizza is," but grown-ups of a certain age will love this little "slice of heaven."
The Sea Swirl
Famous for its fried clams, hot dogs, and ice cream, this seasonal spot is typically open from April through October. Family owned and operated, this yummy shop has been making families happy for years. Plan a trip for sunset and you won't be sorry.
Kids can grab a donut while you get your morning coffee at Deviant Donuts.
Deviant Donuts
Located in Olde Mistick Village, these donuts are made fresh every morning. The hot and iced coffee drinks will hit the spot as well. Follow them on Instagram @deviantdonuts to get the flavors of the week.
Alice in the Village
This tea room is quite the experience. Inspired by the classic Lewis Carroll tale, guests can enjoy a traditional British Afternoon Tea while enjoying a trip through Wonderland. Reservations are always recommended.
Mystic Drawbridge serves up ice cream as well as sweet views.
Mystic Drawbridge Ice Cream
The ice cream at Mystic Drawbridge is delicious, but the view is even more amazing. Watch the kayakers paddle by as you enjoy a scoop of Mystic Mud.
Jealous Monk
The only beer garden in town, this spot has something for everyone, including burgers, a stocked kids menu, and a steady rotation of 32 beers on tap.
Don a bib and eat like a local at Abbotts!
Abbotts
Although not located in Mystic, Abbotts Lobster in the Rough is definitely worth the 10-minute drive out of town. Abbotts is a seasonal outdoor restaurant located directly on the Mystic River. Famous for their stuffed lobster rolls, they also offer some kid-friendly options for landlubbers. Make sure to ask for some fish food to feed the fish in the river.
All photos are by the author unless otherwise noted.
An earlier version of this post by Stephanie Ogozalek was originally published in 2016, updated in 2020, 2022.
Click Here to Sign Up!
i