Foxwoods Resort: A Mini Vacation for Families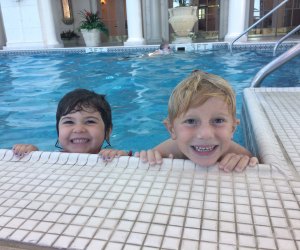 1/26/18
- By
Makayla O'Keefe
Okay, okay. We know what you're thinking. Casinos are not for children. There's the gambling. And then there are the bars. And then the nightclubs. Except that there actually are a number of kid things tucked into Connecticut's adult playground. We decided to check out the Connecticut casino midweek to see if Foxwoods proved to be a kid-friendly destination. And as it turns out, it is. Here's what you can expect to find.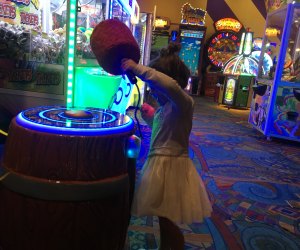 The Tree House Arcade
Sure, when you're at the casino the term "gaming" renders images of slot machines, blackjack, and roulette. But it isn't entirely geared toward the adults-only crowd. For the younger set, Foxwood's offers the best video games of both today and yesteryear in one epic two-story arcade: The Tree House Arcade. Here your kids will enjoy all the games you grew up with, including Ms. Pac-Man and pinball, mixed in with some Dance, Dance Revolution, Wheel of Fortune, Connect Four, air hockey, and more. Tree House offers access to countless hours of solid dual-player entertainment that our pack just loved. And honestly, the most basic of arcade thrills, like skee-ball and that game where you chuck baseballs at clown faces, entertained my three year old best. Well actually, what my three year old loved best was the claw machine. A claw machine that let's you play until you win something. That's right. So, when my husband grabbed a stuffed Poppy troll, my three year old's night was made.
Bowling
At High Rollers Bowling Alley, you and the family can enjoy twenty lanes of fun for all ages! High Rollers offers a throwback to an era when bowling was a glamorous event (not just a musty dark venue with 80s carpet and week old hot dogs.) High Rollers offers a nostalgic Vegas vibe with plush banquettes and oversized screens. Kids are only permitted at High Rollers before 8pm so we suggest heading there for a late afternoon game.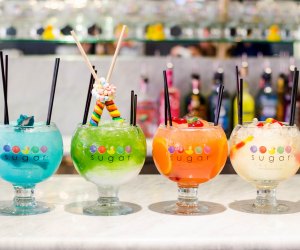 Photo courtesy of The Sugar Factory Foxwoods
The Sugar Factory
The celebrity-hot spot known for attracting superstars like Britney Spears, Kim Kardashian, and Drake, Sugar Factory is pretty sweet. With an extensive menu teeming with crazy confections, your kids will likely never stop talking about Sugar Factory. This was actually our first stop because we were starving (as per usual). But once we opened the menu, the kids didn't really care about food. It was all about the sweets. Sugar Factory is known for its 60 oz signature Goblets like Lollipop Passion and Bubba Bubba Gum. My kids shared an Ocean Blue that came to the table smoking and loaded with gummy sharks. After dinner, we had to try one of their "Insane Milkshakes" opting for the Caramel Sugar Daddy Cheesecake shake that is literally served with a slice of NY Style Cheesecake on top - along with a Rainbow Lollipop in a chocolate covered mug with crushed graham crackers. Yes, I know. I would recommend just heading there for dessert because really, that's all your kids are going to be interested in.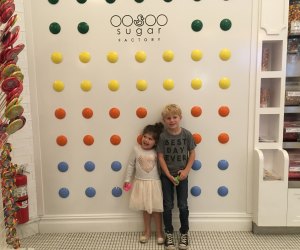 Take a Hike
Just beyond the lights and glamour of the resort are the picturesque Pequot trails. Follow along the fox paw prints in the Great Cedar Casino Lobby where you can choose which trail you would like to take. Choose the path that takes you along the outdoor exhibits of the Pequot Museum or try the scenic trail loop behind the Two Trees Inn. Or, if you're feeling adventurous, take the Lantern Hill Trail up, up, up to nearly 500 feet above sea level to enjoy panoramic views stretching as far as Block Island Sound.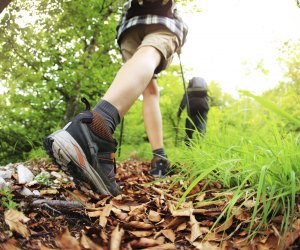 Image courtesy of Stonecroft Country Inn
The Pequot Museum
Celebrating 20 years in 2018, the Pequot Museum showcases the life and story of the Mashantucket Pequot Tribal Nation. The 308,000-square-foot complex, consists of permanent exhibits, the Mashantucket Gallery, a restaurant, a museum shop, and more. Journey back in time through the simulated glacial crevasse, come face to face with a life-size replica of a dire wolf, mastodon, and beaver, and visit a 16th century Pequot village. I remember being blown away as a fifth grade student during my visit to the Pequot Museum. Put it on your bucket list. And kids under 6 are free!
The Thrill Tower
Are you ready to fly? Well, if you are a thrill seeker, you will love Foxwoods' brand new Thrill Tower featuring Sky Drop, a 10-story climb followed by a white-knuckle free fall. Foxwoods also added Sky Launch, a human catapult propelling you beyond your wildest screams. Riders must be 46" tall. And coming soon is a HighFlyer Zipline as tall as a 32-story skyscraper running almost one mile long.
On Track Go-Karting COMING SOON
Put the pedal to the metal in the fast lane at Foxwoods' upcoming addition of a European-style indoor go-karting center. The top-of-the-line multi-level track will be dynamic with hairpin turns and gas-powered nine-horsepower karts.
Tanger Outlets
With over 80 stores including Old Navy, Gymboree, Crewcuts, and IT'S SUGAR, you can walk from store to store inside a fully enclosed outlet connected right to Foxwoods.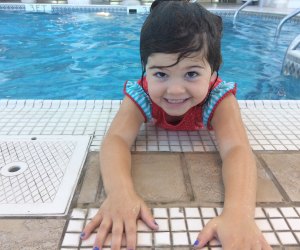 The Pools
No vacation is ever considered a vacation unless there is a pool. Am I alone here? My kids' number one priority is always finding a pool. So we did. And there are actually three to choose from. There's The Fox Tower Pool, the Grand Pequot Pool, and Great Cedar Pool. We opted for the Grand Pequot Pool, which was truly the most luxurious pool experience the kiddos have ever enjoyed. We went there as soon as they opened (8am) and swam for a couple of hours before hardly anyone arrived. The kids loved spending the morning in the pool and we loved that they offered free poolside coffee.
Upcoming Kid Events
Foxwoods Resort Casino periodically hosts a kid's week with fun for the entire family. Guests and their kids can enjoy a wide range of exciting activities. Check their website for kid-friendly events during holiday and school vacations.
On March 16, 2018 Power Rangers, the global pop culture phenomenon, is celebrating 25 years and is heading to Foxwoods with the awesome martial arts spectacular, Power Rangers Live!
Cover Photo courtesy of Foxwood's Resort Casino