The Best Tot Lots and Toddler Playgrounds in Connecticut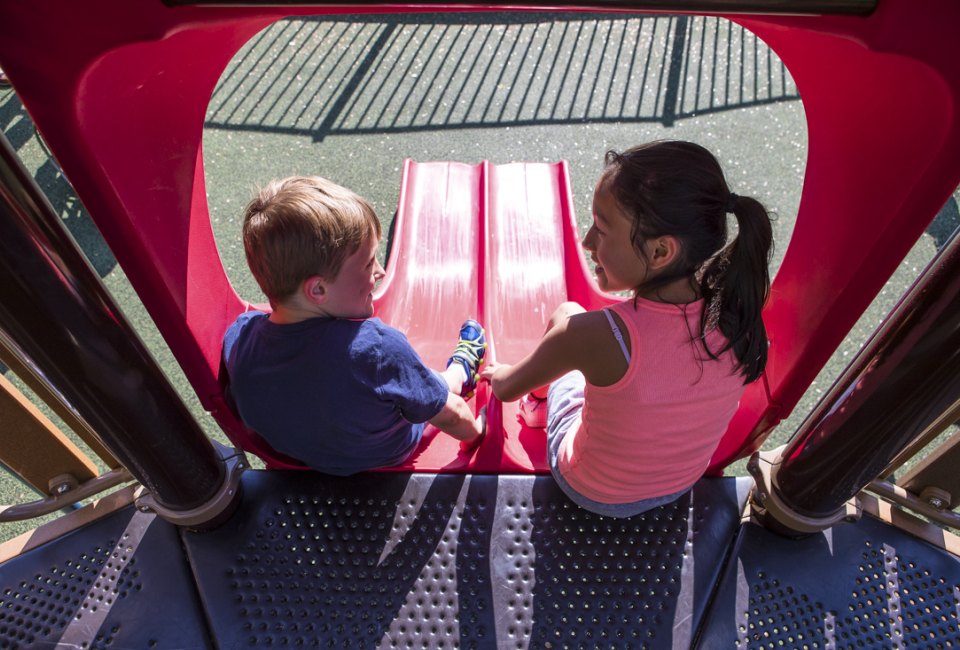 4/22/22
- By
Jennifer Coe
Imagine this scene: the kids are anticipating a trip to a new playground and you're anticipating a few moments of peace and quiet, only to pull into the parking lot and see old swings, steep climbing towers, and unprotected play areas. Finding a great playground isn't always easy, and preschoolers need play spaces that are fun, safe, and age-appropriate. With that in mind, here's a list of the best toddler playgrounds in Connecticut for little ones to explore.
From castles and fire trucks to music installations and more, preschoolers will have a blast at these Connecticut tot lots. For more great outdoor spaces for kids, visit our Guide to Parks and Playgrounds in Connecticut.
For more stories like this sent straight to your inbox, sign up for newsletters.
Toddler Playgrounds in Hartford County
This was my middle son's favorite place for us to go. Our favorite stop was the sandpit complete with a sit-on scooper. Younger kids will enjoy the characters you can hop on and bounce on, the railed-in ramps (favorites of moms everywhere), and the play tower perfect for younger kids. There is a little parking lot and yes there's even a place for older sibs to play too.
RELATED: 13 Amazing Playgrounds Worth Driving to Across Connecticut

Jonathan's Dream is an all-abilities playground. Photo courtesy of O'Brien and Sons Landscape Structures
A great destination and a perfect place to bring a snack and meet up with some other moms. Open 8a to sunset, Jonathan's Dream has recently been completely re-done and there is plenty of space for little to play safely. Things to do include baby swings, rolling slides, rubberized climbing apparatus', soft turf, and a tot lot with a firetruck. This is an all-abilities playground.
This okay area is really two-in-one. The upper playground is tot-friendly with a firetruck, pavilion, see-saw, and sand table. Feeling a little more adventurous, take the rolling slide down to the lower playground for the climbing tower, slides, swings, balancing steps, and more. Up the hill are a skate park, a huge field perfect for kite flying, and an awesome trail for walking.
RELATED: A Dozen Short Hikes in Connecticut for Preschoolers and Toddlers

Colorful playscapes at Pierson Park. Photo courtesy of Mapquest
How about a castle-themed play area? So fun! A "dragon" to climb on, a castle to play in, and a "stone" wall. There are also three plastic drums for banging, short toddler length slides and a soft turf for protection.
RELATED: Splash Pads and Spraygrounds in Fairfield, New Haven, and Eastern Connecticut

Go wild at Josh's Jungle. Photo courtesy of Facebook
New Haven County Toddler Playgrounds
This place's theme is, yes, you guessed it: jungle. It's pretty cool with large animals and palm trees all over the place. It's a ramped, fenced-in play area with stops along the way. There are tons of short slides for tots (like, 6!) and interesting climbing areas for kids with little and pudgy fingers.
This completely fenced-in playground has baby swings, short and safe slides, a sliding tube, sandpit, fun peek-a-boo windows and so much more! Plenty for the under 36" crowd to do.
With muted natural colors in a natural setting, Bodie's Place is a sweet and non-intimidating place for little to play. There's a pavilion for moms to sit down and nurse, separate playscapes for ages that are clearly marked, and plenty of picnic tables around the space for parents to watch.
Toddler Playgrounds and Tot Lots in Fairfield
Oh yes, this place has a ton of stuff for littles still getting sturdy on their feet. There is a little-person play area with slides, a see-saw, stationary riders, and plenty of fun..all fenced in. A very natural setting. There is a separate older kid play area, also fenced in.

There's so much to explore at the Imagination Station Playground. Photo courtesy of Ridgefield Parks and Recreation, Facebook
Located in Ballard Park, Imagination Station is beautiful, creative and colorful, and fully fenced in. Littles will enjoy the hoops and climbers, the animals, pretend-ship and Dr. Suess feel of this playground.
This is a park I would be excited to go to. First of all: I love a playground with grass. The play area on this playground is vast and pushes the imagination. There are separated playing areas so you can camp out at just one if your little cooperates. The main play area is ramped in so running tots only has so many places they can dart off to and there are four baby swings.
Tot Lots in Eastern CT
11. Recplex - Colchester
The Recplex in Colchester is a sunny, tot-sized play area with things like a ride-in place and whale, a small play tower, climbing ramps, tubes, and slides. Kids will enjoy the wobbly bridge but bring a hat because there is no tree cover for shade.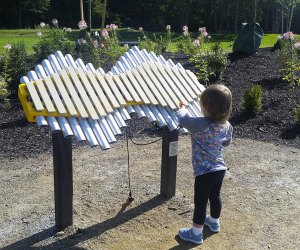 A sound activity at the Charter Oak Park playground, photo courtesy of Manchester Recreation Division, Facebook
A wide-open, semi-fenced-in place which has a lot to do. There is a separated "little person" play area with a spinning tub, play tower, slide, climber, and cushioned flooring. This can be a busy place and there is no tree coverage. This is a great place to meet up with other moms during morning hours.
Your littles will enjoy this sunny place to play. Also known as the Tercentennial Playground, there are plenty of benches for moms, swings, a huge tube slide for the brave littles, and a fenced-in ramp. Kids will love hopping in the see-saw ship and hanging out on the other side of the playground where there is a little play tower just right for tots.
Tot Lots in Central CT
This is a great place for a mom meet-up, Butternut Hollow is moderately sized so there's lots to do, but small enough you can see from end to end. Colorful and modern, kids will enjoy the climbing elements, "woodwork," ride-on cricket, and spinning ride. There are places tots can plant themselves and play and investigate and plenty of safety flooring for easy falls.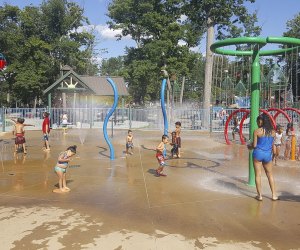 The splash park at Rockwell Park, photo courtesy of the park
We usually put this park on our splash park lists, but it also has a great playground. Four towers for the braver bunch, but two of those towers have short slides for little folks. The playground is wide and open and mulched for safety. There are climbing "rocks," tree coverage and sunshine.
Sign up for the Mommy Poppins Newsletter today!