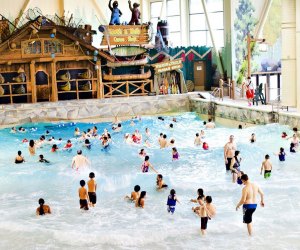 7 Indoor Water Parks in New England
Dreaming of warm waters and balmy temperatures? A tropical vacation may be out of the question, but an indoor water park venture is just as thrilling for kids (and a lot less debilitating to the budget). We've reviewed seven water parks—some big and splashy, others small and convenient— that are within a one- to five-hour drive of Boston. Whether you're looking for a quick day trip or a weekend escape, there are plenty of options for sneaking in some water fun before swimming season officially begins. No matter where you go, be sure to call ahead and check about special rates; and consider planning a trip for a weekday or weeknight outside of school vacation to steer clear of crowds.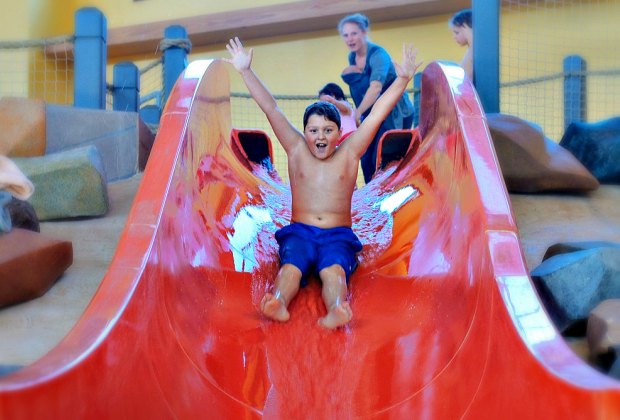 You can fit in a day trip to CoCo Key in Danvers. Photo courtesy of CoCo Key
​
1. CoCo Key Water Park Boston North Shore—Danvers, MA
CoCo Key is the closest water park option for Bostonians, clocking in at just under an hour from the city. Attached to the DoubleTree by Hilton in Danvers, visitors can make CoCo Key a day trip or an overnight. Younger kids will love the kiddie pool with its theater and the lazy river options, while older kids will enjoy the four wild waterslides and the obstacle park area. CoCo Key has a snack bar and cabanas for rent, and an arcade for when you get sick of the water. If you decide to make it a day trip, don't forget to bring your own towels–the park doesn't offer them. Also, CoCo Key doesn't have cubbies and charges $7/$10 for small or large single-use lockers, so plan accordingly.
Costs: Day passes are available for $45 per adult or $35 per child under 48" tall.

2. Great Wolf Lodge—Fitchburg, MA
Great Wolf Lodge New England is the newest and splashiest arrival on the regional water park scene. Visitors to Great Wolf Lodge must be "residents" of the resort and cannot buy day passes, so you'll pay for an overnight stay whether you actually bunk down in one of their rooms (which are fairly spacious and nicely appointed) or not. Great Wolf keeps the water temperatures at a constant 84 degrees and offers all kinds of rides. Try out the raft built for four, the water fort tree house, five water slides, or various pools for the whole family. Great Wolf Lodge also offers activities beyond the pool—including a climbing wall, ropes course, XD theater, bowling alley, mini golf, arcade—and more. Great Wolf also has a kid spa and a fitness center if you're looking for downtime after your water adventure.
Costs: Room rates start at $179.99 for a deluxe queen suite for four people.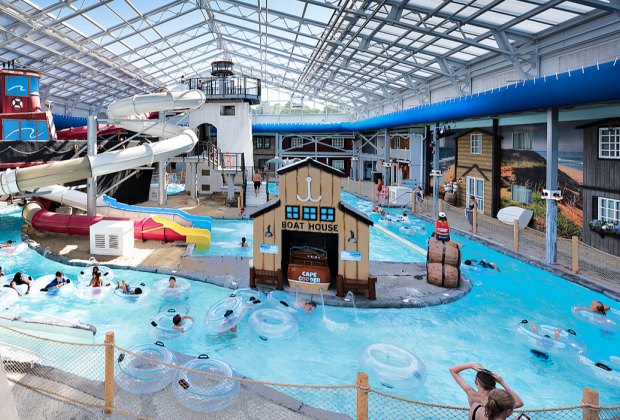 This water park has a seaside theme. Photo courtesy of the Cape Codder

3. Cape Codder Resort & Spa—Hyannis, MA
The only indoor water park on Cape Cod, the Cape Codder is about an hour and 45 minutes from Boston. The Cape Codder has four water slides, a special area for small children with small water slides and a dumping bucket, a 24-person Jacuzzi, and a lazy river with a waterfall, rapids, and a spouting whale. Visitors love the wave pool and the heated outdoor pool. Guests of the resort can enjoy the Beach Plum Spa, fitness center, and the nearby beaches and towns.
Costs: Daytrippers can buy passes for $40 per person, or $30 per child under 48" tall.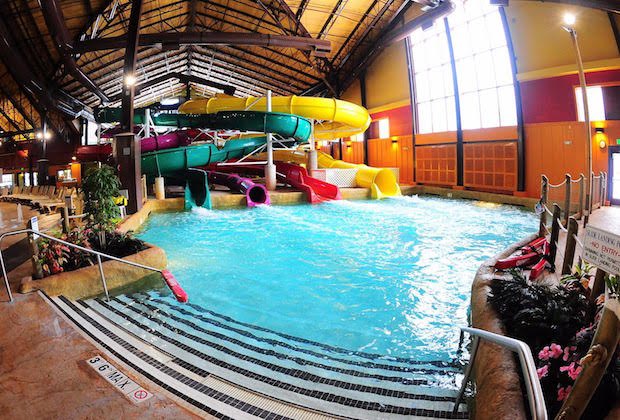 Kahuna Laguna is the biggest water park in New Hampshire. Photo courtesy of Kahuna Laguna
​
4. Kahuna Laguna—North Conway, NH
Kahuna Laguna is New Hampshire's largest indoor water park, and about a three-hour drive from Boston. Part of the Red Jacket Mountain View Resort, Kahuna Laguna offers four water slides for kids over four feet tall, as well as a wave pool, basketball court, and 25-person hot tub. An adventure tower offers slides, with water cannons and a tipping bucket that will drench kids completely. Little people will love the Little Kahuna play area with its slides and shallow pool.
Costs: Visitors to Kahuna Laguna can buy day passes beginning at $40 (exact rates are dependent on season) or visit as part of their stay at the Red Jacket Resort or its sister property, Fox Ridge Resort.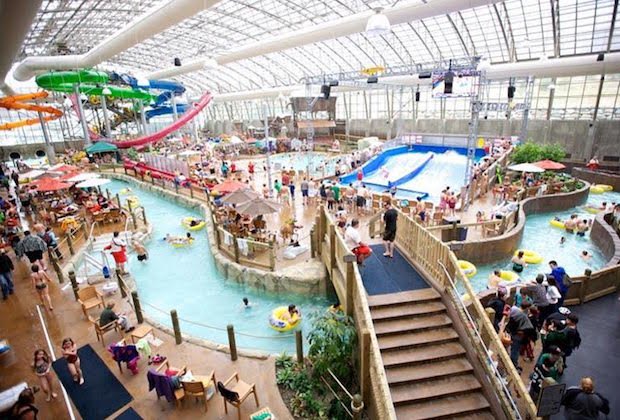 Learn to "surf" in northern Vermont. Photo courtesy of the Pump House

5. Pump House Indoor Waterpark—Jay, VT
At more than four hours from Boston, Pump House is definitely the farthest north of the parks featured here, but the trip would be well worth it. Located at the cushy Jay Peak ski resort, The Pump House offers water slides, indoor and outdoor hot tubs, and even a poolside bar. Thrill seekers will love La Chute and its 65-foot drop at 45 miles per hour, and visitors seeking a more relaxing experience can try out the Big River (a lazy river). Pump House also has an arcade, surf shop and snack bar, in addition to all the activities to be found at Jay Peak (from skiing to an indoor climbing wall). Be warned: the only way to ensure admission is by scheduling in advance online or booking a lodging package. Be sure to reach out to the park before making the drive.
Costs: Day passes begin at $39 per day, or $29 for kids 4-14.
6. Pilgrim Cove Indoor Theme Pool—Plymouth, MA
Located approximately one hour from Boston at the John Carver Inn & Spa, this themed waterpark is full of fun nods to its hometown's prominence in American history—such as the life-size replica of the Mayflower with an 80-foot water slide winding through it, as well as an island whirlpool set in a replica of Plymouth Rock. The waterpark also features lap lanes for those looking to get in a workout, as well as a sauna. If you're bringing very little ones, make sure to note that the facility requires swim diapers for children not yet potty trained; if you happen to forget them at home, you can purchase some at the hotel front desk.
Cost: Day passes are available for $20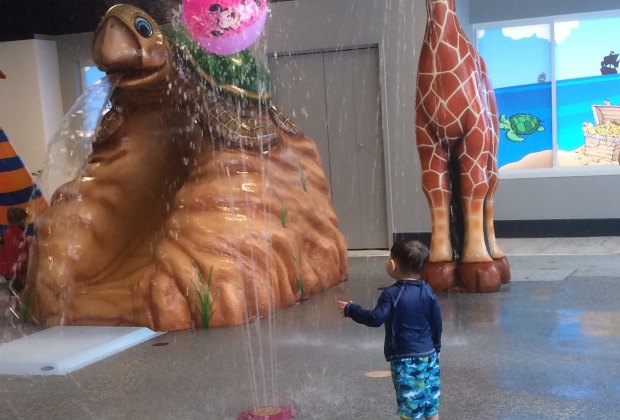 Looking for some simple water fun for little ones? Ships Ahoy is a secret gem in the suburbs. Photo courtesy of the Rama Athletic Club
7. Ships Ahoy Indoor Water Sprayground—Norwood, MA
Perfect for little ones, this indoor splash pad is located inside Norwood's Rama Athletic Club, around 45 minutes from Boston, and is open to the public. The splash pad features a small slide ideal for young children, waterfalls, geysers that shoot water, and more. Parents and caregivers are encouraged to bring flip-flops so you can more easily assist your children while they're playing. Note: It can get quite warm inside the splash pad, so consider wearing layers!
Cost: $10 per child; adults are free
Post originally published in 2016; updated by Caitlin D. in 2019