Best Family Resorts with Water Parks: All-Inclusive Family Resorts and More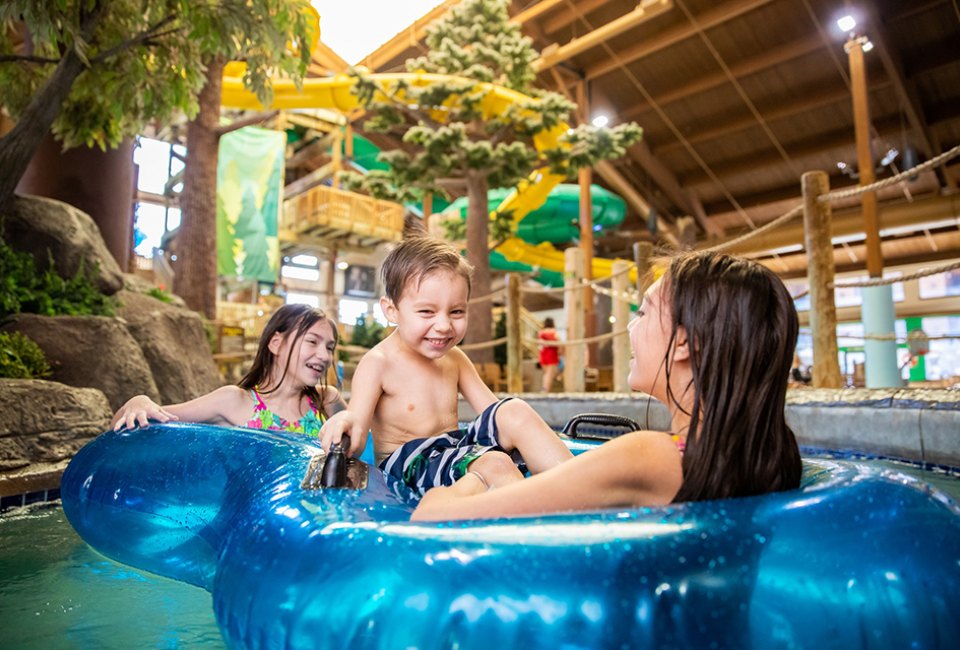 7/9/22
- By
Jody Mercier
When it comes time to book your next visit to a family resort, consider a trip to one of these great resorts with water parks. At these family resorts, the hotel can be the destination—not just a place to lay your head—thanks to larger-than-life water slides for thrill-seekers; kid-friendly, water-drenched playgrounds for tots; and lazy rivers to float on when you need a bit of relaxation yourself.
Read on for 29 family resorts with water parks. Our picks include both indoor water parks for all-seasons fun and outdoor water parks to visit this summer. They span the US from the Northeast to Hawaii and everywhere in between. We've even thrown in a few all-inclusive family resorts and Caribbean resorts with water parks as a bonus.
Looking for more family resorts with water parks? Bookmark this list of hotels with outdoor water parks or our picks for the best Orlando hotels with water parks, plus our Guide to Theme Parks and Water Parks for local options closer to home.
Subscribe to our newsletters to get stories like this delivered directly to your inbox.

Float along the lazy river at The Kartrite.
Family Resorts with Water Parks in the Northeast
1. The Kartrite — Monticello, New York
Nestled in the lovely Catskills region of New York, The Kartrite debuted in 2019 and was an instant hit. Its 80,000-square-foot water park's attractions include everything from a heated indoor-outdoor pool to high-flying slides for thrill-seeking big kids, a Flowrider surf simulator, and Kartrite Island—a water play area with knee-deep water perfect for little ones. Rooms here are all family-friendly suites, stocked with Keurig coffee bars. While you can't check in to the hotel until 4pm, you can come early and enjoy the water park beginning at 9am on the first day of your stay.
The closest resort with a water park to Boston, the Water Park of New England is connected to the DoubleTree by Hilton Boston North Shore, though take note when you book: Not all overnights include water park access, so read the fine print. Stand-out attractions at the 65,000-square-foot water park include the Parrot's Perch Play area with kid-friendly slides, dumping buckets, and tons of sprinklers. A zero-entry pool is great for toddlers while four thrilling slides welcome big kids, and everyone can enjoy a slot on the lazy river. Choose from connected standard hotel rooms for your family, rooms with toddler beds, or suites.
Related: The Best Poconos Resorts for a Family Vacation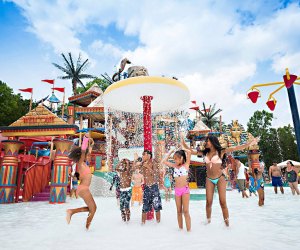 Run through the sprinklers at Camelback Resort's Camelbeach.
It's all-season fun at this Poconos family resort, which offers two water parks for families. Its year-round indoor water park, Aquatopia, is always included in your stay and features 13 slides and a multi-level water playground for little ones. In warmer months, you can opt for a visit to the outdoor Camelbeach water park, but take note: Tickets here are an add-on to your hotel stay. The outdoor water park offers an eye-popping 37 attractions, and Mummy's Oasis makes this water park one of our favorite toddler-friendly picks. The on-site hotel has nearly 500 family-friendly suites, with separate kid sleeping areas.
At this all-inclusive Hudson Valley family resort, there's no excuse for boredom. It's another pick with wet-and-wild water park fun both indoors and out. Its Big Splash Indoor Water Park is a balmy 85 degrees all year round. Test your luck on its water-walk challenge, hit the water slides, or let kids loose in the multi-level playground. Come summer, its outdoor Boulder Bay and Eldorado Hot Springs landed it on our list of the coolest hotel pools in New York. All rooms accommodate at least four visitors, with bunk beds for little buckaroos in every room.
Part of the Six Flags family, this upstate New York lodge knows what it's doing when it comes to family-friendly fun. Its White Water Bay water park has a pair of water-drenched playgrounds: Tall Timbers Treehouse is an all-ages thriller with more than 160 features, while Tip-a-Kanu-Beach caters to the toddler crowd. Big kids love the wild slides and surf simulator. Accommodations range from standard hotel rooms to themed suites complete with a kid-friendly log cabin alcove, which tucks kids' bunk beds and TV away.
Related: 14 Best Water Parks Near Philly for Kids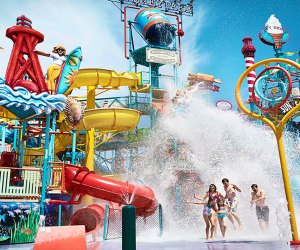 It's family fun time at Hershey's Water Works at Hershey Lodge.
As if you need another reason to visit the sweetest place on Earth, a stay at Hershey Lodge includes fun at this 30,000-square-foot indoor water park. The sweet fun here is on-theme, with a Reese's water walk, twisting Twizzlers water slides, and the Cocoa Cabana serving up snacks. Little ones love the zero-entry pool and the sand castle spray zone. There's also an outdoor pool for sunny days. The Hershey Lodge offers 665 guest rooms and suites to accommodate parties of all sizes, and every day ends with a sweet treat: Hershey's Kisses turndown service is available upon request.
Part of the all-season Massanutten Resort, this water park isn't necessarily included in stays, so look for special packages that include the water park add-on when you're booking. Once you've got your wristbands, you're in for a treat no matter the season with an indoor water park that's always 84 degrees, plus a seasonal outdoor park. All-ages fun ranges from the Massanutten Meltdown water playground to the Blue Ridge Rapids adventure river. Body slides, tube slides, and even kiddie slides abound. Outdoors, race your family to the finish on the 296-foot long mat racer, or test your mettle on thrilling slides with terrifying names like MASS Mayhem, Peak Plunge, and Valley Vortex. Accommodations at this wide-ranging resort include everything from standard hotel rooms to two-bedroom condos.
Family Resorts with Water Parks in Florida and the South
You're just minutes from Disney when you choose to stay at this family resort, and when you need a break from the theme parks, Cypress Springs Water Park is a perfect diversion. Enjoy attractions like its zero-entry pool and toddler tree house playground. Take a float in the new Crystal River Rapids with its twists and turns, or test your mettle on the AquaDrop slide. Whether you choose a room or a suite, be sure to book your accommodations with water park access to guarantee your ticket to the fun. Looking for a similar experience in a different locale? Gaylord Resorts has several other family resorts in the US.
Guests at this family resort can enjoy exclusive access to the on-site Surfari Water Park, where little ones can while the day away in the Kids' Activity Pool, complete with mini water slides. A zero-entry pool is also a crowd-pleaser. A pair of water slides greets bigger kids. When you've had enough wild fun, link hands for a float down the Lazy River. A suites-only resort, all accommodations include a full kitchen, a washer/dryer, and at least two bedrooms.
A life-sized shipwreck is the centerpiece at this wet-and-wild Disney World resort. Kids can climb its mast before descending a towering waterslide. Enjoy a trio of whirlpool spas, a lazy river, and a zero-entry pool, too. The resort is within walking distance to Epcot, or climb aboard a Skyliner Gondola to be whisked to the resort. Standard rooms and suites are available, and everything is dusted with a little Disney magic.
Water-slide lovers will be wowed by this Myrtle Beach resort. Slides tower 40 feet above the ground and include the 278-foot long, two-person, Explosion Tube Slide. Little ones love Salty's Splash House, a year-round attraction thanks to an inventive enclosure that keeps some attractions warm in the colder months. Enjoy kiddie slides, a lazy river, and indoor and outdoor attractions. Rooms range from standard accommodations to three-bedroom condos on the beach with fully stocked kitchens. Read all our favorite things to do in Myrtle Beach beyond the water park.
Related: Baha Bay at Baha Mar: A Luxury Water Park Opens in the Bahamas

Catch a thrill on the water slides at Country Cascades Waterpark Resort.
One of our favorite family resorts in Pigeon Forge, Country Cascades is filled with 75,000 gallons of water and tons of wet-and-wild fun. Climb a four-story tower to tackle the River Run Body Slide or enjoy the beach-like Splashaway Bay. Accommodations cater to families of all sizes, and a generous breakfast buffet courtesy of Grandma's Kitchen makes sure you hit the water park or the rest of the area's family-friendly attractions with a full belly.
SoundWaves is a fitting name for this resort's water park given its Music City address. The indoor/outdoor water park eschews the typical bright water-park decor in favor of a crisp white palette intertwined with living walls and greenery. A variety of attractions invite guests to "chill or thrill." Little ones can enjoy the Quarter Note Cove splash pad and pool, while older kids can enjoy the light-and-music infused Rapid Remix or Record Launch rides. A FlowRider surf simulator lets two surfers tackle waves at one time. During the summer months, enjoy the outdoor wave pool, play on the Rising Stars Stage playground, or dare to tackle the six-story free-fall Bass Drop flume ride. Make sure to book a SoundWaves experience when you're lining up reservations to guarantee access to the water park.
This charming outdoor Texas water park embraces its natural surroundings, and some of its attractions take advantage of the beautiful Comal River, which flows through the property. Its German name translates roughly into "slippery road," and there's plenty of slip-and-slide fun here. Whether you choose to float in your tube down the Comal River or hit up the big slide tower, all-ages fun awaits. The towering Hans Hideout is crafted with preschoolers in mind, while a SkyCoaster lets visitors soar over the park for a bird's-eye view. The on-site resort offers seven different lodging options ranging from cabins to condos and loft-inspired luxury suites complete with full kitchens.
At River Bluff Water Park, guests can enjoy nine acres of outdoor water-park fun. Climb to the top of the slide tower and take a minute to survey the Texas Hill Country and resort golf courses before your wild ride. Grab a tube for a slow float on the 1,100-foot lazy river, or enjoy a mild slide ride that feels like a gentle river-tube float on the Pedernales River. Little ones can build sandcastles on the shores of Sand Beach Pool while their parents lounge nearby. A separate, zero-entry kids' pool offers hours of fun, and if you can sneak away from the kids, an infinity-edge adults-only pool is a lovely vacation from your vacation. Step inside and enjoy luxury accommodations, with most rooms having balconies or access to the pool decks.
Home to the largest indoor water park in Myrtle Beach, Dunes Village Resort invites guests to tackle its towering slides or splash the day away in a sport-themed teen pool. Little ones will love the Silly Submarine water playground, and parents can relax in a whirlpool. The year-round water park is heated in the winter, and summertime means you can take advantage of some outdoor splash time, too. Float along the lazy river or set the kids loose in the sprinkler park. Choose from standard rooms, suites, or oceanfront condos when booking your room.
This all-suite family resort is home to a pretty sweet water park. Take a dip in the cool Lagoon Pool or climb the towers to conquer one of the colorful slides. Let little ones frolic on the splash pad. When you're waterlogged, find a mini-golf course, arcade, laser maze, playground, and organized activities to enjoy on this sprawling Orlando resort.
Related: 20 All-Inclusive Resorts We Can't Wait to Visit Again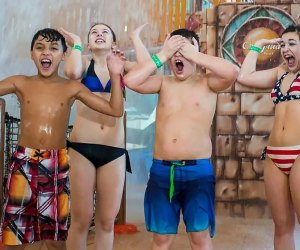 It's year-round fun at at Lost Rios Indoor Water Park at Chula Vista.
All-Inclusive Family Resorts with Water Parks in the Midwest
This popular family resort is packed with kid-friendly attractions. Little ones can dip their toes into the Incatinka Kiddie Play Area, an oversized wading pool with plenty of geysers, spouts, sprinklers, and pint-sized slides. When they've aged out of this area, hit Mount Montezuma's Mayan Temple playground and let them be doused by the 500-gallon tipping bucket. Big kids aren't left out, either: They can take a wild ride on the Flyin Mayan Water Coaster. A lazy river, hot tubs, and plenty of slides round out the fun. Rooms, suites, condos, and even vacation homes make up the accommodation options here.
Located at the Boyne Mountain Resort, a romp at this water park is not included in your stay, though resort guests can book passes at a discount. Once you're in the doors, explore 88,000 square feet of fun spread across four separate swimming pools. Seven towering water slides beckon thrill-seekers, including a mat racer and The Big Couloir, a steep body slide that sends riders twisting and turning. Everyone can get in on the action at Splasherhorn, the water playground, or go for a lazy-river float. Little ones are welcome in the Kitz Poo, a zero-entry pool with a splash zone. Boyne Mountain's wide-ranging accommodations feature many family-friendly options.
An always balmy 86 degrees, this water park is spread over 50,000 square feet of indoor/outdoor space, making it an all-seasons destination. Climb to the top of its 35-foot-tall slide tower to launch yourself on a 300-foot twisting, turning slide. A Tiny Timbers area shields babies from rough play and offers fun like spouts, slides, and a water table. In the summer months, enjoy outdoor pools in addition to the action-packed indoor water park. All overnight guests of this family resort get day passes included in their reservations, and accommodations are all suites.
Located on the Cedar Point resort, a visit to this new water park is a perfect complement to the wild rides nearby. Vacation packages can net you entree to both the water park and the amusement park. The Castaway Bay water park whisks guests away to the tropics with its Caribbean theme and includes plenty of all-ages attractions. If you don't get enough thrills at the theme park, make a beeline for the Rocket's Canopy Coaster here or challenge your family to a race down Air Racer Rally. Little ones are welcome at the zero-entry Castawave Pool, Tadpool Pool, or Pierce's Play Pool. When you're worn out, lay your head down in one of the hotel's 237 newly renovated rooms and suites, with family-friendly perks like bunk beds.
Related: Palm Springs with Kids: 31 Best Things To Do in Palm Springs, California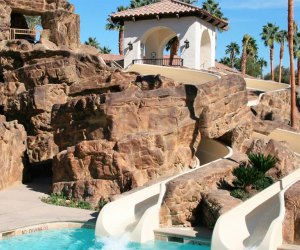 Enjoy the beautiful natural landscape of the Omni Rancho Las Palmas Water Park.
Family Resorts with Water Parks in the West
While there's plenty of grown-up fun at this resort—it's one of our favorite family-friendly spa resorts near LA—kids aren't left out of the fun thanks to Splashtopia. Enjoy a pair of 100-foot water slides, a sandy beach, a winding lazy river, and water-play zones with sprinklers and geysers. There are nearly 500 rooms at this family resort, plus 22 luxury suites.
The Castaway Cove is one of two water-play areas at this family-friendly hotel, which is just steps away from all the fun at Disneyland. Currently, reservations are required to visit the uber-popular water park. We can see why kids love this pirate-themed water park, complete with water cannons, a drenching bucket, and a toddler-friendly wading pool. Choose from standard hotel rooms all the way up to a trio of suite options.
If you want to make like Moana, consider a visit to this Disney resort, nestled on the island of O'ahu. There are several splash zones to visit during your stay. The most kid-friendly picks are the Keiki Cove Splash Zone, which is built to resemble a tidal pool and includes plenty of thrilling squirting jets. At the Menehune Bridge, kids can climb a towering water playground and hit a couple of mini slides. Save time for a float on the Waikolohe Stream, which offers both a lazy river and two thrilling water slides. If you crave a swim with the fishes, consider a visit to the private snorkeling lagoon—though take note, this special experience isn't included in your stay. Choose from rooms, suites, or vacation villas.
Related: Visiting the Poconos with Kids: 70+ Top Things To Do as a Family

There are lots of family water rides at Great Wolf Lodge.
Family Resort Chains with Multiple Water Park Locations
With 20 family resorts in North America, Great Wolf Lodge knows how to please families. Expect wet-and-wild attractions for all ages included in your stay, plus more family fun like bowling, arcades, and gem mining. Kids are gifted wolf ears the moment you check in, and it's a wild, fun-filled adventure from there. Read about our visit to the Poconos location here.
Transport yourself to the safari with a visit to one of Kalahari's family resorts with water parks. These sprawling resorts spare no detail in their devotion to their theme. Water park attractions are kept at a balmy 84 degrees year-round, whether you're visiting in the Northeast or hitting up the Texas location. We had a blast exploring the Pocono Manor location when it opened a few years ago.
Related: 30 Best Warm and Sunny Family Vacation Ideas

Splash around in slime-colored water at Nickelodeon Punta Cana.
Bonus: Family Resorts with Water Parks in the Caribbean
We loved this brand-new water park when we visited last summer—particularly the fact that while it's part of the resort, it is also a bit off the beaten path. Kids go crazy for the Turtle Beach section, complete with family-friendly slides and splash-pad features. The Stingray Cove water playground is also a hit with kids, and the lazy river provides a perfect respite when you need to relaxing. Thrill-seekers flock to the Dueling Riptide Coaster and the Thunderball, a free-fall slide. There's also a huge wave pool and more traditional pools around seemingly every corner, so you can still cool off without the stimulation of an action-packed water park if you choose. A trio of on-site hotels offers a variety of accommodations.
28. Atlantis Resort — Paradise Island, Bahamas
This sprawling family resort is home to Aquaventure, a 141-acre water park with an eye-popping number of attractions, including 11 pools, 18 water slides, and a mile-long River Rapids ride. Thrills cater to all ages, whether you want to take on The Abyss, a 50-foot, near-vertical drop body slide, or explore the Serpent Slide, which sends riders corkscrewing through a Mayan temple before depositing them in a clear tube through a shark-filled lagoon. If milder fun is more your (or your kids') speed, hit up Splashers, the kids' pool and playground. Stay in one of six Atlantis resort hotels when you've worn yourself out.
Go under the sea with SpongeBob and friends at this Nickelodeon-themed Caribbean resort with a water park. Its Aqua Nick water park includes a towering slide structure with a giant tipping bucket—time your visit right, and you'll get sloshed with slime-colored H20! Enjoy the lazy river and character meet-and-greets poolside, too. More wet-and-wild fun is included at the Lighthouse Pool, a Kids' Splash Pool, and even suite-side, where you can opt for a room with a private plunge pool or a swim-up suite. All of the rooms are spacious, family-friendly suites.
Photos courtesy of the water parks
Click Here to Sign Up!
i