Nickelodeon Punta Cana: All-Inclusive Caribbean Resort with a Side of Slime
5/26/18
- By
Jaime Sumersille
If your dream vacation is one where the kids are out of their minds with fun, while you sip piña coladas by your private plunge pool, have I got a place for you. Nickelodeon Hotels & Resorts in Punta Cana, Dominican Republic, gives little ones all the fun of a theme park visit while providing adults with a luxurious, all-inclusive vacation that doesn't leave you needing another getaway when you get back.
From the best rooms, pools, experiences, and eats, read on for our review of everything you need to know to enjoy your Caribbean family vacation at Nick Resort Punta Cana.

This resort was meant to accommodate families, so all suites are designed to make life as easy as possible.
Suite Life
All the rooms on the property are spacious, family-friendly suites with large, luxurious patios, and gorgeous stand-alone bathtubs that yearn to be filled with bubbles. The fridge is stocked daily with complimentary beverages and snacks. Choosing a swim-up room, or one with a plunge pool is a huge bonus, offering added hours of entertainment for kids, while parents don't even have to get out of their PJs, and maybe even a romantic evening dip for adults while the kids are in bed a few feet away. If you really want the full SpongeBob, choose The Pineapple Villa (see our video tour).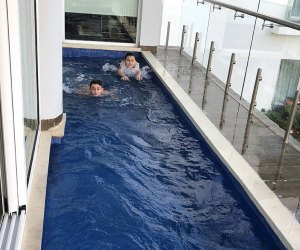 The swank plunge pool suite offers its own private pool. Photo by the author
Butler
All rooms have access to a personal concierge at your service. They all communicate via WhatsApp, which is helpful wherever you are on the resort's grounds. From golf cart rides to restaurant reservations, to specialty booze requests, to securing oceanfront cabanas, to birthday cakes—our butler went out of his way to meet our every request.

The water park, includes play features for all ages, from slides to a lazy river.
Aqua Nick Water Park
Getting to Aqua Nick, the resort's water park, is easy. Getting your kids to leave might be a little more difficult. It's a short walk, or catch a golf cart, to the water complex just across the road from the resort. The main attraction is a giant climbing and water slide structure. A lazy river runs a ring around the water park, while a huge bucket fills up and dumps water on guests below every few minutes. Watch at 4pm when the bucket is dyed green each day for a hilarious mass sliming!
Private sliming for up to four people was an additional $50 and includes a great photo—the perfect memento. It wasn't the slime we grew up watching on Nickelodeon in the '90s. Instead, it consisted of water dyed green, and it quickly dissipated from the water/hair/clothes.
If kids need a break from the sun, or you need some adult time, try Just Kidding. The kids club for ages 4 and over offers a ball pit, slide, games, science experiments, and crafts. There's a small cafe and poolside drink service is available throughout Aqua Nick. Characters also roamed the water park for impromptu meet-and-greets including Dora, Fairy Odd Parents, Ninja Turtles, and SpongeBob.
RELATED: Families Flip for Club Med Punta Cana Relaunch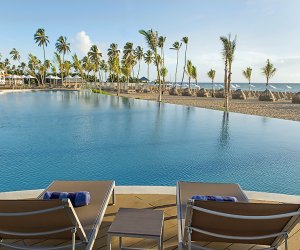 The infinity pool is gorgeous with amazing views of the ocean.
Beach and Pools
The resort has one main pool area that stretches almost across the entire beachside of the resort. Families will find ample seating, beach views, a swim-up bar, and of course, easy access to the beach. All these features make the pool area pretty dreamy. The entire pool is about 4 feet deep, with no kiddie area. Take younger kids to the tot-friendly splash pad and kiddie pool in the middle of the resort.
If you prefer the beach, ask your concierge to book you a cabana (no extra charge), which will be set with towels, beach toys, and drinks. The water can be rough, depending on the season, but great if you like big waves.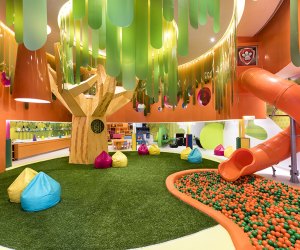 The Just Kidding play space will keep kids entertained if they need a break from the sun.
Entertainment/Activities
One of the lovely things about this resort is the village square, which offers nightly entertainment in a relaxed, outdoor environment where adults can sip drinks and chat, while kids roam and enjoy activities. It's romantic and charming. Entertainment included live bands, acoustic performers, and local Dominican musicians. Big-screen movies under the stars, circus workshops, and a dance party were offered on different nights for the kids, complete with snacks and games.
More entertainment awaits throughout the resort. The onsite theater had a Cirque du Soleil-like show one night. Aqua Nick had an orange carpet, VIP-style party with BBQ's and pasta stations, photos, characters, and a crazy high-flying circus act. A magician performed another evening. Another night, the lazy river was filled with bubbles for everyone to partake in a foam party.
If you love staying active, The Sport Hub located behind Aqua Nick offered sporty fun for teens and adults, including baseball, soccer, and archery. In the activities pool, you might find water polo, a scuba diving trial, yoga on floating SUP board, or water aerobics. Daily beach volleyball and soccer games also took place. There's also a fitness center and dance studio offering fitness classes and dance lessons.
RELATED: Sail with Beauty & the Beast on this Disney Caribbean Cruise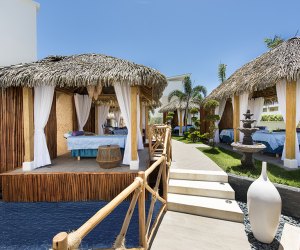 Relax at Vassa Spa, which has a full treatment menu for adults and kids.
To truly relax, make sure you visit 14,000-square-foot Vassa Spa for a massage or another soothing treatment. It offers a full spa menu, indoor and outdoor treatment options, sauna, pools, and more. After your massage, enjoy the hydro-water therapy experience in an Indonesian-inspired outdoor oasis. They practically had to carry me out, I was so stuck in my zen mode. There's also a whole menu of services for ages 5 and up, from haircuts to aromatherapy massage, and of course, manis and pedis.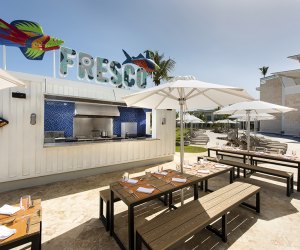 Fresco Restaurant offers poolside dining and specializes in ceviche.
Food
Meals are included at Nick, including room service. You can choose between buffets or make reservations at one of the specialty restaurants. You cannot make reservations prior to arrival, but if you are traveling during peak times, you may want to take the time to book them on your first day for the duration of your stay, so you don't get shut out. The main buffets are Sugar Cane in the Village and The Lighthouse or Zest by the pool and beach. The themed restaurants include Asian fusion, Italian, and burgers. Doppio, the cafe, offered great specialty coffees, kid-friendly frappes, and pastries all day long. Fresco is an outdoor snack spot that specializes in ceviche.
K/23, the adults-only fine dining restaurant is the only one that requires a surcharge. A chef-inspired discovery menu meant various courses of small bite meals. Kudos to the chefs at this one-of-a-kind culinary experience.
Overall, the food at Nickelodeon Resort was above average for resort food. We loved that there was lots of fresh seafood, salads and other healthy options, as well as tasty treats. Allergies are no worry. At every establishment, they were very accommodating of any allergies or food preferences.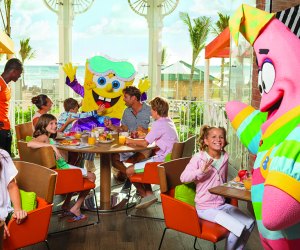 The character breakfast is a big hit with kids!
The character breakfast is a worthy splurge if your children are big fans of Nick toons like Paw Patrol, Dora, Ninja Turtles, or SpongeBob. The fee includes a huge buffet breakfast and a PJ party with all the characters. Everybody gets a chance to take photos with each of the characters, which is nice.
Excursions
If you are looking for adventure outside of the resort, Nexxus provides various excursions, or you can arrange them yourself, possibly at a lower rate. Bavaro Adventure Park is one of the most popular outings and offers hardcore options like zip lining, climbing, inflatable ball rolling, and dune buggies. These outings are definitely more appropriate for older kids and teens who enjoy challenges. Families will pay for a set number of activities and don't expect a refund if you chicken out! There is also a dolphin swim excursion at Dolphin Discovery.
Arrival and Departure
Nickelodeon Hotel and Resort is about 30 minutes from Punta Cana airport. Printing your Punta Cana airport tourist card ahead of time will allow you to skip a line upon arrival. Book transportation to the resort with Nexxus. Make sure to leave plenty of time for departure as it can take longer than expected to get through the small airport, especially during peak vacation times, such as winter or spring break.
Nickelodeon Hotel and Resort Punta Cana is best for families with children ages 10 and under, because the water park and many of the activities are geared toward younger children. It offers an ideal getaway for any family that wants to enjoy an all-inclusive, worry-free, luxury vacation with lots of pool time, good and plentiful food, and pleasant evening activities.
Photos courtesy of the resort except where noted.
t Click Here to Sign Up!