Families Flip for Club Med Punta Cana Relaunch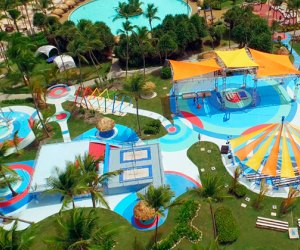 5/12/16
- By
Anna Fader
Club Med invented the all-inclusive resort, so it's no surprise that it offers some of the most popular family-friendly resort destinations in the Caribbean, as well as around the world. The all-inclusive resort has become so preferred by families, and the competition so fierce, that resorts keep upping the ante to make their experiences more and more enticing. That's a big win for families, who get to enjoy the ever-increasing amenities of these resorts. Club Med is meeting the challenge with the relaunch of its all-inclusive family resort in Punta Cana, Dominican Republic with cool activities from Creactive by Cirque du Soleil experiences and boutique-hotel styling. I was invited to check it out and was wowed by the new offerings.
The newest addition to the Club Med Punta Cana activity roll is Creactive, a circus arts complex created in partnership with Cirque du Soleil that allows guests to live out their dreams of running away to the circus. Families can learn trapeze, bungee acrobatics, juggling, trampoline and more, all taught by Cirque du Soleil trained instructors. And it makes a big difference. As testimonial, I've tried trapeze twice before and was never able to do it successfully. The Club Med instructors had me swinging and flipping on my first try. There are Creactive sessions scheduled for different age groups throughout the day, so everyone can try it.
Personally, I love a vacation that combines relaxation and lots of activities. And I especially love when both my kids and I can experience new things. Creactive at Club Med Punta Cana hits the nail on the head. Having a circus troop on site means fun live performances in the evenings as well.
Of course, Club Med is know for its variety of activities, so sailing, windsurfing, kayaking and snorkeling are all available and included with your stay, too. There are also premium water sports like kitesurfing, wakeboarding and, oddly, paddle boarding (why is this premium?) for an additional fee. Or you can book one of the many excursions offered.
The brand-new fitness center offers classes, as well as standard equipment and CrossFit facilities. A nice touch is that free personal training sessions are also part of the all-inclusive experience. I definitely intended to take advantage of that, but somehow my beach chair got in the way. I'm not a golfer, but there's golf, too, including "golf school" for kids and adults.
RELATED: Best All-Inclusive Family Resorts in the US and Caribbean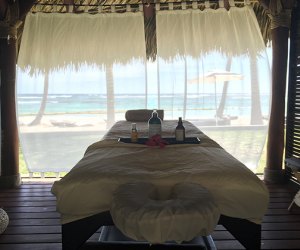 The Spa by L'Occitane delivers relaxation and ocean views.
Another highlight of Club Med Punta Cana is the Spa by L'Occitane. The gorgeous spa sits right on the beach and is heaven on earth. Utilizing all L'Occitane products, I would be happy just to be in the spa, looking out over the ocean, enjoying the breeze and the delicious smell of L'Occitane's en Provence.
Because Club Med is a French company there is a certain international flair to the resort that I enjoyed. Many of the guests and staff speak French as well as Spanish and English. I found this quite charming since I know a little French and enjoyed practicing both my French and Spanish, although I was also happy to be able to fall back on my native tongue.
I think the French roots of the company are also reflected in the high quality of the food, which is often lacking in all-inclusive resorts. All-inclusive resort food often leans toward the heavy and greasy, but you'll find plenty of fresh seafood, salads and fruit available at both the buffet and a la carte dining options.
RELATED: All You Need to Know About Beaches Turks & Caicos All-Inclusive Family Resort

Families can relax at Cielo in the evenings. Kids love the light-up dance floor and dedicated children's bar.
Like all of Club Med's family resorts, the kids clubs are run more like a camp program than just a place to deposit children for an hour. Kids will move from sailing to swimming to Creactive throughout the day. For parents, it means time to relax by the pool, beach or spa. For kids, it's time to take advantage of all that the resort has to offer as instructors to help them along the way. There are age appropriate clubs for kids from 4 months to 17 years old, but there is an additional fee for the clubs for children under 4.
Once your kids are happily at play in the kids club, adults can head to the brand-new Zen Oasis section of the resort. This adults-only addition features a giant lagoon pool with a poolside bar and is surrounded by the adults-only villa accommodations, a dreamy couples getaway spot if that ever becomes an option.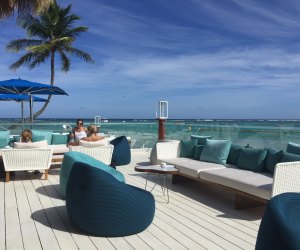 The boutique vibe of this Club Med gives it an overall spacious and uncrowded feeling.
Club Med Punta Cana is a relatively small resort with just over 600 rooms on a property that stretches over half a mile of private beach. The uncrowded feeling is one of the things that gives the resort a boutique-hotel vibe. Another is the chic new Indigo Beach Lounge, which offers family-friendly beach side a la carte dining by day and adult dining and nightclub at night.
Club Med Punta Cana offers an incredible family vacation that sacrifices nothing. The high-end luxury will please adults who prefer a more boutique hotel experience while the all-inclusive activities provide practically unlimited fun for kids and adults alike. And, just five minutes from the airport, getting there couldn't be easier. Of course, none of this comes cheap. Luckily, children under 4 are always free. You can also look for off- or shoulder-season and kids-stay-free deals (for older children) to make it more affordable.
To find out more about Club Med Punta Cana, or to book your vacation visit clubmed.us.
Note: At the time of publication, pregnant women are being cautioned about travel to the Caribbean and South America due to the Zika virus and its effect on newborn and unborn babies. Club Med's website states that to its knowledge, its resorts are Zika-free and it continues to take steps in mosquito control to maintain that status. Families should consult public health authorities and trusted medical professionals when planning a trip. More information can be found on the CDC's Zika page.
Top photo courtesy of the resort. All other photos by the author.