Club Getaway: All Inclusive Family Vacation Camp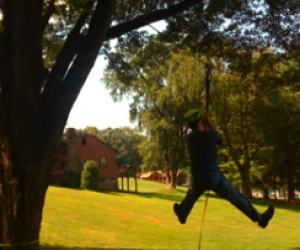 For years I have been sending my kids to great summer camp programs where they do awesome stuff all summer while I sweat it out, slaving away in the City. I think of summer as an opportunity for kids to experience all kinds of things they don't get to do over the school year, be outdoors more and try new things. But why should this only be for kids? Why can't adults get the same benefits from summer vacations?
Last summer we were invited to spend a few days at Club Getaway in Connecticut. Club Getaway offers family weeks in August and September where kids and adults can experience a summer camp-like vacation together. I was surprised that this mini-break turned out to be the highlight of my summer.
Read on about Club Getaway and find out how you can get $200 off a mini-vacation there this summer.
Situated on a small lake in Litchfield County, Connecticut (S. Kent), Club Getaway is actually a converted summer camp and it feels like it. Families sleep in very basic camp cabins (twin beds for everyone and some don't even have a dresser to put your clothes in). When you check in you'll get a schedule of activities and you can do as much or as little as you like.
A variety of activities are offered throughout the day from bike trips to archery, yes archery, yoga, rock climbing and more. Or you can opt to just hang out by the lake which has a swimming area and several small boats (sunfish, canoes). Kids ages 5 and up can go to activities with their camp group or hang out with you.
Meals are eaten communally. At breakfast and dinner you will share a table with another family, giving you an opportunity to meet some new people. Happily, the food is better than regular camp fare and kids will be especially happy with the large selection of desserts and the make your own sundae bar. A nice salad bar and pastas are offered and I think vegetarians would manage reasonably well.
In the evening family activities are offered: smores around the campfire, oudoor movies, dancing. We had fun playing a family game show one night complete with podiums and buzzers.
What made the trip for me was getting to try things that I have listened to my own children rave about at their camps (like the zip line), the fun feeling of being at summer camp, and sharing it all with my kids. I was thrilled to try out two other things that I had never done before, water skiing and trapeze. I don't know when I would have ever had the chance to do these things and I LOVED them. Highlights for the kids were the banana boat, the sundae bar, and doing tie dyes.
Club Geaway's rates are reasonable and everything is included from the meals to the kids club and the activities, even tips, which I like because who wants to worry about money on vacation. Children 4 and under are free.
The only thing you pay for is the drinks from the lake-side bar. You'll buy tickets for those which is a little annoying since you pay the guy behind the bar for the tickets and the numbers don't come out even so you end up paying extra for your drinks for the tickets you don't spend. Plus the tickets are paper so they get wet and ruined easily. Why can't ou just pay the same guy cash for the drinks, but whatever.
I think it's great that Club Getaway offers a vacation where kids and adults can spend some time outdoors, being active and trying out new things together. I'm pretty sure I enjoyed Club Getaway more than my kids did. Sheesh, for them having this much fun is old hat.

Worth the price just for: Getting to do all the fun things your kids do at camp with them and seeing if you really have the guts to do the trapeze. :)
Would be better if: I get the rustic thing, but wouldn't mind it if cabins were a little less so.
Editor's note: We are currently also running a sponsored promotion for Mommy Poppins readers to save $200 off your stay at Club Getaway This post is not a paid post and not related to any paid endorsement or advertising. All opinions expressed are my own. Free or discounted lodging was accepted in the research of this post.