Polar Express Train Rides and Christmas Trains in New England 2022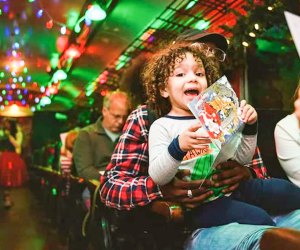 All aboard New England's Polar Express train rides and Christmas trains! These seasonal trains are boarding and heading off on the track! On these special holiday train rides, you will see Mr. and Mrs. Santa, drink hot chocolate, sing songs and maybe even leave with a special take-home treat. Holiday trains in Maine, New Hampshire, Rhode Island and right here in Connecticut are already selling tickets (and they sell out quickly!) for special seasonal rides that will be a great way to kick-off your holiday season. Get ready to book your trip on these Polar Express trains and Christmas trains for 2022.
Bookmark our our events calendars in Boston and Connecticut to stay updated on family holiday events during the 2022 holiday season and keeping check our Holiday and Christmas Activities Guide to make the most of your holiday calendar.
Watch as kids' jaws drop and smiles abound from the time Polar Express trains pull away from train depots across New England. These kids will still be beaming when they return from Christmas town and their visit with Santa.
Polar Express Train Rides and Christmas Trains in Connecticut

Connecticut's Christmas trains are ready to roll for 2022! Photo courtesy of the Connecticut Trolley Museum
Start your family tradition at the Connecticut Trolley Museum where you can ride in a closed or open "electric sleigh," singing Christmas carols while cruising through the "Tunnel of Lights." The Visitors Center is transformed into a Winter Wonderland for this annual event. Enjoy model trains, decorations, and holiday music. You may even get a visit with Santa Claus himself.

Polar Express Trains are astonishingly fun. Photo courtesy of the Essex Steam Train and Riverboat Facebook page
2. Essex Steam Train — Essex
November 19, 2022 - December 30, 2022
The ever-popular Essex North Pole Express train ride is back for the 2022 holiday season! It's arguably one of the most popular Polar Express holiday train rides in the country and certainly in the Northeast, so we expect tickets to sell out fast. Tickets are for sale online only this year, with no phone or in-person sales. Partial and full car tickets are available starting Tuesday, September 13 at 9am and all remaining tickets go on sale Thursday, September 15 at 9am—so set your alarms now.
Visit the Shoreline Trolley Museum on weekends to take a ride and visit with Santa for some holiday cheer. Cookies and cocoa are included, as well as plenty of photo ops. To make the evening extra special, all children will receive a small gift from Santa. Evening rides become a festive wonderland with beautiful holiday lights. Reservations are required as this is one of the most affordable events.
Polar Express Train Rides and Christmas Trains in Massachusetts

Santa Claus himself approves of New England's Christmas trains. Photo courtesy of the Cape Cod Central Railroad
4. The Train to Christmas Town — Buzzards Bay, Massachusetts
November 25, 2022 - December 23, 2022
Aboard Cape Cod Central Railroad at Christmastime, dancing chefs serve warm cocoa and a chocolate chip cookie to each passenger. After the train rolls into the North Pole, Santa boards with his elves and gives each child a shiny silver bell while the elves lead a merry sing-along. If you can score a seat in the Premium Class, you get extra-special views, and an additional keepsake to take home.
Polar Express Train Rides and Christmas Trains in Rhode Island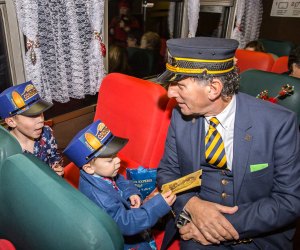 The conductors are ready for those Polar Express train tickets. Photo courtesy of the Blackstone Valley Polar Express
The hugely popular Blackston Valley Polar Express Train with its different style cars is a 3-hour adventure filled with Christmas carols, a reading of "The Polar Express," and of course hot chocolate and treats before the visit from Santa. Arrive ahead for outdoor photo opportunities with the elves.
Polar Express Train Rides and Christmas Trains in New Hampshire
6. Santa Express Train — Lincoln, New Hampshire
November 25, 2022 - December 18, 2022
Santa Express Trains depart Hobo Junction Station and are 80 minutes long. Passengers enjoy chocolate milk and cookies while children complete a letter to Santa. Then, Santa visits, and gives every young child a special gift. Tickets go on sale Monday, November 1. Reservations are required and must be purchased online.

No Polar express train ride is complete without hot chocolate! Photo courtesy of the Believe in Books Literacy Foundation
7. Journey to the North Pole — North Conway and Lincoln, New Hampshire
November 25, 2022 - December 23, 2022
During a 2-hour adventure through the White Mountains, kids enjoy treats, meet elves, listen to "The Night Before Christmas," and have an opportunity to leave letters to Santa at the "North Pole" Post Office. Children with first-class or upper dome tickets may receive a special gift on the return trip back. Learn more and access tickets on the Believe in Books Literacy Foundation website, which hosts the fundraiser.
Polar Express and Christmas Trains in Maine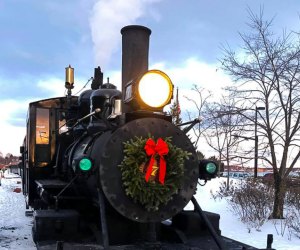 2022's Christmas trains are coming down New England's tracks. Photo courtesy the Maine Narrow Gauge Railroad Company and Museum
8. Holiday Express — Portland, Maine
November 23, 2022 - December 23, 2022
The 10 historic coaches from the Maine Narrow Gauge Railroad that are decked out for the holidays are a Maine tradition. Passengers will listen to Christmas music and wave Santa off on his sleigh as they travel to and from the North Pole. First-class passengers will receive a souvenir mug and a grab bag. While food and drink will not be served aboard the train in 2021, the railroad directs visitors to the nearby Navis Café for a bite and a warm drink before or after the ride. Proof of vaccination or a negative COVID-19 test are required for those 12 years and older. Masks are required for all guests ages 2 and up.