100 School Lunch Ideas for Kids: Back-to-School Lunches Kids Will Actually Eat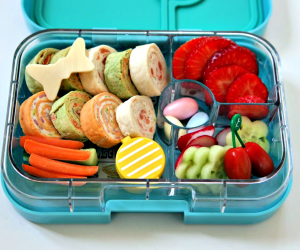 8/19/21
- By
Roberta B
Need lunch ideas for kids heading back to school? Chances are you've had a healthy, well-packed school lunch box delivered back into your hands virtually untouched at the end of the school day. There should be a special name for the heartbreak one endures at the words, "I told you I hate peanut butter and jelly," when not only is this the first you're hearing of it, but you spent extra on organic jelly and freshly ground peanut butter. And if not PBJ, then what? Well, we've got 100 lunch ideas for kids to answer the question of what to pack in a successful school lunch.
It's true what they say about good things and small packages when it comes to kids and lunches. I watched a painful number of sandwiches make the round trip from home to school and back again before working out that lunch ideas for kids don't have to start and end with sandwiches. So we bought a cool lunchbox (and yes, cool absolutely helps) made up of small containers, and now I fill them with a variety of healthy finger foods.
Moving on to what's inside: variety is the key to a winning school lunch. The suggestions below can be put in small containers (kept cold by a frozen water bottle) and mixed and matched like Garanimals. Keep a dozen in the kitchen at any given time, so each day's lunch can be different. And if some do come back, don't be sad—cause two out of three ain't bad.
Lunch Ideas for Kids with Protein
1. BLT in a mini pita
2. Cream cheese and strawberries in a mini waffle sandwich
3. Jello cubes
4. Celery with peanut butter or cream cheese
5. Hummus with carrots/chips/sliced veggies
6. A hard-boiled egg with a tiny salt packet
7. Mini pita, shredded mozzarella, and tomato sauce—all in separate containers—for assembling a lunchbox pizza
8. Cubes of interesting cheeses, tasting booth style
9. Yogurt with fruit and a sprinkle of cinnamon sugar
10. Pistachios or other nuts (but pistachios are fun!)
11. Peanut butter (or a nut-butter alternative) on crackers
12. Cream cheese and jelly on crackers
13. Shredded cheese
Give bananas a punch of protein! Photo by Ally Noel
14. Banana peanut butter roll-up on a tortilla
15. Deviled egg
16. Roll a tortilla with favorite sandwich filling, then slice off just a couple of bite-sized rolls into pinwheels
17. Trail mix
18. Guacamole in one cup, tortilla chips in another
19. Nacho cheese sauce in one cup, chips in another
20. Cesar salad chicken wrap
21. Slices of sausage or hot dog
22. Tortilla chips with salsa, black beans, and shredded cheese so kids can make nachos
23. Shelled sunflower seeds
24. Make your favorite G.O.R.P
25. Slice of baguette with cream cheese or mascarpone and pesto
Dress up an old standard in a new package—here a classic PBJ becomes a taco. Photo by Ally Noel
36. PBJ tacos
27. Babybel cheese (the ones in the red wax)
29. Bagel and toppings
30. Sandwiches on Ritz crackers
32. Yogurt tubes (they can be frozen when you pack them)
33. Quesadillas with dipping sauces
34. Sliced cheese and salami rolled into a tube
35. For the connoisseur kid: strips of prosciutto wrapped around cubes of melon
37. Hummus roll-up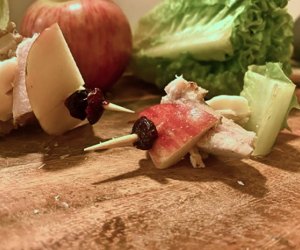 Everything is more fun to eat when you put it on a toothpick. Photo by Ally Noel
38. Apple chicken salad on a stick
39. Cubed turkey and cheese kabobs
41. Breakfast for lunch
RELATED: Mommy Poppin's Back-to-School Guide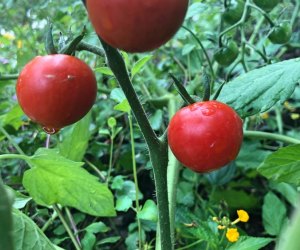 Tomatoes fresh from the garden can go straight into the lunch box! Photo by Meghan Rose
Fruit and Veggie School Lunch Ideas
43. Cherry tomatoes
44. Melon balls
45. Carrots cut into long spaghetti strands
46. Sliced cucumber with a wedge of lemon and a little salt
47. Slices of star fruit (so fun to play with!)
48. Salad in one cup, dressing in another
49. Applesauce
50. Watermelon chunks
51. Radishes sliced in flower shapes
52. Itty bitty champagne grapes (so cute and sweet!)
53. Cucumber sandwich wedges (like at high tea)
54. Apple slices with peanut butter
55. Any dried fruit
56. Any berries with a decadent little cup of whipped cream
57. Fruit kabob with favorite fruits

Simple tomatoes get fancy with Italian flair. Photo by Ally Noel
58. Basil tomato skewers
59. Mandarin orange slices (fresh is great, but keep a can in the cabinet!)
60. A couple of pieces of veggie sushi with a packet of soy sauce
61. Roasted seaweed or kale snacks (they come in great flavors)
62. Fried plantain slices
63. Pickles!
RELATED: Great Lunch Boxes for Kids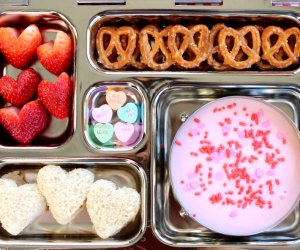 Yogurt tfor pretzel dipping for a heart-themed lunch. Photo courtesy anotherlunch.com/CC BY 2.0
Snacks for School Lunches To Help Fill Bellies
64. Pretzels (and a yummy dip)
65. Plain, cold pasta (try different colors and shapes)
66. Cornbread (maybe with cheese baked on top)
67. A mini-muffin
68. Potato salad
69. Popcorn
70. Mini croissant with jam
71. Mini bagels (or slices of bagel) with cream cheese
72. Cold spaghetti in a favorite dressing or peanut sauce
73. Olives
74. Rice cakes
75. Pancake with a mini syrup packet
76. DIY Chex mix (be sure to include Goldfish!)
77. Fruit roll-ups made from real fruit
78.An old-school tiny box of Sun-Maid raisins
79. Any kind of granola bar or breakfast bar
80. Dry cereal and a small carton of milk
81. Lunchbox s'mores: graham crackers with fluff and Nutella
82. Rice pudding
83. Any sandwich made on a little slider bun becomes super cute
84. Apple sandwich
86. Energy balls
87. Yogurt with pretzel dippers
RELATED: Best Backpacks for School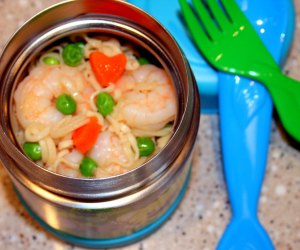 Any leftovers can go into a thermos and become lunch. Photo courtesy Bunches and Bits/CC BY-NC-ND 2.0
Thermos Lunch Ideas for Kids
90. Ramen noodles
91. Pesto with tortellini
92. Pasta salads
94. Lunchbox smoothies
97. Penne pasta with peas and parmesan
98. Chicken noodle soup
99. Scrambled eggs and cheese
100. Oatmeal with fresh fruit
A version of this article first published November 2, 2012