The 12 Best Backpacks for Back-to-School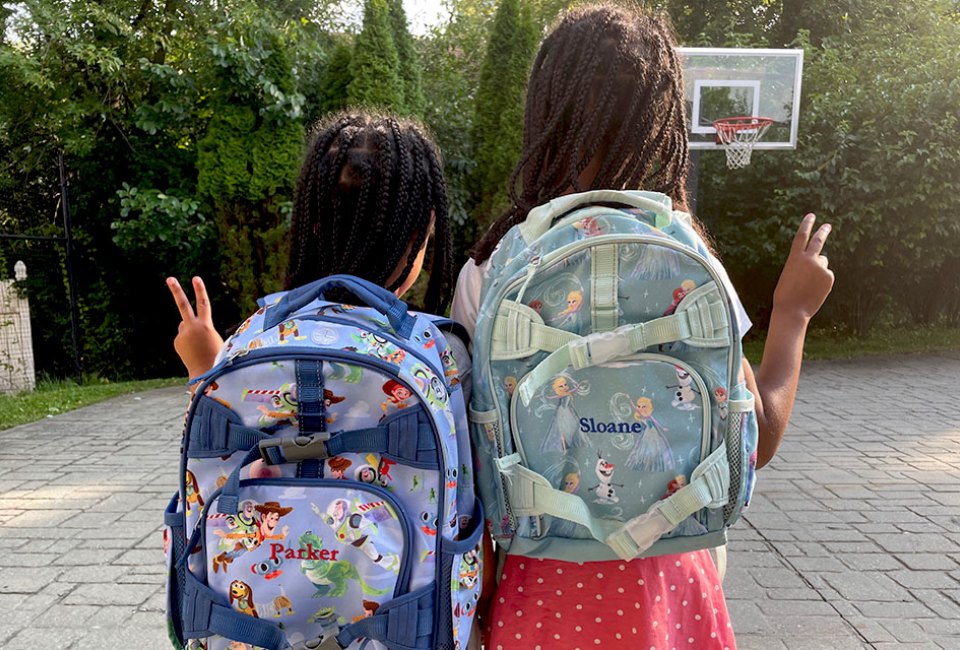 7/29/21
- By
Danielle Smith
Backpacks are probably among the most universal of school supplies, the item that gets the most use and suffers the most wear and tear. Finding the right backpack for school that will accommodate all of your child's supplies—and that they'll love carrying—requires a bit of research and a big stamp of approval from the student who has to lug their brand-new cool backpack around from home to class to afternoon extracurriculars.
So if you're on the hunt for an extra cool backpack this year, we've done the homework for you, pulling together a list of our top 12 backpacks, drawing on many years of experience from our parent writers and readers. For more back-to-school tips, from perfect alarm clocks for the first day to school lunch ideas kids will actually eat, check out our Back-to-School Guide.
Subscribe to our newsletters to get stories like this delivered directly to your inbox.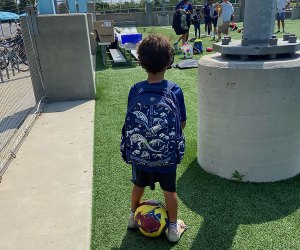 Want them to carry it? Let kids pick the design they prefer. Photo of an L.L. Bean Backpack by Sara Marentette
The Best Kids Backpacks in Every Category
1. Best Preschool Backpack –– Skip Hop Zoo
With 15 Zoo Crew members to choose from, such as Kenzie Koala and Preston Pug, these backpacks are as cute as the little ones who wear them. For an introductory school experience like pre-k or younger, the Zoo Little Kid backpack is ideal for a lunch, a change of clothes and a few loose papers, while the Big Kid backpack has more room for school folders and supplies. The Zoo collection consistently makes appearances on parenting must-have lists everywhere.
Parents have praised this bag for its staying power. The durable polyester material can go in the wash, a chest strap relieves pressure from small shoulders, and three different sizes are sure to accommodate the workloads of kids at various stages of learning. The ClassMate bags can be personalized with initials and words of up to seven letters, or you can choose from 195 embroidered pictures like unicorns, soccer balls, or flags. Can't decide between a name or a picture? No worries, add both.
Especially sized for kids 8-12, this bag is perfect for pre-teens who want a standout option, but may have aged out of character-inspired book bags or more juvenile prints. The magnetic fastened straps and metal buckles are a nice compliment to the bag's mountaineering style, with its distinctive silhouette. At 13 inches, the laptop sleeve is big enough for most devices.
L.L. Bean's unmistakable reflective strips are a hallmark of school hallways everywhere. The brand sells tried-and-true, if basic, backpacks for students of all ages, but they've taken it to the next level for teens with their Comfort Carry Portable Locker. Designed for ages 13 and up, this mega pack is made for mega loads, with a foam padded back panel and padded straps to lighten the burden. The spacious main compartment and internal organizer will hold the largest books and binders, in addition to the laptop compartment for devices as large as 15 inches. The pockets on this one really take teens' needs into consideration, with a top pocket just right for a smartphone, and a front pocket for a spare hoodie or light jacket. There's no need for a locker with this bag.
RELATED: Top Educational Activity Workbooks for Kids

Everyone loves the classic, roomy Jansport! Photo by Sara Marentette
As maybe the most recognizable brand on the market, Jansport is synonymous with backpacks. These bags gained such ubiquity over time by consistently delivering quality function and style with classic, minimalist design. The Main Campus features the famed Jansport diamond decal and name patch, with two front pockets, a mesh side pocket, a 15 inch laptop sleeve, an internal key fob, side compression straps and most impressive of all, a lifetime warranty that'll extend well past your child's school days.
For lots of families, the Pottery Barn Kids Mackenzie offerings represent the holy grail of children's backpack options, with durable book bags featuring exclusive collaborations, prints for every taste, glow-in-the-dark capabilities, and an extensive monogram menu. Pottery Barn also has the most matching companion pieces, from lunch bags and systems to water bottles and thermoses, which can also be personalized. The Mackenzie collection come in four sizes: mini, small, large, and rolling. I've never heard parents complain about these bags, myself included.
7. Best Splurge-worthy Backpack –– State Kane Kids
The State Kane Kids backpacks go beyond fashionable and stylish to the truly unique –– with museum-quality watercolors, bags that look like basketballs, nylon puffers resembling your favorite winter jacket, and of course the brand's signature color blocking. For the kid who wants to stand out from the crowd, a State backpack is the way to go. At just under 15 inches in length, this pack is best suited to younger ones without a lot to tote back and forth. With some prices north of $100, we consider this a definite school-year splurge, but you won't find bags like these anywhere else.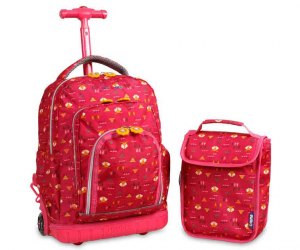 A rolling backpack lets younger kids save their backs while toting plenty of supplies. Photo courtesy of J World New York Lollipop
You guys, the wheels light up. If you're a kid, this is about as cool as it gets. Plenty of brands offer some form of rolling backpack, but only J World thought to include LED technology, so they win. Also, all of the Lollipop bags come with a matching lunch tote, which is a pretty good deal for $64.99, especially since rolling bags always cost a little more. Parents give these bags great reviews for durability, so save their little backs from the weight of their work, and save yourself some change at the same time.
Unsurprisingly, the same people who make outdoor gear for trekking through the mountains happen to make backpacks for school that last a really, really long time. A lifetime to be exact, when you factor in the forever warranty against material defects and workmanship. Featuring a special stand-up design, the base of this bag doesn't move when set down on a surface, so it won't roll around or be stepped on. The bungee cords are a nice design element that also aid in compression, which is helpful for holding in everything an older student needs. I've had one of these bags for years, and it is as comfortable as it is indestructible, with a certification from the American Chiropractic Association for going easy on weary backs. Available in both men and women versions.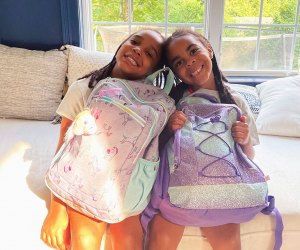 It's hard to beat the value of a Target backpack, especially when kids often want a new one, year after year.
We certainly don't need any excuses to make another Target run, but the brand's budget backpacks are worth a look. Topping out at less than $20, the Cat & Jack brand carries a variety of designs and sizes suitable for preschool through elementary. The larger bags go up to 17 inches and come with a laptop sleeve, two mesh side pockets, two zipped outer pockets, and adjustable, connectable straps. The best part, however, is the detachable plush friend hanging from the outer zipper. I can personally vouch for these bags' durability: we bought them last year and they're both still intact. You can definitely stretch your dollar further with these backpacks.
11. Best Ergonomically Designed Backpack –– Bixbee Flyers
When the original backpack was engineered, its creator probably didn't have kindergartners in mind. That's OK, because Bixbee did, and we think they've come up with the best ergonomic design, distributing weight at waist level, for children ages 3-10. The horizontal shape is simple yet ingenious, the kind of thing you kick yourself for not thinking of first. Kid-friendly colors and patterns showcase glitter, dinosaurs, sharks and more, and that's not even including the flyers. These extra special backpacks, made for children up to 7 years old, have actual wings jutting out from the sides. Choose from an aircraft or butterfly theme, with or without LED lights, and let their imaginations really take flight.
12. Best Fashion Forward Backpack –– J. Crew
J. Crew's kids backpacks cater to young style mavens, just like the clothing line. The leopard print backpack is a favorite among budding fashionistas; there's also a unique embroidered denim bag, as well as prints in beautiful florals and a cool camo. These mid-sized bags are definitely best for elementary schoolers without a ton of supplies, but each is equipped with plenty of pockets and a laptop sleeve.

Choose an easy-to-carry but spacious backpack like this 'Gear-up' style from Pottery Barn Teen. Photo by Rose Gordon Sala
How to Pick Great Backpacks for School
We've also got some tips on what to look for when selecting a kid's backpack for school.
Choose Darker Colors - Kids backpacks spend a little time on backs, and a lot of time on classroom floors, bus seats, and in the grass or playground mulch—not exactly the cleanest locations. We avoid light-colored backpacks in our house for the same reasons we don't buy white sneakers: what would be the point?

Look at the Dimensions, Carefully —Younger kids usually require less space to accommodate less work and fewer supplies, but make sure there's enough room for oversize folders, art projects, and in the era of remote school...maybe even a Chromebook. Many we know opted for roller bags on hybrid days so as not to overwhelm the kids' smaller frames. Older kids who have textbooks, devices, and regular homework need to comfortably carry a heavier load, so look for padded straps and a well-balanced backpack. From elementary school on, bag lengths generally range from 15-19 inches, so pick what fits your child's height best, too.
Test Durability – A good quality backpack should last for years. So, if you don't want to review this list every summer, check for sturdy details like reinforced bases, strong plastic zippers and water-resistant materials.

Review the Supply List – Knowing ahead of time which supplies come home every day will help determine what kind of internal organization and space the bag needs. Most schools will share this list before the next academic year.

Ask for Kids' Input – Backpacks are a fun way for kids to express their personality. Involving them in the selection lets them choose an important part of their everyday look, and gives them some sense of control in the back-to-school decision-making process.
Photos by the author except where noted.
Click Here to Sign Up!
i