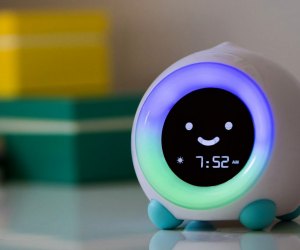 10 Best Kids' Alarm Clocks to Make Mornings Easier
Getting kids out the door and off to school should probably qualify as an Olympic sport, requiring all the patience and planning we parents can summon to make things run smoothly. A good kids' alarm clock can provide much-needed support by helping to establish consistent routines throughout the year, freeing parents up to focus on packing bookbags, making lunches, or whatever other tasks we face before the bus arrives.
If your loved one sleeps like a log, we've got kids alarm clocks that will literally shake, rattle, and roll them out of bed. For lighter sleepers, waking up with a sunrise alarm clock light could be the perfect start to the day. These all-star alarms do everything from teaching time to telling jokes, so read on to find the best option for your household.
The Best Alarm Clocks in Every Category
I'm sure I'm not the only parent who knows from experience that a toy truck rolling across your face at 5am is a less than ideal start to the day. The Mella sleep trainer clock is designed to help kids establish some independence and stay in bed longer, a welcome goal for countless toddler moms and dads. The display uses facial expressions and colors in addition to sounds to indicate when it's time to go to bed and wake up. As long as Mella's eyes are closed, it's bedtime, and a night-light can be set in six colors. The optional Play Period function turns yellow 30 minutes before the alarm goes off. When it's time to get up, the light turns green and Mella's eyes fully open. This toddler alarm clock features three different sleep sounds, three alarm options, and an activity timer. The clock has more than 8,800 five-star ratings on Amazon, and it's easy to see why.
OUR LATEST VIDEOS
At some point, kids should probably learn how to tell time on an analog clock, so why not buy a kids' alarm clock that gives lessons? In addition to a digital alarm clock display and settings, Super Telly's analogalarm clock has adjustable hands, and the digital time changes as they're moved. In game mode, Telly asks kids to find specific times by repositioning the hands, and lets them know when they're correct. It also features a built-in night-light to help fall asleep.
Sleeping under the stars is a lot easier with the MomKnows Galaxy Clock, a projection alarm clock that projects colorful images of the night sky onto the walls and ceiling. White noise and sounds from nature accompany the glow to help little ones doze off with this friendly kids' alarm clock. Set a timer that will turn those sounds off after 15, 30, or 60 minutes. This clock monitors temperature if you're concerned your child's room might be too hot or cold, and it functions with batteries or the included USB cord.
RELATED: Best Bunk Beds for Kids' Rooms

Program the Cozy Villa Bunny Clock with a simple alarm clock app. Photo courtesy of Cozy Villa Home and Living
The Cozy Villa bunny kids' alarm clock is not only cute, it's programmable from your phone using the Intelliclock app, so you don't have to worry about your kids messing with the settings. You can program this alarm clock app with multiple alarms and times this way, which is helpful for making sure the alarm is off on weekends. This bunny is smart enough to know when someone's in the room: its voice control sensor will activate the display when it detects sound. Touch controls on the ears also work for the light, brightness levels, and the alarm. If left alone, the night-light stays on for 30 minutes before automatically turning off. This is an adorable option to help kids hop out of bed with a smile.
Not every kid wants or needs to be abruptly jolted from their slumber, and a simulated sunrise is a great option for older tweens or teens who prefer a more gradual emergence from sleep. This Phillips SmartSleep Wake-Up light employs light curve technology that brightens over time, in yellow hues that mimic sunrise, accompanied by a gentle beep that slowly intensifies in volume. These lights are recommended by medical professionals and are clinically proven to help establish healthy sleep and wake routines. By tapping into our natural circadian rhythms, these clocks pledge to boost energy levels and improve mood. Less grumpy Mondays? We'll take them.
6. Best Snooze-Happy Alarm Clock –– Clocky
In order to get kids moving, this alarm clock gets moving itself. Clocky is a cute but no-nonsense alarm on wheels that takes off if the snooze is hit too many times. Small but durable, it can withstand drops of up to 3 feet from the average nightstand, and rolls around well on carpeted or hard surfaces until it's picked up and turned off. The loud, robot-like alarm noise is inspired by Star Wars' R2-D2. For kids who truly despise getting out of bed, having to chase down an alarm clock won't give them much of a choice. A great alarm clock for heavy sleepers, as is our next choice in this list.
With a triple-threat combo of sound, vibration, and red flashing LED lights, it's virtually impossible to sleep through the alarm on the Sonic Bomb. If the name isn't enough of a hint, this alarm clock has sounds that can be adjusted from 30 decibels to an eardrum-blasting 115 decibels – which corresponds to a live music concert on the decibel chart. It also comes with a bed shaker – a detachable unit to be placed nearby, beneath the mattress or under a pillow, to add the element of physical vibration. The Sonic Bomb is highly customizable, with adjustments for volume, tone, and snooze time. We certainly would not recommend this for younger children, but many parents of middle and high-schoolers swear it's the only thing that gets their adolescents out of the door.
RELATED: Back-to-School Guide 2021-2022

No sleeping through the Sonic Bomb Alarm! Photo courtesy of sonicalert.com.
Another teen option that covers all their bases is this Emerson Radio Smartset Alarm Clock. This digital alarm clock offers both wireless phone charging and a USB port, with a built-in Bluetooth speaker so they can wake up to any music they choose, or have a dance party during the day. The LED night-light provides a soft glow, and on the off-chance that your teen actually listens to FM radio, there's one of those too.
9. Best Multipurpose Smart Alarm Clock –– Amazon Echo Dot Kids
While this isn't strictly an alarm clock, the Amazon Echo has an alarm function along with a whole host of other features your child will love. Besides asking Alexa to help with math homework, tell jokes or read them a bedtime story, your kids can also ask Alexa to wake them up at 7 AM, in the voice of their favorite character. The Echo Dot Kids comes with parental controls, so they won't be in their rooms goofing off all night once their time limit expires. Unlike the adult versions, the Kids Dot comes as either a panda or a tiger, and honestly they're just too cute to resist. (Try these Alexa games for kids to keep them entertained while you sleep, or they can just laugh themselves awake while Alexa tells them jokes.)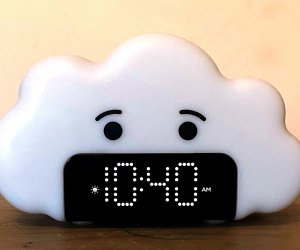 Capello Kids Wake-Up Light Cloud Clock. Photo by the author
This is the kids' alarm clock that I currently use for my 5- and 7-year-old daughters, so I can vouch for its effectiveness. Without many bells and whistles, it hasn't failed us yet, with an audible ring volume, simple setup, and night-light that's comforting but not overpowering. We've had issues with clock batteries dying quickly in the past, so the included power cord is helpful. A light tap on the top activates the snooze after the alarm goes off, or turns on the night-light in 15-minute intervals up to an hour with each tap. For 20 bucks, this is a great no-frills alarm clock option.
Find more reviews, family-life hacks, and must-have products in our Kids' Gear & Toys Guide.