10 PA Weekend Getaways for Families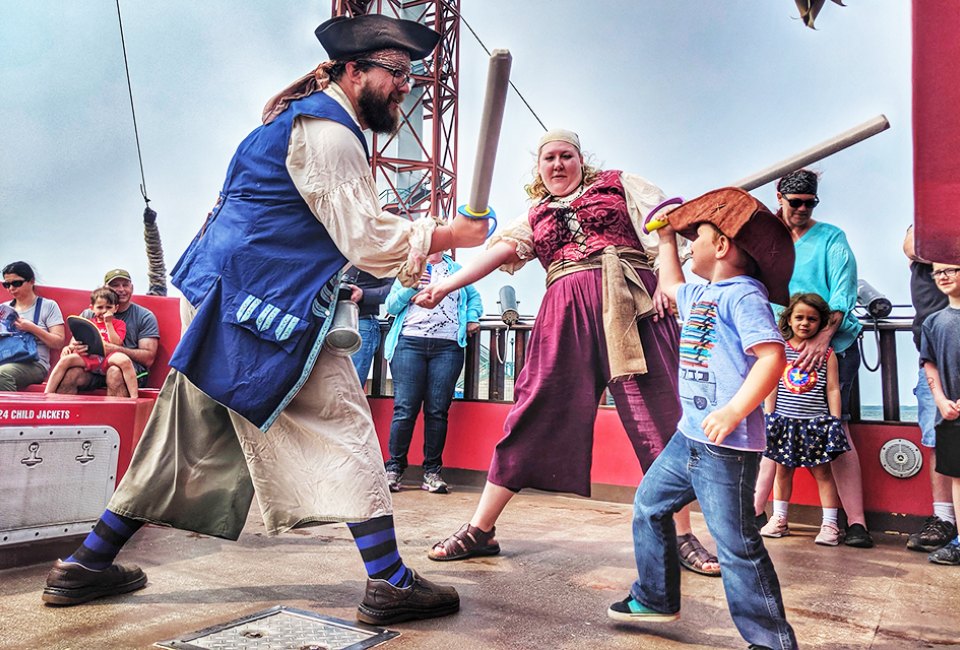 10/22/21
- By
Corrie Stango
If you're looking to escape for a little while, several PA weekend getaways make great options. We've got ten places to visit in the Keystone State over a holiday weekend, long weekend, or any weekend for that matter. From the Lehigh Valley to Erie, and everything in-between, there's plenty of family fun in Pennsylvania.
Outside of major cities like Philadelphia and Pittsburgh, Pennsylvania offers gorgeous mountains, bucolic countryside, and yes, even beaches. There's something for everyone here, and these places really highlight the diversity of landscapes and experiences families can find. Read on to find all the best PA weekend getaways for your next great family adventure.
Subscribe to our newsletters to get stories like this and more in your inbox every week.
One of the most popular PA weekend getaways is Lancaster, home to Dutch Wonderland: train rides, mini roller coasters, a "Frog Prince" diving show, and the Prehistoric Path with lifelike dinosaurs—this is the place to go! But it certainly isn't where Lancaster's fun ends. Train lovers can check out the Strasburg Railroad and the Railroad Museum of Pennsylvania. Adventure lovers should consider Refreshing Mountain for ziplines, obstacle courses, sky bridges, and more. Little scientists can tinker at the Lancaster Science Factory, and tiny people can bring play to life at Tiny Town, which boasts 11 playhouses for interactive fun. To appreciate the area culturally, the Amish Farm & House offers tours of Amish country, and the Lancaster Central Market makes the perfect stop to grab a bite.

Hersheypark has roller coasters for kids of every age. Photo courtesy of Hersheypark
No excuses needed to visit Hershey, aka chocolate land. The Hershey Story Museum allows you to book a class in the Chocolate Lab for hands-on chocolate making, and Hersheypark is sure to entertain kids of all ages. Celebrate the holidays at the park by visiting during Christmastime to meet Santa's reindeer, see the park lit up, and ride holiday coasters. After the chocolate rush wears off, visit the Whitaker Center's "Little Learners", a STEAM-based program best for kids ages 2-6, with different themes each month. Expand your scientific side even further by viewing the stalagmites and stalactites of Indian Echo Caverns—open year-round—where the temperature is always 52 degrees. Or, delve into the performing arts with a show at the Gamut Theatre. "Three Billy Goats Gruff", "The Emperor's New Clothes", and "The Three Little Pigs" have all hit the stage at the Gamut.

Learn something new at the Trolley History Center at Heinz History Center. Photo courtesy of Heinz History Center
From ketchup to cartoons, Pittsburgh is on the list of PA weekend getaways that no family should miss. Affiliated with the Smithsonian Institute, The Heinz History Center contains 40 exhibits dedicated to western Pennsylvania history. Although one exhibit gives a nod to the famous ketchup bottle, most pay homage to Pittsburgh's heritage, sporting world, and general history; kids will find fun at the "Kidsburgh" and "Discovery Place" exhibits in particular. Animal lovers should stop by the Pittsburgh Zoo & PPG Aquarium as well as the National Aviary, and art lovers won't want to miss The Warhol Museum. If you're in the mood for an amusement park, check out Kennywood Park. And take in the whole city with a ride on the Duquesne Incline for panoramic views of Pittsburgh in a 140-year-old cable car.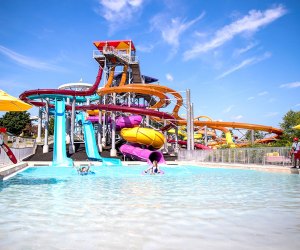 Splashing around at Dorney Park and Wildwater Kingdom. Photo courtesy of Dorney Park and Wildwater Kingdom
Allentown, Bethlehem, and Easton, the largest cities in the Lehigh Valley, are each fantastic family destinations. In Easton, stop at the Crayola Experience for a live demonstration of how crayons are made and to engage in countless crafting experiences. Ride a real canal boat at the National Canal Museum and learn the history behind these mule-pulled boats. Head over to Bethlehem to check out The Da Vinci Science Center, best for kids 12 and under, for interactive and hands-on STEM exhibits, such as "Tunnel Vision" and "Hurricane Simulator". Bethlehem was once the world's largest producer of steel, and remnants of the past still stand; visit the SteelStacks and the National Museum of Industrial History. Biking and kayaking river tours run on the Lehigh River right near the museum. Allentown is just west of Bethlehem and home to Dorney Park & Wildwater Kingdom, two exciting parks spread out over 200 acres. Get your walk on in preserved areas: the Trexler Nature Preserve, where bison and elk roam, or the Wildlands Conservancy with preserves spread out all over the valley for visitors' choosing.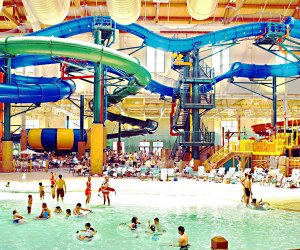 The water temperature is always just right at Great Wolf Lodge's indoor water park. Photo courtesy of Great Wolf Lodge
With so much to do covering such a wide area, the Poconos might be the ultimate Pennsylvania weekend getaway. You can find some of the state's best indoor water parks, which make amazing stops if you don't want to plan around the weather. Great Wolf Lodge is well-suited for younger children as the slides are a bit less intense than other water parks nearby, and Wiley the Wolf and his friends can be spotted throughout the park. Just down the road is Kalahari, a good fit for thrill-seeking kids and adults as the slides are larger in comparison; Kalahari has not just an indoor park but also an outdoor one to enjoy a sunny day. Camelback Resort also has an outdoor waterpark, Camelbeach, and the indoor park Aquatopia. It's home to Storm Chaser, America's longest indoor uphill water coaster. As with many destinations, a break from the hustle and bustle adds a nice touch: hike Bushkill Falls, the "Niagara of Pennsylvania", for waterfall views; visit the Snake and Animal Farm to feed pigs, monkeys, and bears; or try to find your way out of Mazezilla at Klingel Farms (open in September and October).

Celebrate America's founding every day at Independence Hall in downtown Philadelphia. Photo courtesy of Visit PA
Maybe we're biased, but for the perfect staycation, or urban vacation for out-of-towners, the City of Brotherly Love is an ideal place for history, culture, and fun. Take the kids to see the Liberty Bell and Independence Hall for a trip back to colonial times. Hit up The Franklin Institute for a dose of science, including the Giant Heart. To balance education with play, go to Smith Playground and Playhouse, or stop by America's first zoo to learn about its residents before completing a ropes course. Not just the city of Brotherly Love but also the "City of Murals", Philly comes alive with dozens of muraled buildings, and Mural Arts allows onlookers many options for touring them: by foot, vehicle, train, or Segway. More art awaits in the form of world-class exhibits at the Philadelphia Museum of Art. Rent a bike in Fairmount Park for a self-guided tour of landmarks, sculptures, and the famous Boathouse Row. Finish your busy day with a bite to eat at Reading Terminal Market, including the obligatory Philly cheesesteak!
This may be the first choice of PA weekend getaways for history buffs, who can start the journey back in time at Gettysburg National Military Park, the site of the famed battlefield where the tides turned in the American Civil War. The Gettysburg Museum of History has additional lessons, as well as exhibits showcasing both World Wars and Vietnam, presidents, pop culture icons, and more. Continue your history course on horseback at the National Riding Stables: take a 2-hour historic tour with a licensed battlefield guide while crossing the Union defensive lines. If you prefer touring by foot, Devil's Den, a hill with large boulders used by infantry, and Seminary Ridge are popular choices. Or, cover more ground from the comfort of your vehicle with a self-guided driving tour. If your family likes a good fright, Gettysburg's ghost tours make for a hair-raising hour by candlelight. Some tours are less spooky than others, such as walking Lincoln's footsteps during "The Lincoln Tour", but most offerings are at night and best for older kids. Visitors can also go on ghost hunts, with options anywhere from 2-4 hours. The minimum age for hunts is 8 years old.
After an 18-month closure, The World of Little League Museum has officially reopened, with exhibits like the Road to the World Series and the Hall of Excellence. The Lewisburg Children's Museum, a newer museum geared towards 2-10-year-olds, is about 30 minutes south of Williamsport and offers interactive experiences, such as "Space and Science". A trip to Williamsport isn't complete without enjoying the outdoor scenery. Hiawatha Paddlewheel Riverboat runs trips on the Susquehanna River from May-October and offers specialty dinner, wine, and kid's cruises—make-your-own ice cream sundaes await riders on the kid's cruise. West of Williamsport, the Pine Creek Rail Trail begins, traveling through Pine Creek Gorge. Old railroad tracks have been converted to biking and walking trails. The Gorge, also known as the "Grand Canyon of Pennsylvania", has additional hiking trails and beautiful views.

Laurel Caverns offers three lighted tour options that beautifully highlight the rock formations. Photo courtesy of Laurel Caverns.

The beautiful Laurel Highlands mountains region is comprised of multiple counties. Seven Springs Mountain Resort, in Somerset County, is a wonderful stop any season: snow bunnies can ski or board and then hit the pool, soak in the hot tub, bowl, or play mini-golf—all indoors. During warmer months, the resort offers an outdoor pool, alpine slides, and ziplines in addition to indoor fun. For amusement park enthusiasts, Idlewild and SoakZone, about 25 miles north of Seven Springs, has garnered various awards over the years. Anyone looking to swap rides for nature can check out the waterfalls on a hike at Ohiopyle State Park, visit Laurel Caverns for tours, or view Frank Lloyd Wright's architecture against stunning natural landscapes. For those interested in a one-stop destination, Nemacolin has it all: multiple lodging options and diverse experiences, including safari tours, dog sledding, archery, wine tasting, and a full day of entertainment and activities for kids ages 5-12 with the "Kids Club".

Take in stunning views at Erie Presque Isle Lighthouse. Photo courtesy of Visit Erie
While it's certainly the northernmost of our PA weekend getaways, we think you'll find that Erie is worth the trek. Although winters can be brutal, Erie's Presque Isle State Park is actually home to PA's only seashore. This sandy peninsula offers surf swimming between Memorial Day and Labor Day. Hiking trails at Presque Isle are mostly less than a mile, and lighthouses enhance the scenery. Visit during the winter for ice fishing, ice skating, and cross-country skiing. Or, enjoy Lake Erie on a pirate ship. Scallywag's Pirate Adventures is a seasonal 90-minute interactive pirate ship show for the entire family. If indoor water fun is more your speed, Splash Lagoon is a great option. To take a break from water altogether, ExpERIEnce Children's Museum—targeted for children ages 0-8—contains over 50 hands-on exhibits for math, science, art, culture, literary, and health experiences.
Post originally published in 2017.
Unless noted, photos courtesy of the venues