Hersheypark: The Sweetest Place on Earth at Christmastime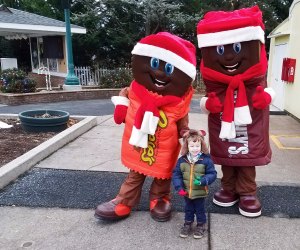 Winter festivities practically require us to guzzle hot chocolate and overindulge in sugary goodies. One destination in Central Pennsylvania is dedicated to helping us fulfill that seasonal demand. Not every amusement park is open during the Christmas season, but Hersheypark offers holiday delights in the form of decorated trees, twinkling lights, family memories, and, of course, sweet treats. Amusement park rides might not be on some families' holiday activities list, but Hersheypark's Christmas Candy Lane can change that faster than you can say "cocoa bean."
Dubbed the "Sweetest Place on Earth," Hersheypark is even sweeter at the holidays. There are three not-to-miss attractions that help get families into the holiday spirit.
Christmas Candylane
At this time of year, Hersheypark is beautifully decorated with wreaths, garland, bows, and lights. Christmas carols play in the background as amusement-park-goers, young and the old, take in the sights (and flavors!). There are at least 30 rides open for every age group. Many of the rollercoasters are not operational during the holiday season, but there are still a handful for the thrill seekers of the family. The newly added Triple Tower is a must-do for any older thrill lovers in your family! The train, Skyview, and the Kissing Tower are great ways to get a good view of the lights.
Every half-hour starting at 5 PM, the light show, NOEL: Nights Of Extraordinary Lights, rocks the park with dancing lights to the merriest of Christmas tunes. Santa Claus is available for visits and pictures, and there are lots of photo ops for parents who want to capture snapshots of the kiddos in festive backdrops. You can even see Santa's reindeer at the stables, or head next door to go ice skating.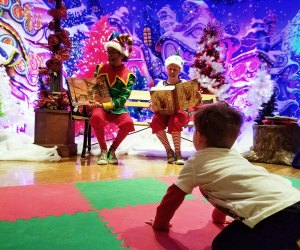 The storytime was a surprisingly fun break from the cold!
There are also scheduled storytimes, theater shows, and other family-friendly performances that take place throughout the day. We were pleasantly surprised by the storytime! We went just to get a break from the cold and it was super fun. Santa's elves juggled and read stories complete with sound effects.
Did you know that Hersheypark also has a zoo included with your admission? Yes, it's open during the holidays as well and most of the animals are out and active! The zoo takes about a half hour to walk through and is a really cute little zoo. The dessert exhibit was one of our favorites, and there are a few indoor places to warm up as you go. You can also catch seal shows at the Aquatheatre throughout the day.
When it's time to take a break from the fun, there are plenty of restaurants to stop at, including full service dining like Chik-Fil-A or snack food service like S'Mores Galore where you can even try a cookie s'more with Reese's. Families can also reserve spots for Breakfast or Lunch with Santa on the weekends. In other words, Hersheypark serves up more than just chocolate!
Parents and older kids with smartphones should consider downloading the free Hersheypark app. It's loaded with maps, show schedules, and even a "Find My Car" feature for the parking lot.
Insider tip: Bundle up! Outdoor Christmas fun is usually accompanied by chilly temperatures. Parents with small children should come prepared with blankets and strollers, while older kids and grown-ups should bring hats and gloves.
Chocolate World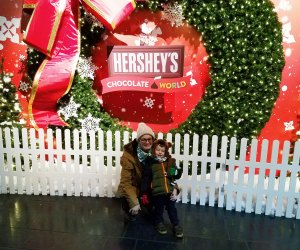 Chocolate World is a delightful (and warm) treat.
Families who want to spend the day indoors, before checking out the illuminated attractions, can spend the afternoon at Chocolate World. Entrance to the attraction and the Chocolate Tour are free, but there are also ticketed activities available for a fee. The Holly Jolly Trolley Tour is more than just a tour with caroling and jokes along the way. During the holidays, everything is decorated and festive, and little ones will enjoy a visit from a very special guest. You'll definitely want to make your own candy bar. Choose your favorite chocolate bar add-ins, and design your own labels. This is not a hands-on experience—participants don't physically mix the ingredients, but you do get to watch the whole process happen. You can also check out a 30-minute 4D Chocolate Mystery as well as a delicious chocolate tasting. Families can package some tickets together for discounted rates.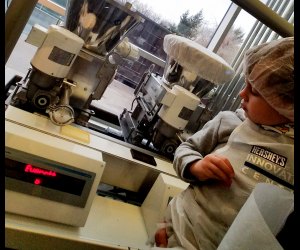 You can make your own candy bar at Chocolate World. Watch as all your ingredients are mixed in!
Insider tip: Chocolate World is walking distance from Hersheypark Candylane, so families looking for a break from the cold weather in the evening can warm up here as well. Be sure to get a hand stamp if you want free re-entry to the park.
Sweet Lights
Who doesn't love a beautiful display of holiday lights? Children and grown-ups alike have been known to literally "ooh and ahh" over Hershey's impressive, annual setup. Sweet Lights is a drive-through light show, allowing families to enjoy two miles of decorated, wooded trails from the warm comfort of their own vehicle. There are surprises around every corner, including animated displays, storybook vignettes, and other twinkly treats.
Insider tip: Drank too much apple cider or hot chocolate during the ride? No worries. There's a potty stop halfway through the tour for anyone who needs it.
All photos courtesy of Cait Sumner for Mommy Poppins