Great Theme Parks and Amusement Parks Near New Jersey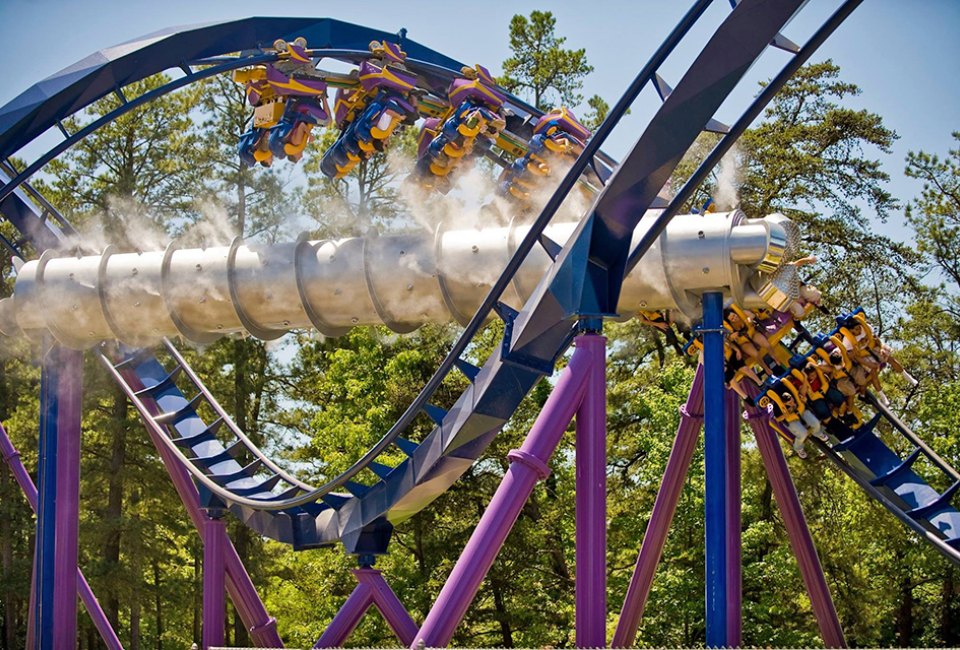 5/8/22
- By
Margaret Hargrove
A trip to one of these local amusement parks near New Jersey is always high on my vacation bucket list, and lucky for us, New Jersey and the surrounding area is an epicenter of family-friendly amusement park adventures. We've rounded up 21 amusement parks in New Jersey, New York, and Pennsylvania that are perfect for thrill-seekers of all ages. Some, like Storybook Land and the Land of Make Believe, are amusement parks for toddlers and preschoolers, while others, like Morey's Piers and Jenkinson's Boardwalk, offer a solid selection of kiddie rides in addition to bigger thrills. Many also include water attractions or adjacent water parks to cool down after a hot day of play.
Whether you're hoping to catch ocean views and sandy beaches at the Jersey Shore's boardwalk amusement parks, like Casino Pier and Castaway Cove, or you are dreaming of high-velocity thrill rides at mega parks like Six Flags Great Adventure, here are the best amusement parks to visit this summer. Of course, you can find more wild rides in our Guide to Water and Amusement Parks nearby.
Subscribe to our newsletters to get stories like this delivered directly to your inbox.
Top Amusement Parks in New Jersey
Ever wonder what it would be like to dig with an excavator, drive a real dump truck, or find out for yourself just how high a telehandler really goes? At Diggerland USA, the only construction-themed amusement park and water park in the US, kids and their grown-ups can operate actual earth-moving equipment—think Ventracs, excavators, tractors, and more—plus splash around in the recently added water park or massive new wave pool!
Take your pint-sized paleontologist to this outdoor, dinosaur-themed amusement park to meet more than 30 animatronic dinos. Located in Bergen County's beautiful Overpeck Park, the dino herd includes familiar faves like T. Rex, Triceratops, and Apatosaurus, along with lesser-known beasts like Compsognathus and Baryonyx. The park features a discovery trail with activity stations, a giant sandpit where kids can dig for fossils, and programming that includes live musical shows and workshops with dino experts. Revel in the expanded trails through the surrounding forest, great for shady walks on hot days.
Rain or shine outside, it's always a perfect 72 degrees and sunny inside this indoor amusement park. As the roller coaster whizzes down the track, the sweet smell of funnel cake fills the air, and an orchestra of buzzers and whistles plays from a nearby arcade, you'd think you were enjoying an evening on a Jersey Shore boardwalk. Instead, this four-acre fun center is open year-round and home to a dozen rides, more than 250 arcade games, laser tag, a 4D immersive theater, a candy shop, and an indoor golf suite with lots of virtual sports games.
This laid-back amusement park offers family fun for all. Designed as an amusement park where kids and adults can have fun together, there's literally something for everyone. And the best part is that it's affordable. The Pay-One-Price policy covers both the amusement park rides and the water park, giving you the convenience to move from attraction to attraction without the hassle of endlessly having to reach into your pocket. Parking is also FREE, and you can even bring your own food and drinks to picnic right inside the park.
RELATED: Great Amusement Parks in New Jersey for Preschoolers and Toddlers

Nickelodeon Universe offers big-time amusement park fun indoors at American Dream Mall.
American Dream Mall is not just the tri-state area's largest mall, but it's the second-largest mall in the United States. Its list of top-notch attractions includes the Nickelodeon Universe amusement park, home to 35 indoor rides, including thrilling coasters, kiddie rides, and multiple playgrounds. Little ones love seeing their favorite characters in person, like those from Teenage Mutant Ninja Turtles and Paw Patrol. Rides pay homage to popular Nickelodeon TV shows, adding extra fun. It also offers birthday party packages.
If you've got a family of thrill-seekers who love to hang upside down and barrel through the air at 80mph, then Six Flags is perfect for you. Longtime Six Flags fans will be happy to see that Medusa, unveiled in 1999 as the world's first floorless, top-rail roller coaster, is back this year after a major facelift. But thrill-seekers come in all sizes and this popular amusement park isn't only about death-defying drops and high-intensity thrills; it also has an awesome new Jr. Thrillseekers area, with eight rides for your little kids, including the Lil' Devil Coaster, the kiddie counterpart to the Jersey Devil Coaster—the world's tallest, fastest, and longest single rail coaster. Rounding out the fun is the Wild Safari Drive-Thru Adventure and Hurricane Harbor water park.
RELATED: Top Water Parks for New Jersey Kids and Families

Enjoy a kid-friendly twirl on the balloon ride at the charming Storybook Land.
Looking for an enjoyable amusement park experience minus crazy thrill rides and super-sized crowds? Take a day trip to Storybook Land in Egg Harbor. This charming spot, in operation since 1955, was created with younger children in mind—the rides and attractions are all geared toward the under-10 crowd, making it great for toddlers and big siblings alike. Visiting is a bit like stepping into a fairy tale: as you walk through the wooded grounds, you encounter characters from nursery rhymes and classic children's stories, like Humpty Dumpty and Alice in Wonderland. You're sure to fall under its nostalgia-laced spell.
For a more specialty experience, this western-themed outdoor mini amusement park in rural Sussex County lets families experience life in a frontier town circa 1880. Modeled after Dodge City, Kansas, Wild West City delivers an interactive experience bringing tales of the wild west to life through historical characters, dramatizations, and demonstrations by period craftsmen. Attractions include live-action shows, stagecoach, pony, and train rides, mini golf, a barnyard zoo, and fun events for kids, including a dress-up day. It's a great way to disconnect from the modern world and reawaken the spirit of the American West.
RELATED: Top Attractions in New Jersey: Best Things To See and Do With Kids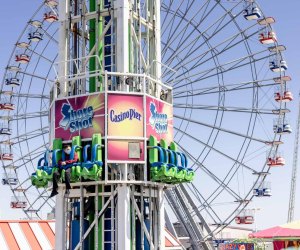 Casino Pier offers classic boardwalk attractions in Seaside Heights.
Fun Amusement Parks at the Jersey Shore
Located right along the Seaside Heights boardwalk, Casino Pier offers loads of over-the-top fun like classic amusement park rides, an antique carousel, bumper cars, and go-karts. Take the kiddos on a pleasant spin on the Sky Ride, which offers a view of the whole boardwalk and beach and a brisk ocean breeze to cool you off. If you and your family aren't quite ready to take the plunge on the heart-racing Hydrus coaster, Casino Pier offers plenty of milder amusements as well. Kiddie rides for those 36 inches and over include bouncing beach buggies, NASCAR-themed race cars, and a mini coaster. Kids can also ride with an adult on the stunning, 131-foot-tall Ferris wheel. Find more family fun with mini golf, an arcade, and the adjacent Breakwater Beach Water Park.
Many New Jerseyans grew up going to Fantasy Island on family vacations to Long Beach Island. This sweet little amusement park has a number of little kid rides including a carousel, mini roller coaster, and a small train. Bigger kids over 48 inches tall can pick and choose from the milder, more pleasant rides and the scarier more thrill-seeking attractions. With spinning roller coasters, a Viking-themed ship that swings back and forth in a pendulum motion called the Sea Dragon, and a lighthouse tower ride, think of Fantasy Island as a modern amusement park that meets old-time charm.
RELATED: Jersey Shore Boardwalks and Amusement Parks for Family Fun

A ride on the log flume at Keansburg is a kid-friendly crowd-pleaser.
Family-owned and operated since the early 20th century, this 118-year-old Bayshore amusement park has more than 40 rides—including kiddie and thrill rides along with fun games, arcades, batting cages, and, of course, lots of classic boardwalk treats. Little ones enjoy bouncing between the Jolly Caterpillar, Mini Whip, Rocking' Tug, Tea Cups, and Happy Swing. Kiddos also love scaling the rock climbing wall or racing go-karts around the track. Across the street from the amusement park, find Runaway Rapids water park with a kiddie lagoon, toddler play area, lazy river, and lots of slides.
Ocean City, dubbed the No. 1 family beach community in the US, has a boardwalk that looks like something from a 1950s film set. It's home to several small, family-owned amusement parks, with rides and games galore. Gillian's Wonderland Pier, founded in the 1920s, has rides both outdoors and in, so rain doesn't have to spoil the fun. Outdoor amusements include the Wacky Worm roller coaster and Raiders, a maze filled with tunnels, bridges, and slides; the indoor fun includes a carousel, balloon race, monorail, bouncing frogs, and flying elephants.
Imagine the air rushing past your face with the faint smell of funnel cakes in the distance. That's what it feels like at Jenkinson's. With lots of rides geared toward the shorties, it's a great place for a first amusement park experience. Firetrucks, boats, airplanes, helicopters, motorcycles, trucks, trains—kids have their pick of a huge variety of amusements made just for them. The southernmost end of the amusement park is where you'll find bigger thrills. Big kids and kids at heart are thrilled by rides like the dizzying Himalaya and Seven Seas, which offers amazing views of the boardwalk and beach while it is stopped on top. Other attractions include the popular Adventure Lookout ropes course, 7D Dark Ride, two mini-golf courses, arcades, and an aquarium
RELATED: Planned Atlantic City Water Park Promises Year-Round Jersey Shore Fun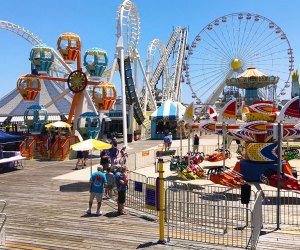 Morey's Piers is packed with kid-friendly amusements all along its six blocks of amusement parks. Photo by Rose Gordon Sala
This six-block, beachfront amusement park boasts more than 100 rides and attractions spread across three amusement parks. Each of the three amusement piers—Surfside, Mariner's, and Adventure—has activities and rides for all ages. There are tame, kiddie classics, exciting thrill rides, and those just right for the whole crew. For the most daring, there are extreme attractions, like the Skycoaster and Springshot. Two water parks on the boardwalk—Ocean Oasis and Raging Waters—are great for cooling down after an exciting day. Take in various games, restaurants, and food stalls as you stroll along the scenic, Wildwood shore. Just be sure to "watch the tramcar, please," which is the iconic warning from the boardwalk's famous people movers.
Located half a mile down the beach from Gillian's Wonderland Pier is Castaway Cove. This amusement park is in the middle of the boardwalk on 10th Street, just a block away from Manco & Manco Pizza, an iconic Jersey Shore pizzeria serving giant, cheap, cheesy slices. The amusement park has some great small-scale rides, like bumper cars and a hand-painted merry-go-round, as well as an indoor arcade that's loaded with games. Take the kids for a spin on the 90-foot Ferris wheel, and you'll be rewarded with a spectacular view.
RELATED: Zip Lines and Adventure Ropes Courses for Kids in and Around NJ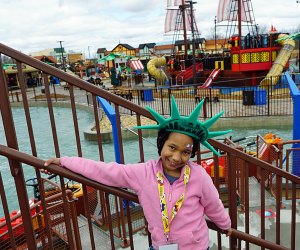 There's plenty of big-time theme park fun at Legoland New York, whether you want to ride the rides or play with the namesake bricks. Photo by Jody Mercier
Amusement Parks in New York
Legoland New York has brought Orlando-sized amusement park fun to the New York City suburbs. Situated on more than 150-acres in the foothills of the Catskills, Legoland New York is just over the border from Northern New Jersey, and a bit over an hour's drive northwest of the city. Seven distinct lands make up Legoland New York: Brick Street, Bricktopia, Ninjago World, Lego Castle, Lego City, Lego Pirates, and Miniland. There's only one roller coaster called The Dragon with smooth sharp turns and gentle dips that aren't too scary. Lego-lovers can head indoors to the Build + Test area filled with Legos, interactive games, and an area to race Lego cars. Tuckered out after a day at play? There's even a Legoland Hotel within walking distance if you want to make an overnight trip if it.
Anyone who yearns for the New York of yesteryear needs to head directly to Playland in Rye. Somehow, the amusement park in southern Westchester, in operation since 1928, has managed to revitalize itself with modern standards while maintaining the original charm of the last century. It's among the most underrated gems for summer fun in the area. From the historic Dragon Coaster to the family-friendly Crazy Submarine, there are rides for all ages and excitement levels. During the summertime, enjoy Playland's beautiful beach and take a dip in the pool while enjoying pristine views of the Long Island Sound.
RELATED: Legoland New York: 5 Things We Can't Wait To Do

Cruise through the air on Dutch Wonderland's swings.
Amusement Parks Near Philadelphia
The quaint, fairy tale-themed amusement park in Pennsylvania's Dutch Country caters to the small but fearless. Many rides focus on the youngest park-goers with things like mini construction vehicles, a choo-choo, and even ride-on toys. Slides, space-themed rides, bumper cars, twisters, and even dinosaurs round out the fun. There's also a mini water park where kids can cool off. With more than 35 rides, attractions, and shows, as well as a 15-acre campground right on-site, you can easily fill a whole day at this amusement park—or even a long weekend. If you're in the area for more traditional Amish Country fun, Dutch Wonderland is near all of it, so the amusement park makes a great addition to a family-friendly trip to Amish Country.
Since 1884, Dorney Park has been a go-to destination for family fun. This place rivals Six Flags Great Adventure in mega thrill rides and coasters with more than 60 rides, including a lineup of eight big roller coasters your kids will see from the highway and beg to go on before you even enter the park. For the younger ones, Planet Snoopy is filled with Peanuts-themed rides, from a mini-coaster to a kiddie train that takes you around the park. And if you want to get wet, don't miss Wildwater Kingdom, which has plenty of water slides, two wave pools, a lazy river, and is included in your admission.
RELATED: 40 Top Amusement Parks in the US for a Family Vacation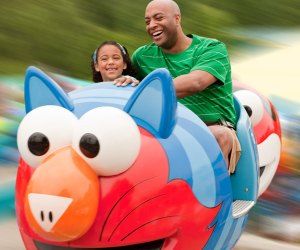 Elmo is along for the thrilling rides at Sesame Place.
Can you tell me how to get to Sesame Street doesn't need to be a rhetorical question in your house. We can tell you exactly how to get there, and good news: This magical amusement park is a mere 90-minute drive from the Big Apple. Sesame Place is clearly a preschooler's paradise. From the rides to the food and everything in between, this park was designed to entertain the smallest of babies while still thrilling a 6 year old. The amusement park covers over 14-acres filled with water attractions and family rides. Take a stroll down a replica of Sesame Street, watch one of the daily party parades, dine with the characters, and catch a live show. And all along the way keep your eyes peeled because you may just happen upon Elmo, Cookie Monster, Bird Bird, and other local residents of Sesame Street.
Known as "The Sweetest Place on Earth," Hersheypark is a chocolate lovers' dream amusement park, with more than 70 rides and water attractions. There's also an 11-acre walk-through zoo, home to hundreds of animals. The candy theme is visible at every turn, from the recently-opened Chocolatetown featuring Candymonium, the tallest, fastest, and longest coaster at the park, to the new Jolly Rancher rides opening this summer. No trip to Hersheypark is complete without a stop at Chocolate World. Kids can shop for souvenirs, including giant-sized versions of their favorite Hershey treats, and even make their own candy bars to take home.
Unless noted, all photos courtesy of the amusement parks
Click Here to Sign Up!
i