SPONSORED
iPlay America is New Jersey's Largest Indoor Boardwalk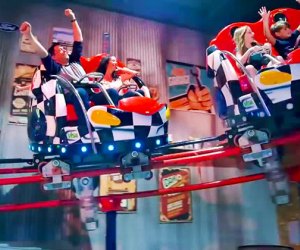 The rollercoaster whizzes down the track, the sweet smell of funnel cake fills the air, and an orchestra of buzzers and whistles plays from a nearby arcade. If you didn't know any better, you'd think you were enjoying an evening on the Jersey Shore boardwalk, but this is iPlay America, a nearly four-acre indoor amusement park and fun center in Freehold, New Jersey that's open all year round.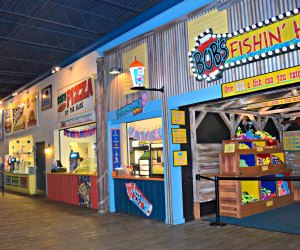 Photo by Kaylynn Ebner
With quaint storefronts and a fun-yet-sophisticated vibe, iPlay America actually feels like the intersection of a modern beach town and a New York City brownstone community. There are activities for all ages, and affordable prices, so it's an awesome place for a birthday party, a milestone event, or just a good old family outing. And since the entire space is enclosed, the weather never stands in the way—regardless of the heat, cold, rain, or even snow.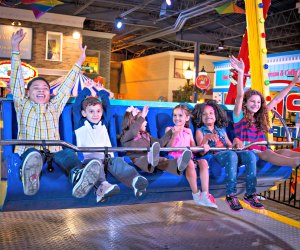 The Rides
Being indoors doesn't mute the excitement iPlay has a huge selection of rides that will keep kids busy for hours, whether you've got tots or teens on your hands. On our recent visit, some of my family's favorites were the Freedom Rider, a twisting roller coaster; the Kite Flyer, a free-flight experience that soars you through the air; and the Happy Swing, which can launch riders up to 15 feet in the air. There are also several classic options that we all enjoyed, like Go Karts, bumper cars, and of course, the carousel.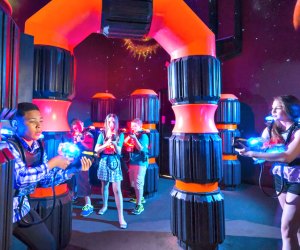 The Attractions
In addition to games, the creative minds at iPlay America have your family covered with a number of totally unique attractions. Little adventurers will love the Laser Frenzy obstacle course, where visitors snake through beams in an attempt to reach a button on the opposite side of the course. Players can choose easy, medium, or hard, and parents can even chaperone young ones within the borders. My four and six year olds insisted on doing it three times in a row before we had to pry them away. Fortunately, they were quickly distracted by the Sky Tykes Kidz Ropes Course, which my four year old did seven or eight times. Kids under 48 inches can try the low course with an adult chaperone, and they'll get to harness up and make their way around elevated bridges and beams. After that, mini bowling was the perfect way to slow things down—and I was excited to see a bowling ball my kids could actually hold without a struggle. There are four lanes available and you can choose between five and ten frames for each turn.
For older kids (and even adults), the more advanced Sky Trail® High Ropes Course features rope bridges, beams, cargo nets, and rope ladders, and is bound to be a big hit. There's also a huge two-level 6,500-square-foot laser tag arena, where players battle for eight minutes at a time. And the 4D theater is another popular destination, where visitors are launched into an exciting, non-stop sensory adventure. You'll feel like you're truly part of the action as you cruise down icy slopes with snowmen or you're chased by a dinosaur in a wild four-dimensional world.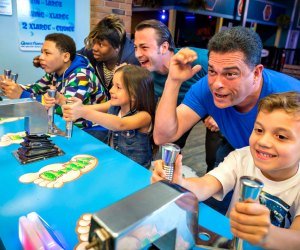 The Games
No trip to the boardwalk is complete without games and prizes, and your visit to the City of iPlay America will be no exception. Enjoy the classics—balloon darts, Whac-A-Mole, hoop toss, claw games, carnival wheels, and more—or step inside the arcade and pick from literally hundreds of options. Some games allow players to earn tickets that are redeemable for prizes, while others are just nicely sprinkled around the park to break up the action of the rides.
The Food
No need to worry about picky eaters at iPlay America, because there's something for everyone. In keeping with the Jersey Shore theme, boardwalk vendors have popcorn, cotton candy, burgers, pizza, hot dogs, and ice cream, and there's even an extensive candy shop.
My family chose to try the sit-down restaurant, Game Time Bar & Grill, which had a comprehensive menu of diner classics and plenty of kid-friendly options. We were impressed the creativity of the adults' menu, which featured choices like crab cake BLTs, buffalo chicken mac and cheese, and a cheesesteak baked in pizza dough. There are so many delicious looking appetizers that we could hardly even decide what to order, and we really enjoyed everything we tried.
Know Before You Go
If your kiddos really love rides (or just love going on the same ride over and over...and over), the iRide ($22.99) and iRide Plus ($29.99) unlimited bands are probably your best bets, but you can also pay as you go with credits. If you're bringing along very young children, keep in mind that most rides have a height requirement of 36 inches, and an adult must accompany those under a certain height, depending on the ride, so you may want to check the ride requirements to see what your options are before you buy anything. Most attractions are not included in the cost of a wristband, so you'll need to buy additional credits for these. Game addicts might want to purchase the Power Play package, which includes four hours of unlimited non-redemption video games, plus a round of laser tag, a round of go karts, and a viewing at the 4D theater.
Visit iPlayAmerica.com to plan your visit, find ride height requirements, see the events calendar, or learn about ways to save with a season passes, BOGO Fridays and other specials.
Photos courtesy of iPlay America unless otherwise noted