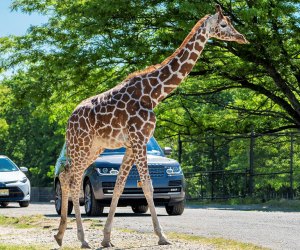 The Best NJ Zoos and Aquariums for Animal Encounters with Kids
Treat your kids to a real animal adventure at one of New Jersey's amazing zoos, aquariums, and animal preserves. At these day trip-worthy spots, little animal lovers can meet their favorite furry friends, check out exotic wildlife from other continents, or swim with the sharks (yes, really!). We've rounded up the best places in the Garden State for New Jersey kids to have an up-close-and-personal encounter with animals of every kind.
Editor's note: While we are trying to promote safer activities that occur outdoors or with social distancing guidelines in place, please keep your family and others safe by always wearing a mask and practicing social distancing. If you arrive at a venue that appears too crowded, try using the "nearby" search feature on our Event Calendar to find something else to do.
2021 update: Book your timed-entry tickets before you go.
Most aquariums have tropical fish, penguins, and seals, or sea lions, but not all have the amazing touch tanks offered at this all-star aquarium. Nearly every exhibit has a touchable component (think sharks and jellyfish). In total, Adventure Aquarium houses 8,500 aquatic species in two million gallons of water, including the largest collection of sharks on the East Coast. Kids 12 and up can even swim with the sharks! Perfect for preschoolers, the KidZone also features a sea-themed playground for little guppies to work out the wiggles. The aquarium recently welcomed several Pacific blacktip reef sharks, who now call the aquarium's 760,000-gallon seawater exhibit home. Open daily; admission also includes a 3D movie as well as live shows.
Conveniently located within the day trip-worthy Van Saun Park, little zookeepers-in-training can explore wild and domestic animals such as bison, lions, reptiles, birds, and farm friends throughout the smaller-scaled, shady grounds. There's also a zoo train, pony rides, and a carousel. In July and August, the zoo's outdoor amphitheater presents live animal shows. If you notice construction going on behind the train station, it's the beginning of the zoo's new red wolf exhibit, coming soon. Open year-round; admission is free from November 1 through April 30. Bergen County residents receive reduced admission.
RELATED: 10 Great Picnic Spots in Northern NJ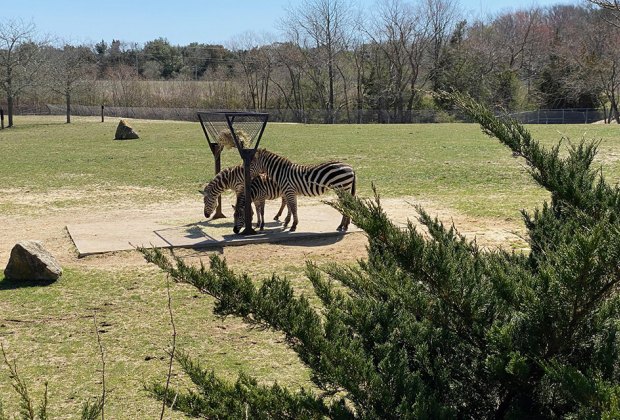 See barnyard animals, bears, bison, zebras, lions, and lots of birds at the free Cape May County Park & Zoo. Photo by Rose Gordon Sala
2021 update: The Reptile House and Aviary remain closed.
Enjoy free admission and free parking year-round at the Cape May County Zoo. A well-known haven for several endangered species, the zoo is committed to conservation. Beyond visiting the animals, you can take a spin on the carousel, try the 25-foot rock-climbing wall, and enjoy a scenic train ride around the park. Kid-friendly programming includes scavenger hunts, critter crafts, and junior zookeeper camps.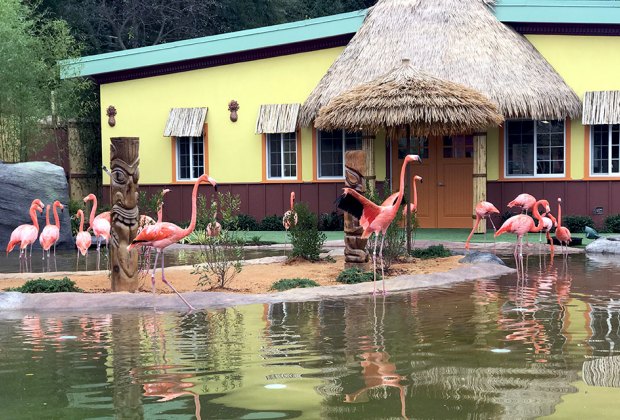 The graceful flamingos are always a favorite at the Turtle Back Zoo. Photo by Rose Gordon Sala
2021 update: Book your timed-entry tickets before you go.
Lions and tigers and bears…oh my! Those are just a few of the animals you'll find at this world-class zoo, which recently unveiled a modernized new entrance. There are also penguins, butterflies, and now giraffes. Kids can interact with horses, goats, and pigs at the Essex Farm exhibit, hop on the zoo train for a scenic ride through the beautiful South Mountain Reservation, ride a pony, or go for a spin on the Endangered Species Carousel. The zoo is open daily (except Thanksgiving, Christmas, and New Year's Day) and hosts a slew of seasonal family-friendly programming, including summer movies, a zoo camp, and holiday lights. Parking is always free.
RELATED: 10 Favorite NJ Parks and Reservations with Fun for Kids

The Cohanzick Zoo may be small, but its animals are larger than life. Photo by Lisa Warden
Billed as NJ's first zoo, this 1,000-acre facility located 45 minutes from downtown Philadelphia and Atlantic City features more than 200 animals. Some of the exotic species include a white-nosed coati, a Brazilian porcupine, and an African serval. The enclosures at the Cohanzick Zoo are smaller, making the animals more easily seen, allowing families to get up close and personal with the animals. Open daily every day except Thanksgiving and Christmas; admission is free. Pack a picnic lunch to enjoy on the grove overlooking the scenic raceway that runs through the park. There's also an adorable, animal-themed splash pad nearby.
An animal refuge for abandoned and injured wildlife, this spacious park in the heart of the Pine Barrens is home to more than 200 animals and birds. Residents include black bears, bobcats, camels, and wallabies, as well as reptiles and tortoises. Every animal here was rescued from suffering or exploitation and rehabilitated, and you'll learn their stories as you explore the zoo. And as the name implies, popcorn is available for purchase to feed the free-roaming birds and some of the farm friends. The park is open daily, with early closings on holidays.
2021 update: Buy your tickets before you go.
Just as cool as its name suggests, this 100-acre complex is home to more than 500 wild animals, including leopards, jaguars, lemurs, buffalo, monkeys, llamas, and snakes, making it the largest private collection of North American animals in their natural surroundings in the U.S. Stroll the grassy grounds with free-roaming chickens, ducks, and geese, and stop by special-access areas where kids can feed the animals. Space Farms is open daily starting March 30, and admission also includes entry to the museum, which contains more than 50,000 artifacts of American and Native American history.
RELATED: Zip Lines and Adventure Ropes Courses for New Jersey Kids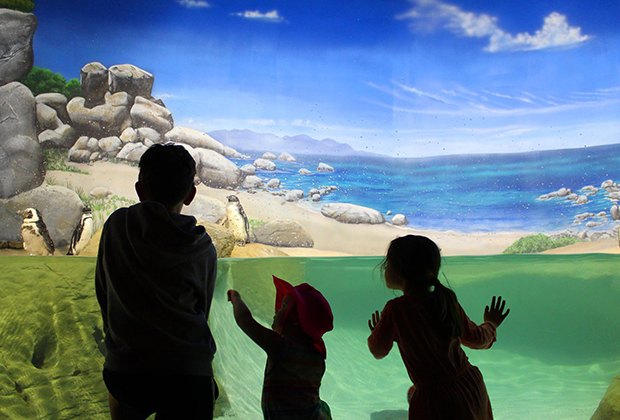 Chill with the penguins at Jenkinson's Aquarium. Photo courtesy of the Aquarium
2021 update: All touch exhibits remain closed. Animal feedings and keeper chats are currently suspended.
There's more to Point Pleasant than sun, surf, and sand. Step right off the boardwalk into this aquatic oasis featuring sharks, penguins, alligators, seals, and plenty of fish. An interactive touch tank allows kids to get hands-on with sea stars and stingrays, and you can observe daily feedings of the sharks, sea lions, and penguins. A wide range of educational programs held throughout the year includes Lunch with a Keeper for a behind-the-scenes tour, Tea By the Sea, and annual events celebrating World Oceans Day and Shark Week. Open every day except Thanksgiving, Christmas, and New Year's Day.
A wide variety of farm and exotic animals are on display at this animal sanctuary located along the banks of the Raritan River. Open from dawn to dusk daily, this lovely playground zoo is quiet, quaint, and, best of all, free. Here, kids can meet and feed pigs, deer, a mini horse, goats, llamas, and an emu. You could easily make a family day of it at this nearly 500-acre Middlesex County park (named after the Johnson family who founded Johnson & Johnson and donated the original 100 acres). There are three playgrounds, including a new, pirate-themed playground near the animal haven, tennis courts, ball fields, two ponds, a bike path, and picnic groves with grill stations.
2021 update: Remains temporarily closed.
Welcome to the "bugseum" of NJ! Designed like a giant, bug-themed city, Insectropolis introduces you to many of the world's smallest animals. Learn bug basics at the Bug University exhibit, watch insects eat in the Caterpillar Café, and take a tour of the Hive Airport, home to a live honeybee hive. Insectropolis is open year-round Tuesday-Saturday, and live touch presentations are held daily. There is also a robust calendar of events, full of buzzworthy activities offering hands-on opportunities to interact with insects, as well as fun contests and yoga for kids.
RELATED: Best Nature Centers in New Jersey to Visit with Kids

An observation area allows you to watch the wolves in their natural environment at the Lakota Wolf Preserve while being safely tucked away. Photo courtesy of the preserve
2021 update: Online reservations are required for tours.
The preserve is home to four different packs of wolves. See and learn about the wolves, their habitat, and their habits on a 60- to 75-minute Wolf Watch Tour. Tours are held twice daily, and reservations are required on weekdays (the preserve is closed Mondays). Enjoy a scenic, 30-minute hike from the parking area to the preserve, or hop on the shuttle bus. An observation area allows you to watch the wolves in their natural environment while being safely tucked away.
2021 update: Online reservations are required for tours.
This hidden treasure is one of the premier wild bird rehabilitation centers in the U.S. Primarily a medical facility for injured birds (it treats up to 6,000 birds every year), it's also a forever home for birds that cannot be safely returned to the wild. Currently, there are about 50 hawks, eagles, and owls in residence, and visitors have the opportunity to observe these gorgeous creatures at close range. Closed Mondays and Tuesdays, free self-guided tours, and staff-led tours ($60 for groups of up to 8) are available by online reservation.
Making a splash in Middlesex County at SeaQuest Woodbridge, a new 24,000-square-foot, hands-on global sea life education, and entertainment experience. Kids can travel all around the world, from the Caribbean to the Mayan jungle, a rainforest to an Icelandic fishing village, and even to the Great Wall of China, all while meeting and greeting the animals that call these habitats home. SeaQuest is just one of several family-friendly attractions at Woodbridge Center, which also boasts a Dave & Buster's and All In Adventures escape room center.
RELATED: 100 Things To Do in New Jersey with Kids Before They Grow Up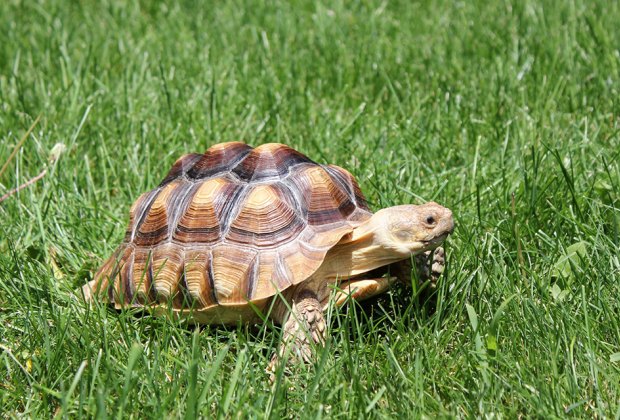 Kids can meet reptiles and other creatures at Rizzo's Wildlife World in Morris County. Photo courtesy of Rizzo's
2021 update: Open Sundays with reservations.
While Rizzo's has been wowing kids at birthday parties and schools across NJ for more than a decade, now everyone can meet the reptiles, snakes, and alligators at this Morris County nature center. Popular residents include Butterscotch, a 15-foot-long Burmese python, Rocket, a feisty ferret, and a legless lizard named Slinky. Be sure to also check out the extraordinary 2,000-gallons of aquatic exhibits, tarantulas, turtles, and toads.
2021 update: Book your timed-entry tickets before you go.
Lucky for us, NJ hosts the largest drive-through safari outside of Africa! During the 45-minute interactive ride along the 4.5-mile trail, you'll meet 1,200 animals from six continents, including elephants, rhinos, giraffes, lions, and several newborn babies, including four giraffe calves, two Siberian tiger cubs, an Asian water buffalo calf, and a rare African bongo calf.
This article was first published in 2010 is updated annually.