The Six Flags Great Adventure Safari Drive-Thru Returns in All Its 1970s Glory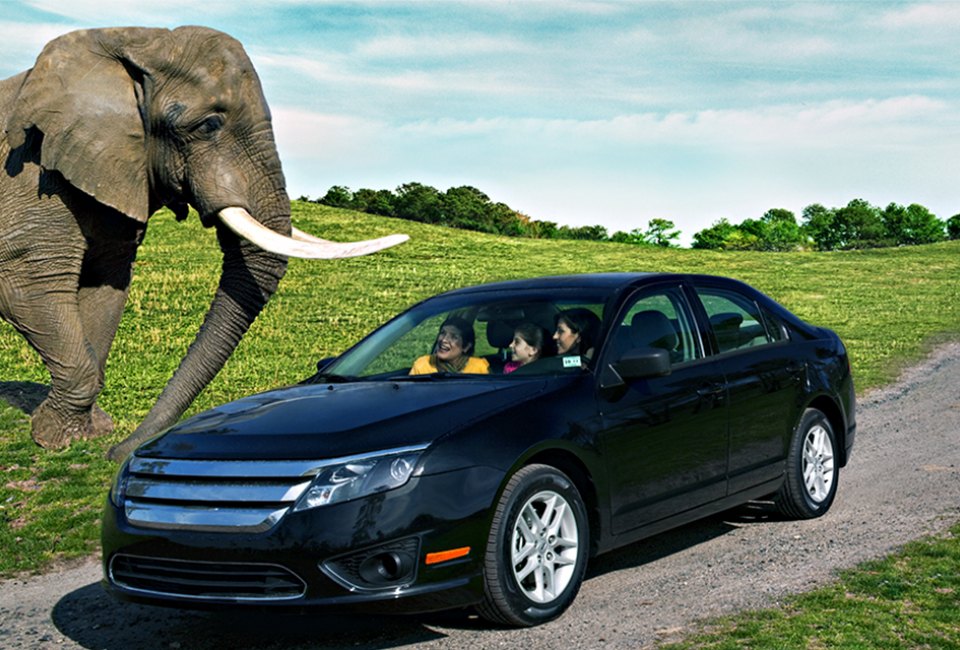 5/25/20
- By
Jody Mercier
Updated: Wednesday, June 22: Six Flags Great Adventure and Safari has announced a reopening date of Saturday, July 4, with a member preview day set for July 3. Reservations will be required, and all guests must undergo a contactless temperature check before entry. Capacity will be limited, masks required, social distancing enforced, and enhanced sanitation protocols will be put into place. Due to its popularity, the drive-thru safari will remain open for the foreseeable future.
Families fed up with online field trips take note: It's time to grab your binoculars and cameras because Six Flags Great Adventure and Safari is reopening its animal kingdom as a drive-thru experience this weekend. Timed-entry tickets go on sale this week.
This isn't the first time Six Flags Great Adventure and Safari has allowed visitors to drive their vehicles through the attraction; some parents may still have vacation photos from the good old days, when baboons used to jump on the family station wagon. The 350-acre park operated as a drive-thru adventure from its 1974 opening through 2012.
The return of this classic experience is temporary, though. So if you aren't quite ready to flock to the beaches at the Jersey shore, read on for how and when your family can get tickets for a local safari. We've also got the scoop on what Phase 1 of reopening means for NJ families.

The new safari journey offers a contact-free experience.
How to Get Tickets to the Six Flags Great Adventure and Safari Drive-Thru Experience
Tickets for the experience cost $18 per person, though those ages 2 and under enter for FREE. Reservations will be taken beginning on Wednesday, May 27, at 10am on Six Flags new online reservation website. The experience opens on Saturday, May 30, and operates from 9am-4pm daily. To prevent overcrowding and accommodate social distancing, tickets must be purchased in advance. No tickets will be sold on-site. Visitors are asked to print out their confirmation emails before heading to the park, as a paper confirmation can easily be scanned through a closed car window, allowing for a contact-free experience. Though advance tickets are required, several thousand cars can trek through the safari daily.
What Do You Get for Your Entrance Fee?
Six Flags Great Adventure and Safari is home to 1,200 exotic animals, and most roam freely on the 350-acre preserve. Any predators are housed in fenced-in areas, but fully visible from the paved path cars navigate during their visit. All told, there are about five miles worth of roadway winding through the park, and with a 5mph speed limit, visitors can expect to spend about an hour inside the safari.
RELATED: Face Masks for Kids from Disney to DIY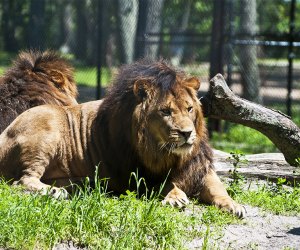 Guests take a self-guided journey in their own vehicles, past 1,200 exotic animals from six continents.
Visitors take in 11 simulated natural environments ranging from the familiar, like bison and Roosevelt Elk in The Americas, to rhinos, elephants, and zebras in Afrikka. There are sections dedicated to the king of the jungle, and an entire ridge full of black bear mamas and babies. With a keen eye, animals representing six different continents can be spotted.
Cars cross paths with the many species who roam freely, but strict rules require that all windows, sunroof, and convertible tops remained closed for the duration of your visit. There's no exiting vehicles and no feeding or touching animals. Also, take note: Leave your best friends at home. No pets will be allowed to ride through the experience, including service animals.
Are the Rest of the Theme Park Attractions Open?
Six Flags Great Adventure and Safari is set to reopen to the general public on Saturday, July 4. Reservations are required for members and single-day ticket holders, and can be made online. Visitors and park staff are subject to health checks before entry and all guests ages 2 and older must wear face coverings in accordance with CDC guidelines. Enhanced cleaning procedures will be in place, and high-contact areas will be cleaned frequently. Park capacity will be reduced, and signage is in place to encourage social distancing. A reopening date for Hurricane Harbor has not yet been announced.
Photos courtesy of Six Flags
Places featured in this article:
---
Six Flags Great Adventure & Safari