Face Masks for Kids from Disney to DIY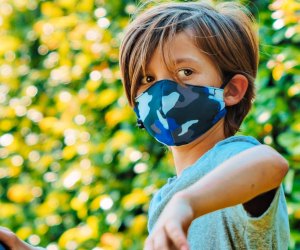 5/21/20
- By
Ally Noel
When it comes to where to buy a face mask or how to make a face mask, we've got the whole family covered—literally! Disney, Old Navy, and other retailers are making super-cute kids' face masks that are comfortable, affordable, and now essential for coronavirus protection. Or, with as little as a single sock and a pair of scissors, you can make a mask for kids yourself! The Centers for Disease Control (CDC) recommend that people ages two and older who don't have cognitive or respiratory impairments wear face coverings when in public, especially in situations where it's hard to stay 6 feet away from other people.
Remember: parents are the most influential people in kids' lives, so grab (or make) a family pack of these stylish face masks and practice wearing them together before you head out. These doctor's tips for social distancing with kids include more helpful ideas for keeping your family and community safe, as many parts of the country begin to reopen.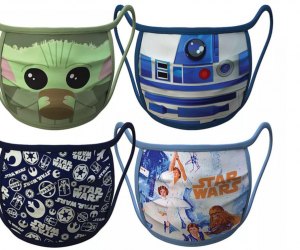 Disney gets into character with Star Wars masks for kids. Photo courtesy of Disney
Disney Face Masks
Just when you thought Baby Yoda couldn't get more adorable, Disney shows up with these Star Wars Face Masks. The cuteness doesn't stop there: Disney Face Masks come in a variety of four-packs featuring patterns inspired by Star Wars, Mickey Mouse, Princesses, Marvel, and Pixar.
If you need even more Disney options, Etsy also has a wide variety of Disney-themed face masks in different styles and sizes.

Old Navy's patterns are brightly colored to match spring and summer wear. Photo courtesy of Old Navy
Old Navy Face Masks
In a clever bit of recycling, Old Navy is turning its fabric scraps into face masks that coordinate with the clothes it sells. Being sold in variety five-packs, these triple-layer cloth face masks are available in both youth and adult sizes. Current offerings for kids include a pastel "Pink Lemonade" set, a simple-and-straightforward "Blue Steel" set, and a self-explanatory "Surprise" set (as every preschooler knows, "you get what you get, and don't get upset"). The five-pack masks are recommended for kids ages 4 and up.

Kids can mask up like their favorite animal. Photo courtesy of Cubcoats
More Cute Face Masks for Kids Online
Even kids can be choosy about what their face mask looks and feels like. Thankfully, a wide variety of additional adorable styles and patterns to choose from are just a mouse click away.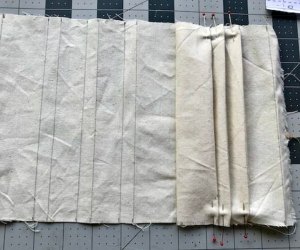 Even beginner sewers can master the Super Simple Face Mask Pattern from So Sew Easy. Photo courtesy of www.so-sew-easy.com
Free Face Mask Patterns For Kids
If you have a sewing machine and the right supplies, you can use one of these free face mask patterns to get you started. Cotton fabric tends to be the most comfortable. See Kate Sew provides instructions for two different sized child face masks, both with an option for a filter pocket. Beginner sewers will find the Skip To My Lou face mask pattern easy to manage. In about an hour, anyone should be able to master the Super Simple Face Mask Pattern from So Sew Easy.
No-Sew Face Masks
If you don't have a sewing machine, you can still make a face mask using materials you may have in your home. The CDC provides directions on how to make a no-sew face mask using a bandana and hair ties or a t-shirt. If you do not have elastic bands, you can even reuse fabric strips from an old shirt to create ties.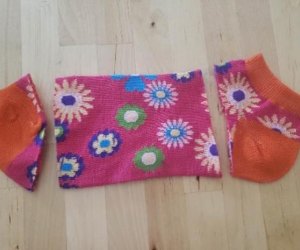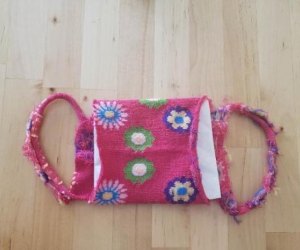 It's easy to transform a cute single sock you have laying around into a face mask. Photo courtesy of the Oakland Library
How To Make A Face Mask From A Sock
With a few quick snips with a pair of scissors, you can even make a face mask using a sock. Basically, you cut the middle portion out of a sock (the part between the toe box and the heel), and then make two half-inch-wide snips that stop about halfway up on either side of the remaining, double-sided rectangle of fabric to create loops to anchor on your ears. Tucking a piece of coffee filter inside the two layers adds an extra layer of protection. Why not put all those lonely single socks to good use?
How to Help a Child Wear a Face Mask Safely
To work properly, a face mask needs to cover your child's mouth and nose. The mask should also fit snuggly to the sides of the face. Yes, a face mask might feel uncomfortable to many kids at first, so it's a good idea for them to mask up around the house a bit before heading out (sort of like getting used to a new pair of shoes). Also, make sure you encourage your children to wash their hands not only before they put their masks on, but also after they take them off.
Finally, don't hesitate to offer lots of positive reinforcement. Kids should feel proud that by wearing a face mask, they are protecting not just themselves, but other people in their community. You can show them pictures of doctors and first responders wearing masks to illustrate your point. Face mask wearers are the new superheroes!