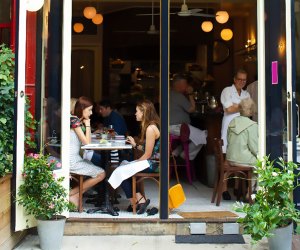 Best Mother's Day Brunch Restaurants for Families Across NYC
Mother's Day is fast approaching, on Sunday, May 12, 2019, which means it's time to start planning a special day for the well-deserving mom(s) in your life. Speaking from experience, all moms really want is a little time off. You could choose breakfast in bed, but why not instead forgo chores altogether and hit one of NYC's many delicious brunch spots?
We've rounded up a host of scrumptious, kid-friendly places throughout Manhattan, Brooklyn, Queens, and the Bronx. As if that wasn't enough, we've got tons more picks in our Family-Friendly Restaurant Guide. Pinpoint your special lady's preference, make reservations, and get ready to dig in.
After brunch, head out to one of these great family events happening that Sunday. However you decide to spend the day, Happy Mother's Day from your peers at Mommy Poppins.
Manhattan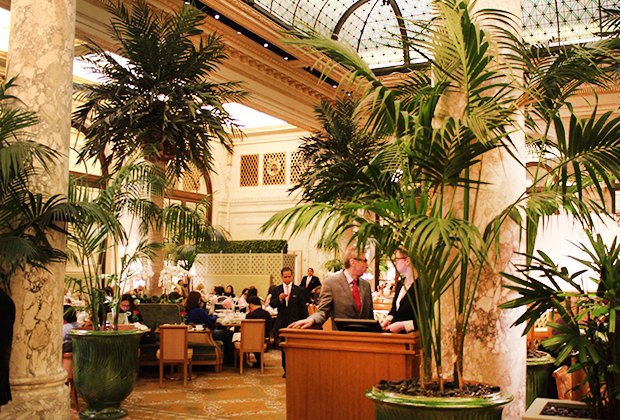 It's formal, but if you don't mind dressing up, spend the holiday at the Palm Court at the Plaza. Photo by Shinya Suzuki via Flickr.
The Palm Court at the Plaza Hotel – Upper East Side
Fifth Avenue at Central Park South
212-546-5311
Reservations accepted.
Not only is this high-end eatery perfect for moms looking for a classy celebration, it's great for little pink princesses, who should go ga-ga over Eloise, the Plaza's most famous (fictional) resident. After extensive renovations, the hotel and restaurant are entering a new heyday. Admittedly it's pricey, but dining at The Palm Court is something everyone should experience once. Plus, they're offering a special "Mommy & Me Tea Party" for Mother's Day and a slew of other Eloise-themed arts and crafts events throughout May, so make reservations for Mother's Day and cross it off your list.
Prune – East Village
54 East First Street, near First Avenue
212-677-6221
Reservations accepted only on Mother's Day.
This hot spot is intimate (read small), but homey and delicious with serious dishes presented in a not-so-serious way. Try classic eggs Benedict or sausage and oysters, among others, and nearly a dozen varieties of bloody marys sure to spice up your Mother's Day.
RELATED: NYC Spring Fun Guide for Families: Art, Festivals and More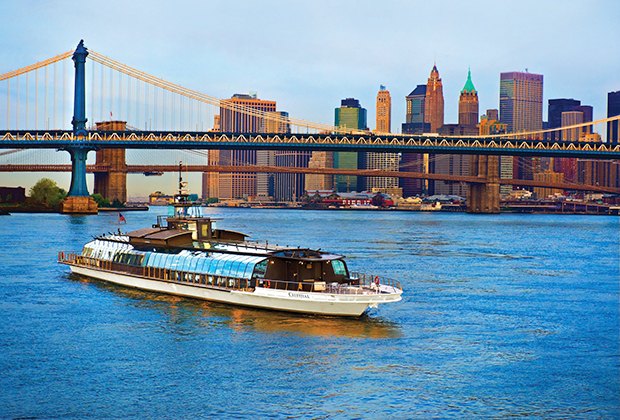 Take mom onto the water for a scene-stealing brunch cruise. Photo courtesy of Bateaux New York.
Bateaux Mother's Day Cruise – Chelsea
Board at 11:30am, cruise 12-2:30pm
Pier 61, Chelsea Piers, 23rd Street at the Hudson River
Enjoy amazing views of the Manhattan skyline as you sail aboard Bateaux New York's vessel with a three-course brunch menu including bottomless mimosas for guests ages 21 and up.
The View at the New York Marriott Marquis Hotel – Midtown West
1535 Broadway between 47th and 48th Streets
212-704-8900
Reservations accepted.
Your ears might pop as you take the elevator up to the 47th floor, where the aptly named View revolves. Yes, you spin slowly as you eat. You'll also find amazing 360-degree views of the city. Tourists love it, but that doesn't mean natives won't appreciate its gimmickry. The buffet features a selection of hot and cold dishes, a carving station, fresh waffles, and complimentary mimosas for parents. There's a special Mother's Day menu for $83 per person plus tax and gratuity.
RELATED: Guide to NYC's Best Restaurants for Families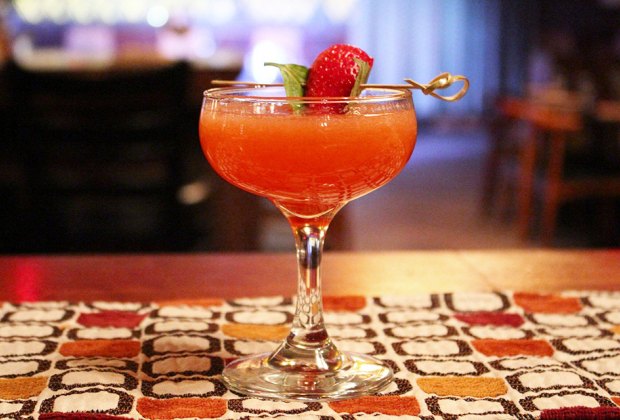 Book a Mother's Day table at Harlem's Red Rooster and get an amazing cocktail for the adults crafted especially for Women's Month. Photo courtesy of the restaurant
Red Rooster Harlem – Harlem
310 Lenox Avenue, at 125th Street
212-792-9001
Some reservations for Sunday brunch available.
Harlem's dining renaissance began with Chef Marcus Samuelsson's Red Rooster, and the celebrity chef's uptown hot spot is dishing out its trademark delicious, elevated soul-food favorites for the holiday. You'll also enjoy the soulful sounds of live gospel while you dine. Not always easy to get in, but well worth the wait.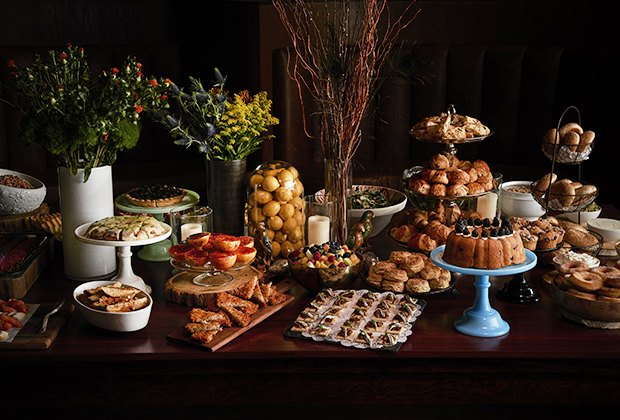 Sink into a plush couch at the laid-back Roxy Hotel. Photo courtesy of the hotel
The Roxy Hotel – Tribeca
2 Avenue of the Americas, at Walker Street
212-519-6661
Reservations accepted.
The vibe at The Roxy Hotel's Roxy Lounge is decidedly laid-back, with comfy couches enveloping diners in an area more reminiscent of a plush living room than a sit-down establishment. Adding to the relaxed atmosphere: Kids can catch a flick in The Roxy Cinema downstairs. Enjoy the special Mother's Day brunch buffet and live jazz in the Roxy bar.
The Park – Chelsea
118 10th Avenue, at 18th Street
212-352-3313
Reservations accepted for larger parties.
There are few activities more guaranteed to produce an eye roll from my crew than announcing we're going for a walk on the High Line. So Mother's Day is a perfect chance to enjoy the green space complaint-free. Even better: dining at The Park first. The indoor-outdoor feeling of this cozy Chelsea spot, combined with a homey, kid-friendly menu satisfies the whole family. A meal that starts with housemade donuts and ends with melt-in-your mouth vanilla buttermilk pancakes with berry butter, or other more savory dishes, is hard to argue with.
The Bronx
Havana Cafe – Schuylerville
3151 East Tremont Avenue
718-518-1800
Reservations accepted.
This cozy Bronx spot offers a lively Sunday brunch, complete with all-you-can-drink sangria. On the menu is a variety of Cuban-inspired breakfast items. If your kids are less adventurous than you, there's a basic kids menu with child-friendly favorites such as chicken tenders, pancakes, or waffles. Each kid's meal includes a soft drink and ice cream.
Bronx Burger House – Riverdale
5816 Mosholu Avenue
347-899-8585
Reservations accepted.
With burger in the name, it's no surprise this spot serves red meat with just about every selection. The prix fixe menu includes namesake specialties such as the breakfast burger, as well as standbys such as steak and eggs and French toast. Wash it down with all-you-can-drink mimosas, bloody marys, sangria, screwdrivers, Bronx Burger House Brew, or house wine.
The Black Whale – City Island
279 City Island Avenue
718-885-3657
Reservations accepted.
For an (almost) out-of-this-city experience, head to this City Island favorite, where you can dine alfresco in The Black Whale's beautiful outdoor garden. Its brunch buffet offers something for everyone, from made-to-order waffle and omelet stations to plenty of croissants and muffins, and even a cold cereal selection for picky little ones.
RELATED: 6 Places to See Spring's Blooms in NYC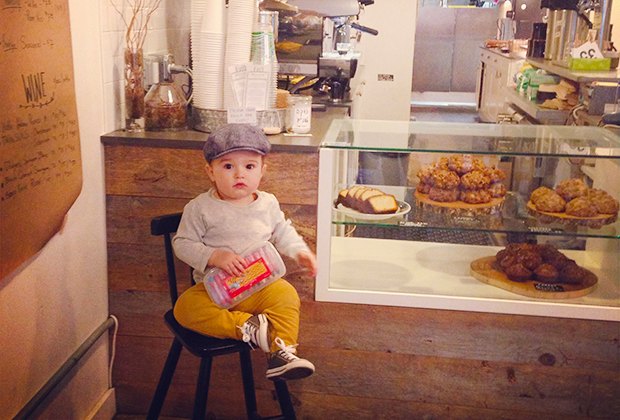 Moss Café's pastry case is filled with homemade goodies. Photo courtesy of Moss Café
Moss Cafe – Riverdale
3260 Johnson Avenue
347-275-5000
Reservations accepted for Mother's Day. Inquire at mosscafeny@gmail.com.
This cozy coffee shop and cafe serves a kosher, vegetarian menu embracing the farm-to-table movement. Menus change with the seasons, but expect wholesome, hearty, home-cooked goodness and made-from-scratch pastries. Enjoy mimosas or, if you prefer your beverages caffeinated, Stumptown Coffee. The spot promises some specials for Mother's Day, likely a seasonal mimosa-type drink and mini pastry for each mom who comes in that day.
Brooklyn
Buttermilk Channel — Carroll Gardens
718-852-8490
Walk-ins only; larger parties cannot be accommodated.
Great comfort food prepared with seasonal and locally sourced ingredients, Buttermilk's brunch is hearty and yummy. There's even a special kids' menu with grilled cheese and other favorites. Snag a sidewalk table by arriving right at opening.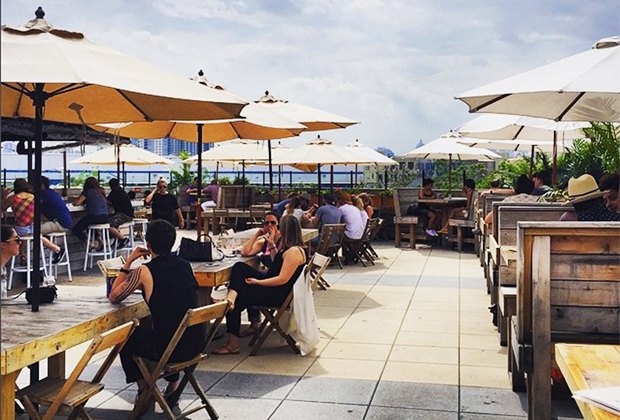 Gorgeous views, shade, and a huge space make Northern Territory a favorite.
Northern Territory — Greenpoint
347-689-4065
Walk-ins only.
If the weather outlook is good, treat mom to a rooftop brunch with great views of Manhattan at this unique Australian bar and restaurant. Seating is first-come, first-served, but the spacious setting is perfect for new walkers to explore while waiting for food. The menu includes kid-friendly options from egg sandwiches to French toast with cinnamon butter.
Stone Park — Park Slope
718-369-0082
Reservations accepted for larger groups.
Delicious and family friendly, Stone Park is a solid brunch all-star with a variety of favorites, ranging from eggs Benedict to biscuits and gravy. The pretty dining room makes for a meal that feels a little fancy but still has plenty of high chairs to go around. It gets crowded even for non-holiday brunch, so arrive early.
Superfine — Dumbo
718-243-9005
Reservations accepted.
This spacious loft-style, local Dumbo favorite is nestled under the Manhattan Bridge and serves brunch classics plus some south-of-the-border style dishes. Another great perk to its location is the 5-minute walk to Jane's Carousel and Brooklyn Bridge Park, where you can let the kids loose and enjoy the view after a delicious family brunch.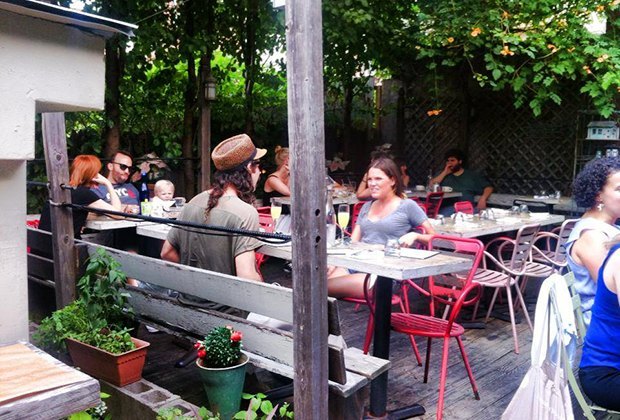 Sweetwater has a beautiful garden.

Sweetwater Restaurant — Williamsburg
718-963-0608
Reservations are available for parties of five or more.
This French-inspired bistro will delight all with its highly rated steak frites, French toast, or organic farm-raised egg dishes. High chairs are at the ready and outdoor seating is available in its beautiful garden—a lovely option in mid-May, especially if little ones need to do some exploring while waiting for their meals.
Queens
Dinerbar — Rego Park
97-45 Queens Boulevard
718-897-6000
Reservations accepted.
Dinerbar is a modern take on that good ole' diner we all grew up with. Its regular brunch menu is hard to beat. Favorites include sweets such as red velvet waffles and a s'mores waffle tower and savories such as grilled shrimp omelets. Shh... There's also a "boozy brunch" add-on. Kids, of course, are welcome and high chairs are available. This is a great spot for a large group.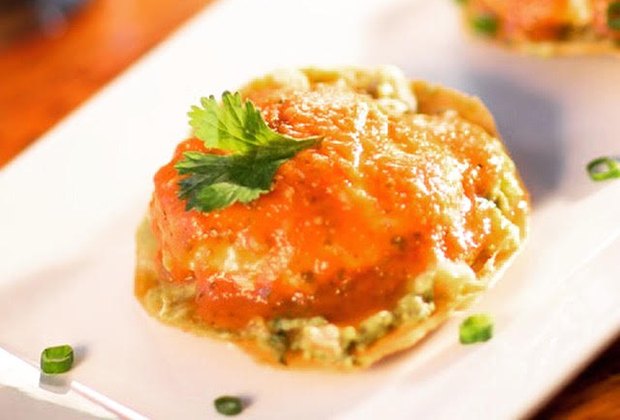 Mexican-style poached eggs at Maizal are sure to delight on Mother's Day.
Maizal Restaurant — Astoria
32-07 34th Avenue
718-406-9431
Reservations accepted.
A tequila bar up front with sidewalk seating, you'll find plenty of tables in a spacious back room. The staff is friendly and knowledgeable about the authentic Mexican cuisine from Puebla. Its regular brunch menu includes the unexpected, such as crepes, sweet with fried plantains, or savory with chorizo; and dependable standards such as huevos rancheros. Don't leave without tasting the extraordinary stuffed sweet plantain with garlic shrimp and avocado appetizer. Save room for the pastel tres leches (three milk cake); it is creamy goodness that shouldn't be missed. Most items are gluten-free. Maizal has high chairs and space to stow your stroller, but no kids' menu or changing station.
The Strand Smokehouse — Astoria
25-27 Broadway
718-440-3231
Walk-ins only but plenty of space!
Sunday brunch at The Strand is always a party. If you're a mother or know a mother who loves live music, this is the place for you. Live bands perform every Sunday from 2pm–5pm and Mother's Day is no exception. Kids are welcome and there are plenty of canopy high chairs that adhere to your table. Finger-licking good smoked meat makes up the majority of the menu, but there are also sides galore such as mac and cheese and mashed potatoes to keep picky little ones satisfied. With enough space for kids to wiggle their bottoms to country tunes, The Strand is a great destination for the whole family.
Mom's Kitchen & Bar — Astoria
33-01 31st Avenue
718-267-0142
Walk-ins only, but with all-day brunch, you can pick an offbeat time.
What better brunch spot for Mother's Day than one named Mom's that serves all-day brunch? This spot gets crowded so get there early, or go when the peak brunch crowd is starting to disperse. With really fun menu items like chicken & bacon waffles, shrimp & cheesy grits, and "bedrock pancakes" made with fruity pebbles and topped with a dollop of whipped cream, you can't go wrong with kids in tow, though to sweeten the deal, they have a separate kid's menu. If you're really looking to indulge, Mom's also serves up some indulgent adult beverages, like the maple bacon bloody mary and the Mommy unicorn, hot chocolate and coffee with a splash of Irish Cream and unicorn dust (whatever that is). Save some room if at all possible, for the fanciest alcohol-free milkshake you've ever experienced, with salty, savory, and sweet blended into one caloric-intense glass.
A version of this post was originally published in April 2011; it is updated annually. Additional reporting by Allison Steinberg, Heather Chaet, Mona Kayhan, Sydney Ng, and Jody Mercier.