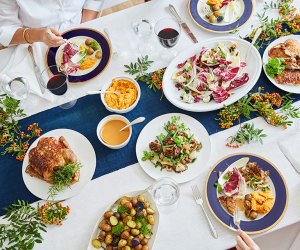 Restaurants Open for Christmas Dinner Takeout or Delivery in NYC
Christmas can be a stressful time of the year, even without a pandemic. Take one thing off your plate–literally–and let someone else cook Christmas dinner, so you can spend more time opening presents, roasting chestnuts on an open fire, and Zooming with family and friends. We've rounded up some of the most scrumptious Christmas dinner and holiday takeout options to make this season a little more bright.
Choose deliciously prepared meats, sides, seafood, and desserts from one of these NYC-area restaurants offering Christmas dinner for delivery or takeout, then kick back with a cup of eggnog, and tune in to one of the virtual holiday happenings on our calendar.
Find plenty more seasonal picks in our Holiday Fun Guide.
Subscribe to our FREE newsletters to get stories like this directly in your inbox.
Brooklynites can pick up classic and healthy prepared foods at this Atlantic Avenue food shop. The boutique catering service uses locally grown, seasonal ingredients to prepare delicious appetizers, sides, soups, meats, and desserts for special events and holidays. For Christmas dinner, you can opt for the Chef's Special to feed 10-12 people, which includes one whole brisket or turkey, three sides, two sauces, and one soup, or order from the a la carte menu. All orders must be placed four days before pick up.
RELATED: Rockefeller Center: How to See the Tree and More Family-Friendly 2020 Holiday Fun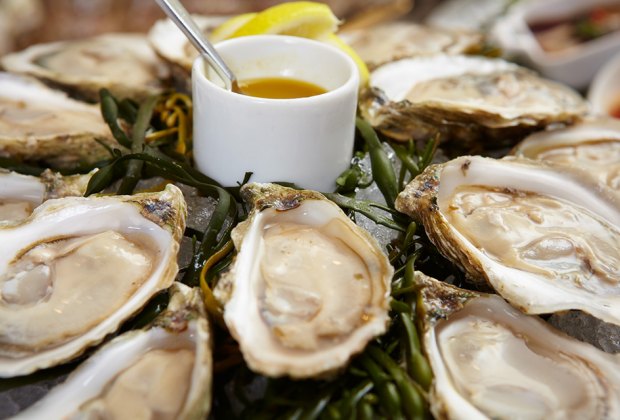 Oceana's takeout menu is heavy on seafood, including oysters.
2. Oceana – Rockefeller Center
Oceana, one of New York's top seafood restaurants, is offering several, lavish holiday packages for takeout. The Holiday Package features a four pound filet mignon, autumn salad, creamed spinach, confit potatoes, a few other sides and dessert. Or if you're in the mood for seafood, opt for the Seafood Holiday Package which includes cold poached Scottish salmon and sides. On the a la carte menu is an Oyster Rockefeller Kit that comes with 36 East Coast oysters, an oyster knife and condiments. And don't forget Oceana's dessert and spirits menu to make the season a little merrier. Holiday orders must be placed by Friday, December 18.
3. Bario's – Heartland Village, Staten Island
This Staten Island establishment has an extensive catering menu for every major holiday. Its Christmas Eve feast serves 6-8 and includes appetizers, bread, salads, veggies, a fresh seafood entree, and a homemade pasta at an affordable price. The Christmas Day package equally packs a punch—and includes a main entree and a meat course—ham or pork loin. Delivery is available on Christmas Eve until 7pm, or you can pick up your order.
RELATED: Must-Do Holiday and Christmas Events for New York City Kids in 2020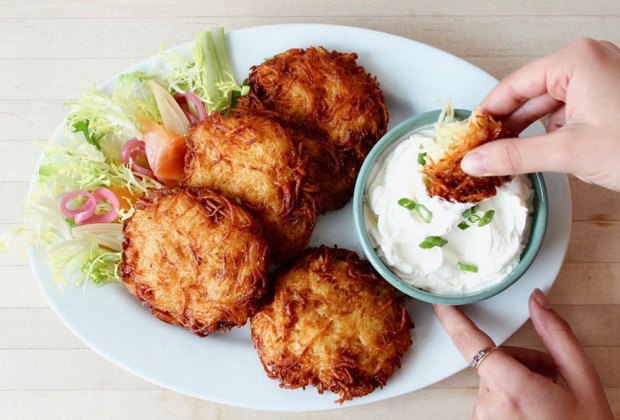 BKLYN Larder offers classic latkes with a little onion and egg.
4. BKLYN Larder – Prospect Heights, Brooklyn
For more than a decade, Bklyn Larder has been supplying Park Slope and Prospect Heights with hand-crafted cheeses, homemade prepared foods, and hard-to-find grocery items. Its commitment to using sustainably produced ingredients also applies to its holiday menu. It offers a full selection of Hanukkah dishes, including perfectly fried latkes and homemade applesauce, and jelly doughnuts. For Christmas, choose from Bklyn Larder's a la carte menu for traditional items like beef brisket and ham, roasted vegetables, mashed potatoes, and a cheese board. Eggnog gelato offers a fun twist on dessert. Hanukkah orders require 48-hour notice. Reserve your order by Wednesday, December 16, to guarantee availability and pick up on Christmas Eve by 5pm.
5. Cote – Flatiron District
If you're thinking a little outside the box for Christmas dinner, how about ordering some Korean BBQ? Billed as NYC's first Korean steakhouse, Cote offers two holiday boxes featuring its USDA prime grade meat—Korean braised short ribs with shiitake mushrooms, daikon, carrots, and chestnuts for 6 or a holiday prime rib package for 6. The star of the holiday feast box is a massive 10-pound roast prime rib and includes an assortment of Korean-inspired side dishes like sticky rice "stuffing," roasted Korean sweet potatoes with marshmallows, maple-bacon Brussels sprouts, japchae (glass noodles), cranberry sauce, and galbi (gravy). The boxes are available for delivery and pick up weekly through Wednesday, December 23.
RELATED: Guide to Family-Friendly NYC Restaurants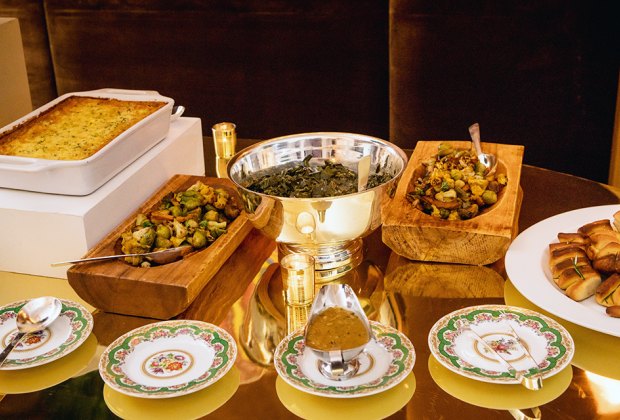 Let Nuhma prepare your Christmas feast.
6. Nuhma – Long Island City, Queens
You won't be bored with the Christmas takeout menu from his Long Island City-based catering company. Nuhma is offering an a la carte Christmas menu featuring a diverse array of dishes. You can choose from appetizers, first courses, salads, entrees, sides, breads, and dessert. For the main course, there's traditional fare like glazed ham and sumptuous dishes like surf and turf and Maine lobster pot pie. For dessert, choose a Noel cake, chocolate cake, tiramisu, or even a surprise Christmas cookie box. Orders placed by Monday, December 7, at 5pm receive FREE delivery. The cutoff date for orders is Wednesday, December 16, and orders can be delivered on Christmas Eve from 1-6:30pm or picked up between 1:30-4pm.
This cozy, family-owned bistro uses locally sourced, seasonal ingredients to create dishes that reflect the chef's Ecuadorian roots. It's offering an affordable prix fixe menu for takeout on Christmas Eve. The menu includes ceviche, lamb chops, and for dessert, a plantain parfait. There is also a vegetarian menu featuring parsnip and apple soup, braised chestnuts, and Brussels sprouts. Make a reservation to pick up your order on Christmas Eve day.
RELATED: How to See the Dyker Heights Christmas Lights in 2020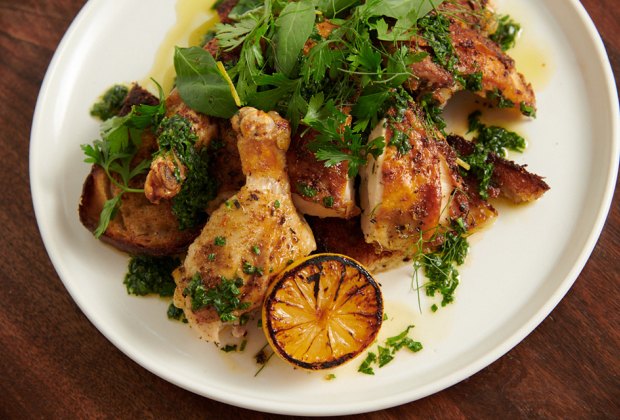 Roasted chicken with salsa verde by The Musket Room is a Christmas favorite.
This Michelin-starred restaurant is offering a multi-course holiday feast for pick up. It includes M'semen bread, whole roast duck (which can be rolled up in the bread, like Peking Duck), charred chicories, roasted delicata, sauteed broccolini, and a pistachio financier with whipped rosewater yogurt. Make it even more extravagant by adding on bread, spreads, and a foie and truffle mousse. You can also order its meal kits for Christmas, which include favorites like roasted chicken with salsa verde or a rack of wild boar. Preorder for pick up between Thursday, December 17, and Thursday, December 24.
Manhattan's only production brewery also features a restaurant from the team behind beloved spots, The Cannibal Beer & Butcher and Resto. For the holiday season, it's offering a package that feeds 4-5. You'll get an appetizer set of salumi, cheese, and nuts, a prime rib entree with sides, dessert, and of course, beer and wine. All orders must be picked by noon on Christmas Eve.
RELATED: Holiday Windows Walk: See Midtown Manhattan's Iconic 2020 Christmas Displays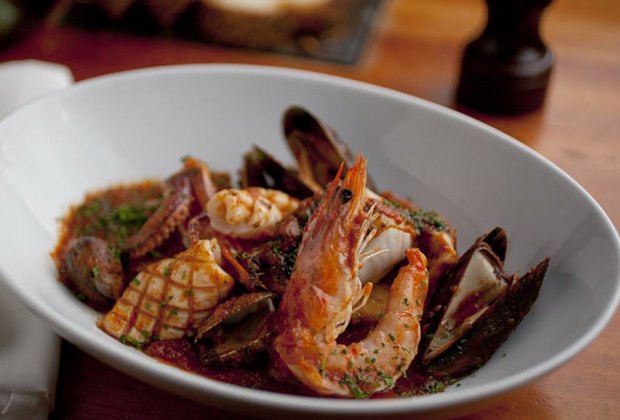 Enjoy Tuscan seafood stew as part of Hearth's Feast of the Seven Fishes.
10. Hearth – East Village
This Tuscan-American establishment in the heart of the East Village offers a Christmas takeout program featuring an a la carte menu and a Feast of the Seven Fishes kit for Christmas Eve. You can order items like lasagna, mushroom lasagna, prime rib, sides, desserts, and drinks. Hearth is also teaming up with celebrity chef Damon Wise to offer his famous smoked ham. More holiday specials are expected to be released by Friday, December 11. The cutoff date for ordering smoked ham is Tuesday, December 15, and all other orders must be placed by Friday, December 18. Orders must be picked up on Christmas Eve.
Try a Mediterranean-inspired feast for Christmas dinner from this family-owned bistro. The holiday takeout menu offers a choice of one main course—steak, lamb chops, salmon, or shrimp scampi, plus a variety of appetizers and Greek side dishes. Check the website to confirm cutoff dates for Christmas orders.
The legendary steakhouse is offering several prix fixe bundles to enjoy its meals at home. The Christmas Eve special includes one entree, salad, sides, and dessert. For Christmas Day, you can order the celebration feast featuring roast beef tenderloin and personal cheesecakes. All orders must be picked up by noon.
13. Socarrat - Midtown, Chelsea, Nolita
Only in NYC can you order paella and Spanish tapas for Christmas dinner. Socarrat, a Spanish paella bar, is offering several mouth-watering holiday packages for takeout. You can choose from the lobster paella holiday dinner, lamb and truffle holiday dinner, cochinillo feast, roasted leg of lamb feast, or the Spanish dinner party menu, which includes five tapas, paella, and dessert. Please give 48 hours advanced notice prior to pick up.
All five NYC restaurants part of the Noho Hospitality Group are offering decadent Christmas takeout packages. They include Leuca, Bar Primi, The Dutch, Locanda Verde and Lafayette. Their Christmas feasts are multi-course meals with choice of a main entree, sides, salad, dessert and spirits. Pre order for pickup on December 24 or 25.
Photos courtesy of the restaurants/catering companies