Free Museums and Free Museum Days for Kids in Houston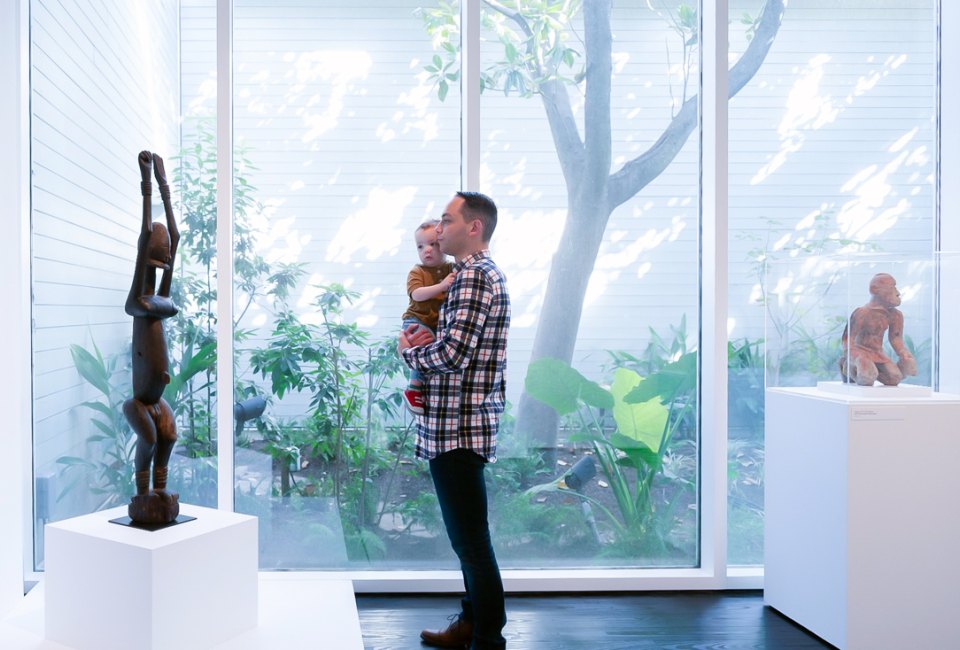 1/13/23
- By
Frances Broussard Denenburg
Looking for free museums in Houston? We have a list of museums that are always free, and also which ones have free museum days.
Houston offers a culturally diverse selection of museums, art centers, and gardens, but do you know which ones are completely free, or offer free admission on select days and times? Keep this list nearby when planning your next visit to one of Houston's top family destinations.
You can also save with the top attractions in Houston with Go City - Houston card. By purchasing this ticket, you receive admission to several Houston attractions at half the regular price: Space Center Houston, Downtown Aquarium, Houston Museum of Natural Science, the Houston Zoo or the Museum of Fine Arts Houston, and the Kemah Boardwalk or the Children's Museum Houston.
Free Museum Days in Houston
Free Family Night is every Thursday from 5:00 pm-8:00 pm.
Rest assured that your tykes will sleep soundly after an evening at the Children's Museum. Let them run, jump, and explore through all of the exhibits during Free Family Night.
Free admission 1:00 pm-5:00 pm Thursdays; Children under 5 are always free.
This museum is dedicated to African-American soldiers and features workshops as well as reenactments.
Free general admission 2:00 pm-7:00 pm Thursdays; DeBakey Cell Lab is open until 7:00 pm every Thursday, $3 per person for members and $5 per person for non-members at the cell lab.
With heavy hitters like the Children's Museum and Museum of Natural Science next door, this gem of a museum can often be overlooked. But it is well worth a Thursday afternoon trip with your budding scientist or hands-on tinkerer to explore the inner workings of the human body, perform real lab experiments, and learn about health and disease. The museum and cell lab are geared toward attendees at least seven years old.
Free admission is 2:00 pm-5:00 pm Thursdays and on certain holidays; Kids ages 18 and under are always free.
Dedicated to educating the public about the repercussions of prejudice and hatred, this museum is one that is sure to impact you for a lifetime. While the content may not be as light as other museums in the area, it's definitely one worth visiting to understand the impact of the Holocaust on the past, present, and future.

Megalodon Jaw photo courtesy of the Houston Museum of Natural Science
Free admission to the permanent exhibit halls every Thursday during Houston Museum of Natural Science's open Museum Hours.
Discover the dinosaurs and more and save significantly on tickets. With over fifteen permanent exhibitions, this might be the best deal in the city.
The Houston Zoo is free on the first Tuesday of the month during the school year. Photo courtesy of houstonzoo.org
Free general admission on the first Tuesday of each month. Online reservations are required for all non-member guests at this time. Members are not required to make online reservations to visit the Zoo. Tickets will not be available at the gate.
The Houston zoo is a family favorite with a great cause. Visit to be inspired to take action to save wildlife and observe over 6,000 permanent animal residents.
Free general admission all day Thursdays; Ages 12 and under are always free; Ticketed exhibitions are separate from general admission and remain ticketed on Thursdays.
The MFAH is accessible and ready to be discovered by art enthusiasts of all ages and is the perfect place for budding Picassos to further their appreciation and understanding of both art and the art community.
Free general admission every Thursday from 2:00 pm to 5:00 pm; Ages 5 and under are always free.
Exhibits at this museum celebrate Czech and Slovak culture and aim to educate the public about people who left their nation in pursuit of freedom, as well as preserve the rich cultural history of the region.
Free admission 4:00 pm-7:00 pm on the second Thursday of each month.
Kids love exploring all that the Galveston Children's Museum has to offer, including plenty of hands-on exhibits and free play areas.
Related: 10 ways to enjoy the Museum of Fine Arts-Houston with kids
Always Free Museums in Houston
Admission to the Center, including the Fayez Sarofim Grand Hall exhibition, is always free. Admission to the Sarofim Gallery is free for Asia Society Members and children ages 12 and under and $8 for nonmembers. Visit the center's calendar for monthly kid-friendly art workshops combined with a lesson about the rich and varied cultures of Asia.
The Houston Museum of African-American Culture is always free. Photo courtesy of the Houston Museum of African American Culture
The exhibits, programs, and demonstrations are focused on educating and preserving African-American culture. HMAAC is open Thursdays through Saturdays only.
The Houston Center for Photography galleries are open Wednesday through Sunday. Free group tours are available both in person and virtually for groups of 5 or more on Wednesdays – Fridays from 11:00 am – 5:00 pm, pending staff availability
.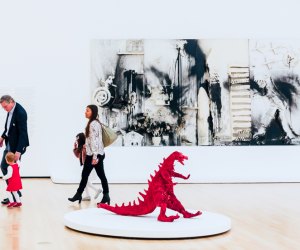 The Menil Collection is free, but requires timed ticked reservations. Photo courtesy of The Menil Collection
The Menil Collection is free to visit, however, timed entry ticket reservations are required prior to visiting. In addition to the current exhibitions, visit the Menil for concerts and poetry readings, or just relax on the campus's green spaces.
This gem offers hiking trails and activities for kids of all ages, including an amazing nature playscape. It's a great spot to visit on any day, as long as it isn't raining! Make sure to check the calendar before you go.
Not just a destination for gram-worthy photos, the Lawndale Art Center plays host to contemporary art from emerging and local artists. As of January 2023, the indoor galleries are temporarily closed for deinstall, but the outdoor exhibits are open.
For an interactive experience, pick up an art guide from the front desk for kid-friendly activities to do throughout the museum. Families will find the Art Guide full of activities to help young (and old!) viewers slow down, engage with the artwork, and connect what they are seeing with their own thoughts and ideas.

Photo courtesy of the Houston Center for Contemporary Craft
Check out the Center's current exhibit, or head over to the center's Hands-On Houston event, a free, craft-making activity led by local guilds and artists on the first Saturday of every month.
For kids interested in police work, the Houston Police Department Museum located in the HPD headquarters lobby offers historic exhibits and displays to explore.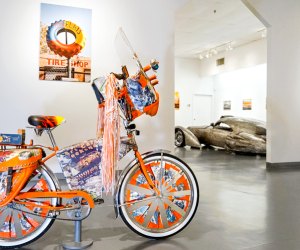 Photo courtesy of the Art Car Museum
Is there anything more Houston than the Art Car? Your kids will marvel at the fantastic works of art found within the gates of the Art Car Museum. And admission is free, but an appointment is required so make sure to book that before heading to the museum.
Open on Saturdays and Sundays, the Orange show monument is always free for kids 12 and under (and adults are only $5). The quirky outdoor 3,000 square foot environment is maze-like in design and includes an oasis, a wishing well, a pond, a stage, a museum, a gift shop, and several upper decks. When done exploring the monument head next door to check out Smither Park.
Disclosure: We may earn a small commission if you click through our link and make a purchase. This revenue helps us maintain this site, so thank you for supporting us.
Click Here to Sign Up!