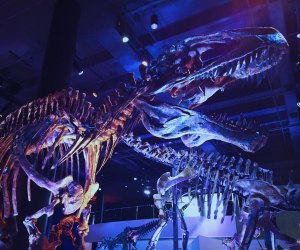 Days and Times for FREE Admission to Houston's Museums
For tourists and locals alike, Houston provides a culturally diverse selection of museums, art centers, and gardens. However, many individuals may not know that these locales are completely free or offer free admission on certain days and times. Keep this list nearby when planning your next visit.
Specific days and times for FREE admission
Buffalo Soldiers National Museum
Free admission 1-5 p.m. Thursdays; Children under 5 are always free
This museum is dedicated to African-American soldiers and features workshops as well as reenactments.
Children's Museum of Houston
Free admission 5-8 p.m. Thursdays
Rest assured that your tykes will sleep soundly after an evening at the Children's Museum. Let them run, jump, and explore through all of the exhibits during Free Family Night.
Related: 10 ways to enjoy the Museum of Fine Arts-Houston with kids
The Health Museum
Free general admission 2-7 p.m. Thursdays; DeBakey Cell Lab open until 6 p.m. every Thursday, $3 per person for the cell lab
With heavy hitters like the Children's Museum and Museum of Natural Science next door, this gem of a museum can often be overlooked. But it is well worth a Thursday afternoon trip with your budding scientist or hands-on tinker to explore the inner workings of the human body, perform real lab experiments, and learn about health and disease. The museum and cell lab are geared toward attendees at least 7-years-old.
Holocaust Museum Houston
Free admission 2-5 p.m. Thursdays and on certain holidays
In addition to free hours on Thursdays, check out the Holocaust Museum's calendar for free events on Saturdays with demonstrations, crafts, and story reading.
Houston Fire Museum
Free admission for children on Saturdays
Guests learn about the history of the Houston Fire Department, and there is a children's play area with a kid-sized firehouse and fire truck. Note that access to the children's play area is limited on Saturdays due to the museum allowing private birthday parties in the play area, so it's best to call ahead of time.
Houston Museum of African American Culture
Free admission 6-8 p.m.Thursdays
The exhibits, programs, and demonstration are focused on educating and preserving African-American culture.
Houston Museum of Natural Science
Free admission to the permanent exhibit halls 2-5 p.m.Thursdays
Discover the dinosaurs and more and save significantly on tickets. With 15 permanent exhibitions, this might be the best deal in the city.
The Houston Zoo
Free general admission on the first Tuesday of each month, September through May, from noon until closing. June, July, and August do not have free afternoons.
Free admission does not apply to the carousel, giraffe feeding, Zoo Lights or other events/attractions. You will need a free ticket to enter on free afternoons; get them at the gate or ahead of time and skip the lines at the gate!
Related: Must-see Houston museums you've (probably) never heard of
The Museum of Fine Arts Houston
Free general admission all day (10 a.m.-9 p.m.) Thursdays
Not only is the MFAH accessible and ready to be discovered by art enthusiasts of all ages, but it has so much to offer little Picassos - from gallery tours for toddlers to craft-making lessons. In addition to free general admission, the museum hosts happy hour Thursdays where you will find libations, food trucks, and a DJ spinning.
Downtown Aquarium
Super Saturdays - Random throughout the year
The aquarium runs a special on certain months, typically in January and September, where Saturdays feature a buy one ticket get one FREE promotion. Watch their website for updates and announcements or follow them on Facebook for discounts and promotions!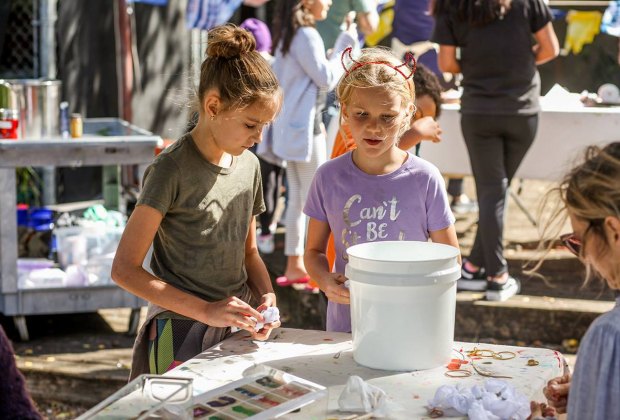 Kids enjoy the annual Hands-On Houston Family Festival on Nov. 3, 2018. Photo by Katy Anderson/Courtesy the Houston Center for Contemporary Craft
Always FREE
Asia Society Texas Center
Admission to the Center, including the Fayez Sarofim Grand Hall exhibition, is always free. Admission to the Sarofim Gallery is free for Asia Society Members and children ages 12 and under and $5 for nonmembers. Visit the center's calendar for monthly kid-friendly art workshops combined with a lesson about the rich and varied cultures of Asia.
Contemporary Art Museum Houston
For an interactive experience, pick up an art guide from the front desk for kid-friendly activities to do throughout the museum. Guests are also invited to celebrate creativity by visiting the current exhibitions on Family Days when food trucks abound and team members are available to chat about the artwork.
DiverseWorks
DiverseWorks, a gallery space for performance and visual art, is located within the Houston Museum District at MATCH (Midtown Arts and Theater Center Houston).
Houston Center for Contemporary Craft
Head over to the center's Hands-On Houston event, a free, craft-making activity led by local guilds and artists on the first Saturday of every month. Families and kids of all ages can learn a craft technique, material, or form that is related to the current exhibits.
Houston Center for Photography
Talk about eye-opening. The Center for Photography boasts multiple ways for kids to enjoy and learn about the art of taking photographs. A scavenger hunt guide is available at the front desk, encouraging patrons as young as 4-years-old to look around the galleries and see what they can spy. For the older kids, parents can pick up an exhibition-specific questionnaire and really dig deep with open-ended questions about current and controversial issues. Family days take place several times throughout the year and offer story and snack time as well as opportunities to interact and engage with the exhibits through craft-making.
Related: All aboard the Rosenberg Railroad Museum
The Jung Center
Although patrons of the Jung Center tend to be older, children are always welcome and the bookstore has a curated collection of unique children's picture books.
Lawndale Art Center
Not just a destination for gram-worthy photos, the Lawndale Art Center plays hosts to contemporary art from emerging and local artists.
The Menil Collection
In addition to the current exhibitions, visit the Menil for concerts and poetry readings, or just relax on the campus' green spaces.
Rice University Art Gallery
The university's art gallery is dedicated to temporary, large-scale installation art. While in the neighborhood, check out James Turrell's Twilight Epiphany Skyspace, also on Rice's campus.
Houston Arboretum and Nature Center
This gem offers hiking trails and activities for kids of all ages. It's a great spot to visit on any day, as long as it isn't raining! Make sure to check the calendar before you go.
You can also check out more detailed posts on the Houston Zoo, Children's Museum, Fire Museum, and dinosaur exhibit and butterfly center at the Museum of Natural Science.
Top image courtesy of urban.houstonian via Flickr
This post originally published in 2016.