5 Ways To Get the Most Out of the Houston Zoo with Kids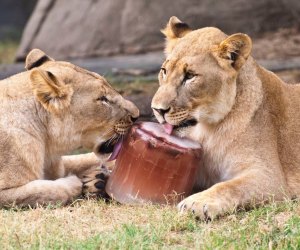 If you love animals, have children, or are just a living and breathing person, there's really no excuse to not visit the Houston Zoo. Home to more than 6,000 animals and 900 species, the 55-acre complex has something for everyone.
Save money on many of Houston's best attractions with a CityPASS.
I had visited the zoo on multiple occasions before my son was born, so I can attest to how different the experience is once you have small, unpredictable humans in tow. My husband and I took our toddler to see the animals a few days after he turned 2 years old in May.
We loved seeing the exhibits with new eyes. However, because we (unknowingly) chose to go on one of the hottest days of summer, many of the animals were hidden back in their enclosures trying to find some shade, so definitely take weather into consideration when you plan your visit.

The zoo's redesigned Kipp Aquarium was a big hit for our family.
Among the regular exhibits— The Kipp Aquarium, The African Forest, McNair Asian Elephant Habitat, Shoebill Stork Exhibit, Natural Encounters, and the three bird exhibits—the aquarium was a big hit in our family. Earlier this year it received a $500,000 renovation and was updated with new lighting, interior design, and new tanks. It is beautiful, and most importantly, air conditioned!
We ended the day at the John P. McGovern's Children's Zoo, which allowed our toddler to run around without fear of being trampled by oncoming strollers. The children's zoo features a petting zoo, playground, bat cave, bug house, and live shows, which are listed on daily schedules. There is also the Wildlife Carousel for children taller than 42 inches. Admission is $2 for zoo members and $3 for non-members.
Overall it was a great day. To ensure your next (or first) visit to the zoo is also a success, Consider these tips:
Pack a lunch
I know it takes extra effort and time to pack picnic lunches or snacks, and if you're like me you are usually running late and barely remember to put on deodorant, but it's worth it. The zoo allows guests to bring outside food and drink in coolers, but you may not bring glass bottles, alcoholic beverages or plastic straws (please don't litter!). There are four restaurants at the zoo, but if it is crowded or you have picky children, you will be happy to have brought something from home.
Feed the giraffes
At the Giraffe Feeding Platform near the Twiga Cafe, zoo guests can get up and personal with Houston's Masai giraffe family. The whole family can offer snacks to these long-necked beauties, and it's a great way to get your kids to interact with the animals. Feedings are 11am and 2pm daily and cost $7. If feeding is too much but you would still like to get a closer look at the giraffes, the Twiga Cafe has patio and inside tables with great views.
RELATED: Zoos, Animals, and Gardens Guide for Houston Kids

Cool off at the zoo's seasonal splash pad.
Cool off at the water park
If you take a trip to the zoo during the summer, the 13,500-square-foot Kathrine McGovern Water Play Park will be your family's best friend. Admittance to the water play area is included in zoo admission, and the numerous water features and fountains are the perfect way to prevent a Houston heat stroke. The park is open 10am-6pm April 1-Oct. 30 and is located near the Medical Center Entrance.
Take advantage of family programs
The zoo has some unique programs specially tailored for families, particularly through its Zoo Sprouts classes. Designed for toddlers to preschoolers, kids take on specific projects and explore the zoo in age-appropriate groups through Zoo Sprouts. It divides kids into 18 months-23 months; 2-3 years old; and 4-5 years old. If you and your clan are the fit-type, there is Zoo Yoga for new and longtime yogis alike, and its description sounds like it would be a blast for the kids: "Discover how your body moves and acts just like animals at the Zoo."
Before you leave, ride the train
When the family is done checking out the animals, and if you have time, right next door is a stop on the Hermann Park Railroad where you and your little ones can sit back and relax. This is separate from the zoo, so you will have to cough up a little extra cash for admission: $3.50 per person, but children under 1 are free. It is an 18-minute journey, and if it is a nice day, it's a perfect way to end your outing.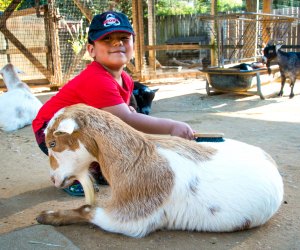 The Children's Zoo includes a petting zoo where kids can get close to the animals.
Good to Know Before Visiting the Houston Zoo
General admission is free for zoo members and children ages 1 and under. Tickets for children ages 2-11 are $15, adult tickets are $19, and senior tickets cost $12.50.
All-day passes are $19.95 per person, and they include a souvenir conservation bracelet, general admission, and the Dinosaurs! exhibit (which closes Oct. 2).
Normal zoo hours are 9 a.m.-7 p.m., Monday through Friday. Last entry is at 6 p.m. Visit the website to check for any private events that may interfere with normal operating hours.
The tropical bird house is open 10am-6 pm; the Bug House opens at 9:30am; and the petting yard inside the children's zoo is open 10 a.m.-5 p.m.
Parking can be a challenge, so arrive as early as possible. There is parking at the main entrance as well as the Medical Center entrance on Cambridge Street across from Ben Taub Hospital, but the latter is only open on weekends and major holidays. Parking is FREE.
Visitors can also take the METRORail from Fannin South Park and Ride, 1604 West Bellfort.
All photos by Stephanie Adams/courtesy the Houston Zoo