Houston Zoo Lights: A Unique Holiday Experience for the Whole Family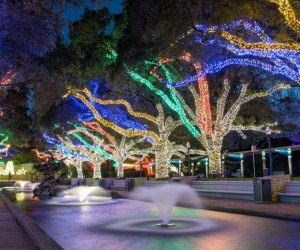 Houston Zoo Lights is a unique event the zoo hosts each year. It is appropriate for adults and kids of all ages, and it is a magical adventure through the zoo after dark. Here are our tips and tricks for getting the most out of your visit. Also, for other holiday-themed outings in December, check out our GoList for the month's best events, and our holiday guide for the best things to do this season.
If you are looking for something special to do this holiday season, the Houston Zoo Lights is a great choice. The zoo hosts the event each year with the help of more than a dozen sponsors, including TXU Energy.
This year the event runs from Nov. 23-Jan.12 every day except Dec. 24 and 25. Ticket prices vary depending on when you go, but the best pricing is available to members and non-members who buy tickets ahead of time online; children ages 1 and under are free. The cost is something my family feels really good about because the proceeds from ticket sales help take care of the animals. We love to spend time at the zoo and are happy that we can spend the money there where it helps the animals and educational programs offered.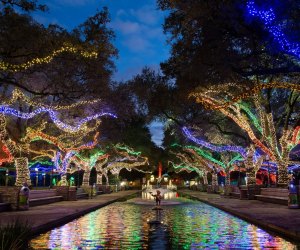 Photo courtesy of Houston Zoo/Facebook
What to Expect: Entering Houston Zoo Lights
If you have attended in previous years when the gates did not open until 6:00 p.m. you should note that you can enter at 5:30 p.m. this year. So, if you want to experience Hermann Park beforehand, make sure to factor that into your schedule.
Each night you can explore the magical wonderland until 10:30 p.m., but 9:30 p.m. is the latest you can enter. You should get there much earlier, though, because there is so much to see and enjoy.
When you arrive at the zoo, there are two parking options. You can park at Hermann Park if you arrive early and snag a spot as daytime visitors are leaving. If you get there and no parking spots are available, you can park at the South Extension lot located at 7100 William C. Harvin for $7. At the lot, a shuttle will bring you right to the main entrance. You can check the zoo site for dates that the additional lot and shuttle are available before you head that way.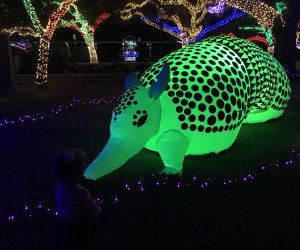 Photo by Frances Broussard Denenburg/Mommy Poppins
What to Expect: Exploring Houston Zoo Lights
We had such a great time at Zoo Lights because there are things for all ages to enjoy. My daughter is four months, and my son is 15, but the whole family enjoyed walking through and taking in each display.
The entire theme focuses on animals. There are so many amazing things to take in. The music complements the lights to create a truly one-of-a-kind experience that even my baby enjoyed.
In addition to the incredible lights, there are yummy treats available. We ate before we arrived, but we sipped hot chocolate as we strolled through the beautiful decorations. There are options for food available if you want to eat there, too.
There are also activities for younger children, including churro decorating, visiting with Santa Claus, and playing in the snow. Zoo Lights is bigger, brighter, and better this year, so if you been in previous years, it is probably time to make another visit.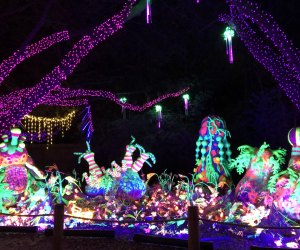 Walk past exotic plants in every shape, size and color. Photo by Carrie Taylor/Mommy Poppins
The atmosphere is very dark even with all of the lights because they are all LED bulbs that use less energy and are more environmentally friendly. However, the darkness makes it easy to lose people in your group. So, make sure you set a location to meet back at in case you get separated and keep a close eye on little ones.
If one of your kids has sensory sensitivity, know that the music and flashing lights can be overwhelming at times. There is a sensory-friendly event hosted every year - check the zoo's event calendar for details.
Also, if your kids want to see the animals, you might want to make a day of it because you are not able to see the animals after dark. The general tickets will not work for Houston Zoo Lights. You are more than welcome to visit the zoo during the day and then come back to experience the nighttime festivities if you purchase tickets to both.
You will only need to wait for about 30 minutes between the time the zoo closes and reopens. I highly suggest this, especially for zoo members who get free admission during the day. Families with younger children who look forward to seeing their favorite animal exhibits might also enjoy doing it this way.
This post originally published in 2016.