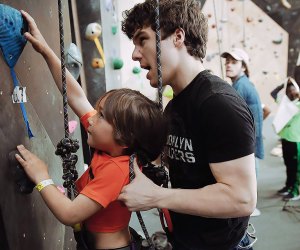 NYC Winter Fun List: 50 Things To Do Indoors with Kids
Cooped up in a tiny apartment with your kids hanging off the furniture (and you) is no way to spend the winter. We know it can be hard to put on all that winter gear, head out into the cold, and hit up one of the million daily kid events happening in NYC, but we're here to help.
To inspire you, we've compiled a list of 50 awesome drop-in spots in the five boroughs, where kids can run, jump, bounce, learn, create, and get cultured. Some are even FREE.
Still not willing to open that door? Try one of these indoor craft projects at home as a family to keep those little hands busy, or one of our Indoor Snow Day Boredom Busters.
Of course, you can always find more winter fun ideas in our Indoor Family Fun Guide, or even sign up for a new class.
1. Head to the Museum of the Moving Image in Queens for its collection of fascinating cinematic props, and ever-changing movie screenings.
2. Try for a strike at one of NYC's numerous bowling alleys.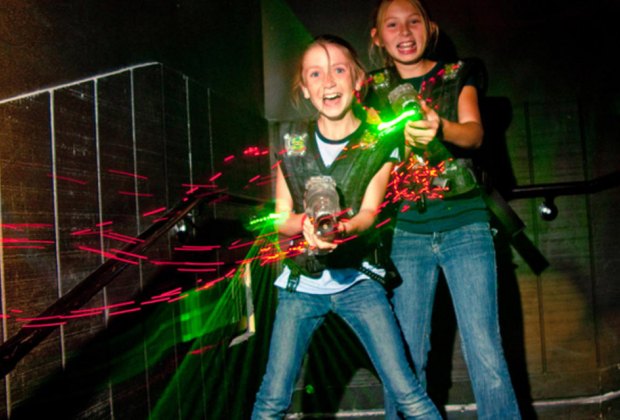 Tag meets hide-and-seek at laser tag. Photo courtesy of Bowlmor
3. Or go beyond bowling at Bowlmor Chelsea Piers, which also has a laser tag arena.
4. Give rock climbing a try at one of the two Brooklyn Boulders locations within city limits (Brooklyn and Queens) or another indoor climbing spot.
5. Pay for a day pass to an indoor swimming pool.

Take a spin on the ice at the Pier 17 ice rink. Photo by Janet Bloom
6. Even if it's too cold to skate outside, you still can twirl around an indoor ice rink.
7. Settle in for no-cost storytimes at NYC's best indie bookstores. FREE
8. Now that the tourists have abandoned Midtown, take a turn on the giant piano at FAO Schwarz.
9. Get creative at the Children's Museum of the Arts.
10. Let the kids get their crazies out at a local bounce house or ball pit.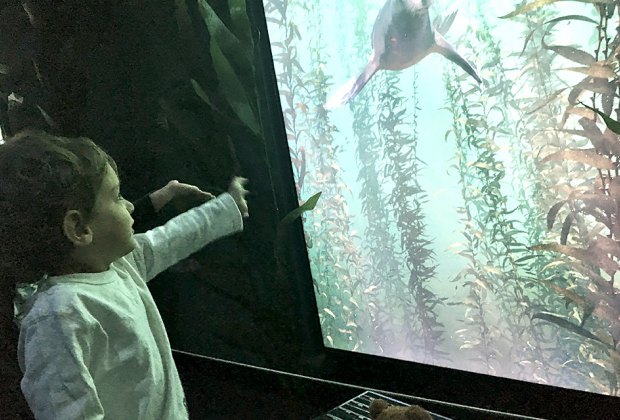 Take a peek deep into the kelp forest to play with the sea lions. Photo by Sara Marentette-Nighswander
11. Immerse yourself in a virtual ocean at National Geographic's Ocean Odyssey.
12. Grab a cup of joe and let the kids run around at Good Day Play Cafe in Park Slope. Not in your hood? Try or one of these other play cafes.
13. Head to Times Square's mini world Gulliver's Gate to see a tiny version of NYC and other famous sites worldwide.
14. Head to Soho for a day of slimey fun at Sloomoo Institute or visit the nearby Museum of Ice Cream and think warm, sticky, ice-cream melting thoughts.
15. Pretend it's summer with a day trip to an indoor water park, like New York's largest (and newest!), the Kartrite Hotel and Indoor Waterpark in Monticello.
16. Sign up for a FREE class at one of these indoor stores or just play for FREE.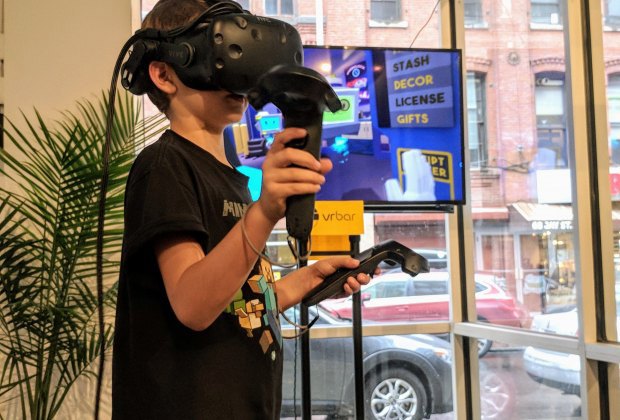 VRBar has a wide range of games for various ages. Photo by Anna Fader
17. Get your game on at a virtual reality spot. A few we like: VR World and Escape Virtuality in Midtown Manhattan, and VRBar in Dumbo.
18. Become a pinball wizard at the Modern Pinball arcade in Kips Bay, or try out retro video games at these arcades.
19. Run amok at a drop-in play space in Manhattan, Queens, or Brooklyn.
20. Don't forget the library! The Children's Center at 42nd Street, the central branch of the Brooklyn Public Library in Prospect Heights, and the Children's Library Discovery Center in Jamaica, Queens, are all destinations that offer attractions beyond books. Another Queens pick: The newly-opened Hunters Point Library is an architectural marvel with stunning Manhattan views and six floors of books and toys.
21. Go underground to check out vintage trains and buses at the New York Transit Museum in Brooklyn Heights.
22. Expand your culinary horizons with a trip to one of NYC's best indoor food courts.
23. Explore the recently renovated Museum of Modern Art and take in all its family-friendly perks and priceless works of art.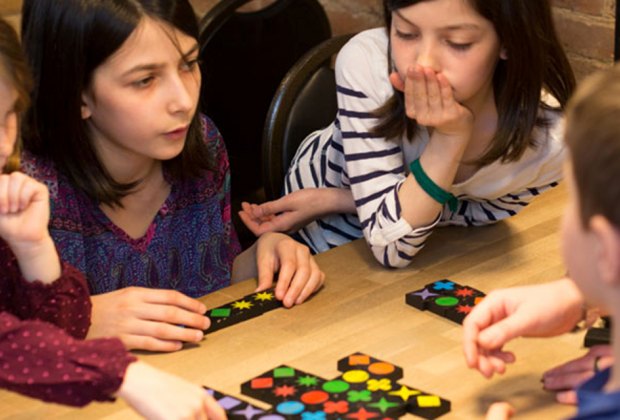 Drop into Brooklyn Strategist for an open gaming session. Photo courtesy of Brooklyn Strategist
24. Drop into an open play session at board game mecca Brooklyn Strategist. If you're hungry for competition and a meal, try Morningside Heights spot Hex & Co., which serves kid-friendly eats and even adults-only drinks. Queens families might prefer board game haven Good Games NYC (which replaced the former Geekery HQ) in Astoria.
25. Head to Grand Central sometime when you're not dashing for a train and explore all the family-friendly fun within.
26. Dine out at one of these restaurants when kids eat for FREE or one of these spots with built-in entertainment.
27. Snap a quirky selfie and allow your eyes to be tricked at the mind-bending Museum of Illusions.
28. Go on a hot cocoa crawl at the top spots in Manhattan, Queens, and Brooklyn.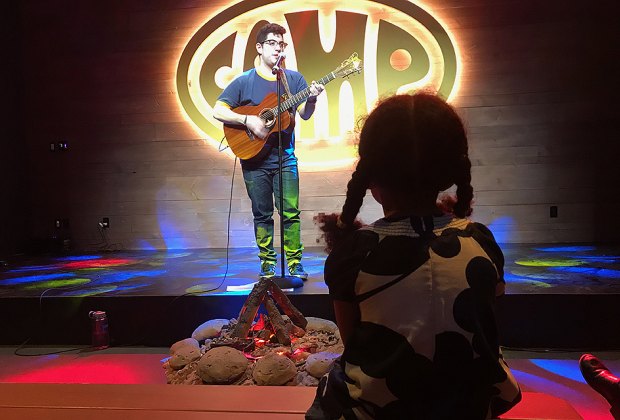 Songs around a campfire are part of the cool CAMP experience. Photo by Jody Mercier
29. Check out the interactive CAMP Store in the Flatiron District or one of its brand-new locations in Hudson Yards and Brooklyn's City Point. Not only can you score some cool gifts, but your kids will have tons of fun romping around the themed play spots.
30. Pop into the National Museum of Math for plenty of educational fun with nary an equation in sight.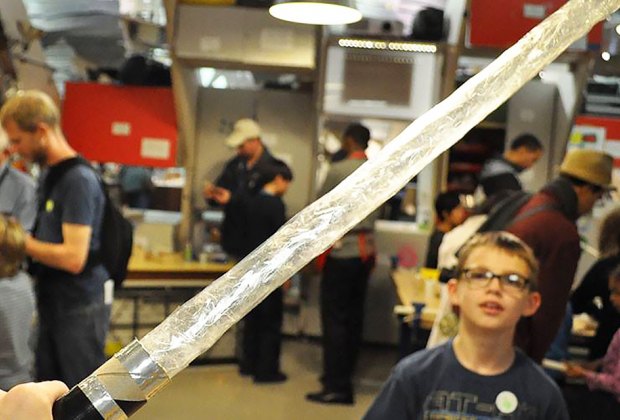 Make a light saber at NYSCI. Photo courtesy of the museum
31. Get geeky at the New York Hall of Science, or try a little makers workshop in its Design Lab.
32. Spend some time cracking the code and attempting to bust your way out of one of these kid-friendly escape rooms.
33. Visit Brooklyn's bustling Industry City, which is full of kid-friendly fun.
34. The Flatiron Lego Store is just a subway ride away and offers regularly scheduled building sessions. FREE—if you can convince your kids to leave empty-handed.
35. Explore the irresistible pop-up The Color Factory.
36. Take advantage of FREE visiting hours at your favorite museum or a new-to-you culture spot.
37. Put those new year diets on pause to indulge in an outrageous dessert at one of these NYC eateries.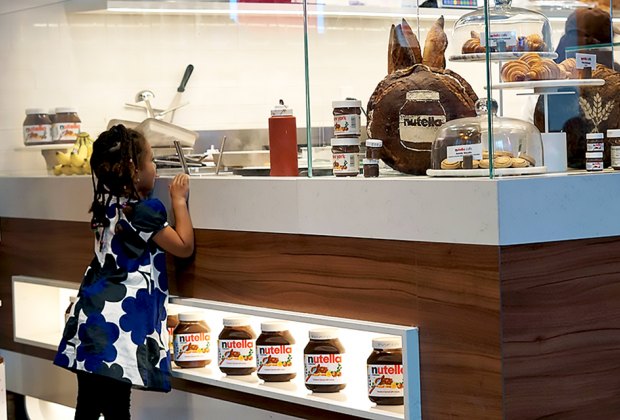 Watch deliciousness being prepared at the Nutella Cafe. Photo by Jody Mercier
38. Speaking of which...try out the chocolatey hazelnutty deliciousness on offer at the Nutella Cafe.
39. Play tourist! Check out the incredible views from the Top of the Rock and the Empire State Building. For a completely climate-controlled view, visit One World Observatory.
40. Bask in the balmy temperatures at one of our favorite indoor public spaces. FREE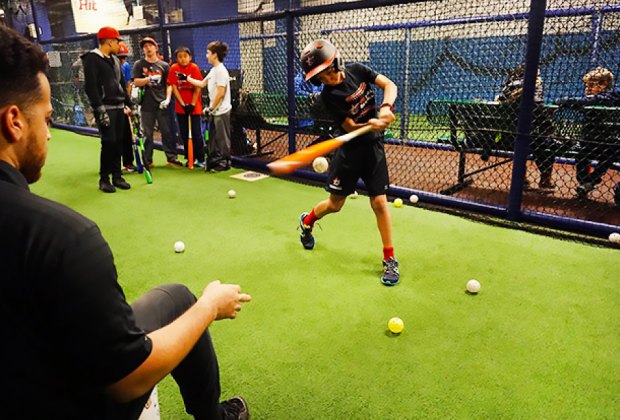 Connect with the ball at The Baseball Center. Photo by Jody Mercier
41. Get into shape for spring by honing your little slugger's swing at one of these nine batting cages.
42. Learn the art of paper folding at Taro's Origami Studio in Park Slope.
43. Enjoy an afternoon at Spark play space in Dumbo, an offshoot of the Brooklyn Children's Museum.
44. The Museum of Natural History never disappoints. The Butterfly Conservatory is a seasonal favorite and we also love the interactive ode to T. rex exhibition that debuted last spring.
45. Indulge in some over-the-top suburban fun at the long-awaited American Dream Mall just across the river, with its indoor theme park, ski slope, ice skating rink, and super-sized candy shop.
46. Book an afternoon of princess play fun at Let's Dress Up on the family-friendly Upper East Side.
47. Enjoy some drop-in fun at one of these NYC maker spaces.
48. Explore the new Wegmans in Brooklyn, which is not your average NYC grocery store!
49. Splurge on a mani at the Upper East Side's Milk & Cookies Spa, designed just for kids.
50. Hit the trampolines at Staten Island's Fly High indoor bounce haven. If you're driving, New Rochelle's Sky Zone trampoline park, is about the same distance from Manhattan, or closer, if you're in the Bronx.
This post, originally published in January 2010, is updated annually.