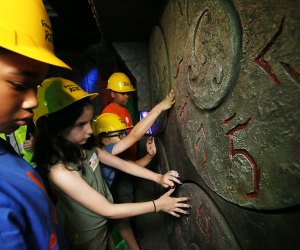 7 Cool Escape Rooms for NYC Kids to Conquer
For parents, life in a tiny New York City apartment can feel like a constant escape game. The clutter is closing in on you and you've got to locate two toddler shoes, a missing must-have accessory for your tween, and your own MIA cell phone before you can unlock the door to take on the mean city streets.
If your clever kids don't see the game in that routine, they might be up for a different kind of challenge. Consider splurging on an afternoon in one of these kid-friendly escape rooms, where their puzzle skills (and yours!) will be put to the test. Most offer birthday party packages, too. Be aware that most spots require a reservation to get locked in, so plan your outing in advance.
Beat the Bomb – Dumbo, Brooklyn
The bomb in this game provides a colorful ending: If you fail to defuse it, you'll be blasted by a colorful paint bomb. Players are outfitted in hazmat suits before entry and given one hour to beat the security system, or risk being blasted. Up to six players can participate at a time; booking a group of four guarantees you'll have a private go at the game. Though recommended for ages 10+, those as young as 8 can participate. (Special adjustments need to be made to the sensors for those under 4 feet tall, so if your party includes younger kids, be sure to let the staff know when booking.) Birthday party packages are available.
Brooklyn Escape Room – Boerum Hill, Brooklyn
With a trio of escape rooms to test your prowess, Brooklyn Escape Room transports you to a fallout shelter, haunted house, or Medieval dungeon. Though ages 8+ are welcome to participate, beware that the rooms may be scary to younger kids. Kids under 13 years of age must be accompanied in the room by a paying adult. Games are meant for groups of up to eight; if you'd like a private game, you'll need to book 5-7 tickets depending on the game. Birthday party packages are available.
RELATED: 12 Fun, Challenging Rock-Climbing Walls For NYC Kids of All Ages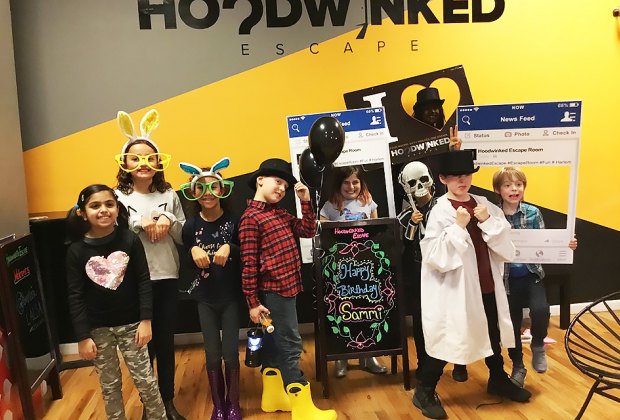 All ages are welcome at Hoodwinked Escape Room. Photo courtesy of Hoodwinked
Hoodwinked Escape Room – Harlem
Hoodwinked has three long-running escape rooms ranging from spy-themed, to a Harlem-centered treasure-hunt, and also hosts pop-up specialty rooms from time to time. All ages are welcome here, though those 13 and under require an adult chaperone. Rooms are ranked by difficulty level, so consider the age of your group when booking. Each game can accommodate up to eight participants and party packages are available.
RELATED: 19 NYC Indoor Party Spots with Mega Playgrounds for Kids' Birthdays

Mission Solvers is a kids-only escape room! Photo courtesy of Apple Seeds
Mission Solvers: Escape Games for Kids – Flatiron
Located within the beloved kid-centric Apple Seeds, it's no surprise Mission Solvers is a kids-only escape room. One on-site game is on offer, School of Magic, and runs 45 minutes. A big perk here: This game is so kid-friendly, not only do adults not have to play along, a drop-off option is even allowed. Game masters will provide supervision and hints, if needed. Another option: Host your own escape room at a location of your choosing. Mission Solvers can set up a variety of themes for birthday parties, after-school programs, or other events.
PanIQ Room – Chinatown
A franchise of the nationwide chain of the same name, PanIQ Room offers five different escape room experiences, two of which—"The Cage, The Cards and The Cash" and "Perfect Crime"—are rated family-friendly. Children under 10 years old are not permitted; those 10-14 must be accompanied into the room by an adult and ages 15-18 must have an adult chaperone present for check in and to fill out waivers. Each accommodates up to seven players and runs for one hour.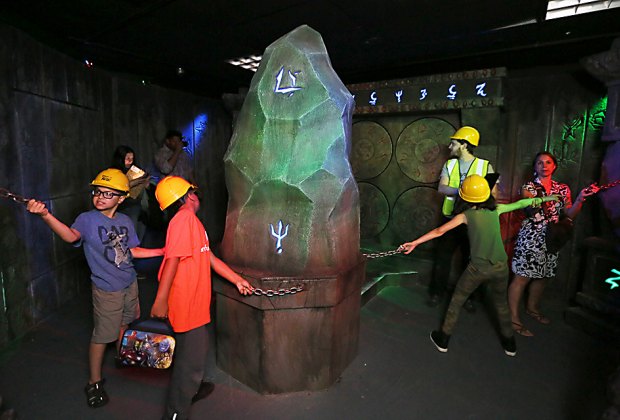 Kids work together to solve the puzzle at Ripley's Relic. Photo by Stuart Ramson/AP Images
Ripley's Relic – Times Square
Children as young as 5 can participate in this new attraction at Ripley's Believe it or Not Odditorium. Tickets can be purchased as an add-on to your Ripley's visit. Your journey takes you underground to explore an "newly discovered" cavern, where you'll attempt to unlock a relic—and liberate yourselves. Fitting for its younger audience, this escape room experience lasts just about 15 minutes.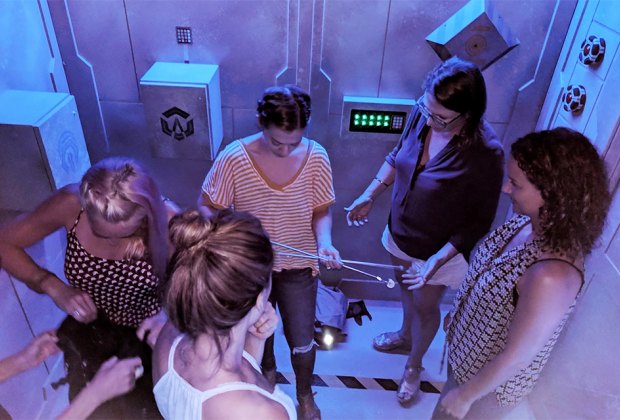 Choose an individual Mini Escape Adventure at Shipwrecked, or combine three puzzles into one Epic Adventure. Photo courtesy of Shipwrecked
Shipwrecked Escape Deck – Red Hook, Brooklyn
From the creative team behind family-favorite Shipwrecked Mini Golf comes this trio of mini-escape rooms. Lasting 25 minutes each, you can book one or all three for an epic adventure. Though there is no age minimum, be warned: If you're playing with kids under the age of 13, you'll have to book the entire room (five slots at a discounted rate) and have one chaperone for every two kids. Theme include a haunted house (rated PG-13), a nuclear reactor, and a temple treasure hunt.
Looking for more family-friendly fun? Check out our Indoor Activities Guide.