Ahoy! Shipwrecked Miniature Golf Spot Opens in Brooklyn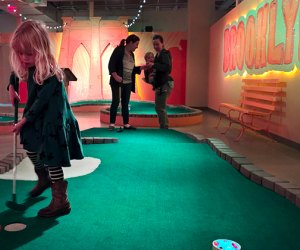 5/13/16
- By
Stephanie Ogozalek
When the folks behind the over-the-top Park Slope Holiday Light Spectacular attraction create a miniature golf course, it is best to drop everything and go. Like the incredible light-and-theater productions the pair mounted on a Brooklyn brownstone in years past, the brand-new pirate-themed Shipwrecked Miniature Golf is unlike any other mini golf course you may have experienced in the past.
You won't be golfing holes with spinning windmills here. Instead, expect a cool neon light show, NYC-themed rooms, tropical island backdrops and an overall kid-friendly, interactive experience at this 18-hole course. The indoor (ha, ha rain!) 11,000-square-foot Shipwrecked Miniature Golf opened in Red Hook, Brooklyn in late April, and takes inspiration from its waterfront neighborhood of choice. Of course, I had to make the trek out with my family to check it out. Read on for our full review of this new kid sports and fun play zone.
Looking for more mini golf? We recently rounded up 11 of the city's top spots, just in time for spring. Many are outdoor venues, so open seasonally only.
You may think all mini golf courses are the same, but this special spot, opened by theater geeks Chris Schneider and Ryan Powers, friends since college, is really something else and not just because it is an indoor course. Most of it was created by hand from repurposed materials even the actual holes (the pair lugged the holes from Shore Fun Mini Golf in Maryland) To say Shipwrecked Miniature Golf is a labor of love is putting it mildly. Over a year of construction and design, plus lots of help from the pair's friends and family went into bringing Shipwrecked Miniature Golf to life.
RELATED: Dumbo Boulders: Climbing Brooklyn's Giant New Outdoor Wall with Kids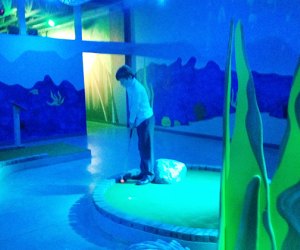 The sea theme works well with its adopted waterfront neighborhood of Red Hook, Brooklyn.
The course has an overarching pirate storyline shared through theatrical light, sound, set design of the four distinct golfing rooms at the venue and a series of theatrical stations or mini shows. For example, at the first station, kids meet Captain Red Hook from the doomed ship. He appears as a hologram after you pop in a token. Each of the interactive experiences furthers the seafaring adventure story and each requires a token purchased for a fee. Each is different; you meet other key characters in the story, laugh it up with a joke-telling skull mountain and blow open a door with explosives. I don't want to give too much away, but expect the kids to be completely caught up in the exciting adventure. A bag of tokens costs $5, and one bag is all you need to see all six of these mini shows. Or skip it and just play golf, minus the story. You'll have fun either way!
Each room displays sound and light effects that transport you underwater, to a tropical island or to NYC. Of course the NYC-themed room was our favorite! The final hole is played on a mock subway car. When you're done you can return your ball via a fake MetroCard machine. The actual mini golf course is challenging but not hard, so kids likely won't get frustrated as they try to keep their score under par.
RELATED: NYC Bowling Alleys That Welcome Kids and Families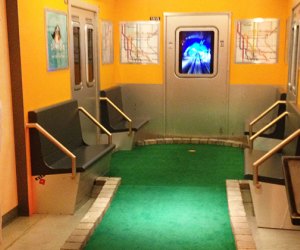 Putt your way to the subway car hole in the NYC-themed room.
After your mini golf adventure is through, make sure to visit the lounge space where you can play a slew of retro video games like Pac-Man, Frogger and Donkey Kong for just a quarter a game. Shipwrecked doesn't offer a full-service eatery, but you can enjoy Blue Marble ice cream and other local treats if you get hungry. Organizers tell us the food offerings will grow down the line, possibly even with a liquor license for the grown-ups.
Shipwrecked Miniature Golf has gone out of its way to make the experience fun and easy for families. A large elevator lets patrons with strollers avoid the zoom to the top where they'll find stroller parking awaiting; the entire place is spotless and roomy; a family bathroom includes a changing table for those in diapers; and rentable lockers let you stow gear. It complies with ADA regulations, so there is room for a wheelchair to navigate most of the course, and by default, strollers fit nicely, too.
Of course, this active sport spot is also hosting children's birthday parties. Packages begin at $349 for 10 kids. It also has plans to offer special kid activities, such as magic and puppet shows, family quiz games and other types of productions in the convertible party rooms. Look out for the addition of parent-date nights, where kids are supervised by licensed day care workers and the adults get to enjoy the course sans children.
Shipwrecked Miniature Golf is a bit off the beaten path, occupying the second floor of 621 Court Street in Red Hook, across the street from the Red Hook Recreation Center. Walk south along Court or Smith Street from the F/G Smith-9th Street stop, passing under the BQE, or grab the B57 or B61 to be deposited just two blocks from the golf spot. Take the Ikea ferry if you're feeling adventurous. Headed back to the train? Hit up The Treats Truck on Court for a sweet (or savory) nosh; there's even a small play spot in the back for the littlest kids.
Games cost $14 for ages 13 and up; $10 for kids 2-12 years of age; spectators are $7. A repeat game during the same visit is $5. Right now you can score a deal using a promotionalcoupon from the company. An annual pass in the works, but for now, kids can ask for a club card that gives them a free game after they pay for six.
Photos by author except for the top image, which was provided courtesy of the venue.