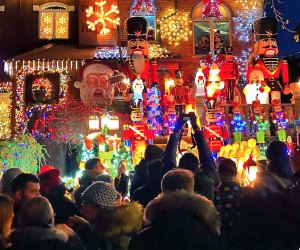 The Most Spectacular Holiday Light Displays in NYC
Every year it seems holiday light installations in New York City get more elaborate, making a visit to the top displays a must-do seasonal activity. These days there are even tour buses that take you to some of the neighborhoods decked out for the season.
We've rounded up some of the best holiday displays in NYC. Some of these attractions are in the more far-flung stretches of the city such as Dyker Heights in Brooklyn, the Rockaways and Jamaica Estates in Queens, and Staten Island. All are definitely worth the trip. We can vouch for it!
So start your own holiday tradition this year by checking out these spectacular sights when dusk hits. Find more seasonal fun, we've included more holiday sights, such as Midtown's holiday store windows, in our NYC Holiday Fun Guide.
The houses below light up around Thanksgiving, and displays come down around the New Year's Day. Lights go on (and are best seen) after dark. If you want to avoid the crowds and potential traffic jams, go early in the evening on a weekday. These places tend to get busy on weekends.
Brooklyn

Houses are decorated to the max in the Dyker Heights neighborhood. Photo courtesy of Dyker Heights Lights
Dyker Heights Christmas Lights — Dyker Heights
Dyker Heights is famous for its Christmas lights displays. There's even a PBS documentary called Dyker Lights, a two-hour Christmas lights bus tour, and countless videos on YouTube. Check out our Dyker Lights review.
How to get there: Displays can be seen throughout the neighborhood, but the hot spot is 11th to 13th Avenues between 83rd and 86th Streets. Be prepared for serious gridlock or take the subway. The D train to 79th Street is the closest stop, but it's still quite a walk. Or consider the aforementioned bus tour.
Queens
Sadly, the Gurino Family behind Christmas in Jamaica Estates decided to dim their lights in 2018. While a post from last holiday season said they hoped to light up the sky again for the 2019 Christmas season, we have yet to confirm the lights there will be back on.​ But other traditional DIY displays will be sparkling in Queens, including the highlights listed below.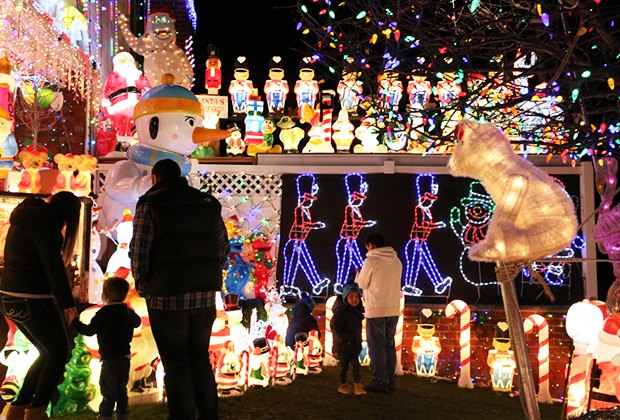 Santa's Corner truly is a sight to see for kids and parents alike. Photo by Shira Kronzon.
Santa's Corner – Whitestone
166th Street and 23rd Avenue
Queens residents love holiday lights. And after a one-year hiatus, what may be the most famous single house in the borough shined bright again in 2018. Located at the intersection of 166th Street and 23rd Avenue, Kevin Lynch's house has become affectionately known as Santa's Corner. The home is traditionally wrapped in thousands of twinkling lights, plus lawn figures and a glass display case filled with moving toys. It takes him a full three months to put it up. Like the Bronx's Christmas House, this tastefully flamboyant home also accepts donations for a local children's charity.
How to get there: The intersection of 166th Street and 23rd Avenue is also not easy to access via MTA. Find a ride if possible. In fact, it's best to hit Santa's Corner and the Christmas House on the same evening. You can travel quickly between the two spots via the Whitestone Bridge.
Little North Pole – Rockaway
144-03 Neponsit Avenue
The home of Joe Mure turns into a sight fit for Santa annually, with a charitable mission to boot. Set to come to life (or light!) on December 8 with a entertainment-packed ceremony, the Little North Pole's over-the-top decor stays on through the holiday season with two missions: to put a smile on visitors faces and, thanks to a collection box out front, raise money for children with juvenile diabetes.
How to get there: Located at Neponsit Avenue and West 144th Street, a car is your only option.
Staten Island

The DiMartino house in Staten Island, called Christmas Lights 4 Life, raises funds to fight children's cancers. ​Photo courtesy of Lights 4 Life
Lights 4 Life — Charleston
107 Sharrotts Road
Joe DiMartino and his family have transformed their house into a Christmas wonderland annually in honor of DiMartino's wife, Debra Ann, who was killed on 9/11. The display covers every square inch of the property and allows revelers to gawk at tableaus like Mrs. Claus baking gingerbread, a nativity scene, and more. Santa's even reportedly stopping by. Donations are collected for Staten Island University Hospital's pediatric cancer ward.
How to get there: While a car is the optimal form of transportation on the Island, the X22 bus drops you about 4 minutes from the house.
The Bronx
Update: The Garabedian Family behind the Pelham Bay Christmas House, described below, recently announced that due to a family health issue, this holiday display won't shine in 2019. We join the family's many well-wishers in hoping for better health and a brighter holiday in 2020.​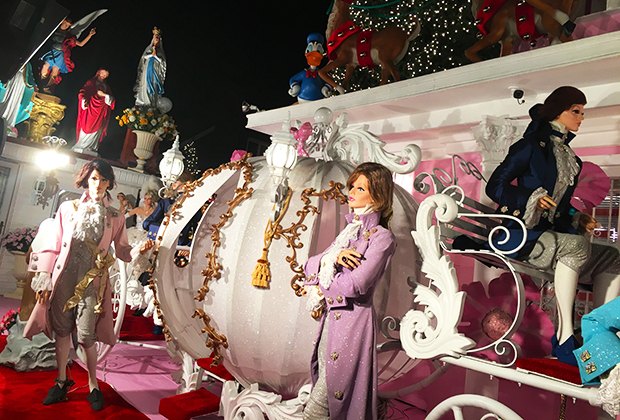 Disney princesses, Old-Hollywood glam, and religious relics all find a home at the Garabedian family's Christmas House. Photo by Sonia Gonzalez
Garabedian Family's Christmas House — Pelham Gardens
1605 Pelham Parkway North at Westervelt Avenue
The Garabedian family's home on Pelham Parkway North is known to many as the Christmas House. Just one look and you'll see why. Mixed in with a traditional nativity scene and plenty of opulent angels are nearly 200 animated figures, all glammed up in old-school Hollywood-style gowns. Holiday music blares from multiple speakers and there's a horse-drawn carriage from which a Cinderella-like mannequin elegantly exits.
RELATED: 21 NYC Holiday Activities Every Kid Should Try Once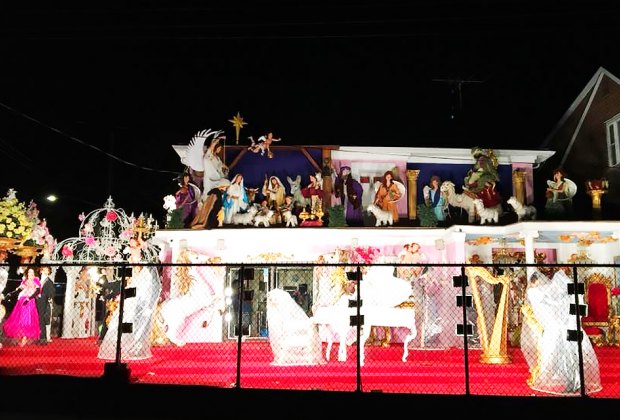 The Garabedian family style all these fabulous figures themselves. Photo courtesy of the family
The Garabedians are in the fabric-trimming business and fashion all of the figures' outfits themselves. The family has set up this display since 1974 as a gift to God for an unnamed religious miracle. The family didn't even reveal the secret to The New York Times when it visited in 2008.
As an added bonus, a few other homes in the area are decorated for the season, although none as elaborately. If you visit, bring a little cash with you to donate. The Garabedians reportedly give the money to nearby Immaculate Conception Catholic Church.
How to get there: If you don't have a car, find a friend with one and share a ride. The Christmas House is not easily accessible by public transportation.
Got a car and looking for fun seasonal outings? Find out about the most decked-out holiday houses on Long Island, in Westchester and Hudson Valley, and in New Jersey, or consider these other holiday-themed day trips.
This story, originally published in December 2009, is updated annually. Jody Mercier contributed additional reporting.