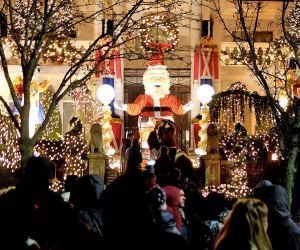 Dyker Heights Christmas Lights: Tour Brooklyn's Holiday Hot Spot
For years I had been hearing about the awesome Christmas displays in Dyker Heights, Brooklyn. I'd seen plenty of videos and photos online. But once I saw those jaw-dropping Christmas lights in person, I knew visiting "Dyker Lights" would become a family holiday tradition.
Living in upper Manhattan, reaching Dyker Heights, Brooklyn is a serious schlep. It's really not doable via public transportation, especially at night with kids in tow. One year I hitched a ride with a neighbor, but the following year I decided to play tourist and go on a guided bus tour. If you're considering taking the kids to Dyker Heights this holiday season but are wondering about the best way to go, here's how the two experiences compare, plus details on a third, more budget-friendly option.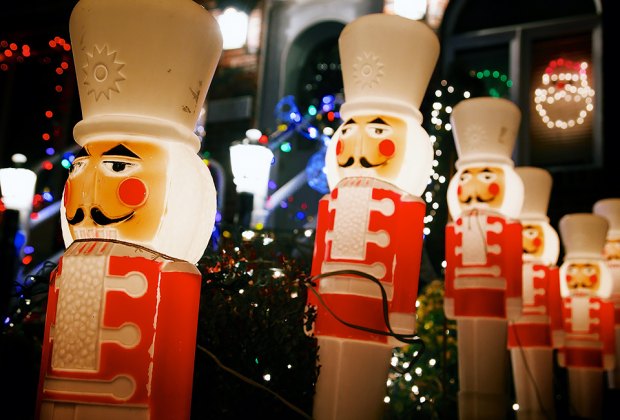 You'll see giant lights galore on house after house in this neighborhood. Photo by Alex Fitzpatrick via Flickr
There are other impressive holiday light displays in New York City, New Jersey, and on Long Island, but nothing in the tristate area compares with Dyker Lights. It's not that each individual house is so spectacular (although a few truly are); it's the overwhelming number of Christmas displays in a single area. It's block after block of twinkling lights, illuminated inflatables, animatronic figures, giant Nutcrackers, and one insanely massive Santa.
Seeing Dyker Heights by Bus
While the hot spot is Eleventh to Thirteenth Avenues between 83rd and 86th Streets, there are more spectacular houses further out—if you know where to look. Tony Muia, owner of A Slice of Brooklyn Bus Tours, knows where all the gems are. On his 3½-hour Christmas lights guided tour, my daughter and I saw a bunch of displays we missed last year, including Sam the Greek's outrageous three-story home, which was one of the best in the area. We also saw the displays in Bay Ridge, which, though not as amazing overall, were still impressive. Plus our wonderful guide, Angela, shared info about many of the families who mount these displays year after year along with tidbits about her home borough, all in an authentic Brooklyn accent that charmed the tourists (my daughter and I were the only New Yorkers on the sold-out bus).
RELATED: NYC Holiday Fun and Events Guide for Families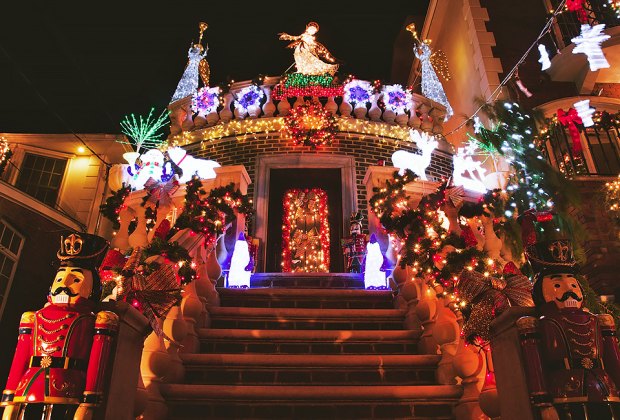 The annual display has become a global tourist destination. Photo by Peter Burka via Flickr
If you live in New York and hate the idea of taking a guided tour of anything here, you may want to make an exception for A Slice of Brooklyn's Christmas Lights Tour, especially if you don't own a car. It's $55–$65 for adults and $45–$55 for children ages 11 and under (I really wish they offered a family rate), but you don't have the expense and hassle of renting a car, navigating your way out there and—hardest of all—finding parking afterward. Plus, you learn lots of cool details—how it all began back in the '80s with Lucy Spata's house, how her neighbors initially complained but now they try to one-up her—and watch vintage Christmas TV specials on the bus, which picks up and drops off near Union Square. Tours begin on December 1 and run nightly through New Year's Eve, with the exception of Christmas Eve and Christmas Day.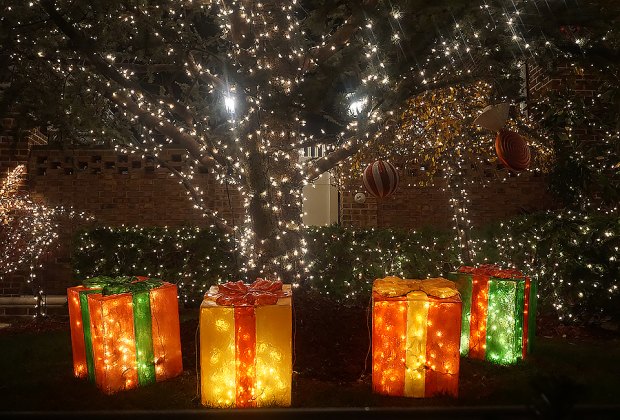 The magical displays wow all ages. Photo by Jody Mercier
Seeing Dyker Heights on Foot
Guided Tours by Foot offers a walking tour of the lights. Reservations are required; cost is $19 per person. Tour guides meet groups at Starbucks located inside the Atlantic Terminal Mall and embark on a two-hour walking tour of the lights. Tours begin on December 1 and run Fridays, Saturdays, and Sundays until December 22, and again on Saturday and Sunday nights the weekend after Christmas.
Reaching Dyker Heights by Subway
If you're an intrepid do-it-yourself type and want to go on your own, you might consider visiting after Christmas Day. Parking is easier and the crowds are thinner, although you'll never have the streets to yourself. However, we can't guarantee that everyone will have their lights on past Christmas. You also can stay as long as you'd like, as we did feel a little rushed on the guided tour. If you have older kids, you could try reaching Dyker Heights via subway. The D to 79th Street is the closest stop, but it's still quite a walk. Chances are you'll already be cold and tired when you get there.
The Basics
However you get there, the Christmas lights in Dyker Heights are worth the trip. It's one of those unforgettable, only-in-New-York experiences your kids will talk about for years. The full light show traditionally turns on for Thanksgiving weekend, but many houses get a jump on it at least a week early. Lights typically go on around dusk, so between 5 and 6pm. They stay on for a few hours, so arrive before 9pm to catch the best show.
Follow the neighborhood's Facebook page for updates, and folks, please remember to be respectful. This is someone's neighborhood. Keep the noise down, clean up your trash, and stick to the sidewalks. Don't block driveways or traffic either. There are no public bathrooms (well, there's always Starbucks!), so please make use of the facilities ahead of time. You wouldn't want to cause the Dyker Lights to go out due to bad behavior.
Read about other things to do around the area, or find family-friendly restaurants near the displays.
Top photo of a Dyker Heights Christmas house by Peter Burka via Flickr.
A version of this post was published in 2017; it is updated annually.
Dyker Lights
84th Street and 12th Avenue
Brooklyn , NY 11228