Dyker Heights Christmas Lights 2022: How to See the Dyker Heights Lights with Kids
11/24/22
- By
Jody Mercier
We're over-the-top excited that the awe-inspiring Dyker Heights Christmas lights, aka the "Dyker Lights," are already going up. Annually, the Brooklyn neighborhood mounts block-after-block of stunning holiday lights. It's a joyful exercise in holiday excess that lands it on our list of 100 things to do in NYC with kids before they grow up. The Dyker Heights Christmas lights annually draw throngs of visitors to gawk at the nightly displays.
Read on for the details on this festive neighborhood-wide installation of holiday cheer, plus tips on the best ways to get to the Dyker Heights Christmas lights. Find more can't-miss holiday fun in our Guide to Christmas and the Holidays in NYC for Families.
Subscribe to our newsletters to get stories like this delivered directly to your inbox.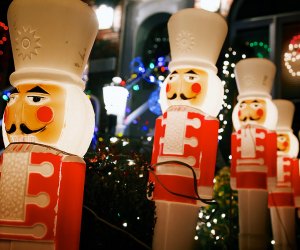 You'll see giant lights galore on house after house in Dyker Heights, Brooklyn. Photo by Alex Fitzpatrick via Flickr
Dyker Height Christmas Lights: The Basics
However you get there, the Dyker Heights Christmas lights are worth the trip. It's one of those unforgettable, only-in-New-York Christmas experiences your kids will talk about for years. The full light show traditionally turns on Thanksgiving weekend, but many houses get a jump on it at least a week early. Lights typically go on around dusk—so between 5 and 6pm. They stay on for a few hours; arrive before 9pm to catch the best show.
Follow the neighborhood's Facebook page for updates, and please remember to be respectful. This is someone's neighborhood. Keep the noise down, clean up your trash, and stick to the sidewalks. Don't block driveways or traffic either. There are no public bathrooms, so please use the facilities ahead of time.
While there are other impressive holiday light displays in New York City, New Jersey, and on Long Island, nothing in the tri-state area compares with the Dyker Heights Christmas lights. It's not that each house is so spectacular (although a few truly are); it's the overwhelming number of Christmas lights in a single area. It's block after block of twinkling lights, illuminated inflatables, animatronic figures, giant Nutcrackers, and one insanely massive Santa.
Seeing the Dyker Heights Christmas Lights by Bus
While the hot spot is 11th to 13th Avenues between 83rd and 86th Streets, there are more spectacular houses further out—if you know where to look. Tony Muia, the owner of A Slice of Brooklyn Bus Tours, knows where all the gems are. On his 3½-hour Dyker Heights Christmas lights guided tour, you'll see the neighborhood highlights, plus some outliers, including Sam the Greek's outrageous three-story home, one of the best in the area. You pass the displays in Bay Ridge, which, though not as amazing overall, are still impressive, and learn tidbits about many of the families who mount these displays year after year along with some Brooklyn borough history.
RELATED: Brooklyn Botanic Garden Shines Brightly with Lightscape

The annual Dyker Heights Christmas lights have become a global tourist destination. Photo courtesy of the Dyker Heights Lights
If you live in New York and hate the idea of taking a guided tour of anything here, you may want to make an exception for this tour, especially if you don't own a car. It's $55 for adults and $45 for children ages 12 and under, but you don't have the expense and hassle of renting a car, navigating your way out there, and—hardest of all—finding parking. Plus, you learn lots of cool details: how it all began back in the '80s with Lucy Spata's house, how her neighbors initially complained but now they try to one-up her—and you watch vintage Christmas TV specials on the bus, which picks up and drops off near Union Square. Tours begin Thursday, December 1, and run nightly through Friday, December 30, except Christmas Eve and Christmas Day.
RELATED: Must-Do Holiday and Christmas Events for New York City Kids in 2022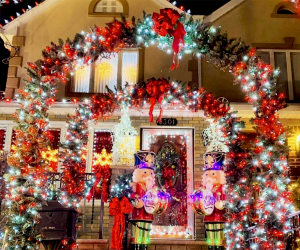 The magical displays wow all ages. Photo courtesy of the Dyker Heights Lights
Reaching the Dyker Heights Christmas Lights by Subway
If you're an intrepid do-it-yourself type and want to go on your own, the D to 79th Street is the closest stop, but it's still quite a walk. We've done it several times and usually build in a stop for a slice of pizza or a pastry along 13th Avenue to fuel our adventure.
Read about other things to do around the area, or find family-friendly restaurants near the displays.
A version of this post was published in 2017; it is updated annually.
Places featured in this article:
Click Here to Sign Up!
i