Dyker Heights Family-Friendly Restaurants: Where to Eat Near Dyker Lights with Kids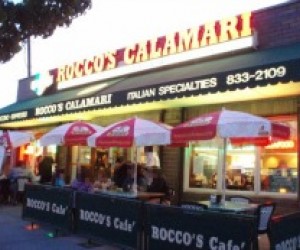 We continue our month-long focus on Dyker Heights with a roundup of family-friendly restaurants in the area. Since the neighborhood has a suburban feel, it's no surprise that all of the businesses, including eateries, are pretty spread out. If you're up for strolling (or driving), you'll find a lot of places to eat near the intersection of 65th Street and the Gowanus Expressway, which is right on the border of two more commercial neighborhoods: Bay Ridge and Sunset Park. However, if you're going to gawk at the area's world-famous Dyker Lights displays, which are located from 11th to 13th Avenues between 83rd and 86th Streets, they're quite a walk away.

So our Dyker Heights restaurant post is divided into two categories: Places to eat near Dyker Lights, and places further afield but still in the lovely, mansion-filled Brooklyn neighborhood.
Restaurants Near the Dyker Lights Holiday Displays
The blunt truth is, there aren't any restaurants right around the corner from Dyker Lights. Even the nearest eateries involve a bit of a hike—but the subway's pretty far away, too. Driving to Dyker Lights is best (although parking during peak days can be tough). If you don't have a car and are planning on hoofing it, all of these restaurants are within walking distance of the displays.

Krispy Pizzeria
7112 13th Avenue between 71st and 72nd Streets
The decor is nothing to look at but Krispy's slices have quite a reputation. There's booth seating and lots of hearty options besides pizza, including salads, pasta dishes and chicken Parmigiana. Things move quickly and that may be exactly what you're looking for after hitting the lights.
Tommaso
1464 86th Street at Bay 8th Street
If you're looking for a fancier sit-down spot, try this Italian mainstay. You'll find all of the usual dishes—antipasti, pasta, meat entrees, etc.—plus charming decor and a piano player. With its prix-fixe menu, this is clearly geared more toward adults, but all items can be ordered a la carte and the staff is certainly kid-friendly. Bonus: It's just a two avenue walk from the southeast edge.
Mona Lisa Bakery
7717 13th Avenue between 77th and 78th Streets
If you just want a quick sugar rush to carry you through the journey home, this spot will do the trick. The wide selection of homemade goodies includes cookies, pastries, danishes, breads, cakes, muffins, cupcakes, brownies and even gelato. The spot closes at 8pm though so perhaps you're better off dropping by before you see the lights. Warning: Do not confuse this old-school bakery with the cafe of the same name on 86th Street. They're unrelated and the difference shows in their baked goods.

Other Family-Friendly Dyker Heights Restaurants
East Harbor Seafood Palace
714 65th Street between Seventh and Eighth Avenues
Many dim sum lovers consider this one of the best in the borough. Waitstaff push carts of hot dumplings and other small plates to your table so you can pick your favorites, always a fun experience for kids. The dining room is huge yet still gets quite crowded and noisy during peak hours, so coming early or late is best. There is also an extensive Cantonese menu, if you prefer large dishes.

Spartan Souvlaki
6820 Eighth Avenue at Bay Ridge Avenue
Regulars recommend the gyro at this family-operated Greek/Mediterranean spot. With friendly and efficient staff, and lots of ethnic specialties, Spartan Souvlaki is a delicious destination that also offers burgers and fries for those with less adventurous palates. Vegetarians beware: There are few non-meat options.

Mama Raos Restaurant
6408 11th Avenue near 64th Street
Yes, another Italian restaurant. But this one is more of a formal affair, with an extensive wine list and a prix-fixe menu overflowing with shrimp, steak and portobello mushroom dishes and even Osso Bucco. Best for families with older kids, and it doesn't come cheap.

Finally, one of our readers, Eva, who lives in Dyker Heights, emailed us to offer her neighborhood picks.
My family (I have a two-year-old and a four-year-old) loves to eat at Panino Rustico on 83rd Street and 17th Avenue. It has paninis, salads and soups. The food is delicious and the staff is friendly. It is walking distance from the lights if you don't mind walking about five avenues. We also like the Tasty Pastry Shoppe bakery on 13th Avenue between 83rd and 82nd Street. The local paper named it the best in Brooklyn recently and it is a great example of authentic local treats.

Read all of our restaurant posts in the NYC Family Eats Guide.
This article first published in 2012, but has since been updated.