Macy's Flower Show and 6 More NYC Spots to See Spring's Blooms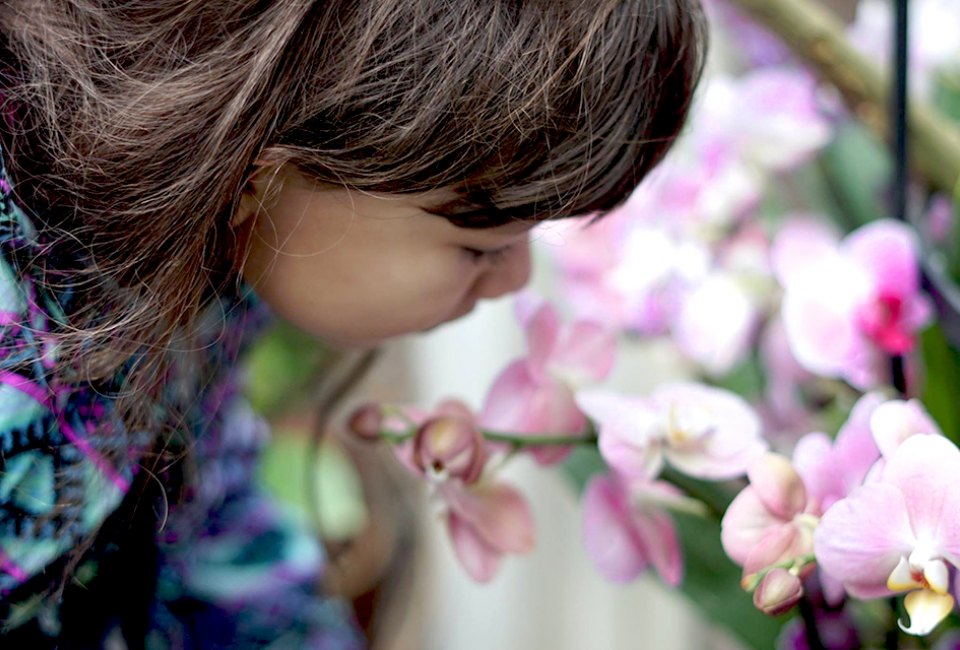 3/19/19
- By
Sarah G
After so many hours spent indoors during cold winter months, springtime in New York City is one of my family's favorite seasons. Besides the warmer weather and increased outdoor playtime, we love spotting the season's first snowbells, crocuses, and blossoming trees.
While plenty of flowers poke through the earth in neighborhood parks and along city sidewalks—not to mention community gardens—there are a few spots in the city where spring blooms are downright outstanding. Springtime also brings the annual flower show at Macy's, which kicks off this weekend on Sunday, March 24. To celebrate the arrival of spring, we've rounded up our favorite places to enjoy springtime.
If you're serious about finding out what blooms when and where, be sure to check out the city's detailed guide to Parks in Bloom.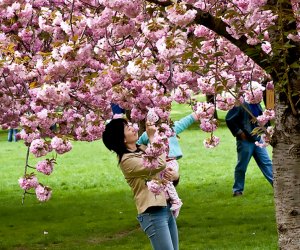 Hit the Cherry Esplanade during Sakura Matsuri at Brooklyn Botanic Garden for a colorful but crowded fest. Photo by Mike Ratliff/courtesy of BBG
Brooklyn Botanic Garden — Prospect Heights, Brooklyn
We're year-round fans of Brooklyn Botanic Garden, but BBG is at its peak of loveliness when it embraces hanami, the Japanese tradition of enjoying several weeks of cherry blossom season. Worried about visiting too early or late for optimum bloom time? Log on to Cherrywatch for a closer look at bloom progress among BBG's 200 flowering cherry trees. The Sakura Matsuri festival April 27-April 28 is the culmination of the season; it can get crowded but is still plenty of fun.
RELATED: Best Spring Events for NYC Toddlers and Preschoolers

Photo courtesy of the Central Park Conservatory
Central Park Conservatory — Upper East Side
This six-acre formal garden, with its English, French, and Italian sections, is a great spot to find springtime blooms. Among the early buds are crabapple trees, tulips, clematis, and countless other varieties of meticulously pruned and maintained shrubs and perennials. Note: The Conservatory Garden is a designated quiet zone, best for leisurely strolls and mellow contemplation. Fortunately, Central Park's 843 acres offer plenty of room for wild springtime romping, playground fun, and bloom spotting.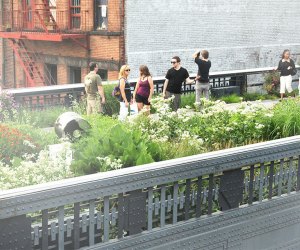 Grab a seat above the city on the High Line's Radial Bench as you enjoy spring's sights. Photo courtesy of High Line NYC
High Line — Chelsea
We've written about kid-friendly sections and events along the High Line, but eagle-eyed bloom-spotters will find hundreds of snowdrops and crocuses at the 23rd Street Lawn and between West 25th and West 27th streets. If you've missed these first special springtime blossoms, don't worry, the High Line is home to more than 500 species of shrubs, perennials, grasses, and trees, all at various stages of springtime renewal.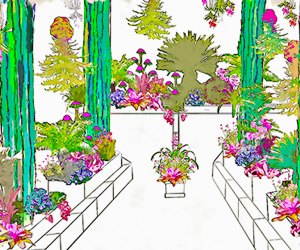 Enjoy the blooms at this year's flower show at Macy's, '"Journey to Paradisios." Rendering courtesy of Macy's
Macy's Flower Show — Midtown West
Macy's Herald Square knows how to put on a show, and the retailer's 45th annual flower show doesn't disappoint. Titled "Journey to Paradisios," this year's show transports spectators into a multi-dimensional world of space, adventure, and discovery through florals and eccentrically landscaped gardens that celebrate the wonder and mystery of the cosmos. Visitors can see thousands of flowers, plants, and trees from around the world. This year's show runs from March 24-April 7.
RELATED: Spring Fun Guide to NYC Festivals, Art and More Family Activities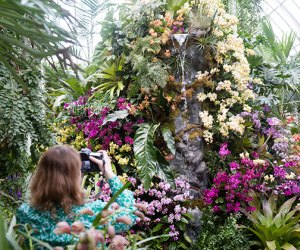 Catch New York Botanical Garden's annual orchid show before it closes, or head to the children's garden for hands-on fun. Photo by Marlon Co/courtesy of NYBG
New York Botanical Garden — Bronx Park, the Bronx
The NYBG is not to be missed in springtime. From the azalea garden to the magnolias and 200 cherry trees planted throughout, there are blooms aplenty. Warm up indoors at the annual orchid show if it's a chilly spring day. Be sure to explore the Everett Children's Adventure Garden for some hands-on garden fun, and don't miss Daffodil Hill, which explodes with gorgeous yellow and white blooms.
Queens Botanical Garden — Flushing, Queens
This 39-acre paradise has something new blooming almost every week throughout the spring, from cherry blossoms to tulips to roses. The annual Arbor Fest, which is on Sunday, April 28 this year, offers numerous activities for kids, including arts and crafts, a petting zoo, and a bouncy castle.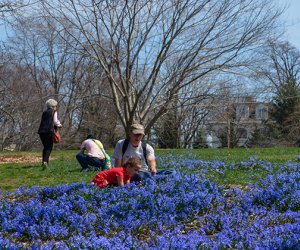 Glory-of-the-snow flowers bloom all over Wave Hill gardens in the Bronx. Photo courtesy of Wave Hill
Wave Hill Flower Garden — Riverdale, the Bronx
We're big fans of Wave Hill, a 28-acre public garden in the Riverdale section of the Bronx. It is family friendly and more relaxed than the nearby NYBG. From bulbs blooming in the Wild Garden to flowering shrubs and perennials in the Flower Garden, springtime is tremendous at Wave Hill. In late March and early April, the Woodland section of the garden is carpeted in bright blue cascades of "glory-of-the-snow" blooms.
A version of this post was published in 2018; it is updated annually. Jody Mercier contributed additional reporting.