25 Ways Kids Can Get Their Hands Dirty in NYC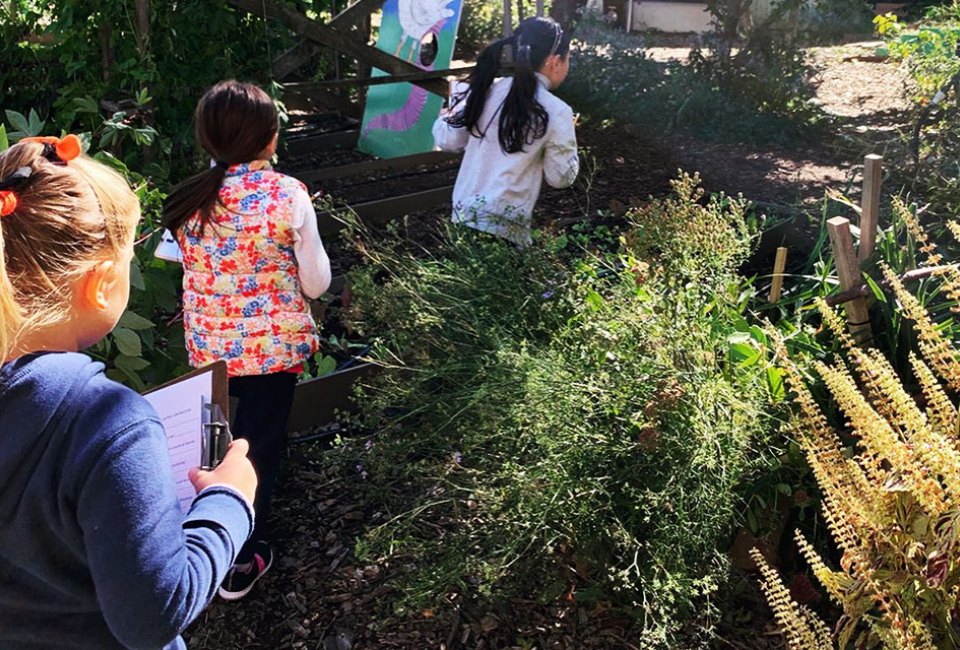 10/6/20
- By
Sarah G
New Yorkers tired of being cooped up inside, trapped behind a screen in home offices, or zooming through a day of hybrid learning, should have plenty of motivation to enjoy the great outdoors. Fall is jam-packed with things to do in New York City and there's plenty of parkland to explore. Regular schedules have been turned upside down, and the threat of the pandemic still lingers, particularly indoors.
That makes it the perfect time to get outdoors for some unstructured, messy playtime. From chilly folliage hikes to muddy puddle stomping, we've rounded up 25 dig-in-the-dirt, you're-gonna-need-a-bath-tonight ways for city kids to enjoy the coming autumnal days outdoors. So, step away from the screen and get outside.
RELATED: New York City's Top Playgrounds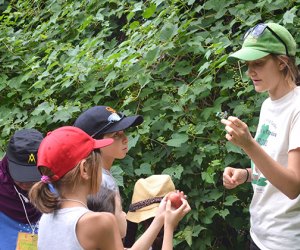 Examine berries—and insects—at the Queens Botanical Garden. Photo by Anne Tan-Detchkov/courtesy of QBG.
1. Get grubby at the Queens Botanical Garden, where in-person, outdoor classes for kids are starting back up.
2. Explore an NYC park with the help of the Urban Park Rangers.
3. Become a garden volunteer with Edible Schoolyard or join the mailing list to hear about upcoming events.
RELATED: Immerse Yourself in the Fall Escape at the Queens County Farm Museum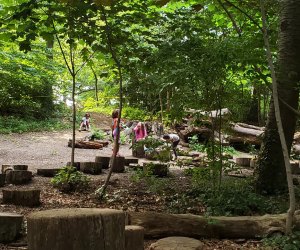 The Zucker Natural Exploration Area in Prospect Park is an innovative play space that encourages exploration and interaction with nature. Photo by Tatya
4. Make sand and mud pies or shimmy along tree limbs at the Zucker Natural Exploration Area in Prospect Park.
5. Sign up for weekend events with workshops and activities for kids ages 2 and older at the Brooklyn Grange's rooftop gardens.
6. Drop a line and try your hand at fishing at these city spots.
RELATED: Pumpkin Patches Near NYC Where Kids Can Pick Their Own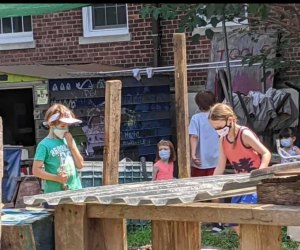 Kids can build their imaginations and play freely at adventure playground The Yard on Governors Island. Photo courtesy of Governors Island
7. Explore children's play area The Yard on Governors Island. While you're there, check the GrowNYC Teaching Garden events held every weekend.
8. Hit a local hiking trail and indulge their desire to bring home a few natural treasures, aka rocks, sticks, and leaves.
9. Perform a little backyard (or stoop!) science with these educational experiments.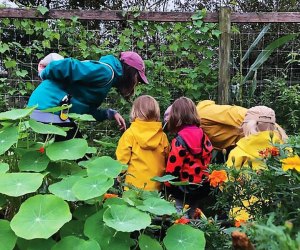 Romp through the gardens at The Queens County Farm Museum. Photo courtesy of the museum
10. Take a hayride or wander through the flower and vegetable gardens at the 47-acre Queens County Farm Museum, New York City's largest remaining tract of farmland. Good news: Fall is also Amazing Maize Maze season.
11. Visit one (or all) of our favorite destination sandboxes for the preschool set.
12. Pack a blanket and picnic basket and visit one of these great picnic spots.
13. Pot a tree, craft a hiking staff, or scale a sugar maple tree at Wave Hill in the Riverdale section of the Bronx. This 28-acre public garden and culture center is currently offering drop-in family programs most Saturdays and Sundays.
RELATED: 30 Things We Can't Wait To Do This Fall in NYC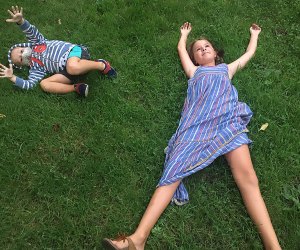 Relax in the lush grass at the Brooklyn Botanic Garden. Photo by the author
14. Explore the many new paths and spaces including the Robert W. Wilson Overlook and Elizabeth Scholtz Woodland Garden at the Brooklyn Botanic Garden.
15. Get off the beaten path and visit one of these underrated parks. While you're there, build a fort because nothing beats a few sticks and whole lot of creativity.
16. Add a little action to your day of exploring Central Park by taking a Saturday Parkour Class to learn how to turn park obstacles into your playground.
17. Dig in the dirt at New York Botanical Garden, where the Everett Children's Adventure Garden, Edible Academy, and Ruth Rea Howell Family Garden offer year-round opportunities for kids to get their hands dirty while learning about nature.
RELATED: Petting Zoos Near NYC Where Kids Can See Farm Animals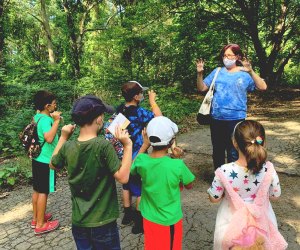 The hour-long Super Science lessons at Alley Pond Environmental Center focus on the natural world. Photo courtesy of the center
18. Choose from one of many the nature programs happening at the Alley Pond Environmental Center.
19. Hop aboard a kayak at the Brooklyn Bridge Park Boathouse on Wednesdays and Saturdays through mid-October.
20. Explore the Randall's Island Urban Farm and grab an Art on the Farm to-go project for hands-on fun.
21. Pack a few kid-sized shovels and buckets and look under rocks and leaves for worms. Building your own worm farm is optional.
RELATED: Beach Walks For A Long Island Family Adventure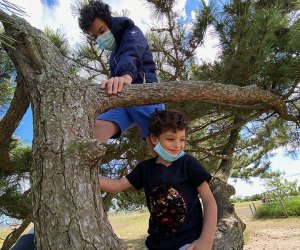 Climb the trees at the Staten Island beaches. Photo by Sara M.
22. NYC's best kept secret this season might be the fact the beaches are clean, empty, and gorgeous! Check out one of our favorite city shorelines, but remember: Swimming season is over.
23. Get to the Greenbelt Nature Center on Staten Island for lots of hands-on outdoor kids programs, including interpretive hikes and a Young Naturalists Program.
24. If you have an off-road cycling enthusiast at home, check out the Trailwork Party and Bike Share at Highbridge Bike Park, where bikers can tackle trails of varying difficulty from intermediate to expert. Bikes and helmets will be provided.
25. Take a thrilling ride at one of the adventure parks, zip lines, and ropes courses nearby.
A version of this post was published in 2016; it has since been updated.
Enter to Win!