Petting Zoos Near NYC Where Kids Can See Farm Animals
We're so fortunate to live in a city that offers an incredible array of fun spring activities for kids, but sometimes I fret over the disconnect from nature. I want my daughter to be as comfortable in the country as she is in the urban jungle, so we're always looking for ways to get out of NYC and explore the expansive farmland that borders the city.
While you can meet some furry friends at the city's wonderful zoos, and even get hands-on at their mini petting zoos, there's something particularly special about enjoying an authentic farm setting. We've rounded up our top petting zoos and animal havens to get some serious face time with furry friends. Get ready to load up the family for a day of donkey petting, goat bottle-feedings, and sheep shearing.
Here are our favorite spots for an up-close animal encounter, all within two hours of NYC.
New York City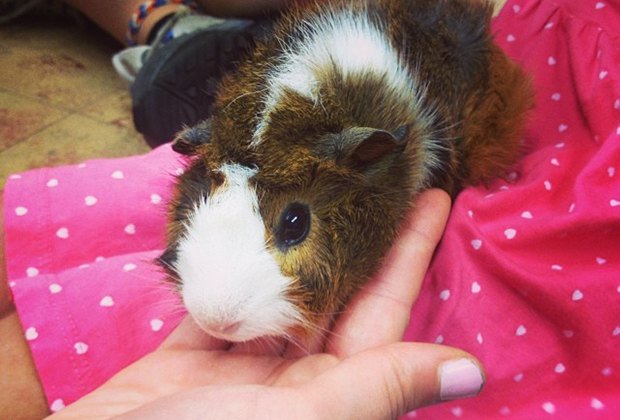 No pets allowed at your apartment? Cuddle with the guinea pigs at The Art Farm.
The Art Farm in the City – Upper East Side, Manhattan
You need not jump in a car to reach this city petting zoo. A herd of small animals. including bunnies, guinea pigs, chinchillas, lizards, turtles, birds, tropical fish, and more make their homes at The Art Farm. On occasion, it hosts bigger barnyard-type animals. Drop-in programs allow you to get an occasional animal fix, though you can sign up for classes, camps, playgroups, or even host your kid's birthday party here. Animal snuggles are always included.
Queens County Farm Museum – Floral Park, Queens
The most budget-friendly pick on our list, the Queens County Farm Museum generally offers free admission. Festival dates, such as the Sheep Sheering Fest in May, and the many popular fall festivals, do require admission, but allow you to be a part of the sheep shearing process. During non-festival dates, visitors can peruse the 47-acre grounds and purchase feed to share with the resident goats. You can also spot pigs, chickens, cows, sheep, and honeybees. Weekend visitors can take a tour of the historic farmhouse, and seasonal hayrides are offered.
New Jersey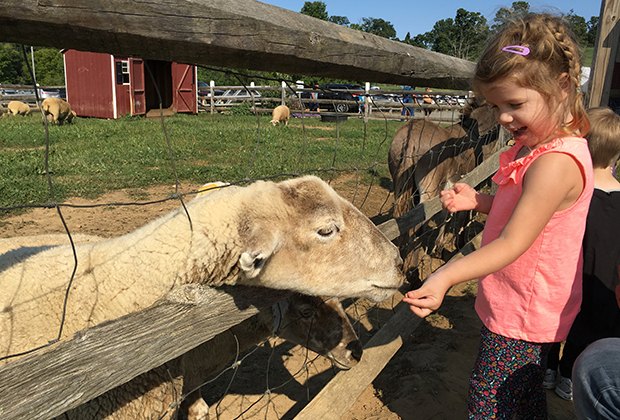 Sheep and goats eagerly gobble up the feed from kids' hands at Alstede Farms. Photo by Rose Gordon Sala.
Alstede Farms – Chester, New Jersey
About one hour by car from Midtown Manhattan, also accessible via NJ Transit
This New Jersey farm is the perfect spot to celebrate spring weather. We're always recommending it for pick-your-own strawberries, veggies, peaches, apples, and more, but equally as impressive is the barnyard full of furry animals waiting to greet guests. There's no admission fee to see the animals. Pack a lunch for the farm animals—think carrots, lettuce, and apples—or purchase a handful of pellet feed from machines located around the farm area. Tip: bring quarters. Expect to spot rabbits, pigs, chickens, and ducks. Pony rides are usually available for a fee during weekends and festival days, as well as more year-round farm entertainment like hayrides, mini train rides, and even bounce houses. Alstede gets bonus points for accessibility: car-free families can hop on New Jersey Transit to the Gladstone Station and take a cab or the FREE Alstede Farms Courtesy Coach to the farm.
Brookhollow's Barnyard – Boonton, New Jersey
About one hour by car from Midtown Manhattan
This family-owned petting farm invites guests to interact with farm animals, big and small. It's a local NJ favorite. Kids will enjoy taking a ride on the cow train and pedal tractors. The farm is home to goats, rabbits, cows, rams, and more. Kids are invited to feed the animals (for a $5 admission fee) and to enjoy the barnyard playhouse and sandbox.
Demarest Farms – Hillsdale, New Jersey
About 40 minutes by car from Midtown Manhattan
Demarest is the closest out-of-state farm to Manhattan. A short drive from the George Washington Bridge and you'll surrounded by farm fun. Kids can feed the friendly animals in the barnyard, while parents will appreciate the farm stand with its fresh salad bar, rotating array of homemade soups, and other seasonal goodies. Don't forget to pick your own peaches, starting in mid-to-late July.
Secor Farms – Mahwah, New Jersey
About 40 minutes by car from Midtown Manhattan
While you might visit this spot for all of your springtime gardening needs, be sure to make time to hang with the animals. Feed is available for purchase in the farm store, and photo-ops abound with the ducks, goats, sheep, alpacas, and cows that call Secor home.
RELATED: Farm Stays Near NYC for a Family Overnight

Fall in love the Alpacas at the Long Island Game Farm.
Long Island
Long Island Game Farm – Manorville, New York
About 1 hour and 40 minutes by car from Midtown Manhattan
This game park is open seasonally from mid-April to mid-October. A visit here will get you up close and personal with wild, exotic creatures as well as the usual barnyard friends. Kids can hand-feed Clifford, the resident giraffe, and a pair of friendly camels. There's a forest dubbed "Bambiland," where deer will sidle up to you for a treat, as well as opportunities to feed goats, llamas, alpacas, and a donkey by hand, or bottle-feed the littlest residents in the nursery. Pony rides are offered, as well as a small selection of carnival-style amusement park rides.
Schmitt's Farms – Melville, New York
About 50 minutes by car from Midtown Manhattan
Schmitt's has been a Long Island staple for more than 50 years. Goats, bunnies, and chickens will welcome your kids into the barnyard. Other spring family fun includes pony rides and time on the playground. Schmitt's also hosts educational field trips and camps to teach children about farming life.
White Post Farms – Melville, New York
About 50 minutes by car from Midtown Manhattan
White Post Farms on Long Island is almost a mini zoo. It hosts a variety of animals domestic and exotic, including Patches the giraffe. In addition to feeding barnyard friends, plan to visit the free flight aviary, where you can hand-feed small birds, including budgies, lorikeets, and cockatiels as the fly overhead. Feed sticks are available for purchase. The farm hosts seasonal attractions, such as water slides, hayrides, and animal shows on weekends. White Post Farms is a cash-only business, but ATMs are on site. Register for its email list to collect money-saving coupons and to stay up-to-date on upcoming events.
RELATED: 5 Kid-Friendly Urban Farms Right Here in NYC
Westchester County, New York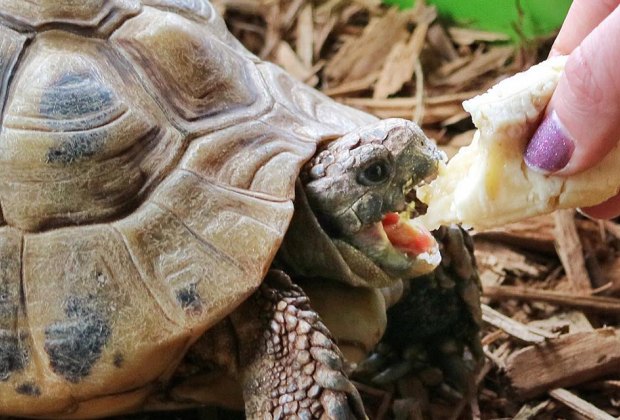 Feed a turtle at the Greenburgh Nature Center.
Greenburgh Nature Center – Scarsdale, New York
About 45 minutes by car from Midtown Manhattan
The nonprofit nature preserve is set on 33 acres of land in lower Westchester County. Kids will enjoy visiting the barnyard full of sheep, goats, chickens, and rabbits. The preserve is also home to birds of prey, including eagles, hawks and owls. The center's great lawn offers a beautiful spot to relax and enjoy the spring weather, while kids take full advantage of the natural playground surrounded by boulders and trees. Save time for a hike on one of its wooded nature trails, too. Don't miss the seasonal butterfly exhibit, running June through August.
Hudson Valley, New York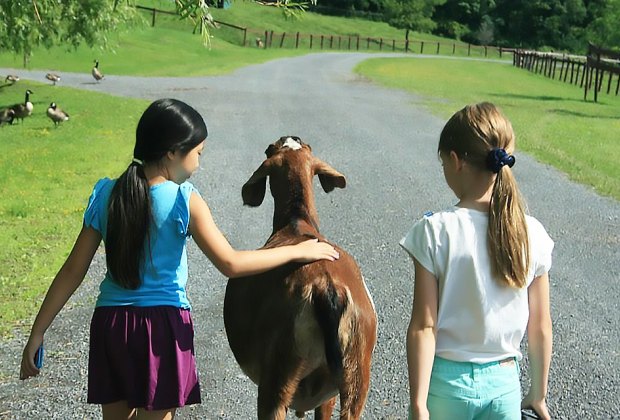 Stroll with the farm animals at Catskills Animal Sanctuary.
Catskills Animal Sanctuary – Saugerties, New York
About 2 hours by car from Midtown Manhattan
Mingle with rescued farm animals like Amos and Jessie, the cows, and Amelia, a potbelly pig, at this 110-acre sanctuary in New York's Hudson Valley. Seasonal weekend tours are offered to the public from April to November, while members and groups can attend year-round. Overnight stays, a summer camp, and other event options are available. While the animals are friendly, organizers ask that visitors refrain from feeding them during your hourlong tour. Head into town to pick up a treat at Hudson Valley Dessert Company, or any number of the great restaurants that fill the walkable river town of Saugerties.
Connecticut
Silverman's Farm – Easton, Connecticut
About 1 hour and 15 minutes by car from Midtown Manhattan
The entire family will enjoy feeding buffalo, llamas, alpacas, sheep, goats, fallow deer, and exotic birds at Silverman's Farm. Picnic tables are available in the park area. Guests can pick up fresh pies, local honey, and fresh produce.
Looking for more fun on the farm? You'll find it in our Pick-Your-Own Guide, which offers plenty of farm destinations within the tristate area.
Unless noted, photos courtesy of the farms/sanctuaries
A version of this article was first published in 2016, but it has since been revised and updated.