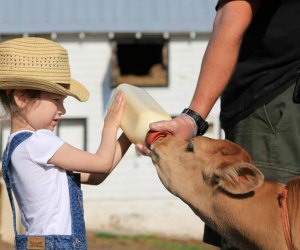 Farm Stays Near NYC: Enjoy a Farm-Themed Family Vacation
For New York City area families, it only takes a few hours to arrive in the bucolic countryside, where the landscape seems thousands of miles away from the crowded subways and packed playgrounds. Farm stays are an increasingly popular vacation option to enjoy that countryside and a back-to-nature experience. For children who've never been around livestock, farm stays provide a firsthand way to learn about the animal world in a casual fashion. It also often comes with a few more amenities when compared to camping.
If you're interested in the source of your food, farm holidays offer a fine way to connect with what you eat and sometimes even pick your own fresh fruit, veggies, and eggs. You're not required to work during your farm stay, but many visitors find farm chores so different from their regular routines that they are eager to participate. Curious kids should relish the opportunity to gather eggs, watch cows be milked, and pick fresh peaches off the tree.
Consider these eight farm stay options in the Hudson Valley and Catskills, New York, and in Pennsylvania for your next family vacation.
The farmers who open up their properties tend to be a very welcoming bunch, and the freedom that farm life offers is a welcome opportunity for kids and their parents. Even young children can ramble the grounds independently.
New York
Apple Pond Farm — Callicoon Center, New York
Apple Pond Farm offers families a fully equipped, independent four-bedroom, two-bath cottage. There are no prepared meals included during your stay, but the kitchen has everything you need to create your own. Purchase farm fresh products and cook a true farm-to-table meal. Board games, books, toys and wi-fi are included. The farm produces 95% of its own energy, so your family has a firsthand opportunity to learn about wind turbines and solar power. Farm chores include giving grain and hay to the animals, milking goats, cleaning the barn, working in the garden, stacking wood, and gathering eggs. The farm runs workshops on cheese-making, renewable energy, and more.
RELATED: 10 Perfect Fall Weekend Getaways for Families in the Northeast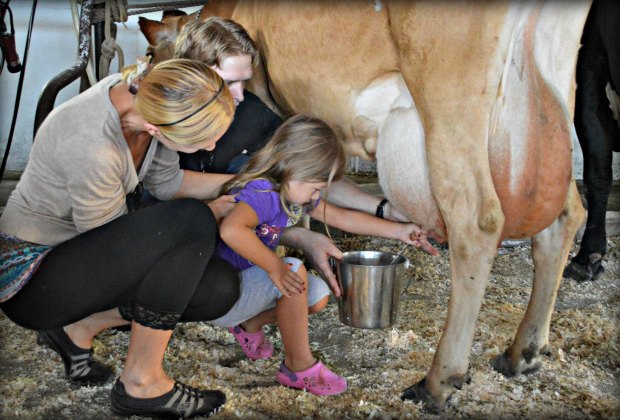 Learn how to milk a cow at Hull-O-Farms.
Hull-O-Farms — Durham, New York
Hull-O-Farms welcomes guests from Memorial Day through October. Families sleep in one of three quaint private guest cottages. A stay includes an all-you-can-eat breakfast, hayrides, campfire with s'mores, fishing in the pond, and farm explorations galore. Farm activities include milking cows and goats, gathering freshly laid eggs, learning how to feed the baby animals, and mending fences. In-season, there is a corn maze. Nearby you'll find a water park (Zoom Flume), horseback riding, and the famous Howe Caverns to explore.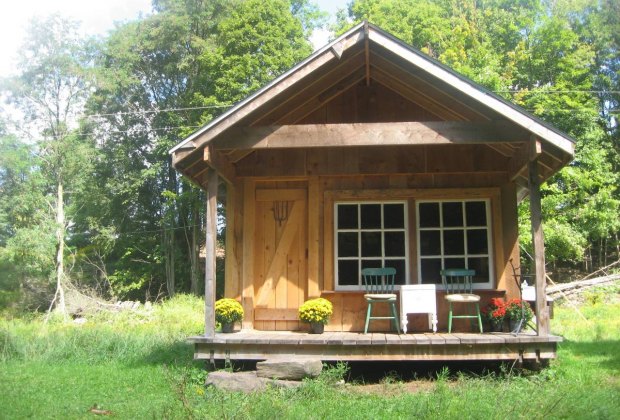 Stay in an Instagram-ready farmhand cabin at the Stone & Thistle Farm.
Stone & Thistle Farm — East Meredith, New York
Located in a lush valley, this family farm raises grass-fed meat and produces a variety of goat milk products. The cozy Farmhouse Suite is available for rent year-round. It's equipped with a stocked refrigerator loaded with breakfast goodies. The simple Farmhand Cabin is available May through October and offers a stocked fridge, compost toilet, and solar shower. Guests may also purchase a hot breakfast at the farm's small restaurant, featuring bacon and sausage from grass-fed animals. Farm chores include feeding goats, chickens, rabbits, and pigs and harvesting from the kitchen garden.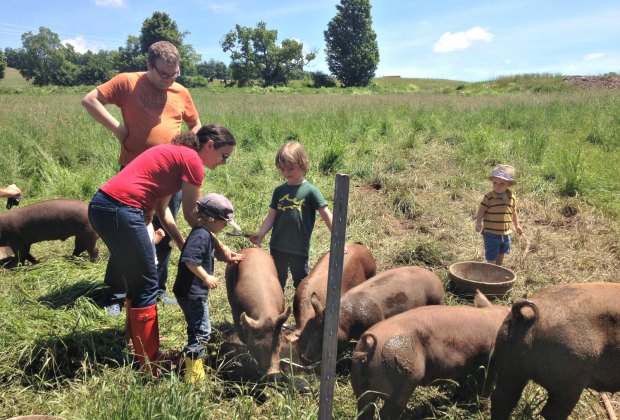 Family bonding at Stony Creek Farmstead.
Stony Creek Farmstead — Walton, New York
This farm offers 85 acres of unspoiled pasture and woods. The owners adhere to rigorous, beyond organic, pasturing practices for all of their animals, raising chickens, beef, pork and lamb that they sell at a small store on the premises. Eggs, organic veggies, herbs, and flowers are sold here as well. Help the farmers collect eggs, feed the pigs, and watch the morning milking. Farm-stay guest sleep in glamping-style tents that face a babbling creek. These rustic platform tents have wooden floors a wood stove, flush toilet, and sink. The tents are intentionally off the grid, so they don't have electricity. You're welcome to harvest any produce that appeals to you and cook in your kitchen, or they'll cook and deliver full meals to your tent (e.g., salad, soup, and fresh-baked rolls with ingredients sourced on-site). The farm store stocks basic art supplies for rainy days or down time.
RELATED: Petting Zoos and Barnyard Fun Near NYC
Newton Farm — West Kill, New York
Set in a high mountain valley, in the heart of the Catskills, Newton Farm Collective is set on 50 acres of rolling pasture and woodland. The farm dates back to the 1840s and retains all of its charm and curiosity. The setting is truly tranquil and peaceful. The farmhouse can accommodate up to eight people in three bedrooms and 1.5 baths; breakfast is served on the porch in-season and features homemade granola and just-gathered eggs. Guests also have access to the kitchen; the farm can provide fresh eggs and fresh seasonal vegetables to cook up your own meals. Kids can be as involved in the farming as much or as little as they like, and the farmer will be happy to advise on the family-friendly sights to see, including many beautiful hikes and swimming areas in close proximity.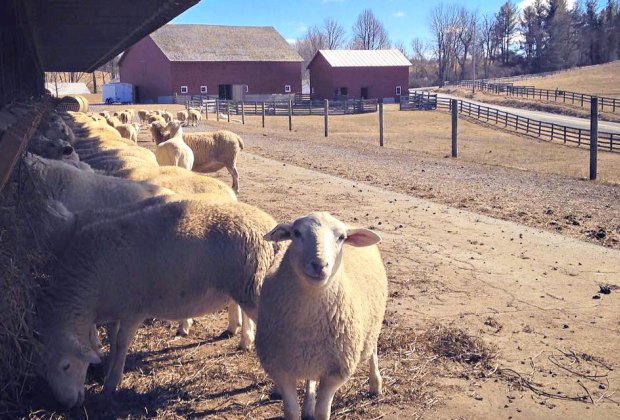 Visit the sheep at Kinderhook Farm and sleep in a barn-like loft at night.
Kinderhook Farm — Ghent, New York
Families who visit this Hudson Valley farm may rent the barn and enjoy a loft-like space that sleeps up to four adults and two children in two separate sleeping areas. Each area has a queen size bed and one has a trundle bed suitable for two children. The can provide you with a crib, high chair, stroller, and other baby equipment as well as board games and art supplies.. This farm encourages visitors to feed baby chicks, pick vegetables, and visit the calves and sheep in the pastures. Learn about sustainable farming practices up close or just enjoy the magical setting from the perch of a hammock. Fishing, croquet, volleyball and badminton are additional active options.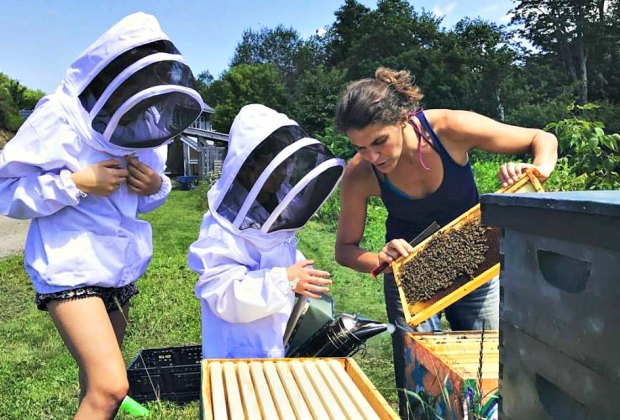 Learn about beekeeping at Stony Creek Farmstead.
Pennsylvania
Green Acres Farm — Mount Joy, Pennsylvania
Green Acres Farm is a 150-acre grain and soybean farm in Lancaster County. It offers five rooms with private bath and a full farm breakfast each morning. Rooms are furnished in an old-fashioned style that is in tune with the surroundings. Visitors may gather eggs, pet the ponies and goats, and play with the puppies and kittens. They have swings and a trampoline, plus a playhouse that is full of dress-up clothes. Take a hayride, relax on the porch, and toast marshmallows in the evening. There are activities for families in this part of Pennsylvania, but Dutch Wonderland amusement park and the Strasburg Railroad are favorites. There are easy hikes and bike rides nearby, or shop at an Amish farm stand and pick up local produce.
Neffdale Farm of Paradise — Paradise, Pennsylvania
Stay on a fourth-generation dairy farm in Lancaster County with a hospitable family as your host. This 165-acre property of shady lawns and meadows is as authentic as they come. They rent three rooms on the second floor of the 200-year-old farmhouse. The Farmhouse room is equipped with a queen bed and bunk beds, a good size for many families. The Maple Leaf room has two full size beds, while the Rose Garden room has a queen bed. Continental breakfast is served each morning. Watch the milking, feed the calves, and play with the animals.
Top photo of calf drinking milk at Hull-O-Farms. All photos courtesy of the farms.
A version of this article was first published in 2013, but it has since been updated.