Farm Stays near NYC: Enjoy a Farm-Themed Family Vacation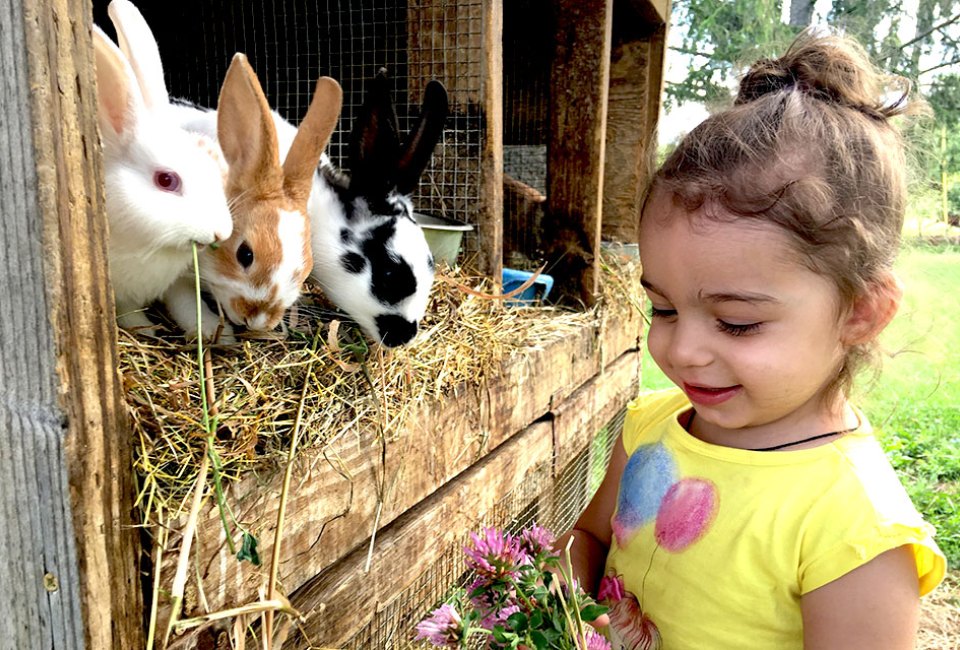 4/16/23
- By
Allison Tibaldi
Farm stays are an increasingly popular vacation option for families who want to enjoy the countryside and a back-to-nature experience. For New York City-area families, it only takes a few hours to arrive in the bucolic countryside, where the landscape seems thousands of miles away from the crowded subways and packed playgrounds.
For children who've never been around livestock, this form of agritourism provides a firsthand way to learn about the animal world in a casual fashion. It also often comes with a few more amenities than, say, a camping trip.
Though you're not required to work during your farm stay, many visitors find farm chores so different from their regular routines that they are eager to participate. Curious kids should relish the opportunity to gather eggs, watch cows being milked, and pick fresh produce.
If this sort of low-key, change-of-pace weekend sounds appealing to you, consider these eight farm stays near NYC. Our picks include properties in New York's Hudson Valley and Catskills, and Lancaster County, Pennsylvania. Find more family-friendly destinations in our Day Trips and Weekend Getaways Guide for Families.
Subscribe to our newsletters to get stories like this delivered directly to your inbox.
The farmers who open up their properties tend to be a very friendly bunch. The freedom that farm life offers is a welcome opportunity for kids and their parents—and even young children can ramble the grounds independently.
Farm Stays in New York State for Families
Considering a parent-kid trip? With four different types of 12-by-12 cabins, each of which can accommodate up to two people, this 52-acre farm in Jeffersonville could be a great option. All the cabins come with a picnic table, fire pit, and linens, and most feature a grill as well. Pets are welcome for an additional fee. Kids will love getting their hands dirty by helping pull weeds in the on-site vegetable garden, collecting eggs, and more—including spotting lots of sheep and chickens. A two-night stay is required.
RELATED: 15 Family-Friendly Catskills Resorts for Your Next Weekend Getaway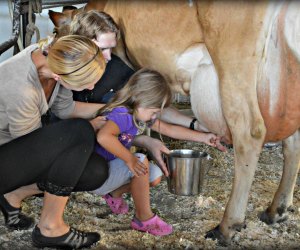 Learn how to milk a cow at Hull-O Farms during your stay in one of its guest houses.
Hull-O Farms welcomes guests from Memorial Day through October. Families sleep in one of two quaint guest houses, one with two bedrooms and a sofa bed and another with four bedrooms. A stay includes a breakfast basket, hayrides, a campfire with s'mores, fishing in the pond, and farm exploration galore. Farm activities include milking cows and goats, egg gathering, and feeding baby animals. Nearby you'll find the Zoom Flume water park, horseback riding, and the famous Howe Caverns to explore.
RELATED: Sleep in a Lighthouse and More Hudson Valley Family Resorts and Hotels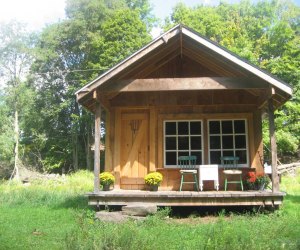 Stay in an Instagram-ready farmhand cabin at the Stone & Thistle Farm.
This family farm, which raises grass-fed livestock, offers two accommodations—a cozy Farmhouse Suite and a Farmhand Cabin, both of which can fit up to four. The Suite is equipped with a microwave and coffee/tea station and includes a private entrance and backyard, while the Farmhand Cabin offers an outdoor compost toilet, a hot water shower, and a wash sink. Breakfast bags, picnic lunches, and dinners are available with advance notice. Activities such as a Farm Tour and Chores and Farmer for a Day are available by reservation. Chores depend on the season and may include feeding, milking, and bottle-feeding animals like lambs and goats, grooming the horses, and visiting the pigs, sheep, and other animals. Note that a two-night minimum stay is required for all guests.
RELATED: 9 Favorite Upstate New York Getaways for Families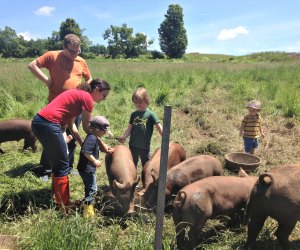 Tend to the pigs with your family at Stony Creek Farmstead.
This farm, which utilizes meticulous pasturing practices, is spread over 85 acres of unspoiled pasture and woods where families can do everything from gathering eggs to meeting the animals. Farm-stay guests sleep in glamping-style tents that accommodate up to six and face a babbling creek. These rustic platform tents have wooden floors, a wood stove, flush toilet, and sink. The tents are purposely made to be "off the grid," so they don't have electricity. You're welcome to harvest any produce that appeals to you to cook in your kitchen or visit the farm store for ready-made meals. Also fun: There's an outdoor pizza party and campfire every Saturday night for guests. Kids want some downtime? The farm store stocks art supplies and board games, too.
RELATED: Petting Zoos and Barnyard Fun near NYC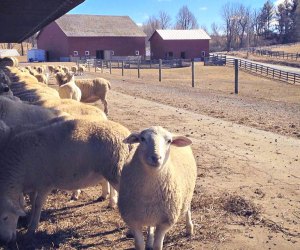 Visit the sheep at Kinderhook Farm and sleep in a barn-like loft at night.
This Hudson Valley farm is great for families with kids of all ages. You can rent the barn through Airbnb and enjoy the space, which offers great views, a full bathroom, fire pit outside, grill, and more. Accommodation-wise, the barn sleeps up to six across two bedrooms. Two kids can fit on the trundle bed in one of the bedrooms, and they can also lend guests a crib and high chair, if needed. On the farm, there's lots to do, including visiting with the animals and simply enjoying the magical setting from the perch of a hammock.
RELATED: Guide to Family-Friendly Farms and U-Pick

Meadow View K Farm Guest House has lots to do, like watching the milking, meeting the animals, or heading to the nearby Dutch Wonderland.
Best Farm Stays in Pennsylvania
Stay on a fourth-generation dairy farm in Lancaster County with a hospitable family as your host. This 165-acre property of shady lawns and meadows is as authentic as they come. The family rents three rooms on the second floor of the 200-year-old farmhouse. The Farmhouse room is equipped with a queen bed and bunk beds, a good size for many families. The Maple Leaf room has two full-size beds, while the Rose Garden room has a queen bed. There is lots to do on and off the farm, like watching the milking, meeting the animals, or heading to the nearby Dutch Wonderland.
Also in Lancaster County, guests can stay on this working dairy farm, which is home to some 150 cows, as well as other animals like chickens and miniature horses. Accommodations are in the on-site Guest House, which can sleep up to eight across three bedrooms. While on the farm tour, kids (and parents!) love to see the milking, bottle-feeding of calves and more farm operations up close. Families can also head off-property to check out lots of fun spots, including Hersheypark, which is only about half an hour away.
A version of this article was first published in 2013, but it has since been updated.
Photos courtesy of the farms