Virginia Beach with Kids: 25+Things To Do on a Family Vacation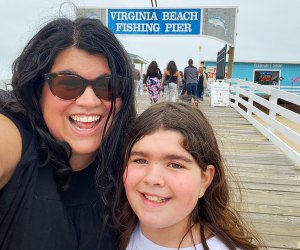 7/10/21
- By
Allison Tibaldi
Virginia Beach is a perennial favorite getaway for East Coast families and travelers, beloved for its sandy oceanfront and 3-mile-long boardwalk. The beach and Atlantic surf have kept kids entertained for ages.
The length of the beach translates into always being able to find a spot for your towel and beach umbrella, even at the height of summer, and the decidedly G-rated atmosphere in Virginia's largest city, including a 'no cursing on the beach' rule, means there's plenty of family-friendly activities and spirit. With hotels that accommodate a range of budgets, no-frills eateries, and free entertainment, Virginia Beach is a top pick for families craving a beach vacation. Colonial Williamsburg is nearby, or you can add on a visit to Washington, DC.
Here's what to do, where to eat, and where to stay in Virginia Beach.
Best Things to Do in Virginia Beach with Kids
1. Hit the Beach (all seven of them)
The sun, sand, and surf are FREE in Virginia Beach, so no costly beach passes or tags are needed here. The southern section of the boardwalk tends to be more crowded, the northern end quieter, so take your pick. It is all astonishingly clean and groomed daily.
2. Stroll the Boardwalk
The three-mile oceanfront boardwalk has a separate bike path for families who want to get around on wheels or blades. The path is flat and dotted with whimsical, nautical themed sculptures. On a practical note, there are plenty of clean restrooms the length of the boardwalk.
3. Rent a Bike
If you're looking for wheels, Cherie's Bike Rentals offers reasonably priced bikes and canopied surreys at 15 locations along the boardwalk. Choose from mountain bikes, beach cruisers, family bikes, and even in-line skates. If you don't mind walking a couple of blocks, Conte's Beach Bike Shop is highly regarded in the area.

Check out a local bike shop, grab bikes, and cruise around the city.
4. Explore Grommet Island Park
Located at Second Street and the Boardwalk, Grommet Island Park is a 15,000-foot outdoor oasis that features a 100% accessible playground, so all kids can play here. Entrances are wheelchair accessible, and a sensory board is a delight for autistic and visually impaired children. Everyone can enjoy sculptural features that allow pretend surfing and swimming with dolphins.
5. Live! On Atlantic
Catch fireworks, historical programs, festivals, and beach parties. From Memorial Day through Labor Day, Live! On Atlantic presents live family-oriented entertainment along Atlantic Avenue between 17th and 25th Streets in Virginia Beach.
6. Go Fishing
Let the kids cast their first (or fiftieth) line. The Virginia Beach Fishing Pier, located on 15th Street & Oceanfront, is open April through October. No fishing license is required; rods are available for rent, and bait may be purchased. A variety of species are caught from this location, including pinfish, black sea bass, sharks, rays, kingfish, king mackerel, and many others.
RELATED: 9 Best Florida Beach Vacations for Families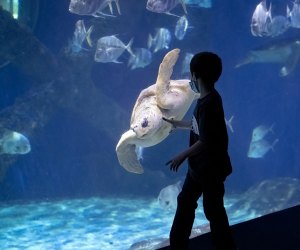 Explore the Virginia Aquarium & Marine Science Center. Photo courtesy of the center
7. Enjoy Aquatic Adventures
Get to know the local marine life at the Virginia Aquarium & Marine Science Center, a top-notch facility focused on Virginia's unique marine environment. There are more than 300 hands-on exhibits, touch tanks, and an IMAX Theater. Enjoy the mock submarine and extensive nature trails, or zip line through the aerial forest in The Adventure Park.
8. Indulge Their Taste Buds
Enjoy a local treat at the Virginia Beach Farmers Market, a year-round ode to Virginia agriculture. Shopkeepers entice you to buy with tasty samples of farm fresh goods. Browse the butcher shop, seafood market, bakery, and full menu restaurant. Local produce is great to snack on, but it's hard to resist Gilly's Creamery, homemade ice cream worth every calorie.
9. Play Miniature Golf
Mini golf is an essential part of a beach vacation, and there's plenty of putt putt to play in Virginia Beach. Try Pirates Paradise Mini Golf or Jungle Golf, a Virginia Beach tradition for more than 40 years. King Neptune's is a rainy-day dream with indoor mini golf, blacklight, 3D, and a/c.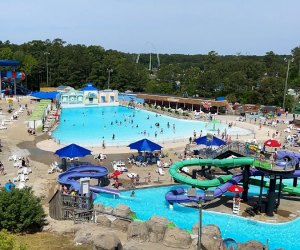 Spend a day or a weekend at the Caribbean-themed Ocean Breeze Water Park. Photo courtesy of the park
10. Make a Splash
Ride the water slides or relax in the wave pool at the Ocean Breeze Water Park with more than 30 rides. This Caribbean themed destination is the place to beat the heat if you want a change of pace from the ocean. Parking, sunscreen, and inner tubes are free with admission.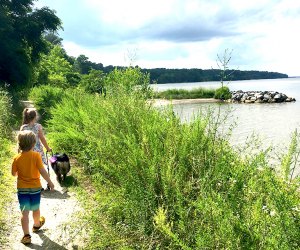 Take a family hike through First Landing State Park. Photo courtesy of the park
11. Reconnect with Nature
Skip the beach for a day in the woods. Hike, camp, or swim at First Landing State Park, a popular nature preserve located just outside of the main tourist area on the Chesapeake Bay. There are plenty of sandy trails here, too. Come just for a picnic or a boat ride. Outdoor showers and clean restrooms are a bonus for those staying the day.
12. Go Wild
See some of Virginia's wildlife at the Back Bay National Wildlife Refuge, a 9,000-acre refuge where kids might glimpse loggerhead sea turtles, piping plovers, peregrine falcons, and bald eagles. In December, 10,000 snow geese visit Back Bay Refuge during the peak of fall migration.
13. Celebrate History
Check out one of the world's largest collections of WWI and WWII military aircrafts to wow the kids with a little American history. Located in a hangar, the Military Aviation Museum lets kids check out bombers and fighters, and there are air shows and concerts. Bonus: Tackle the scavenger hunt in Jerrassic Park, a collection of dinosaur sculptures sure to delight.
14. Embrace the Views
Climb the nearly 200 steps to the top of Cape Henry Lighthouse and revel in the scenic views of the Chesapeake Bay and the Atlantic Ocean. Kids need to measure at least 42 inches tall to climb the steps. Authorized by George Washington and overseen by Alexander Hamilton, the lighthouse is located near the "First Landing" site, where English settlers first stopped on their way to Jamestown.
RELATED: Best Things to Do in Charleston, SC, with Kids

Catch a wave with a local surf lesson. Photo courtesy of Virginia Beach Convention & Visitors Bureau
15. Learn to Surf
Spend the morning learning to surf with any number of local surf companies. Surf and Adventure and Surf & Adventure Co. offer surf lessons; instructors guide participants in how to read the ocean's tides and ride the waves. If you'd rather learn to paddle, check out Pongo Board House.
16. Get your VIBE On
Spend a few hours walking around the artsy enclave known as the VIBE district. With an events calendar filled with creative activities like flea markets, drum circles, and a mural festival this neighborhood is the perfect spot for tweens and teens. Make sure you pack a camera to snap a few pics of the neighborhood's colorful (and plentiful) murals.

The VIBE district is a colorful, fun, and familiy-friendly walkable area.
Hotels and Resorts in Virginia Beach
There are plenty of great places to stay in and around the Virginia Beach area, including beach cottages, home rentals, and hotels. Here are a couple of our favorite hotels in Virginia Beach for families.
3900 Atlantic Ave.
This super clean hotel features ocean view rooms equipped with fridges, microwaves, and HD televisions. In addition to the indoor pool, the outdoor pool is spacious and features a water slide and lazy river ride. Expect supervised activities for kids throughout the summer, such as Splash Kamp and Mad Science shows.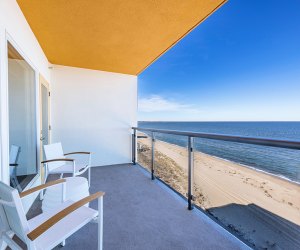 Delta Hotels Virginia Beach Bayfront Suites. Photo courtesy of the hotel
2800 Shore Drive
Located directly on the Chesapeake Bay, this newly renovated all-suite hotel is the perfect home away from home during your stay at Virginia Beach. Amenities like in-room refrigerators and microwaves make the Delta Hotels Virginia Bayfront Suites a perfect spot for families. The hotel also boasts an outdoor heated pool and direct access to the calm, warm waters of the Chesapeake Bay. Beach cabanas, kayaks, and bicycles are also available to rent on site.
Tin Cup Kitchen & Oyster Bar
Favorite Restaurants in Virginia Beach
601 19th Street
This casual and spacious restaurant serves large portions of North Carolina-style BBQ for low prices. Think brisket, ribs, pulled chicken, tangy pork, beef, and tasty sides like potato salad and hush puppies. The kids' menu choices are all under $5.
2265 W. Great Neck Road
Open for breakfast and lunch, this is a good place to come and get some local color while you dine. Locals keep coming back for delightful sweet potato biscuits, fluffy pancakes, and fresh eggs. The establishment prides itself on healthy choices and also features a vegan and gluten-free menu.
3323 Shore Drive
Named one of the "The 21 Best Seafood Shacks in America," Bubba's is located on a peaceful dock where you can watch boaters and fishermen as you enjoy your meal on the patio. Seafood choices include crab cakes, oysters, and steamed shrimp, plus an excellent burger. The kids' menu is loaded with favorites such as chicken tenders and popcorn shrimp.
2800 Shore Drive
Located in the Delta Hotels Virginia Beach Bayfront Suites, the Tin Cup Kitchen & Oyster Bar offers stunning views of the Chesapeake Bay for breakfast, lunch, and dinner. Tin Cup's menu is focused on locally sourced food, delicious cocktails (and mocktails), and yummy desserts. Whether you savor some Chesapeake Bay oysters or pick something off of the children's menu, the Tin Cup Kitchen has something for the whole family.

Waterman's Surfside Grill
415 Atlantic Avenue
Did you know that Virginia Beach has an official drink? The Orange Crush is a refreshing mixture of fresh-squeezed orange juice, a splash of sprite, served over crushed ice. Waterman's Surfside Grill is known as being the birthplace of this local favorite - in both the adult and kid-friendly versions. This family-owned establishment has been serving up beach burgers, crab dip, and fish tacos since 1981.
414 Virginia Beach Blvd.
A short walk from the boardwalk, this adorable ice cream shop is located in the popular VIBE District. Homemade flavors like Chocolate Caramel Pretzel Sheet Cake, Breakfast Goals Ice Cream, Crunchy Munchy, and the ever-popular Cookie Monster, it is easy to see why this spot is popular with locals and tourists alike. Make sure you try some of Lolly's Sauce on top of your sundae - you won't be sorry.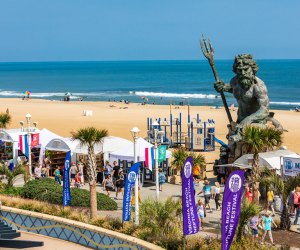 Gawk at the sand sculptures or join the contest by building one of your own at the Neptune Festival. Photo courtesy of the festival
Festivals and Events in Virginia Beach
25. Watch the Pros Surf
Inspire the kids at the East Coast Surfing Championships, which are held here annually in late August. A key event on the professional circuit, the contest is exciting to watch and features surfing, volleyball, Monster Jump (BMX), and entertainment.
26. Sand Castle Competition
The sand sculptures at The Neptune Festival (last weekend of September) are sure to wow with their creativity. In just three days, sculptors representing 11 countries turn grains of sand into works of art.
27. Winter Holidays in Virginia Beach
Virginia Beach goes all out for the Christmas holiday. Catch the Holiday Lights at the Beach while driving your car down the boardwalk that's decked out with lights, music, trees, elves, and even Santa.
28. Unleash Your Inner Artist
Dozens of local artists show off their work at First Friday Art Walk, from May through October, on the first Friday of the month.
For more local info, check out Visit Virginia Beach, which is full of helpful information for planning a Virginia Beach vacation.
A version of this article was first published in 2012. Clementina Verge and Ally Noel have contributed additional reporting .
Unless noted, photos by Mommy Poppins.