Williamsburg with Kids: 25 Best Things To Do in Williamsburg, VA
8/20/22
- By
Jamie Davis Smith
For history buffs, fewer vacation spots can top a visit to Williamsburg, VA. Its biggest attractions—Colonial Williamsburg, Historic Jamestowne, the Jamestown Settlement, and Yorktown—bring history to life in an exciting way for kids and families. But there are also plenty of other fun things to do in Williamsburg with kids, from exciting theme parks and water parks to beautiful beaches and gardens. Just check out our review of Busch Gardens Williamsburg for a taste of modern life in Williamsburg! It's no surprise then, that Williamsburg continues to be a popular family vacation destination.
Here are the 25 best things to do in Williamsburg, VA with kids, including family-friendly Williamsburg restaurants and fun Williamsburg hotels. For more great family vacation destinations, check out our Family Travel Guide.
Top Attractions in Williamsburg, VA for Families
Colonial Williamsburg, a living-history museum where families can stroll the streets to experience life in the 18th century, is the main attraction for visitors to Williamsburg, VA. Many of the 88 original buildings that have been meticulously restored are open to visitors. Watch blacksmiths, tailors, bookbinders, and other artisans at work. Experience life as a soldier at the Magazine Yard. Tour the Governor's Palace and the Capitol Building.
And definitely leave time to shop for colonial toys, clothing, and other goods. The Visitor's Center is free, but visiting the grounds requires paid admission. There are normally hotel packages available that include free tickets.
A few minutes from the Jamestown Settlement is Historic Jamestowne, the actual site of the original Jamestown fort and town. Here families can visit excavation sites and watch archaeologists at work as they uncover artifacts from the original fort, then visit the Ed Shed to sort through items found at these sites. At the Glasshouse, families can see how glass was made in colonial times. There are also various monuments, statues (including one of Pocahontas), and more to explore. Be sure to check for family-friendly activities that may be happening during your visit.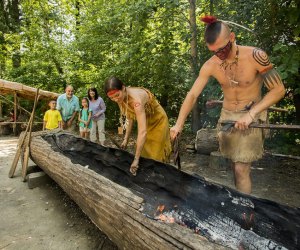 Explore the Powhatan way of life. Photo courtesy of Jamestown Settlement
Jamestown was the site of the first permanent English settlement in the New World, dating back to 1607. Today visitors can experience living history at the Jamestown Settlement, where costumed historical interpreters demonstrate life in early Jamestown. Learn about the Native Americans the English settlers encountered when they landed, board replicas of the ships that sailed from England to Virginia, and visit replicas of a colonists' fort and a Powhatan village.
Founded in 1693, William & Mary is the second oldest college in America. The university is often called the "Alma Mater of a Nation" since four presidents, including Thomas Jefferson, once attended. It's free to walk around the historic campus full of beautiful grounds and buildings, and audio tours are available.
RELATED: 25 Things To Do in Virginia Beach with Kids on a Family Vacation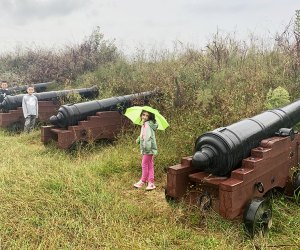 The historic Yorktown Battlefield is now a national park. Photo by Jennifer Walters
Visit this historic battlefield where George Washington defeated the British Army in the last battle of the Revolutionary War in 1781, winning America's independence. Kids can join the Junior Ranger Program when visiting the site, which is now a national park. Start your visit at the Visitor Center to explore its exhibits.
This museum at Yorktown tells the complete story of the American Revolution. In addition to traditional artifacts such as weapons and uniforms, there are immersive exhibits and an outdoor living-history area that includes a re-created Continental Army encampment and a Revolution-era farm. These are great for keeping kids interested and engaged.
RELATED: 40 Best Amusement Parks in the US for a Family Vacation

Take a ride with Elmo at Busch Gardens. Photo Courtesy of Busch Gardens
No visit to Williamsburg, VA would be complete without a day at Busch Gardens. This action-packed European-themed theme park has been voted the World's Most Beautiful Amusement Park by the National Amusement Park Historical Association every year since 1990. Little kids can enjoy Sesame Street-themed rides, animal interactions, live shows, and other kid-friendly rides and play areas. For older kids and adults, Busch Gardens features eight roller coasters (including the world's fastest multi-launch roller coaster) and plenty of other thrill rides. Check out our tips for visiting Busch Gardens Williamsburg with kids.
This water park just three miles from Busch Gardens offers more than 40 rides and attractions. Little ones can enjoy plenty of themed, shallow-water playgrounds and activity pools. Older kids and adults can tackle large slides of various thrill levels, including Aquazoid Amped, which features a special-effects show, dynamic lighting, and pounding music. There's also a wave pool, a lazy river, and lots more water fun to keep the family cool all summer long.
RELATED: Visit National Parks on Free National Park Entrance Days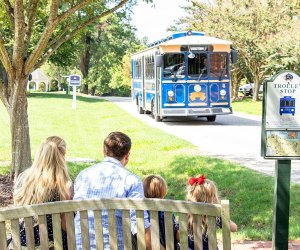 The Trolley is one of the best ways to see Historic Yorktown. Photo courtesy of Visit Yorktown
Fun Free Things To Do in Williamsburg, VA with Kids
York River State Park is home to a rare habitat where freshwater and saltwater meet on its grounds. The park features over 30 miles of hiking trails, with some shorter trails that are great for kids. Families can enjoy the park's grounds for a picnic, play on the playground, and rent boats seasonally.
This botanical garden within Freedom Park features species native to Virginia and helps support local wildlife and pollinators. There are 18 different habitats, including a monarch station and a pollinator meadow.
This free ferry runs 24 hours a day, 365 days a year. It's a great way for families to take in views along the James River and explore the area surrounding Williamsburg. Passengers can even bring their cars aboard.
This free old-fashioned trolley goes all around Yorktown, stopping at 11 locations. Parents can sit back and relax while friendly guides give information about each stop. The best part? Passengers can hop on and off all day; no tickets needed.
The scenic 23-mile Colonial Parkway connects the historic triangle of Jamestown, Yorktown, and Williamsburg. It stretches all the way from the York River in Yorktown to the James River in Jamestown. There are several spots to pull over and enjoy the scenery while learning more about the area. More adventurous families can bike along the parkway.
This beachfront park along the Colonial Parkway is a hidden gem that's worth a visit. The dog-friendly beach features an observation pier, and beachgoers can rent kayaks, go paddleboating, try their luck at fishing, and more. Bring a picnic or grab some food from the concession booth. Admission to the beach is free, but there is a small charge to park.
RELATED: Richmond, VA with Kids: 50 Fun Things To Do in Richmond

Make sure to get souvenirs to remember your special trip. Photo courtesy of Colonial Williamsburg
More Things To Do in Williamsburg, VA with Kids
This museum on the Yorktown Waterfront explores the history of the watermen who have worked in the Chesapeake Bay from pre-colonial times to the present. Exhibits include military and civilian watercraft, and the museum hosts many family-friendly events and activities.
This popular dining and shopping area adjacent to Colonial Williamsburg is a great place to end your day after a visit to the historic site. Merchants Square is designed to look like an 18th-century retail village and has everything from ice cream to fine dining. There are also special events such as live musical performances hosted in the square, so be sure to check the website for a schedule of events.
In the Ripley's Odditorium, families can enjoy over 350 exhibits including a 900-pound Millennium Falcon made of car parts, a spinning vortex tunnel, and plenty of hands-on interactives. Ripley's also offers mini golf, a laser maze, and a 4D theater.
RELATED: Mommy Poppins' Southern Family Travel Guide

Sample some traditional colonial fare at Christina Campbell's Tavern. Photo courtesy of the tavern
Williamsburg Restaurants Kids Love
Chowning's Tavern is a great place to go for traditional colonial fare served in an authentic alehouse atmosphere. Its casual feel makes it a great choice for families, as does its snack bar and Young Patriot's Menu featuring hot dogs, chicken tenders, and peanut butter and jelly sandwiches.
None other than George Washington was a regular visitor to Christiana Campbell's Tavern, making it a must-visit for history buffs. Eating here is a whole experience complete with candlelight and costumed servers sharing tidbits about colonial life. The menu is historically inspired and locally sourced. (Note: The tavern was temporarily closed at the time of publication and set to reopen in fall 2022).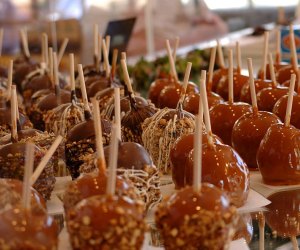 Indulge in old-fashioned treats. Wythe Candy & Gourmet Shop. Photo courtesy of the shop
After a long day of sightseeing, everyone deserves a treat. This quaint candy shop in Merchants Square is full of delectable homemade goodies such as caramel apples, chocolate fudge, and plenty of candy. The shop offers samples and daily specials.
This unique café is located within Yorktown National Park inside the Cole Digges House, which was built around 1726. It offers plenty of sweets and treats in addition to meals. The café also runs tours of the park in partnership with the National Park Service. You can even pre-order lunch to be ready as you return from your tour.
RELATED: Best Family Resorts with Water Parks

Lounge in the lazy river after a day of sightseeing at the Kingsmill Resort. Photo courtesy of the resort
Family-Friendly Williamsburg Hotels
Kingsmill is a true oasis in the heart of Williamsburg, VA. The resort features indoor and outdoor pools, a lazy river, a playground, and evening activities for families such as magic shows and movies. Accommodations range from private cottages where everyone can have their own bedroom to traditional hotel rooms. Parents can enjoy the on-site tennis courts, golf course, and spa. Kingsmill is conveniently located a stone's throw from Busch Gardens and close to several historical sites.
With 20 family resorts in North America, Great Wolf Lodge is a wonderland for kids and families. Enjoy a massive indoor water park, a magical scavenger hunt, bowling, laser tag, an arcade, gem mining, and so much more. Kids are gifted wolf ears at check-in and it's a wild, fun-filled adventure from there. It's no wonder Great Wolf Lodge landed on our lists of the best family resorts with water parks and the 10 best indoor water parks for kids in the US. Read about our visit to the Poconos location here.
With a walking path that leads directly to Colonial Williamsburg, Woodlands has an unbeatable location. The resort is great for families with spacious rooms, a pool, a splash pad, mini golf, and more included in your stay. Woodlands offers frequent specials, so be sure to check out its seasonal offers before you book.

Explore the historic colonial houses. Photo by Jennifer Walters
Immerse yourself in the colonial experience by sleeping in a canopy bed near a crackling fire. Families can choose to rent a small restored Colonial House (for less money than you'd think) or a Tavern Room in a larger house. While these homes in the heart of Colonial Williamsburg are historically accurate, they also have electricity, running water, and everything else present-day visitors expect from a hotel.
Click Here to Sign Up!
i