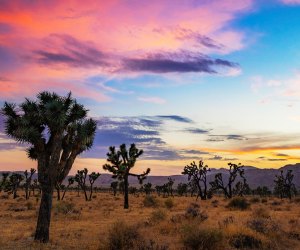 Visit National Parks in 2021 on These Free Entrance Days
For a budget-friendly getaway, check out the upcoming FREE admission days at some of the country's largest and most gorgeous national parks. Courtesy of the National Park Service, there are six FREE admission days at American national parks in 2021.
Those waiving admission in 2021 include some iconic, bucket list spots like the Grand Canyon, Yosemite, Yellowstone, Zion, Rocky Mountain, the Everglades, Acadia, Shenandoah, Cape Cod Seashore, Death Valley, and Joshua Tree National Park.
While many parks offer free admission every day of the year, more than 100 of them, including some of the most popular destinations, charge $15 per person or more at the entrance. The freebies also extend to a few historical sites under the National Park Service's purview, like the Thomas Edison National Historic Park in New Jersey and the Wright Brothers National Memorial in North Carolina, among many others.
OUR LATEST VIDEOS
The fee waiver includes entrance fees, commercial tour fees, and transportation entrance fees. Other charges such as reservations, camping, tours, concessions, and fees collected by third parties are not included in the FREE admission unless stated otherwise.
Here are the dates in 2021 when national parks that usually charge admission are waiving fees:
Monday, January 18: Martin Luther King, Jr. Day
Saturday, April 17: National Park Week
Wednesday, August 4: Anniversary of Great Outdoors Act
Wednesday, August 25: National Park Service birthday
Saturday, September 25: National Public Lands Day
Thursday, November 11: Veterans Day
Scan the entire list of participating parks and historic sites by state, or check this list below of a few of our favorite national park destinations for family fun. Keep in mind that many buildings, and some campsites, remain closed during Covid. There may also be capacity restrictions, online reservation requirements during the summer, or a reduction in visiting hours, so please do call ahead and check all weather-related updates for individual parks as well. We encourage all readers to wear their masks and maintain social distance as well.
National Parks with Free Admission in 2021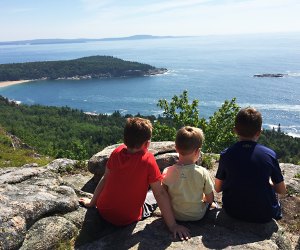 From mountains to the water, Acadia has it all. Photo by Kelley Heyworth
Members of my family are big fans of national parks, and Acadia is our favorite. This coastal Maine island park takes over most of Mount Desert Island. Acadia is a perfect place for tide pooling, marine adventures, and easy hikes. Families can enjoy extensive ranger-led programs, hiking up Cadillac Mountain, especially at sunrise. I love the carriage roads: There are more than 50 miles of them crisscrossing the park. Built by philanthropist John D. Rockefeller Jr., they are perfect for cycling and strolling. There is no lodging here with the exception of tenting, but the bustling town of Bar Harbor is a short drive for meals and lodging, and you can even hop on the Island Explorer bus to travel in, out and around the park should you want to go car-free.
This diverse national treasure is home to scores of migrating birds, crocodiles, manatees, and the elusive Florida panther. Visitors can thrill to airboat rides, biking, boating, canoeing and kayaking, hiking, fishing, wildlife spotting, and more. At 2,400 square miles, it is the third-largest national park in the continental United States. Visitors take note: The park can be accessed via car at three entry points that are not connected to each other. From the east, enter at Miami or Homestead, Florida; from the west, enter at Everglades City. What's more, there is no overnight lodging in the park except for the most dedicated campers so consider a stay in the Keys or in Miami.
RELATED: Top East Coast Beach Camping Spots for Families

Kids can enjoy kayaking, fishing, birding, a kite festival, and a host of ranger-led activities at the Padre Island National Seashore.
These 70 miles of coastline near Corpus Christi protect the dunes, tidal flats, and prairies of southeastern Texas. The Padre Island habitat features more than 300 bird species and rare sea turtles. With so little development along the coastline, a visit here really is a trip back in time. Kids can enjoy kayaking, fishing, birding, and a host of ranger-led activities. Hotels and restaurants abound in Corpus Christi and South Padre Island.
This desert park is one of our LA team's favorites for a little getaway, especially camping, hiking, and even bouldering. From the iconic trees to the possibility of stunning wildflowers, Joshua Tree National Park offers a unique outdoor experience. We highly recommend a picnic at Hidden Valley, and, if you can manage it, a hike to the park's highest point, Keys View, for a peek at the San Andreas Fault. Bonus: There are even stroller-friendly walks and easy hikes here for little legs. Just remember to *overpack* in terms of water, layers, and food! Read our full piece on top tips and sights at Joshua Tree for families.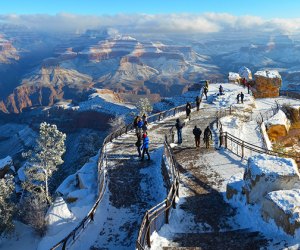 Views from the Grand Canyon leave visitors breathless.
The Grand Canyon, one of the seven wonders of the natural world, is a no-brainer family destination. Five million visitors enjoy the park annually, perhaps because Theodore Roosevelt described the canyon as "one great sight every American should see." Thankfully, there are many different ways to see and explore the Colorado River Gorge: on foot, on a mule, from the air, in a car, or from the river itself. Unless you live locally, the Grand Canyon is a multiday trip, and the park offers many amenities, including lodging and eateries, as well as every kind of backcountry adventure imaginable.

It's easy to spot wildlife, such as elk, on your trip to Rocky Mountain.
One of our editors makes an annual trek to this national park to enjoy plenty of hiking, wildlife drives, historical sites, and of course the stunning scenery. There are always elk to spot, waterfalls to spy, and plenty of campgrounds that make an overnight easy. Or you could day trip it here from Denver, which is about an hour away.
This special place was one of the country's first parcels protected from development in the 19th century—so you can expect it to be amazing. The enormous park in the Sierra Nevada Mountains boasts granite cliffs, giant sequoia trees, and magnificent waterfalls. Families can enjoy hiking, ranger-led programs, scenic drives, and magnificent vistas. Our Mommy Poppins staff detail all the best family-friendly activities in the park.
RELATED: 12 Best California Vacation Ideas for Families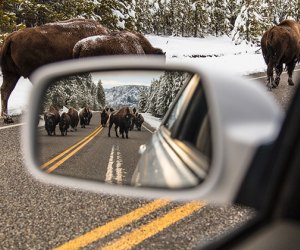 A bison crossing is a familiar site at Yellowstone National Park.
Visiting the nation's first national park is a commitment no matter where you live, but still a perfect family vacation destination. One of the country's most popular national parks, thousands of families flock here to see its geothermal features: hot springs, volcanoes, mud pots, and hundreds of geysers, including the famous Old Faithful. Yellowstone offers every kind of outdoor recreation imaginable, including boating, cycling, skiing, horseback riding, and plenty of animal viewing. The park is a great spot for once-in-a-lifetime large mammal spotting with bison, elk, grizzlies, and more. When I visited Yellowstone, I was lucky enough to see a herd of giant bison resting on my cabin's back lawn. We've outlined ways to book your Yellowstone vacation with kids (or another popular park) at the last minute, because hey, we're all busy parents, right?!
Even amid the pandemic, a trip to Zion last summer really restored one of our families. "Just the sight of its red and orange sandstone cliffs and unique rock formations can inspire and soothe the soul—and that's before you consider the park's amazing hiking trails, water play opportunities, and wildlife," she wrote. Enjoy everything from sand sledding (nearby) to river wading at this popular Utah park.
Find more kid-friendly park trips with our U.S. National Parks Travel Guide.
All photos courtesy of the National Park Service
A version of this article was first published in 2017, but it has since been revised and updated.