Top 15 Things to Do in Corpus Christi with Kids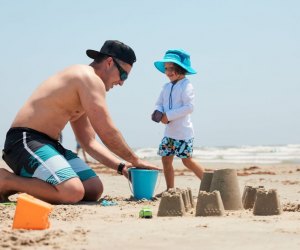 8/22/21
- By
Sarah Banks
At just over three hours from Houston, Corpus Christi is a fantastic destination for a weekend getaway. With over 70 miles of Gulf Coast seashore, you can easily find an uncrowded beach for you and your kids. There's something about sun, sea, and sand that relaxes the whole family, but if you get tired of the outdoors, there are plenty of indoor things to do in Corpus Christi with kids, too. We've selected our favorite things to do in Corpus Christi to make planning your trip a breeze. When you're not enjoying the natural beauty of the area, you can visit some of the city's top attractions, such as the enormous aircraft carrier USS Lexington or the state aquarium of Texas!
Looking for beach time closer to Houston? Check out our guide to Galveston. For more weekend trip ideas, check out our Houston getaways guide. And for ideas on travel with your kids across the US, click on our Family Travel Guide.
With a flight deck nearly 1,000 feet long, this ship will leave you awestruck with its size and its history. But it's also a lot of fun for kids to visit and explore. The USS Lexington served in World War II with over 3,000 crew in the Pearl Harbor area, so everyone has something to learn and experience onboard. Younger kids will love sitting in aircraft seats and playing with all the switches and buttons on the hangar deck. Older kids will enjoy climbing up and down the ship's ladders to go on one of the five self-guided tours and see the sleeping quarters, dentist, canteen, and barbers. The whole family will be impressed by the display of 20 aircraft on the colossal flight deck, including a Blue Angel.

Visit the USS Lexington, one of the top non-beach things to do in Corpus Christi. Photo courtesy of corpuschristitx.org.
Another new and unique attraction for tweenagers and older is an onboard Escape Room. We failed to defuse the nuclear bomb but had fun looking for clues and unlocking boxes. Sound and light effects make it a thrilling experience.
Kids under four are free, but this does reflect the fact that with a stroller or toddler, you will only be able to easily access the Hangar and Flight Decks due to the steep stairways that lead elsewhere.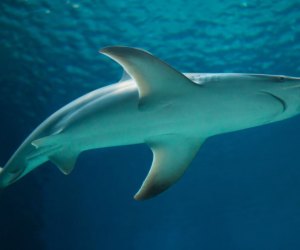 Shark photo courtesy of Texas State Aquarium in Corpus Christi.
Regularly nominated for a USA Today Top 10 Aquarium, the State Aquarium is right next door to the USS Lexington. With over 6,000 animals over six acres, there is plenty to see and do. In addition to aquatic creatures such as seahorses and jellyfish, the aquarium hosts some more unexpected residents like flamingos, otters, and alligators. Our kids were delighted you can even touch a shark! Timed wildlife presentations include dolphins, turtles, and stingrays, so be sure to look at the schedule either online or when you arrive.
Younger guests will enjoy cooling off in the Splash Park or digging for bones in a fossil exhibit.
Your kids can run around over 180 acres at the South Texas Botanical Gardens and Nature Center. The good news is that it isn't just plants to see in this Corpus Christi attraction. While you enjoy the rose and hummingbird gardens, your kids will love the butterfly house, reptiles, parrots, and play area. Burn off some energy walking around the nature trail, visit the Gator Lake, and climb the Observatory Tower.
4. Push your stroller along the North Beach boardwalk
There aren't many beaches where you can enjoy a view of a majestic aircraft carrier! Conveniently located by the USS Lexington and the Aquarium, North Beach is almost two miles of calm and shallow water beside Harbor Bridge. All along the beach is a concrete boardwalk which is great for strollers, and there are three public restrooms/showers at intervals. You can hire chairs, umbrellas, and even jet skis from Holiday Beach Rental.
5. Enjoy the calm and shallow waters of McGee Beach
Another great beach in Corpus Christi Bay is McGee Beach. It is a smaller but well-maintained beach with shallow water, facilities, and rentals. This beach backs onto downtown Corpus Christi, where you can find some charming streets with places to eat. One of the cute things about Corpus Christi is the many murals in the streets—even the electricity boxes are painted with bright artwork.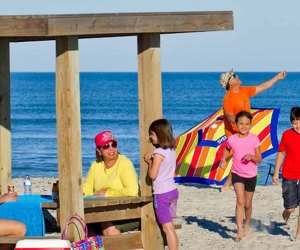 Mustang Island State Park Beach. Photo courtesy Texas Parks and Wildlife.
If you want more waves, a bluer-colored sea and finer sand, travel about half an hour across the JFK Causeway to Mustang Island. There are a few beaches along the 18 miles of the island, including the beautiful Mustang Island State Park. You can drive along more than five miles of seashore at the State Park, one end of which has port-a-potties and trash cans. From the convenience of being near your car, you can fly a kite, jump the waves and enjoy the bird life flying overhead.
Kids enjoy the fun of a ferry ride, and you can travel from nearby Port Aransas over to the pedestrian-friendly San Jose Island with 21 miles of beach. The ferry is only a ten-minute trip, but you end up a world away on an uninhabited island. The shore is peaceful due to the lack of vehicles, but that does go hand-in-hand with a lack of facilities. So, if your family likes a wild adventure, this could be the spot for you. Bring a bucket, as it's famous for its abundance of seashells.
We know that everything is bigger in Texas, and Padre Island National Seashore is over 70 miles long, making it the world's longest barrier island. It's a lovely wide beach with fine sand, and you can drive your car along it as far as you'd like. Located about half an hour from Corpus Christi, this National Park really is the get-away-from-it-all destination with no facilities on the beach. However, a visitor center has a shop, restrooms, and park rangers to orient you. If you stay until it's dark or camp there, you're sure to enjoy some unrivaled stargazing.
If you can get your timing right, combine your trip with a turtle hatchling release at the Padre Island National Seashore. If your kids are early risers like ours (yawn!), they will be awestruck by this sunrise spectacle. The Kemp's Ridley Sea Turtle is the most endangered in the world, and the conservation project here protects as many hatchlings as possible in their trip to the sea. If your kids love the Turtle's Tale movies or Finding Nemo, they will be enthralled seeing these tiny hatchlings make their way into the water. Park Rangers are there to show you the hatchlings up close and answer any questions. Afterwards, you can spend some time on the beautiful beach.
There are plenty of opportunities to get out on the water in the Corpus Christi area, and one of the great activities available is dolphin watching. There are an estimated 10,000 bottle-nose dolphins in the Gulf of Mexico, so your chances of an encounter are pretty high. These smart, friendly, acrobatic creatures are fun to watch in the wild and should delight any nature-loving child.
Let your kids feel the thrill of reeling in a fish or a crab! The Gulf Coast is one of the best spots in the USA for fishing, and I don't think we've ever seen as many beaches, piers, and jetties to cast a line. The pier at Mustang Island State Park is one great spot. Or head to Fulton, where a new pier juts over 1,000 feet into the sea, with a bait shop in front. A coffee kiosk and Irish bar are close by to provide refreshments. Fulton is also right by Goose Island State Park with another long pier and The Big Tree—one of the oldest and largest Live Oaks in the whole of the US. Close by is the family-friendly Rockport beach which has shelters for shade and other amenities.
Did you know that the Texan fast food-favorite Whataburger began in Corpus Christi? Since the 1950s, this chain has provided one of our favorite burgers and there are now 800 locations! Whilst in Corpus Christi, be sure to stop by the original store replica and grab yourself a juicy burger in the restaurant. Or, go to the bayfront Whataburger location and enjoy a meal overlooking the sea on its outdoor balcony.
ri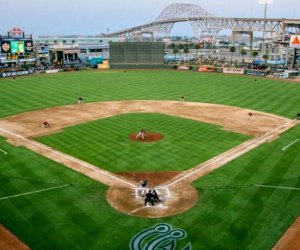 Whataburger Field in Corpus Christi, TX. Photo courtesy corpuschristitx.org.
When you've had enough beach time, go and catch a game at the local baseball stadium, named after the Texan burger chain. This minor league baseball stadium is home to the Corpus Christi Hooks, the Double-A affiliate of the Houston Astros. It has a great kids zone with a climbing wall and a playground for younger kids. Make sure your weekend starts with a bang, as every Friday night is Firework Friday.
14. See extraordinary sandcastle sculptures in Port Aransas
Texas SandFest at Port Aransas is the largest native-sand sculpture competition in the USA. What began as a small local contest in 1997 has grown into an internationally recognized three-day family event that draws renowned sand sculptors and tens of thousands of visitors from around the world each year to the area. It's usually in April, but you can still catch it in 2021, as this year it was delayed to October 15–17. Visit Port Aransas any time of the year for a combination of beach time, restaurants, and shopping.
15. Enjoy the amusement centers
Corpus Christi has a variety of family-friendly indoor entertainment for when it's too hot, too windy, or you just fancy a change! Take some time out at a trampoline park, amusement arcade, or bowling by visiting one of the following spots: Getair, Jumping World, or Bowlero. They offer family-friendly environments with refreshments also available.