20 Top Things To Do in Galveston with Kids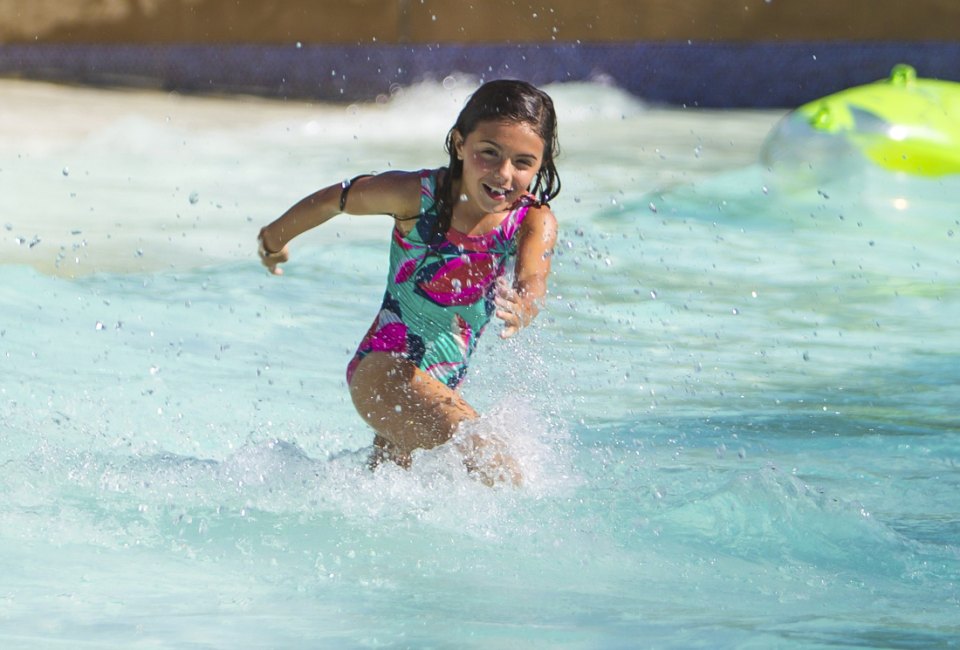 7/3/22
- By
Rachael Cherry
Sand, seaweed, and sun may be the first images that pop into your head when you think of a day in Galveston, but the little island is jam-packed with fun for families that extends far beyond visiting the beach. From tours and water parks to aquariums and museums (and great restaurants in between), we've pinpointed kid-friendly activities throughout the city and compiled a list of 20 family-friendly things to do the next time you travel off the mainland.
For more ideas on summer activities, check out our Summer Fun Guide for Houston families.
For a laid-back beach experience, you'll want to head straight for The Seawall, which offers more than 10 miles of beach and water for sunning, playing, and swimming. Parking is available along The Seawall; visitors pay by the hour, day, or season. Picnic meals can be enjoyed on the beach, or you can take advantage of a wide variety of beachfront restaurants that are a short walk from the sand. While you're exploring The Seawall, be sure to make a pit-stop at Murdochs, where you can stock up on beach souvenirs and take in sweeping views of the sea through stationary viewfinders while enjoying a tasty cold beverage.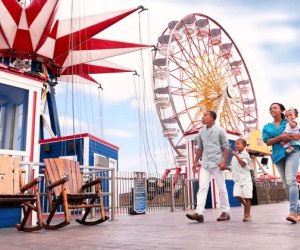 Photo courtesy of Galveston CVB
Amusement rides, midway games, restaurants, and retail shops for kids of all ages abound at Pleasure Pier, and all of it offers a waterfront view. Want to play at Pleasure Pier but also take advantage of other island attractions? Wristbands allow re-entry throughout the day. Tickets can be purchased online in advance or at the entrance. Patrons can choose from the All Day Ride Pass, walk-on passes, single-ride tickets, or the Weekend Adventure Pass that allows unlimited access to Pleasure Pier, nearby Kemah Boardwalk, and the Houston Downtown Aquarium.
Camping enthusiasts and nature lovers, look no further than Galveston Island State Park for all things active and outdoors. Recreational activities include fishing, bird watching, hiking, kayaking, swimming, and camping. Entry costs $5 per person, and kids ages 12 and under get in free. You can hang out at the park for the day to take advantage of the beach or stay overnight at one of the 60+ available campsites. Kids can even become Junior Rangers by visiting the Nature Center, picking up the Junior Ranger Activity Journal and Explorer Pack, and completing tasks to earn a badge. The newly renovated beach side of the park just reopened and features amazing new amenities like two boardwalks, a kayak launch, pavilions, enhanced restrooms, and more.
Related: Best Family-Friendly Beaches in Galveston

Photo courtesy of Moody Gardens
4. Experience the Pyramids at Moody Gardens
With three different pyramids of attractions, there's something for everyone to enjoy at Moody Gardens. Each pyramid offers a different experience: the recently renovated Aquarium Pyramid gives visitors a glimpse into ocean life; the Rainforest Pyramid offers a peek of rainforests in Asia, Africa, and the Americas; and the Discovery Pyramid houses a rotating museum exhibit. There are also theaters, a golf course, the Colonel Paddlewheel Boat, a water park, restaurants, ziplines, a ropes course, and more! Visitors can choose to purchase tickets for individual attractions or buy one or two-day value passes.
To get a feel for the island and its history, take one of the many tours around the city. Each tour offers something unique and gives visitors a glimpse of Galveston that encompasses more than just the sand and waves. Tours include the Taste of the Strand, 1895 Moody Mansion, SegCity Tours, various boat tours, walking and riding tours, and ghost tours of local haunted spots for the brave of heart. One of our personal favorites is a dolphin tour, where families can take a ride around Galveston Bay and watch the dolphins jump during an entertaining boat ride.
Related: Family Fun at Port Aransas: Best Kid-Friendly Things to Do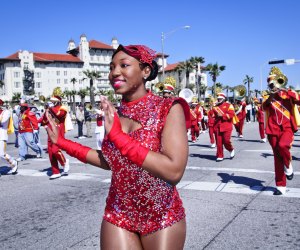 Galveston Mardi Gras is an annual highlight. Photo by Kim Christensen
When planning a trip to Galveston, be sure to check the calendar for any festivals or special events that the island may be hosting. Notoriously, Mardi Gras! Galveston held in February of each year is the festival to end all festivals in Galveston and features plenty of family-friendly parades and festivities. Also popular for families are the Galveston Greek Festival each fall, Dickens on the Strand at Christmastime, and the Galveston Island Beach Revue to kick off summer.
Whether it's in the bay, along the surf, or off a pier, there are plenty of places to cast a line and spend the day fishing with the kids in Galveston. Looking for something more intense? Consider making a day of it by booking an off-shore fishing trip, where it's not unusual to catch large tuna and marlins. The kids may not be strong enough to reel in the giant fish by themselves, but the experience is one that will last a lifetime.
If you're looking for a water experience sans the sand, look no further than Schlitterbahn Galveston. The water park has a variety of rides for all age levels, kids areas and beaches, a lazy river, heated pools, and more, including MASSIV, the world's tallest water coaster. You can also rent cabanas for the day, so you have a place to come back to and relax and recharge. There are more than 16 different food and beverage vendors throughout the park, though patrons are welcome to bring in picnic meals as well. Tickets are sold as one- or two-day passes and season passes.

Photo courtesy of Galveston Artwalk
Did you know that Galveston has a thriving art scene? If you are an art-loving family, head to one of Galveston's many art galleries to view works by local artists, as well as imported pieces. Most of the studios are kid-friendly, but at Clay Cup Studios kids can make their own pottery and paintings. At various times throughout the year, businesses on The Strand display local artwork on Saturday nights as part of Galveston's ArtWalk.
There are so many family-friendly dining options to choose from in Galveston, many with waterfront views. Try favorites like The Spot for a great burger, Tortuga's for delicious Tex-Mex, or Willie G's for seafood and to watch the cruise ships set sail. If you happen to be in Galveston during the winter months, be sure to check out the restaurants participating in Galveston Restaurant Weeks to enjoy a great meal at a discount for a good cause.
Related: Fun Summer Day Trips for Houston Families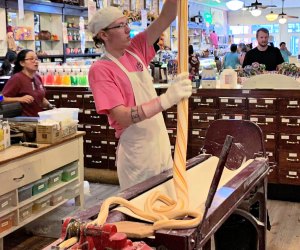 Making taffy is mesmerizing to watch. Photo courtesy of La Kings Confectionery
Downtown Galveston, known as The Strand, gives visitors a chance to kick off the sand and walk around while perusing shop-lined streets. You'll find a variety of novelty stores full of knick-knacks and memorabilia, restaurants and bars to grab a bite to eat or a drink, and every kid's favorite stop: La King's Confectionery, where there's an endless selection of candy, antique arcade games, a 1920s soda fountain, ice cream, and even Salt Water Taffy-pulling demonstrations. No visit to Galveston is complete without a stop at La King's!
Many of our favorite spots to visit around town happen to also be amazing places to get cute Instagram-worthy photos of kids. Several murals are located in The Strand district, along the Seawall, and at other locations throughout the island.

Schedule a stop at the Railroad Museum. Photo courtesy of Galveston CVB
In Galveston, there is no shortage of museums to visit, whether you're a kid or kid at heart. If you're visiting with little ones, you won't want to miss the Galveston Children's Museum. Here, interactive, hands-on exhibits are geared towards youngsters from ages 2-10. From a tinker workshop and a building zone to an arts studio and more, your kiddo is sure to have a great time learning and exploring while also beating the Galveston heat.
Looking for something different, fun, and free to do? Take a ride with the kids on the Galveston Island Ferry. Passengers are allowed to walk on (as well as drive) and the kids can have a blast looking for fish, dolphins, boats, and birds as you travel to and from Bolivar Peninsula. Round-trip, the whole excursion takes less than 40 minutes.
Three Galveston splash pads have caught our eye as being excellent places to cool down after a day in the sun - and as an added bonus, they're all free! Menard Park is the perfect place to play when you're fresh from the beach and need to rinse off sandy kids. For dumping buckets and fun spray jets, kiddos love to splash at the Wright Cuney Recreation Center, which features a playground and covered picnic tables along with the sprayground. Schreiber Park's splash pad showcases an airplane amid water jets that shoot up from the ground.

Photo courtesy of the Seaport Museum
Give the kids a history lesson when you visit Galveston's historic seaport, where you'll find the Tall Ship ELISSA, a square-rigged iron barque that dates to 1877. This ship museum offers guests an inside look into the island's storied immigration history. Climb aboard to follow in the footsteps of early immigrants as you get an up-close look at what it was like to travel the seas and arrive at the bustling port city in the 1800s.
Galveston, once known as the Wall Street of the South, is home to historic mansions that are open for tours. At the 1892 Bishop's Palace, families are welcome to walk through the Victorian home on a self-guided tour for a peek into the past. The 28,000-square-foot Moody Mansion dates to 1895 and lures history buffs to tour 20 rooms furnished and decorated with the personal belongings of the Moody family.
Located on Pelican Island, Galveston's Seawolf Park features an array of interesting tourist attractions, like the USS Cavalla, a WWII submarine located at the Galveston Naval Museum, along with a playground and picnic sites. However, its biggest draw is the park's public fishing pier, where you can angle for flounder or drum with the kiddos while taking in views of WWI tanker S.S. Selma.
All aboard for a ride through time when you visit the Galveston Railroad Museum, which showcases approximately 40 real-life rail cars, a fully restored 1932 train depot, model trains, and more for kids and grownups alike. The Art Deco decor and 1930s-era style sets the tone and makes for an unforgettable Galveston experience the whole family will enjoy. For a thrill, hop aboard a locomotive for a ride before you go.

Photo courtesy of The Bryan Museum
20. Get a Glimpse of Early Texas and the American West at The Bryan Museum
Get the kids a fascinating Texas history lesson at The Bryan Museum, which features roughly 70,000 items spanning more than 12,000 years - one of the world's largest collections of artifacts showcasing early Texas and the American West. Saddles, spurs, fine art, Native American tools, and more lead visitors on a chronological journey through the history of Texas and the West, starting with Native American artifacts belonging to the land's original residents and ending in the 21st century.

This post originally published in 2017.
Click Here to Sign Up!