Family Fun at Port Aransas: Clean Beaches, Fishing & More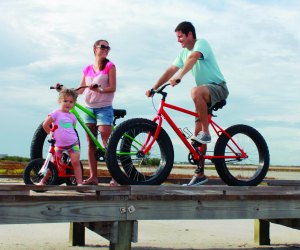 When it comes to beach getaways, we regularly pack up and head down to nearby favorites like Surfside and Galveston Island, sometimes for a day trip, other times for a longer weekend stay. However, it rarely feels like an actual vacation because it's so close to home and so easy to do. So when we're in the mood for a longer family-friendly beach vacation, our destination is always the same: Port Aransas. Clocking in at almost four hours away, it's far enough from home to truly feel like we're getting out of town and packed with plenty of coastal town charm and activities that appeal to all family members.

Endless stretches of sand make for endless fun./Photo by Rachael Cherry
Sink your toes in the sand
You're in Port Aransas, which means you came for the beach, right? It'd be remiss if we didn't talk about that first! While the beaches aren't full of white sand and crystal clear water like a Caribbean getaway, they are a step up from what we've come to expect in Galveston. On our last trip we skipped the summer months and headed down in September and the wait was well worth it; we enjoyed large stretches of the beach to ourselves, giving my son plenty of space to run like crazy, build the requisite sand castles, and thoroughly wear himself out. (Worth noting: parking on the beach from Marker 0 to Marker 62 requires a $12 beach permit, however, there is a free stretch from Marker 52-58.)
Travel by golf cart
When you visit the island, one of the first things you notice is that cars are not the preferred method of transportation. People walk, bike, and drive golf carts everywhere, and - in my humble opinion - renting a golf cart is the way to go! What better way to zip to and from the beach with the kids and all your beach gear in tow? There are no shortage of places to rent golf carts from, either, so just take your pick from the masses when you get down there.
Related: 8 Texas Lakes to Visit for Unforgettable Family Getaways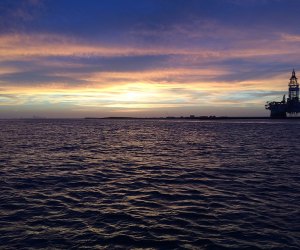 Sunsets are unparalleled when they're over the water./Photo by Rachael Cherry.
Ride the ferry at sunset
When you come into Port Aransas you have to board the ferry by car and make a quick trip across Aransas Pass to reach the island. The trip takes less than 10 minutes, and it's not uncommon to spot dolphins playing in the channel as the ferries travel back and forth, making the short ride infinitely more interesting. You can also board the ferry by foot, which we've done several times near sunset, and the result is always stunning. Not only are the views incredible, but it's fun for the kids and you can often see schools of redfish swimming at each end of the channel.
Deep Sea Fishing
While I personally haven't done the deep sea fishing trips (just give me the beach and a book!), my husband, dad, father-in-law, and brother all went on a fishing tour through Deep Sea Headquarters and had a blast. They offer a variety of tours, ranging from a 3.5-hour bay tour (this or the summer 5-hour tour is the longest trip I would tackle with small kids!) to 24 and even 30-hour fishing trips. Our crew opted for the 5-hour tour and came back with a nice haul of fish, some sunburned noses, and lots of smiles.
Related: 9 Best Florida Beach Vacation Destinations for Families

Roberts Point Park is always worth a playtime pitstop!/Photo by Rachael Cherry.
Roberts Point Park
Nearby the ferry landing on the Port Aransas side of the channel is a 50-acre waterfront playground named Roberts Point Park, and it's always worth a stop for some playtime before walking over to the ferry. In addition to standard playground equipment, there are also covered pavilions perfect for picnicking, jetties for fishing, an observation tower that gives a sweeping view of the ship channel, and the Patsy Jones Amphitheater, which hosts free concerts on the second Friday of each month from April to October.
Eat fresh seafood
Duh. You're in a coastal town, how could you not dine on fresh seafood? Popular favorites include places like Virginia's on the Bay and Trout Street Bar & Grill, and we've eaten at both and can attest to their tastiness. However, we also thoroughly enjoy finding places that will cook your catch, with our personal favorite being Kody's. Not only do they serve up delicious food and cook any fish you bring in, they also have a miniature golf course outside and a handful of arcade games for the kiddos to play while you're waiting.
This is just a taste of what Port Aransas has to offer, and we have some exciting activities on our list for the next time we come back, most notably a stint on the Red Dragon Pirate Ship Cruise, which features everything from sword fighting to storytelling and treasure hunting, a dedicated dolphin sightseeing adventure through Scarlet Lady Dolphin Tours, and maybe finally snapping the ultimate tourist picture in the infamous Port A shark mouth.
Top photo courtesy Port Aransas CVB