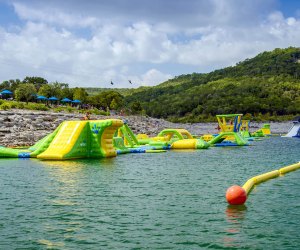 8 Texas Lakes To Visit for Unforgettable Family Getaways
It's written on every Texan's heart: Summertime is lake time (or river time, pool time, any area of water that will cool down your core body temperature time). While we love a day out at a fun water park, there is just something special about relaxing on the banks of your favorite man-made lakes - if you aren't a native Texan, don't judge us for this; we live in a mostly flat state - or riding the waves on a jet ski or tube. As a native Houstonian, I've spent at least one summer at these spots around the Lone Star State because they are beautiful and full of things for kids and adults to do.
Lake Travis - Central Texas
Drive from Houston: 3 1/2-4 hours depending on point of access/neighborhood
Why we love it: Lake Travis is simply stunning. It's a great lake for boating (and there are plenty of ways to rent), has numerous parks for swimming and playing - including one of our family favorites, Mansfield Dam Park. There are campgrounds and nearby hotels in Marble Falls, Lakeway or Lago Vista (Austin is close but not close enough unless you don't mind a 30-45 minute drive to and from your accommodationsns). It's also home to inflatable waterpark Waterloo Adventures (pictured above). Our recommendation - find a rentable vacation home in one of the many neighborhoods that hug the lake.
Related: Summer Day Trip Ideas for Houston Families
Possum Kingdom Lake - Caddo (west of Fort Worth)
Drive from Houston: 5 1/2 hours
Why we love it: Possum Kingdom Lake is fed by the Brazos River and is home to one of our favorite state parks, Possum Kingdom State Park. The campground is pristine, and you can spend all weekend out on the water exploring the various inlets and coves. Lake Mineral Wells State Park and Trailway is nearby where you can hike to beautiful views of the river and lake.
Related: Ultimate Guide to Visiting Schlitterbahn - New Braunfels With Kids
Lake Lewisville - Denton
Drive from Houston: 4 hours
Why we love it: It's surrounded by thousands of acres of protected nature. How awesome is that? Another man-made reservoir, the lake is one of the largest in North Texas and has plenty of places for dropping a boat in, camping, and fishing. It's also home to Westlake Park, which is the perfect place to sit back, relax, and soak up the sun.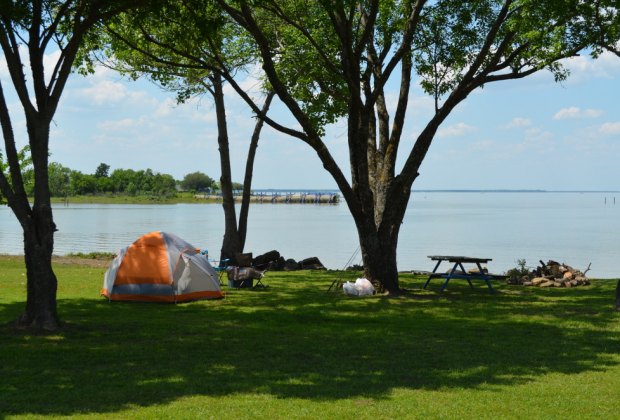 Tent camping off Lake Tawakoni/Photo courtesy LakeTawakoni.org
Lake Tawakoni State Park - Greenville (east of Dallas)
Drive from Houston: 4 hours
Why we love it: This massive reservoir may not be largely known by South Texans, but it's seriously huge. We like that it's surrounded by lush tress (lush by Texas standards, anyway) and therefore offers lots of great hiking opportunities. Fishing is big here as well as mountain biking, and it's within driving distance to Dallas and Fort Worth for other attractions.
Related: How to Make the Most of a Trip to Moody Gardens
Canyon Lake - New Braunfels
Drive from Houston: 3 1/2 hours
Why we love it: Located in the Texas Hill County off the Guadalupe River, the beautiful man-made lake (by the U.S. Army Corps of Engineers to provide flood control) houses several parks, trails, and you can even spot a set of dino tracks. You can spend the night at Yogi Bear's Jellystone Park, which is an award-winning park with an awesome water area with slides and pools as well as other fun, kid-friendly amenities. Plus, it's close enough to New Braunfels to enjoy the town's amenities, including Schlitterbahn.
Lake Buchanan - Central Texas
Drive from Houston: 3 1/2 hours
Why we love it: Lake Buchanan is fed by the Colorado River and is easily one of the most picturesque bodies of water in Texas. It's another man-made reservoir, but it's typically stocked full of fish and is a great place to kayak to take in its many coves, inlets, and cliffs for jumping. Plus, Buchanan Dam was the longest multiple-arch dam in the United States when it was built in 1938, so it's definitely worth a visit.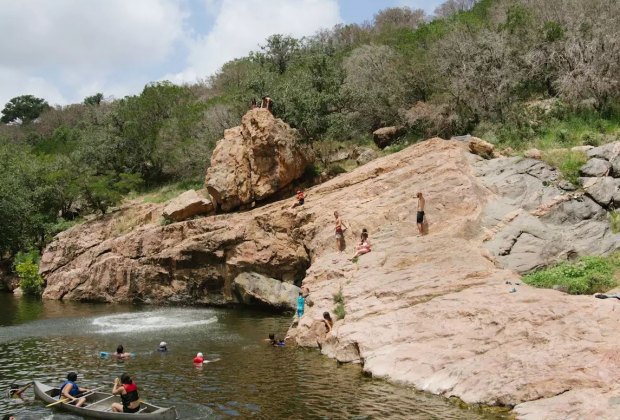 Jumping into Inks Lake/Photo courtesy HipCamp
Inks Lake - Burnett
Drive from Houston: 3 1/2 hours
Why we love it: Some of my favorite childhood camping memories center around Inks Lake. It's simply stunning. It offers more visually appealing swimming areas (and more accessible, shallow areas) than many other lakes and reservoirs in the state as well as cliff jumping opportunities! Our favorite Inks Lake State Park is the perfect place to stay where access points to the lake are typically steps away from campsites.
Lake Whitney - Hill Country (north of Waco)
Drive from Houston: 4 hours
Why we love it: There are several parks off the banks of this lake where you can play and enjoy the water. Lake Whitney is another man-made reservoir fed by the Brazos River. You can stay at Lake Whitney State Park, where there are plenty of camping spots and cabins as well as day use areas on the lake. Boat over to one of the many low-hanging cliffs for some diving! It's also a great area to spot all kinds of wildlife.
Top photo: Waterloo Adventures on Lake Travis. Photo courtesy Waterloo Adventures
This post originally published in 2018.