9 Things to do in New Braunfels, TX with Kids Besides Schlitterbahn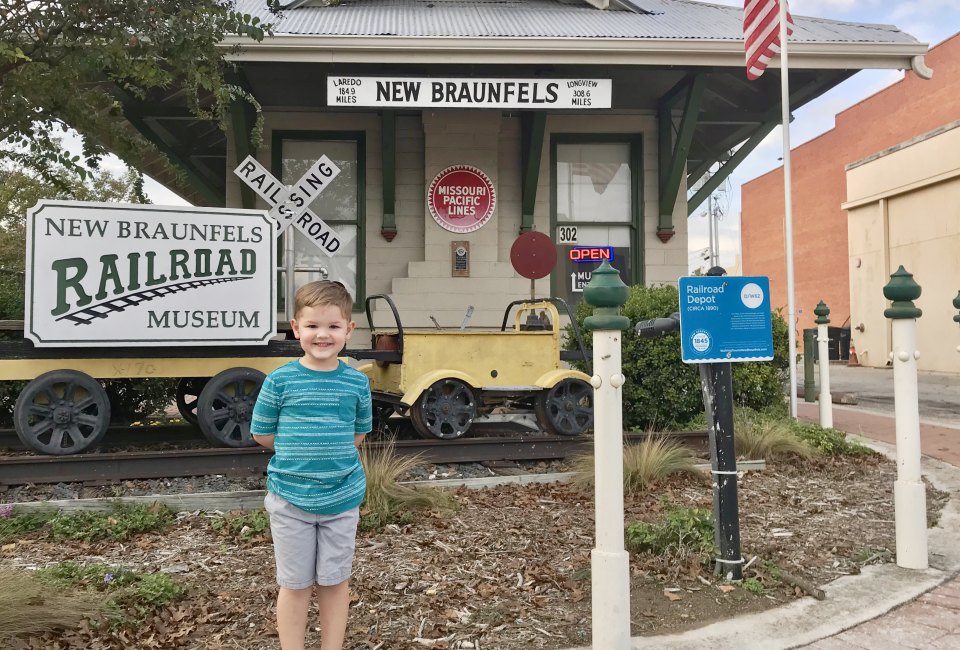 4/6/18
- By
Ashley Jones
Located just about three hours west of Houston, the historic town of New Braunfels is a hot spot for weekend getaways. This is especially true during the spring and summer months when Texan families flock to the iconic original Schlitterbahn Waterpark. While we absolutely love slipping and sliding down the signature tube chutes at Schlitterbahn, during our last few family trips to New Braunfels we have discovered many of the other family-friendly activities that this quaint town has to offer. No trip to the hill country is complete without swimming, hiking, or floating at the area's many lakes and rivers, but we found that these activities really go above and beyond what you'll find on a typical vacation itinerary.
Whether you want to explore an underground cavern, peruse a museum, or catch a drive-in movie, New Braunfels has it all. From toddlers to teens and anyone in between, there is plenty to discover for everyone in your family the next time you visit the New Braunfels area.
Animal World and Snake Farm Zoo
5640 IH 35 South
830-608-9270
Once known as simply "The Snake Farm," this attraction has grown over the years from a small reptile farm into a full blown 500-species zoo featuring lions, zebras, primates, birds, and more in a very well maintained indoor/outdoor space. The venue's set up allows visitors to get much closer to the animals than a typical large-scale zoo (like the popular Houston Zoo) and there is even a petting zoo with extremely friendly llamas, goats, and pigs. Conservation and education are a main focus of the zoo, and zoo workers often walk around to introduce the animals to visitors. The reptiles are housed inside where rows and rows of slithering snakes inside of glass cases can keep kids occupied while giving everyone a break from the heat. Visitors can even sneak a peek at real Texas rattlesnakes in the indoor rattlesnake pit! Even if you're not a reptile fan and plan to spend most of your time with the animals outdoors, this fun spot is still worth every penny.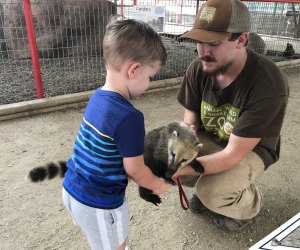 Animal experts at Animal World and Snake Farm Zoo allow visitors to get up close and personal with zoo animals.
New Braunfels Railroad Museum
302 W. San Antonio St.
1-800-627-2447
We're huge museum fans, and our three-year-old is an even bigger train fan, so this FREE museum was at the top of our to-do list during our most recent trip. The museum guides are helpful and friendly, taking their time to explain the history behind the extravagant working model train collections. A toy train table and coloring pages are available to occupy younger children, while adults and older kids can take a look at vintage train memorabilia in glass cases. Visitors can explore real rail cars with interiors that have been preserved to capture what it was like to ride these trains in their heyday. While the museum itself is on the smaller side, it is jam-packed full of interesting and well-preserved artifacts, rivaling the collections of larger railroad museums like the ones in Galveston and Rosenberg.
Texas Ski Ranch
6700 IH 35 North
830-627-2843
Where can you learn to snowboard, wakeboard, wakesurf, and skateboard all in on place? At Texas Ski Ranch! This is a great option for adventurous families with slightly older kids. One of the most unique activities is the snowhill featuring moist turf that simulates the feeling of being on a hill with real snow. This gives Texans a great opportunity to learn how to use snow sport equipment without having to travel out of state. Most activities have equipment available to rent, or you can bring your own if you have it. Lessons are also available, but make sure that you schedule well in advance. Texas Ski Ranch is also home to Blaster Park, a paintball arena where in addition to traditional paintball, kids as young as five can get in on the action with Nerf guns. Also located at the facility is Spring Loaded Trampoline Park where kids ages 6 and up can jump any time, and youngsters get their very own hour to jump on Saturdays at 10 a.m.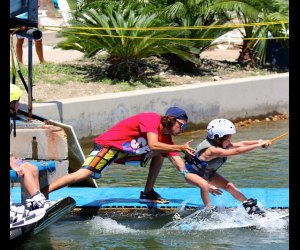 Wakeboarding lessons at Texas Ski Ranch/ Photo Courtesy Texas Ski Ranch
Natural Bridge Caverns
26495 Natural Bridge Caverns Road
210-651-6101
Although it's technically right outside of the New Braunfels city limits, Natural Bridge Caverns has been a favorite spot of mine since going with my grandparents when I was a kid. It is definitely worth a visit if you're in the New Braunfels area. Exploring the underground caverns is an exciting adventure for all ages. There are a variety of tours to choose from, including tours lit by lantern light and tours that crawl through hidden passages, but each tour through the caverns includes a guide to educate your group about the amazing rock formations. Also at Natural Bridge Caverns, you'll find a one-of-a-kind maze to explore, an area to mine real gems and stones, a zip line, and a canopy ropes course with options designed for kids as well as adults. Natural Bridge Caverns often hosts special events, and during the summer guests can take a tour a few miles from the caverns to see the world's largest bat colonies at Bracken Cave.
McKenna Children's Museum
801 W. San Antonio St.
830-606-9525
This hands-on museum is perfect for pint-sized fun! Kids can explore a multitude of exhibit areas featuring grown-up activities like a grocery store, doctor's office, bank, an indoor campground, and a ranch that have been sized-down to be perfectly accessible for the littlest learners. The museum's aquarium exhibit features fish, turtles, and even an alligator. In the Great Outdoors exhibit, kids will love climbing on a child-sized rock wall and giant disc structure; not to mention playing in the massive water table filled with activities like faux fishing, water wheels, and spray tubes. If your kids love the children's museums in Houston, The Woodlands, and Galveston, the New Braunfels location is a must-do. Be sure to check out their calendar before you go to see what special activities might be happening during your visit.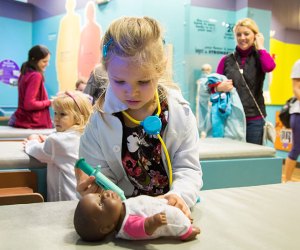 Playing doctor in the kid-sized hospital nursery at McKenna Children's Museum/ Photo courtesy McKenna Children's Museum
The Gristmill Restaurant
1287 Gruene Road
830-625-0684
No trip to New Braunfels would be complete without a trip to the famous Gristmill Restaurant in the Gruene Historic District. Their menu features an eclectic mix of home-cooked Texas favorites like chicken fried steak, fried catfish, bacon wrapped filet, and mouth-watering burgers. The thing that sets this restaurant apart is not the amazing food selection, but the gorgeous oak trees and sweeping views of the Guadalupe River. Make sure to ask to be seated outside so that your kids can catch a glimpse of the ever-present wildlife on the river banks. The famous Gruene Hall, Texas' oldest dancehall, is right next door and charming shops are located nearby, so you're sure to find plenty to keep your family occupied if you have to wait a bit for a prime table.
Landa Park
164 Landa Park Drive
830-221-4000
This sprawling park is located in the heart of downtown New Braunfels. If you have a little fire truck lover in your family, they're sure to enjoy romping around on the kid-sized fire engine playground at Landa Park. There is also a larger playground area with slides and tunnels located adjacent to the fire truck. During the spring and summer months, a miniature train runs throughout the park and a mini golf course is open with 18 total holes to play, including 9 that are handicap accessible. Another major draw to the Landa Park area is Landa Lake where families can rent paddle boats to explore the lake. There are also ample spots for picnicking throughout the park including multiple tables, several covered pavilions, and barbeque pits. A sand volleyball court and horseshoe pit are also available for use at the park.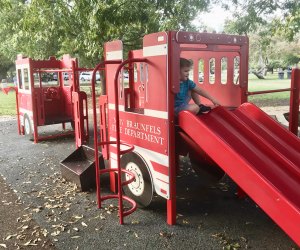 Playing on the fire truck playground at Landa Park.
Fischer Park
1935 Hilltop Summit Road
830-221-4378
Another destination park in New Braunfels is Fischer Park. Home to the Fischer Park Nature Education Center, two fully stocked fish ponds and a Monarch butterfly station are located on the property, as well as an archeological dig sand pit where kids can hunt for replica fossils in the sand. The outdoor amphitheater at Fischer Park features live music and performances throughout the year. A FREE splash pad and spray park on the park grounds is the perfect place for kids to play while cooling off in the Texas heat. The park also features more than two miles of hiking and biking trails, a playground area, and multiple picnic spots, making it the perfect place for the entire family to explore.
Stars and Stripes Drive-In Theatre
1178 Kroesche Lane
830-620-7469
This throwback theater is the perfect retro movie experience for the whole family. Cruise up to a giant outdoor screen and catch a flick from the comfort of your own vehicle (or lawn chairs outside of it) while the movie's sound streams through your car radio. Stars and Stripes admission includes a double feature, so you'll get to see two brand new movies in addition to enjoying the old-school movie-going experience. A full-service snack bar called the 50's Cafe serves burgers, shakes, popcorn, and even funnel cakes that you can enjoy in your car or at picnic tables located by the cafe. Arriving early to get a front-row spot is crucial, but if you're worried about restless kids waiting for the show to start, there is a playground on site to keep them entertained before the movie.
Top Photo: Outside of the New Braunfels Railroad Museum/Photos by the author unless otherwise noted