Restaurants Open on Christmas in Houston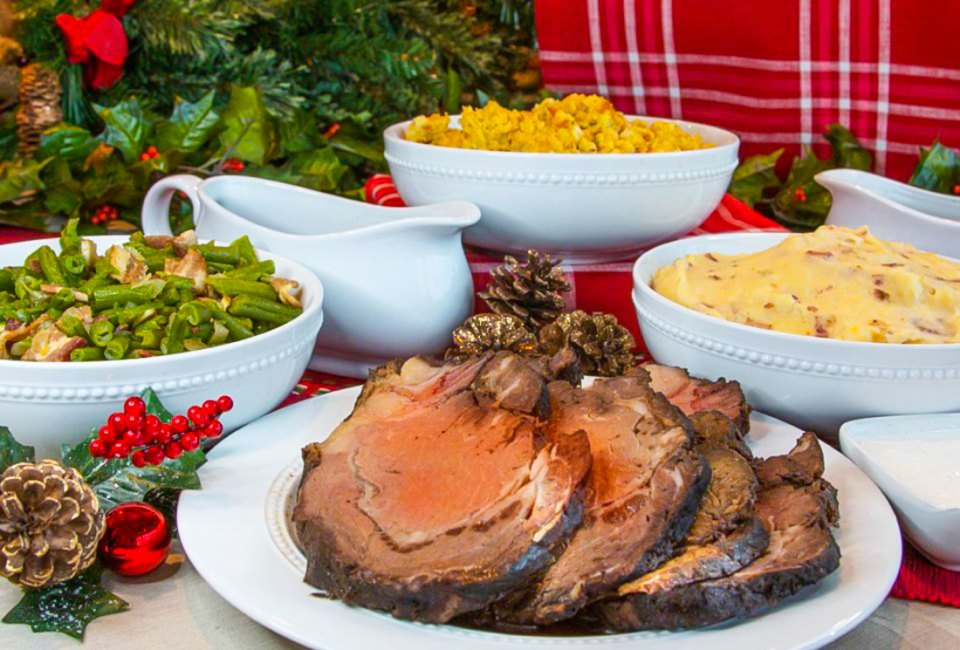 12/11/22
- By
Rachael Cherry
Looking for restaurants open on Christmas in Houston? We have a list of restaurants open on Christmas in Houston.
Instead of spending hours in the kitchen this festive season, why not de-stress and save your energy for playing with the kids and head to one of many restaurants open on Christmas in Houston. There's no shame in tucking away that KitchenAid; Houston has plenty of restaurants open on Christmas with both dine-in and take-out options. Check ahead with the restaurant to confirm their hours and reservation policies.
While you're here, don't forget to visit our holiday guide, which has been updated with plenty of yuletide fun.
Restaurants Open on Christmas in Houston

King Ranch Texas Kitchen is open on Christmas. Photo courtesy of King Ranch Texas Kitchen
1605 Post Oak Blvd
Feast at this restaurant, with a ranching history and saddle shop, that's full of Texan classic dishes. Open Christmas Eve 11 a.m.-7 p.m. and Christmas Day 12 p.m.-7 p.m.
Enjoy breakfast all day long at Black Bear Diner for dine-in or pickup. You can go the breakfast route with bacon, eggs, and pancakes, choose traditional meals like roasted turkey, and sample Texan favorites such as chicken fried steak. There is a separate Cubs menu for the kids.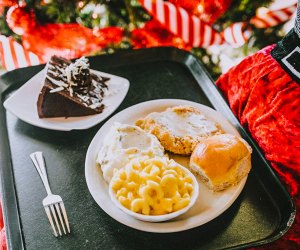 Photo courtesy of Luby's
Luby's - Various locations
If you're looking for a relaxed family dining experience this Christmas Day, you'll want to take the family to Luby's. Guests can enjoy all of their standard buffet favorites as well as a few holiday specials. Luby's offers family packs to-go to dine at home without the stress of cooking for a crowd. Holiday hours vary by location, so be sure to call ahead to your local restaurant.
Enjoy home-cooked flavors up to 24 hours a day at this Houston landmark establishment. There are six locations around Houston. All breakfast, lunch, and dinner options will be available all day on Christmas Day. For dessert, choose from one of the largest selections of pies and cakes in the area. Don't forget that there are no call-ahead pie orders Christmas week, it's turn up and buy. Try a seasonal favorite like Pumpkin Cheesecake, or a Southern staple like Texas Pecan Pie. Seating on Christmas Day is also first come, first served.

Photo courtesy of Fogo de Chao
Fogo de Chao - Uptown, Friendswood, and The Woodlands
For a fun twist on traditional Christmas dinner fare, try dining churrasco-style at Fogo de Chao. The restaurant offers unlimited servings of various cuts of different types of meat including beef, pork, chicken, and lamb. Also includes is a fresh salad bar and Brazilian side dishes like garlic mashed potatoes, caramelized bananas, and crispy polenta. It's advisable to make a reservation during the holiday season.
Denny's - Various locations
When it comes to being kid-friendly, Denny's is a slam dunk in the restaurant arena. The laid-back atmosphere is perfect for a relaxing Christmas Day meal with the family, and the breakfast, lunch, and dinner options are sure to satisfy even the pickiest eaters. Christmas Day hours vary by location.

Waffle House Santa Claus illustration courtesy of the Waffle House Facebook page
Open 365 days a year, 24 hours a day, Waffle House will be a restaurant serving up your favorites for breakfast, lunch, and dinner this Christmas Eve and Christmas Day. The kids' menu is sure to please with options like grilled cheese, burgers, and waffles - of course!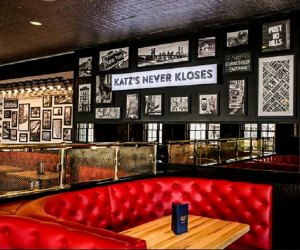 Katz's Never Kloses, even on Christmas. Photo courtesy of Katz's Deli Houston.
Katz's Deli - Montrose, The Woodlands, Uptown, and The Heights
Katz's never closes...even for Christmas! Enjoy some casual New York street-style fare to celebrate the holidays this year. With a wide variety of sandwiches, soups, salads, burgers, and pastas to choose from, Katz's Deli has something for everyone in your family. The kids' menu includes classic favorites such as cheese pizza and spaghetti and meatballs. Open 24 hours on Christmas Day with regular menu pricing.
The Aquarium in Kemah will be open for regular service on Christmas Day, so you can enjoy a delicious meal as well as the attractions! The Downtown location is hosting a prix fixe Christmas dinner with a three-course menu of traditional holiday fare priced for both children adults. Kids will enjoy the fish tanks as they munch through the menu options. Reservations are required.
Enjoy a special Christmas Day meal at Saltgrass Steakhouse with a recommended bone-in cowboy ribeye among the full menu offerings. Reservations are recommended, but not required. Opening hours vary by location, so call ahead to check.

Try the Christmas Volcano! Photo courtesy of the Rainforest Cafe
On Christmas Day, have the ultimate kid-friendly experience at Rainforest Cafe in Galveston or Katy. Enjoy holiday classics on their prix fixe Christmas menu while your kids take in the sights and sounds of the restaurant's signature rainforest decor. In December 2022, enjoy Cha! Cha!'s Christmas Volcano, a giant, rich chocolate brownie cake stacked up high, served warm with vanilla ice cream, creamy peppermint whipped topping, Christmas candy, and raspberry and chocolate sauces all stacked up to look like a volcano.
#5 Kemah Boardwalk
Spend Christmas day taking in a seaside view when you dine at Bubba Gump Shrimp Co. on the Kemah Boardwalk. Open 1 p.m. - 7 p.m.

Chicken Parmesan is on the Christmas Day menu at Romano's Macaroni Grill, photo courtesy of the restaurant
1155 Lake Woodlands Drive
Romano's Macaroni Grill in The Woodlands will be serving an authentic Italian feast from 12 - 8 p.m. on Christmas Day this year. The full dinner menu is available. You can dine-in or carry out.