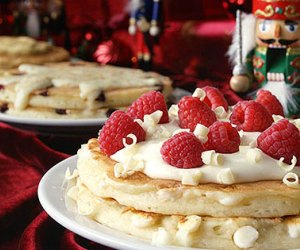 Kid-Friendly Restaurants Open on Christmas Day in Houston
Gathering around the table with family and friends to enjoy a festive meal is a hallmark of the holiday season, and one that is often enjoyed multiple times throughout the November and December months due to Thanksgiving and Christmas occurring in rapid succession. However, having two big holidays so close together can become overwhelming for even the most dedicated cook, and there's no shame in needing a break from the kitchen come Christmas Day (and no judgment on our part if you treated yourself to a Thanksgiving dinner out, too!).
We've rounded up a variety of restaurants around Houston that are opening their doors on Christmas Day, spanning everything from fancy brunches to low-key diners, so you can take a break from the kitchen and enjoy a meal out with the family. And don't forget to check out our holiday guide for more events and things to do during the season and our Houston Restaurant Guide for more of the best places to eat with kids.
Luby's - Various locations
If you're looking for a relaxed family dining experience this Christmas Day, you'll want to take the family to Luby's. Guests can enjoy all of their standard buffet favorites as well as a few holiday specials, such as an apple cranberry pork chop and prime rib. Luby's is also offering holiday feasts to go for families wanting to dine at home without the stress of cooking for a crowd. Holiday hours vary by location, so be sure to call ahead to your local restaurant for holiday hours. Find the full holiday takeout menu here.
House of Pies - Uptown and Edgebrook
Enjoy home-cooked flavors 24 hours a day at this Houston landmark establishment. There are three locations in the city. All breakfast, lunch, and dinner options will be available all day Christmas Day. For dessert, choose from one of the largest selections of pies and cakes in the area. Try a seasonal favorite like Pumpkin Cheesecake, or a southern staple like Texas Pecan Pie. Seating on Christmas day is first come, first served.
Hotel Galvez - Galveston
2024 Seawall Blvd., Galveston
Spend Christmas Day by the sea enjoying brunch at Hotel Galvez. Traditional brunch menu items will be available, as well as a selection of chef specials. Seating for brunch starts at 10:30 a.m. and continues every hour on the hour until 6:30 p.m. Reservations for this festive event are highly recommended. Brunch pricing is yet to be announced as of December 3, 2019.
RELATED: Breakfast, Brunch & More with Santa for Houston Kids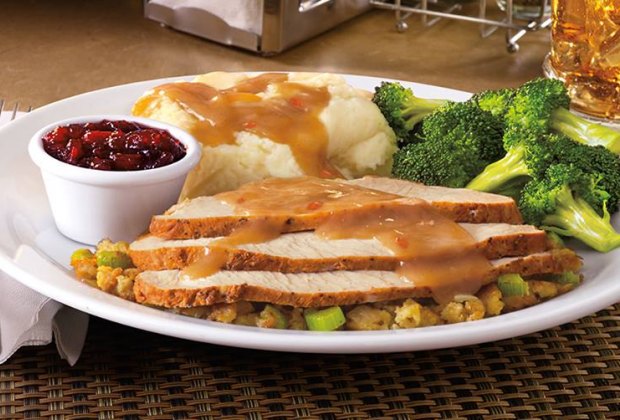 Photo courtesy Denny's
Fogo de Chao - Westchase and The Woodlands
For a fun twist on traditional Christmas dinner fare, try dining churrasco-style at Fogo de Chao. The restaurant is offering unlimited servings of various cuts of different types of meat including beef, pork, chicken, and lamb. Also includes is a fresh salad bar and Brazilian side dishes like garlic mashed potatoes, caramelized bananas, and crispy polenta. Christmas day hours will be 11 a.m.-9 p.m. and reservations are recommended. Regular dinner pricing all day. Kids 6 and under eat FREE.
Brenner's - Various locations
Whether it's brunch you're interested in or an evening out, Brenner's has you covered. The popular restaurant will be open from 11 a.m.-7 p.m. Guests will be able to take advantage of all of the delicious menu items that have made this a Houston hotspot, as well as indulge in some holiday-themed features. Reservations are not required, but they are highly recommended.
Moody Gardens Hotel - Galveston
7 Hope Blvd., Galveston
Families can enjoy a Christmas day brunch buffet in the Frances Moody Ballroom at the Moody Gardens Hotel. Made-to-order omelet and waffle stations are the stars of the Christmas Day brunch buffet, as well as a carving station serving prime rib, smoked pork rack, and snapper. Complimentary mimosas and bloody marys will be served. Brunch will be served from 11 a.m.-2 p.m. Brunch pricing is $55 for adults, $45 for seniors, and $27 for children ages 4-12. Kids 3 and under are FREE.
1600 Bar + Grille - Downtown
1600 Lamar, Houston
Located in the gorgeous Hilton Americas-Houston hotel, this upscale casual dining restaurant offers farm-fresh ingredients with a Texas twist on classic American dishes. For Christmas Day, they will be offering a a breakfast buffet until 1 p.m., but will offer special Christmas Day menu items like bone-in short ribs starting at 11 a.m. Breakfast buffet is $45 per person with the option to purchase lunch or dinner entrees a la carte. Reservations are recommended.
Denny's - Various locations
When it comes to being kid-friendly, Denny's is a slam dunk in the restaurant arena. The laid-back atmosphere is perfect for a relaxing Christmas Day meal with the family, and the breakfast, lunch, and dinner options are sure to satisfy even the pickiest eaters. Limited time holiday meal options include cinnamon roll pancakes and a turkey and dressing dinner. Christmas Day hours vary by location.
Waffle House - Various locations
Open 365 days a year, 24 hours a day, Waffle House will be serving up your favorites for breakfast, lunch, and dinner this Christmas. The kids' menu is sure to please with options like grilled cheese, burgers, and waffles- of course!
Katz's Deli - Various locations
Katz's never closes...even for Christmas! Enjoy New York street-style fare to celebrate the holidays this year. With a wide variety of sandwiches, soups, salads, burgers, and pastas to choose from, Katz's Deli has something for everyone in your family. The kids' menu includes classic favorites such as cheese pizza and spaghetti and meatballs. Open 24 hours on Christmas day with regular menu pricing.
The Aquarium - Kemah and Downtown
The Aquarium will be open for regular service from noon to 7 p.m. on Christmas Day. It's a perfect time to enjoy a delicious meal with family and friends, as well as participate in the various attractions at the restaurant's two locations. Reservations are required.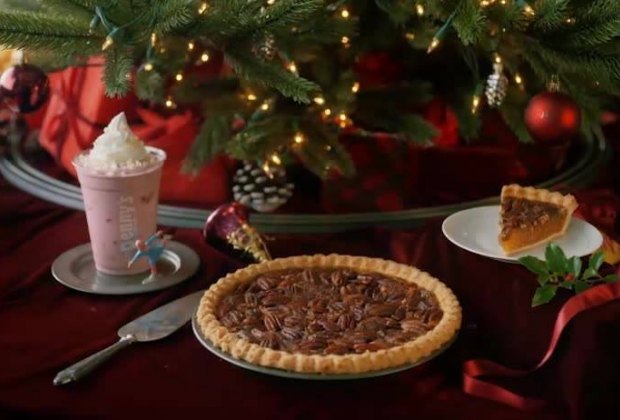 Photo courtesy of Denny's
Radio Milano - CityCentre
800 Sorella Court, Houston
Indulge in authentic Italian fare at Radio Milano's Christmas Day brunch. A full buffet complete with cooked-to-order pasta, a carving station, fresh fruit, salad bar, and a selection of mini desserts is sure to please your entire family. The buffet is available from 10 a.m.- 3 p.m. Walk-ins are welcome, but reservations are highly recommended. Brunch buffet is $40 for adults and $20 for kids ages 10 and under.
Saltgrass Steakhouse - Various locations
Enjoy a special Christmas Day menu at Saltgrass Steakhouse complete with chicken and seafood selections, a variety of hearty steak options, and your choice of pecan pie or bread pudding for dessert. Reservations are recommended, but not required. Most locations will be open from 11 a.m.- 4 p.m., but the Kemah Boardwalk location will be open until 7 p.m.
Rainforest Cafe - Galveston
5310 Seawall Boulevard, Galveston
On Christmas Day, have the ultimate kid-friendly experience at Rainforest Cafe in Galveston. Order classic favorites off of their regular menu while your kids take in the sights and sounds of the restaurant's signature rainforest decor. Rainforest Cafe will be open 11 a.m.- 7 p.m. on Christmas day.
Grotto - Westheimer and The Woodlands
While not all locations will be operating on Christmas day, both the Westheimer and The Woodlands Grotto restaurants will be serving their authentic Italian menu on Christmas day this year from 11 a.m.- 7 p.m. Reservations are highly recommended.
Bubba Gump Shrimp Co. - Kemah
#5 Kemah Boardwalk, Kemah
Spend Christmas day taking in a seaside view when you dine at Bubba Gump Shrimp Co. on the Kemah Boardwalk. The restaurant will offer their regular menu from 1 p.m.- 6 pm. on Christmas day.
San Luis Resort - Galveston
5222 Seawall Blvd., Galveston
Enjoy a luxurious Christmas Day brunch buffet at the San Luis Resort in Galveston. Dining options include traditional breakfast items, a carving station, fresh seafood, a dessert display, and an entire buffet section filled solely with kid-friendly favorites. The brunch buffet will be served from 11 a.m.- 2 p.m. and reservations are required. Bunch pricing is $65 for adults, $60 for seniors, and $30 for kids ages 4-12. Kids 3 and under are FREE.
Hard Rock Cafe - Downtown
502 Texas Avenue, Houston
Your family can rock and roll on Christmas Day at Hard Rock Cafe. The family-friendly eatery will be serving a two-course pre-set menu for $27.95 per person and a three-course meal for $33.95. Culinary delights on the pre-set menu range from Bangkok shrimp to a special holiday brownie. Reservations are not required but are highly recommended.
Romano's Macaroni Grill - The Woodlands
1155 Lake Woodlands Drive, Spring
Romano's Macaroni Grill in The Woodlands will be serving an authentic Italian feast from 11 a.m.- 9 p.m. on Christmas Day this year. Patrons can enjoy a three-course pre-set Christmas Day meal for $25 per person, but the full dinner menu will also be available.
Top image courtesy of Denny's.
This post originally published in 2017.