Kemah Boardwalk With Kids: Top 10 Activities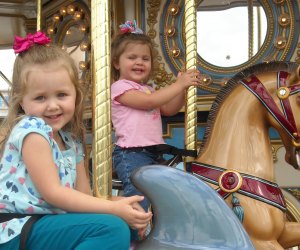 Situated about 20 miles outside of downtown Houston, Kemah delivers a drastic change of scenery from city life without the long drive. It's packed with kid-friendly attractions that will keep the whole family entertained for hours, from rides to exhibits. For more family fun south of town, check out our ultimate guide of things to do with kids in Galveston.
1. Feeding the Fish
Sporadically placed along the docks of the boardwalk are dispensers that give out a handful of fish food for a couple quarters. My son loved throwing food into the water and watching the numerous fish surface to eat. I loved that I could keep him easily entertained with the change in my purse.
2. Coin-Operated Telescopes
Another fun feature on the docks is the coin-operated telescopes, which are perfect for spotting seagulls, ducks, cruise ships, yachts, and more. We were even able to spot some dolphins out at sea a few times. While the bay wasn't busy during our trip, this time, we still couldn't resist stopping to see if we could catch sight of anything.
3. Train Ride Around the Boardwalk
For $5, visitors can buy a ticket to board the running replica of the C.P. Huntington Train and get a ride around the boardwalk, which my son pretty much demanded the second he heard the train whistle blow as we were walking up. It was a fun way to see the different attractions and plan out where we wanted to go during our visit.
4. Dancing Water Fountains
Situated directly in the center of the boardwalk's plaza are the dancing water fountains. Water shoots out of the ground at random in tall arches, so definitely pack a swimsuit for your kids or be prepared for them to get wet.
5. Midway Games
There is a variety of traditional Midway Games (that yield prizes, of course) available along the Boardwalk behind the Lighthouse Buffet. These games are aimed at older children and adults who can successfully toss a ring over a bottle and the like.
6. Amusement Rides
Amusement rides are probably what the boardwalk is most famous for, and the 15 different rides do not disappoint. My toddler loved the double-decker carousel and aforementioned train, but there are plenty of thrilling rides for older kids, too, like the wooden Boardwalk Bullet roller coaster that reaches speeds up to 51 mph. Ticket prices vary for each ride, and an adult may need to accompany children under a certain height depending on the ride restrictions.
7. Arcade
If your kids are in the market for some time-honored arcade games, look no further than the second level of the boardwalk. You'll find everything from air hockey to interactive video games at the Boardwalk Arcade. Even my toddler, who can't actually play any of the games just yet, loved running around the arcade pretending to play them.
8. Playground
Behind The Flying Dutchman restaurant, there is a free playground for kids to burn off some steam. The play area is a traditional setup with slides, various climbable pieces and seating for parents.
9. Stingray Reef & Rainforest Exhibit
If your kids want to see some sea life up close and personal, head down to the first level of the Aquarium Restaurant to Stingray Reef. At this exhibit, kids are not only able to touch the stingrays but also feed them. From there, you can then walk over to the Rainforest Exhibit to see turtles, piranhas and more. Tickets are $5.25 or $6.99 based on the experience you pick.
10. Boardwalk Beast
For kids who want to actually get out on the water, a trip on the Boardwalk Beast is a must. Tickets are $15 for kids 12 and under and $20 for adults for a 4-mile cruise around Galveston Bay. The Beast runs seasonally, so be sure to check the calendar for running times. Kids must be at least 36-inches tall to ride. And just a warning, the crew promises guests will get wet one way or another, so be prepared.
I definitely recommend checking out the boardwalk's website prior to your trip to get up-to-date ticket information for the rides and hours of operation. For families looking to spend an entire day at the boardwalk, there is an all-day pass available as well. It does not include the Boardwalk Beast, Stingray Reef, midway games or the arcade. During summer months, visit on Kid Krazy Mondays, which include various discounts on rides and food.
Top photo courtesy Kemah Boardwalk
This post originally published in 2016.