Best Family-Friendly Spa Resorts And Hotels Near Houston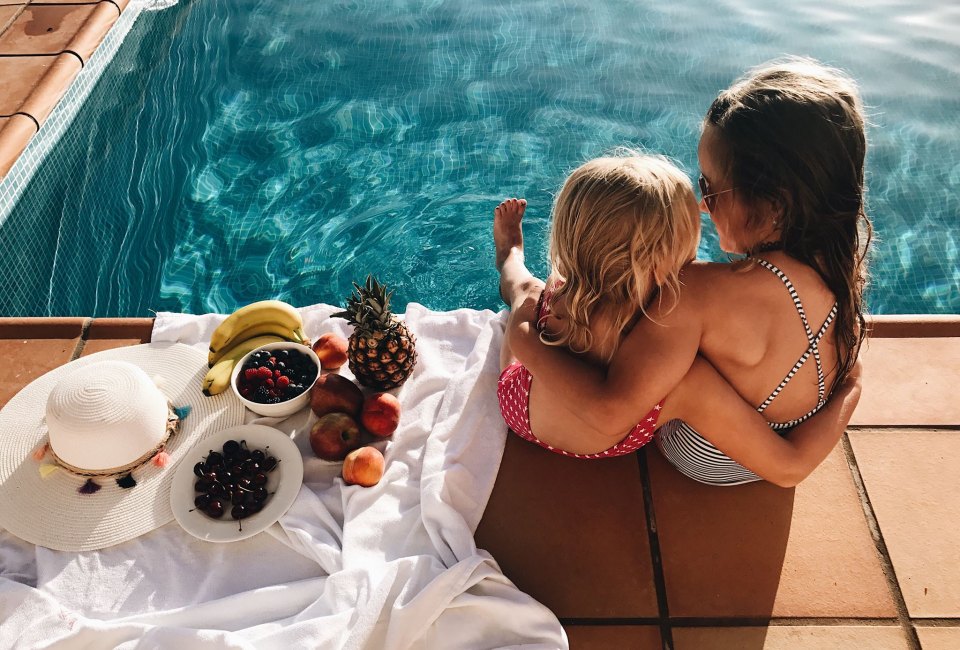 4/8/22
- By
Ashley Jones
Spending a family vacation at a local Houston-area hotel or resort means that you get to enjoy the best of what the city has to offer without traveling too far from home. A stay-cation at a family-friendly resort in Houston means that you can spend vacation time lounging poolside or eating delicious food instead of traveling.
The accommodations at these Houston-area resorts and hotels are perfect for Houston families of all sizes looking for a vacation experience close to home. Or, if you're visiting Houston from out of town, you can stay at one of these family-friendly hotels and resorts in Houston while you tour local museums, visit the zoo, or relax on the beach in Galveston. No matter where you're traveling from, staying at a family-friendly hotel is a must for parents, and at these Houston-area hotels and resorts, you're sure to find just what you're looking for.
Family Hotels and Resorts in North Houston
Treat your family to fun and relaxation at the recently opened Margaritaville resort, which offers beautiful views of the lake, a 3-acre water park, infinity pool, waterslide pool, two hot tubs, Parrot Island Mini Golf, and Fin City Arcade. There are 6 bars/restaurants, and you can stay in a suite or water-front cottage. If you want a break from the resort, check out our guide with 20 Things To Do in Conroe with Kids.
You probably already know about the many amazing kid-friendly activities in The Woodlands, but did you know you can stay right in the middle of all of the fun at a family-friendly resort? Daily resort activities for families include curated games for guests like bingo and tug-of-war, as well as arts and crafts, Tik-Tok game hour. scavenger hunts, and bubble parties, so you never have to worry about kids being bored while you're there. Families can also take advantage of water sports like paddleboarding and kayaking at the resort year-round. In the summer, the entire family can enjoy water slides, a lazy river, and a lagoon-style pool. Bonus: Your family pets are welcome at The Woodland's Resort.
Family Hotels and Resorts in South Houston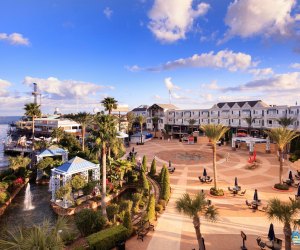 The views from the Boardwalk Inn in Kemah are spectacular. Photo courtesy Boardwalk Inn via Facebook.
Your family can stay and play at the Boardwalk Inn, located in the heart of the Kemah Boardwalk. Hotel rooms overlook the shops and restaurants on the boardwalk, with the rides and attractions mere steps away. There is a pool on-site, but families can also play on the splash pad located right outside in front of the boardwalk's live music stage if you're up for enjoying some fun in the sun. Enjoy the various hotel amenities like flat-screen televisions in every room as well as free WiFi. Guests at the hotel can enjoy discounted ride and attraction packages, as well as restaurant credit with select booking options.
There is no shortage of things to do at Moody Gardens, and their hotel allows you to stay overnight right next door to the pyramids where the rainforest, aquarium, and all of the fun activities are. While the activities at Moody Gardens are not included in the price of your room, staying on-site does have its perks. Kids can join the Kid's Crew and participate in activities with Moody Gardens staff, such as scavenger hunts, dance parties, and games. If you like to swim, your family will love the massive outdoor pool area, as well as the indoor pool that you can swim in year-round. Massive life-size sets of chess and checkers are set up near the pool where you can play a rousing game, or challenge your kids to a round of bean bag toss. There are multiple restaurant choices at the hotel, and the buffet and ice cream shops are total winners with most kids.
Hotels in Houston's Inner Loop
Established in 1926, the Lancaster is an Historic Hotel of America and has received Texas State Landmark Status. As Houston's first and most enduring boutique hotel, The Lancaster provides a luxurious experience for you and your family. Their staycation package includes complimentary snacks and beverages to keep your kids happy. Take advantage of its situation near a number of theatres and catch a memorable live performance with your kids. Additionally, the hotel is close to the Houston Aquarium, where children can enjoy seeing fish, touching rays, and having fun on the rides.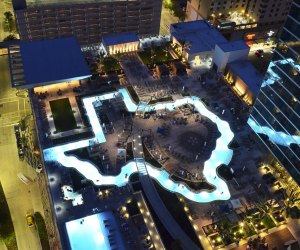 Photo courtesy of the Marriott Marquis
If you've ever wanted to float in a Texas-shaped lazy river, you can do just that at the Marriott Marquis. The lazy river alone is enough to garner a night's stay at this Houston hotel, but there's also an infinity pool with spectacular Houston skyline views that the whole family can enjoy. If your family loves to connect with nature, you can do it right in the heart of the city at Discovery Green right next to the Marriott Marquis. Take advantage of your central location to sample Houston's main attractions.
In addition to splashing in one of Omni's two outdoor pools (one heated year-round), kids will love the unique experiences offered by this posh Galleria-area hotel. As part of the Omni Kids Crew, your kids will receive a backpack stuffed with goodies at check-in including fun activities to enjoy in your room like coloring supplies, stickers, a tabletop board game, and more. On the first night of your stay, kids can enjoy milk and cookies with their turndown service. If you're looking to splurge a little with older kids, your family can book the Kids Sensory Suite, which is decorated specifically for kids and includes an Xbox, two double beds, books, games, snacks, a beanbag chair, and a chalkboard that kids can decorate with the colorful chalk provided. The Kids Sensory Suite connects to an adjoining king room where parents can stay. You can also head over to the large ice rink in the Galleria.
This luxurious hotel may not scream family-friendly, but I assure you, the staff at the St. Regis has thought of everything when it comes to ensuring their littlest guests experience their trademark luxury. This hotel offers a luxurious range of amenities and dining - including the Texas-shaped pancakes and waffles the hotel is known for. They also offer child-sized robes and slippers, as well as in-room childcare options if you're looking to get in a little adults-only time on your trip, and a concierge service who will book experiences for your family around town or provide you with a stroller or diapers. If your little one fancies a traditional tea time experience, attending high tea Fri-Sun at The Tea Lounge in the hotel is well worth it. And let us not forget, their resort-style outdoor pool is fantastic for all ages.
West Houston Hotels for Families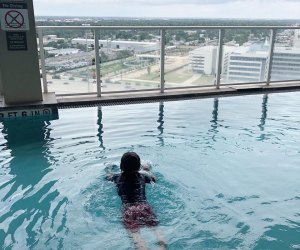 Kids can enjoy the outdoor pool with a view at the Westin Houston, Memorial City. Photo courtesy Westin Houston, Memorial City via Facebook.
If you have an American Girl fanatic in your household, this is the hotel for you. And even if you don't, you're still sure to find plenty of family-friendly amenities at the Westin Memorial City. The hotel offers a special American Girl package where your child and their doll become VIPs during your stay. Dolls will be provided their very own bed, your child will receive a complimentary hot chocolate from Starbucks, and more. This package is the perfect compliment for visits to the American Girl Doll Store next door at Memorial City Mall. Families can also choose the Indoor Camping package where your kids will be provided a tent to sleep in inside of your room, as well as a plush armadillo to keep, free hot chocolate, and a movie rental.
The Houstonian may seem like it's a bit too swanky to be family-friendly, but behind all of the glitz and glamour lies a hotel that aims to please guests of all ages. Families can take advantage of their resort-style pools complete with a 30-foot slide and geysers to play in. When you choose the Family Stay and Play Getaway option at booking, you will receive an in-room movie, gifts for the kids, and a calendar full of on-site activities for families. Summer fun 2022 includes popcorn, candy, and stuffed animal toy upon arrival and a nature hike down to the scenic Buffalo Bayou. The Houstonian's jogging trails lead to the city's iconic Memorial Park, with picnic areas and bike trails.
Top Photo: Lounging poolside at The St. Regis. Photo courtesy The St. Regis via Facebook.