20 Things To Do in Conroe with Kids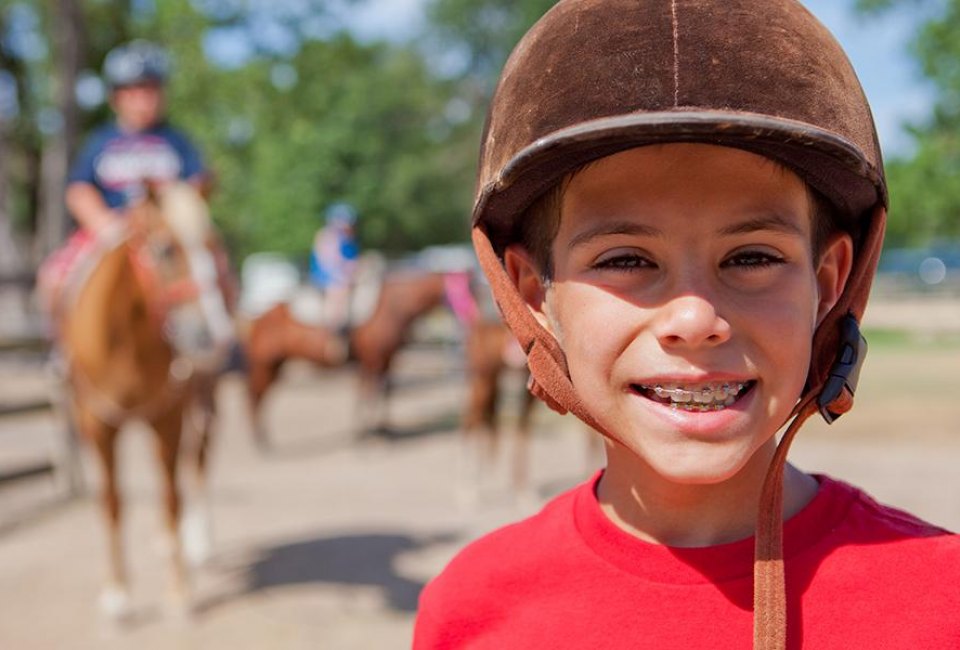 9/26/21
- By
Sarah Banks
Looking for a kid-friendly day trip or weekend away? Try Conroe, a city with plenty of fun things to do with kids and located just an hour north of Houston, not far from The Woodlands. With a huge lake and a national forest, Conroe excels in outdoor activities, but there are also some great indoor options if you hit bad weather.
Here are our favorite things to do in Conroe with kids, from the best parks for stunning scenery to the best places to catch a show.
1. Explore Lake Conroe
Treat your family to fun and relaxation at the recently opened Margaritaville resort, which offers beautiful views of the lake, a 3-acre water park (not heated), heated infinity pool, heated waterslide pool, two hot tubs, Parrot Island Mini Golf, and Fin City Arcade. There are 6 bars/restaurants, and you can stay overnight in a suite or water-front cottage, or buy a day pass.
​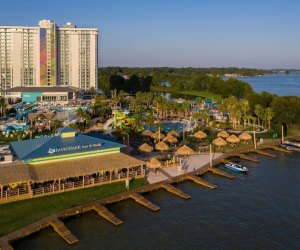 Photo courtesy of Margaritaville Lake Resort, Lake Conroe.
3. Attend an event at a local brewery
Choose a spot where both the kids and adults can have fun! Taste the brews and enjoy the relaxed environment at Southern Star Brewing. Check out the events page as there's often something fun on the weekend like a car show or chili cook-off. B-52 Brewing is another kid-friendly brewery - its seating area is shaded, beautiful, and spacious, there are kids games, a firepit, and usually a food truck stops by.
For families with kids ages 8 and up, test your tactical skills at Legends Paintball, which offers "painless" paintball with lower impact. They have four different fields to have fun in, and a shaded seating area for those who want to stay out of the line of fire!
Tour the beautiful Sam Houston National Forest. It is home to the 128-mile Lone Star Hiking Trail system (it has several points of entry, so don't worry - you don't have to walk 128 miles!) as well as several campgrounds, including the new Cagle Recreation Area that sits along the shores of Lake Conroe.
Fish, hunt, or just enjoy the peaceful beauty of Little Lake Creek Wilderness. Technically a part of the national forest, the 3,855-acre wildlife haven makes you forget you're just miles away from the city. Horseback riding is allowed here, but not allowed on the Lone Star Hiking Trail.
Splash and play at the city's mini water park, the Conroe Aquatic Center. It features tons of amenities families will love - shallow pools and play areas, water slides, dump buckets, and an indoor pool next door for bad weather days.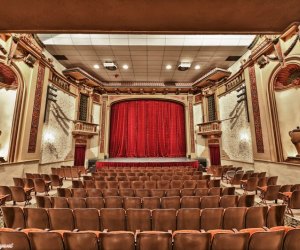 Inside the historic Crighton Theatre/Photo courtesy Crighton Theatre
Relax on the lawn at Heritage Place Park as you watch the live entertainment in the amphitheater. The park also has water features for the kids and is the city's popular spot for festivals and concerts.
Looking for a great park and playground? Check out Candy Cane Park, a 24-acre space that has two ADA-compliant playgrounds, picnic areas, tennis courts, a basketball court, and is right next to the aquatic center and recreation center. If your kids like wheels, there is a large skate park at Kamiersky Park that has some great features for use by scooters, bikes, roller skates, and skateboards.
Candy Cane Park houses another great city attraction - the Heritage Museum of Montgomery County. It includes historic homes and artifacts and you can find out more about how the Texas state flag was designed in Conroe. It's small, and won't take too much time to tour, so it's a great stop to teach kids about local history without having to set aside several hours of your day. Check the website before you set off, as it isn't usually open Sundays.
11. Pick your own blueberries at a local Conroe farm
During blueberry season (typically late May–early July) pick some fresh fruit at Morehead's Blueberry Farm or Sanctuary Blueberry Farm.
If you don't mind paying a bit more for a unique experience, you can pet, feed, and bathe the elephants at the East Texas Elephant Experience. Visit the website to check dates and book tickets, as they aren't open every weekend. They also have camels, goats, and a zebra.
Visit the wolf sanctuary. Yes, you read that right - 30 miles west of the city of Conroe is the incredible Saint Francis Wolf Sanctuary, a nonprofit that rescues wolves and wolf dogs from shelters, animal control agencies, and even a home where an individual unsuccessfully tried to keep one as a pet. You must book and participate in a tour to visit, which involves seeing a guide feed the wolves and tell you in detail about the different animals' backstories.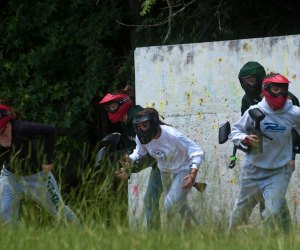 Playing at Twisted Paintball in Conroe/Photo courtesy Twisted Paintball
14. Spend a rainy day on roller skates at Rainbow Roller Rink
Ok, it doesn't have to be raining to enjoy roller skating, but if you need an indoor activity during your trip to Conroe, then this is a good one. Go roller skating, or catch a roller derby match, at Rainbow Roller Rink. They have cheap admission for children 6 and under, and beginner skater frames.
Let the kids flex their artistic muscles and make their own clay creation by hand, and then paint it at Kids Krafty Korner. They also offer to-go kits, so you can pick up a ready-made activity for home.
16. Visit downtown Conroe for a kid-friendly show
See a performance at the historic Crighton Theatre. Located in Downtown Conroe, Crighton was built in 1934 and still maintains its beautiful 20th-century aesthetic. Catch family-friendly and seasonal performances all year long. You can also catch a comedy, musical, children's show and more at the Owen Theatre.
You read that correctly: a FARM PARK. Play on 7 Acre Wood's old-fashioned farm attractions, including swings and putt-putt golf, and let the kids ride a pony or see some animals in the petting zoo. It also offers hay rides, barrel car train rides, and a fun play area called Western Play Town.
18. Go horseback riding
Whether you've never been around a horse or you're ready to train for competitions, Conroe's horseback facilities can get you into a saddle. There are several organizations and programs to choose from, including Loveland Ranch, and North Houston Race Park.
Your kids will have fun spotting the next colorful seat in historic downtown Conroe, and then enjoy popcorn or ice cream at one of the stores.
20. Come for the pizza, stay for the games at Incredible Pizza
Your kids will love the range of attractions at Incredible Pizza! They include video games, virtual reality, bumper cars, laser tag, mini-bowling, mini-golf and go-karts. Select the combination ticket that works for your family, which can also include an unlimited buffet and drinks.
Top photo courtesy the Conroe Family YMCA
Click Here to Sign Up!
i