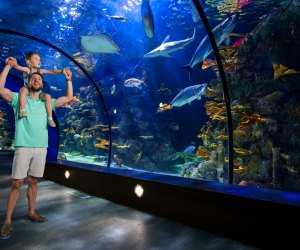 Making the Most of a Day Trip to Moody Gardens
If you have taken a trip to Galveston you most likely passed the massive pyramids of Moody Gardens. The complex of museums, rides, and exhibits has enough to entertain kids of all agues! But Moody Gardens' many attractions can be overwhelming, so we've broken down what you can expect to see and do.
When planning your trip, take note guests cannot bring outside food or drinks inside the attractions, and that includes water areas. However, when I visited with my toddler I brought in his sippy cup and a few snacks in the diaper bag with no problem. If you want to enjoy a picnic lunch with your family instead of spending on concessions inside, there are picnic areas outside the pyramids and around the property.
Main Attractions at Moody Gardens
My last visit to Moody Gardens was with my son, who was 1-years-old at the time, and my 2-year-old nephew. Touring the pyramids proved the perfect destination for us because we could drag our massive wagon around. Here's a breakdown of what is at each spot.

Aquarium Pyramid - Aside from the city's smaller Downtown Aquarium, it's the main aquatic zoo in the greater Houston area, and it has a lot to offer. There are thousands of fish, penguins, seals, and sharks to see as well as interactive exhibits about sea life in the North and South Pacific, South Atlantic and the Caribbean. Kids will love watching the penguins dive in and out of the water as well as taking part in the various interactives and activities placed throughout the exhibit.

Discovery Pyramid - The newly updated pyramid features Dora and Diego - Let's Explore! The exhibit is perfect for adventerous preschoolers. Kids ages 3 and under are free!

Rainforest Pyramid - Inside the 10-story Rainforest Pyramid guests will find more than 1,000 species of plants and animals. The interactive exhibit attempts to replicate the atmosphere of rainforests in Africa, Asia, and the Americas, so it can feel a little swampy (this shouldn't be too unfamiliar given where we live). The beautiful waterfalls and bat caves are a few highlights. For an additional fee, you can participate in the Giant River Otter Encounter where you look behind-the-scenes at how the animals are cared for.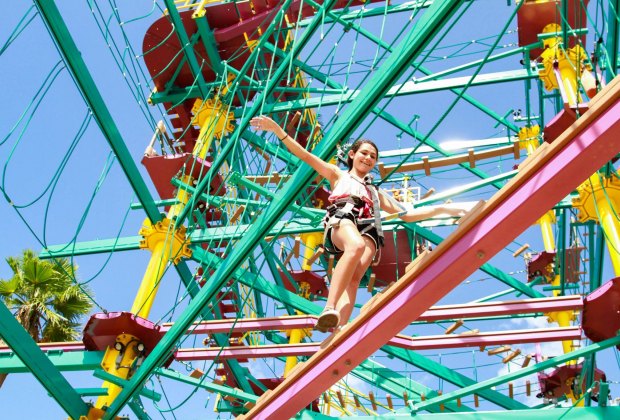 Older kids will be impressed by the five-tier Sky Trail Explorer Ropes Course. The 81-foot course has 48 different obstacles, but don't worry - participants wear a full-body harness and a safety lanyard. This means you can choose which path to take and what obstacles to avoid. For kids ages 2-7, the Sky Tykes Rops Course allows parents to participate and help when needed. The Moody Gardens Zip Line takes riders 60 feet in the air over Palm Beach and its lazy river. The course does stay open during rain, but will close if there is lightning or thunder.
Attractions at Palm Beach include the Lazy River, which is 650 feet long, a 6,100-square-foot wave pool, tower slides, and a splash pad (which is always great for our smaller swimmers). There is also the Aquarium Adventure, which is a playground equipped with a 500-gallon water dump bucket. It's worth making the trip here just to visit Palm Beach because it is smaller than nearby Schlitterbahn and well suited for families with young children. The water park closed for the 2016 season on Sept. 10, and summer 2017 dates are still to-be-determined. Check online for updates on next year's calendar. Also, take note that outside food and drinks are not allowed in the park.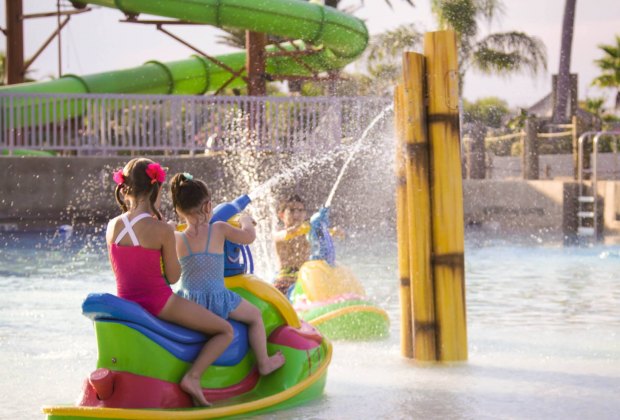 Ice Land and the Festival of Lights
The annual Festival of Lights runs mid-November through early January. The massive holiday celebration puts more than one million lights on display. There are musical and animated light displays as well as live entertainment. You can also visit the ice skating rink, arctic slide, take pictures with Santa or visit the holiday buffet. Festival admission is $10.95, and the auxiliary attractions cost extra. This year, Ice Land Ice Sculptures take on a Caribbean theme. You can watch the truly incredible ice carvers make frozen masterpieces. Admission varies depending on the date you choose to attend.
There is also the Moody Gardens Hotel attached to the Moody Gardens Convention Center where you can stay with your family for a weekend trip. Click here for details on hotel stays.
Ticket prices vary depending on which exhibit you want to visit, but you can purchase pricier day passes for multiple attractions as well as individual exhibit tickets. Family and individual memberships are also available for purchase.
All photos courtesy Moody Gardens
This post originally published in 2016.